YEZIDI KURDS

SUN WORSHIPERS

An ancient 'People of The Sun'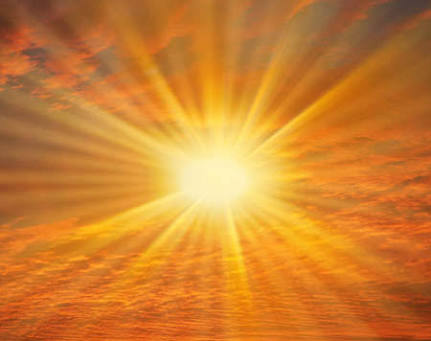 Hetav, tav, xor, xurşîd, sol, sun
HISTORISKA OCH AKTUELLA FAKTA OM DEN ÄLDRE KURDISKA RELIGIONEN JESIDISMEN

En av de äldsta kurdiska troformer är jesidismen som bygger på ljusets makt där solen är helig och gudomlig.
Det är därför det finns en gul sol på den kurdiska flaggan.
De islamistiska TURK-ARABER och PERSER gjorde 74 gånger folkmord på de kurdiska jesiderna sedan islams arméer nådde till Kurdistans gränser på 700-talet.
Det senaste folkmordet organiserades av Turkiet i form av ISIS attack på den fredliga kurdiska religiösa minoriteten jesiderna den 3 augusti 2014.
Deras män separerades den 14 augusti från kvinnor och barn, säger flera överlevande vittnen. Männen arkebuserades av ISIS i kvinnors och barnens åsyn. En del av unga pojkar och alla männen begravdes levande. Sedan togs barnen och kvinnorna som islamiskt krigsbyte.
Uppemot 5 000 kvinnor och barn tillfångatogs och torterades av de turk-arabiska terroristerna ISIS.
När det islamistiska turk-arabiska ISIS högkvarteret i Mosul återerövrades av de kurdiska peshmergastyrkorna och USA i juni 2017 fanns inte många jesidiska överlevande kvinnor och barn vid livet bland de som räddades av militära styrkor.
Det var det 74:e jesidiska folkmordet som pågick under 3 långa år: 2014-2917.
Jesidism är den äldsta kurdiska religionen.
Det senaste folkmordet (03-08-2014) ledd av de turk.arabiska islamister är det 74:e islamistiska folkmordet på detta fredliga urfolk i Kurdistan.
"De ferman e, ferman e, fermana 74an e, ser Ezidkhan e": Detta är det 74 folkmordet på Ezidkhan (den jesidiska provinsen), så börjar orden i det jesidiska klagosången.
Jesiderna använder s
tränginstrumentet sazz som också ursprungligen är ett religiöst musikinstrument och som detta folk har skapat det sedan gammalt. Instrumentet används i bönestunder och vid religiösa ritter.. I den jesidiska tron är kvinnornamycket fria jämfört med de muslimska kvinnorna. Kvinnor deltar bönestunder tillsammans med männen till skillnad från de muslimska kvinnorna. De behöver till exempel inte skylla håret, men de är tvungen att göra det ändå för de muslimska män i grannskapet som kräver detta och tvingar jesidimänen att deras kvinnor "respekterar de muslimska reglerna". Kort sagt i den jesidiska tron diskrimineras kvinnor inte som det görs i islam.
Jesidismen är en förgrening av kurdernas pro-islam religion
Den äldsta kurdiska religionen YARSANISM och dess budskap kan sammanfattas i ett enda ord: systerskap-broderskap som förmedlar en medveten, bildad, etisk, samvetsgrann och moraliskt upphöjd människa. Det kurdiska ordet yarsan betyder systerskap-broderskap. Yarsanismen (systerskap-broderskap) har på grund av de yttre faktorerna delats och pånyttfötts under olika namn som jesidismen och alawismen .
I den yarsanistiska religionen är kvinnan fri men i och med islam är den dominerande religionen i Kurdistans geografi så yarsaniska kvinnan förlorat delar av sin frihet.
Yarsankurder har blivit skoningslöst förföljda och massakrerade av muslimska araber, turkar och perser. Till och med av sina egna landsmän, av de muslimska kurderna
..
Islam har noll tolerans gentemot icke muslimer..
Goran Candan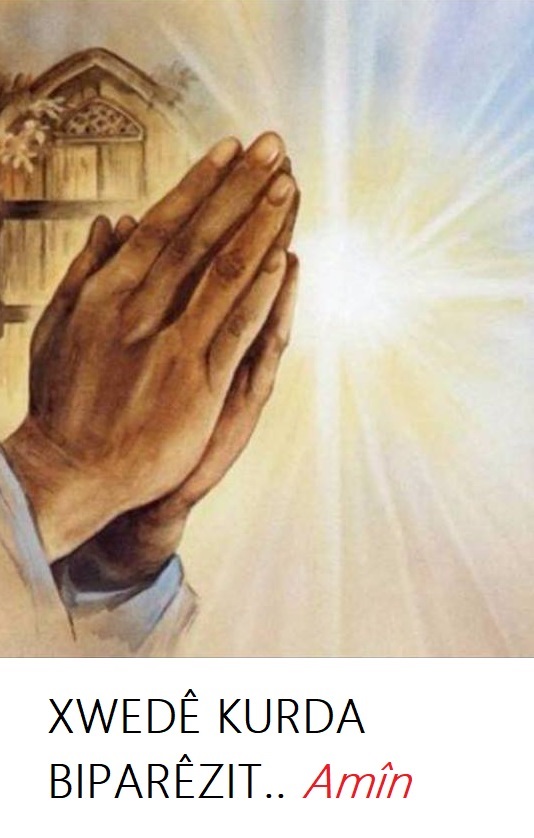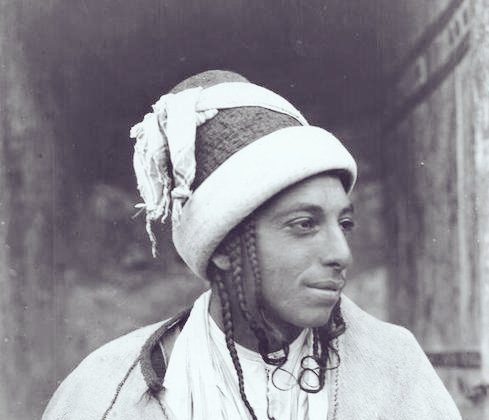 Kurdish Ezdi Boy, ancient time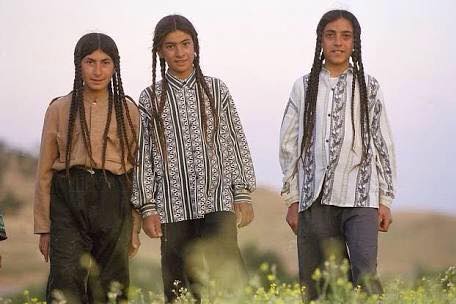 Kurdish Ezdi Boys, modern time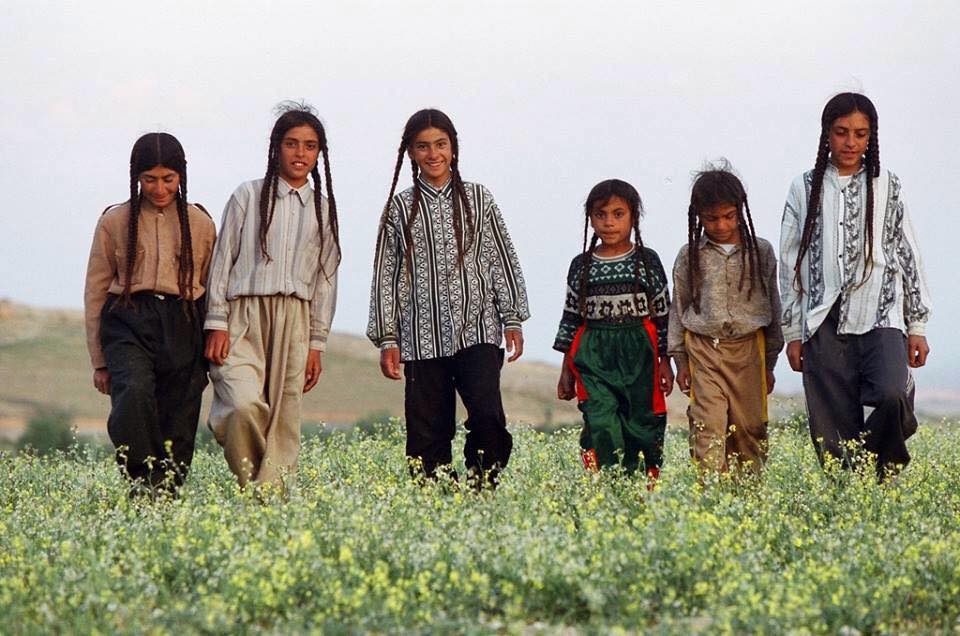 Kurdish Ezdi Boys, modern time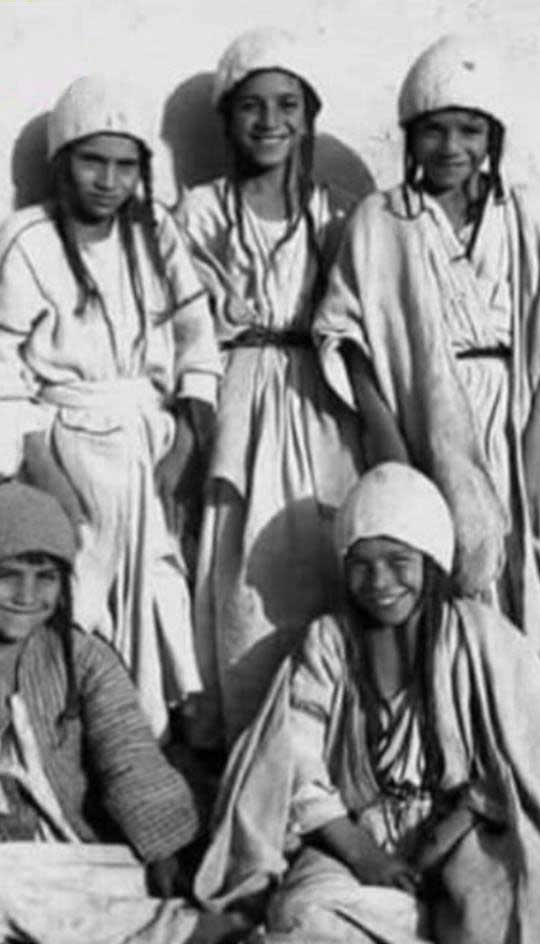 Kurdish Ezdi Boys, ancient times, 1880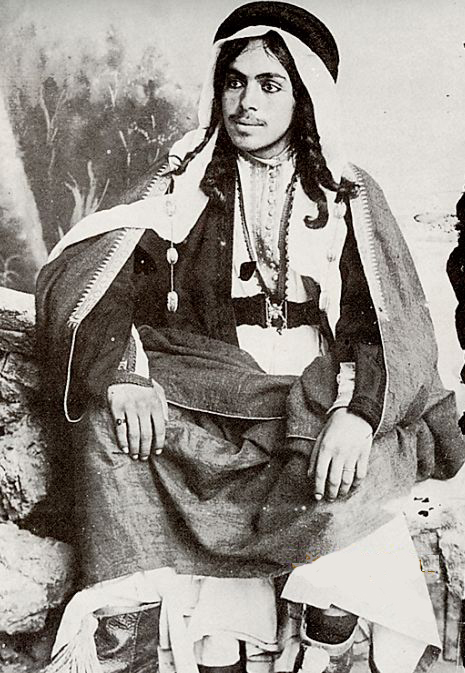 Young Kurdish Gentleman, 1935, Singal (Southern Kurdistan)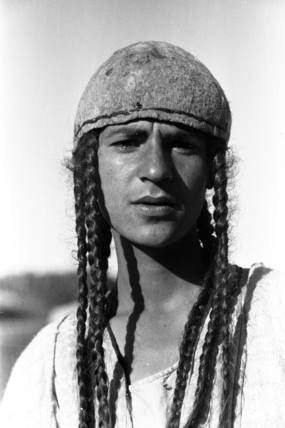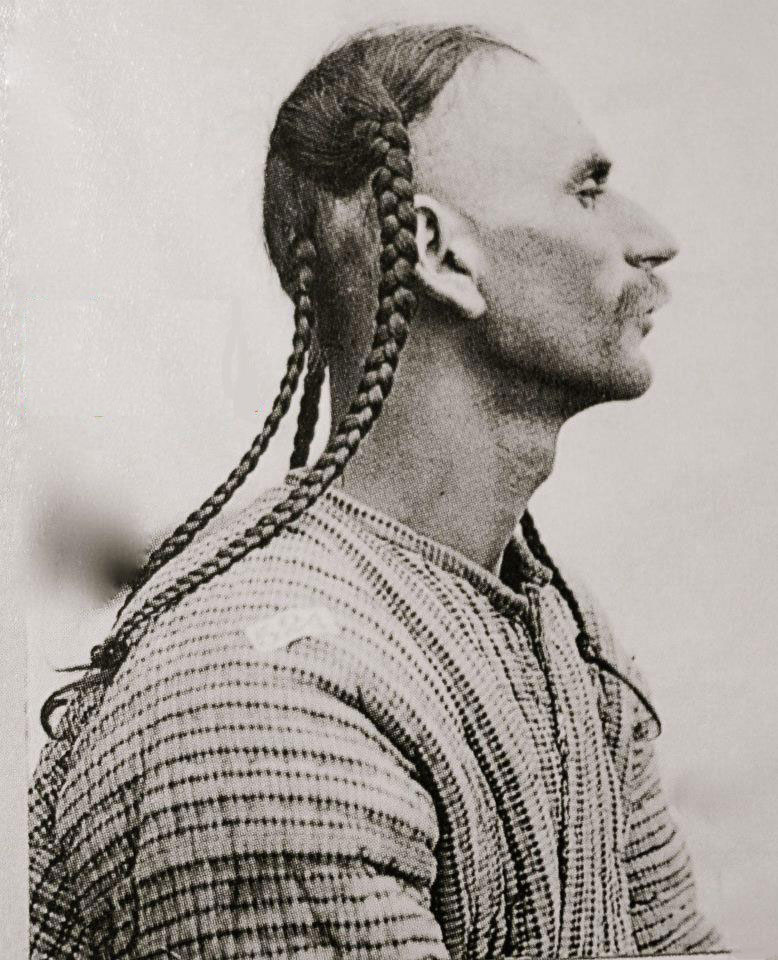 An Ezdian Kurd (c1920)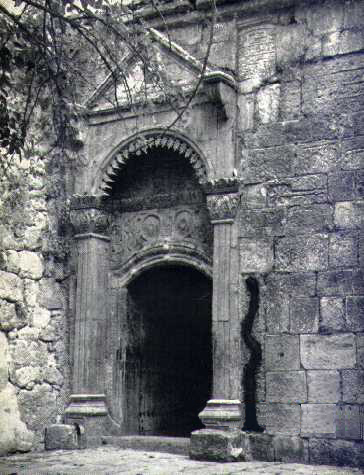 Enterance into the Temple of Ezdi Kurds, out port (1955)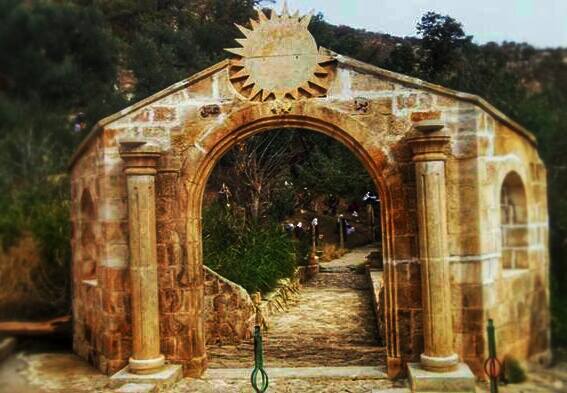 Enterance to the Temple of Ezdi Kurds


Khantun at the Enterance into the Temple of Ezdi Kurds (1907)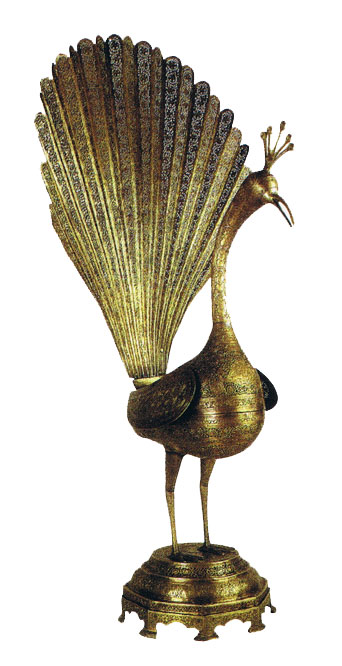 Peacock - a central symbol in the old Kurdish religion the "Ezdian Faith"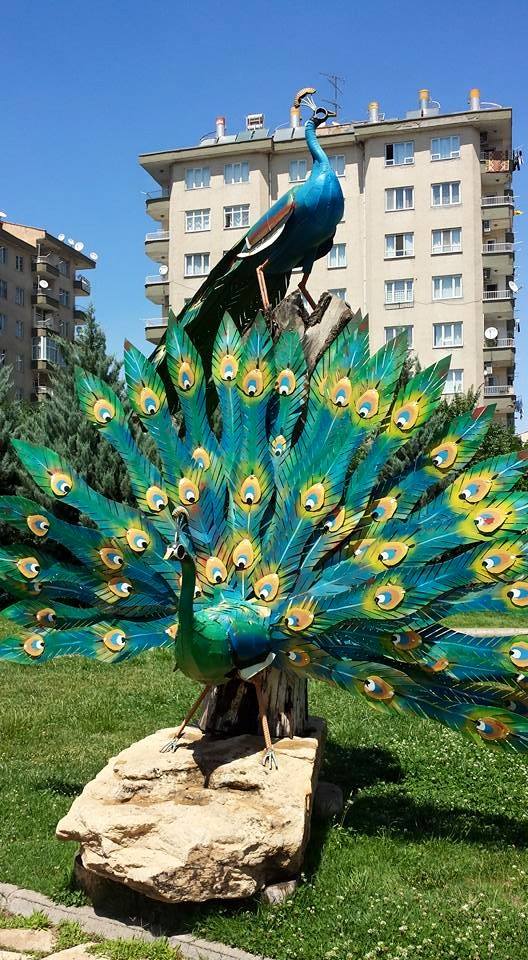 Peacock statue in Amida (Diyarbekir)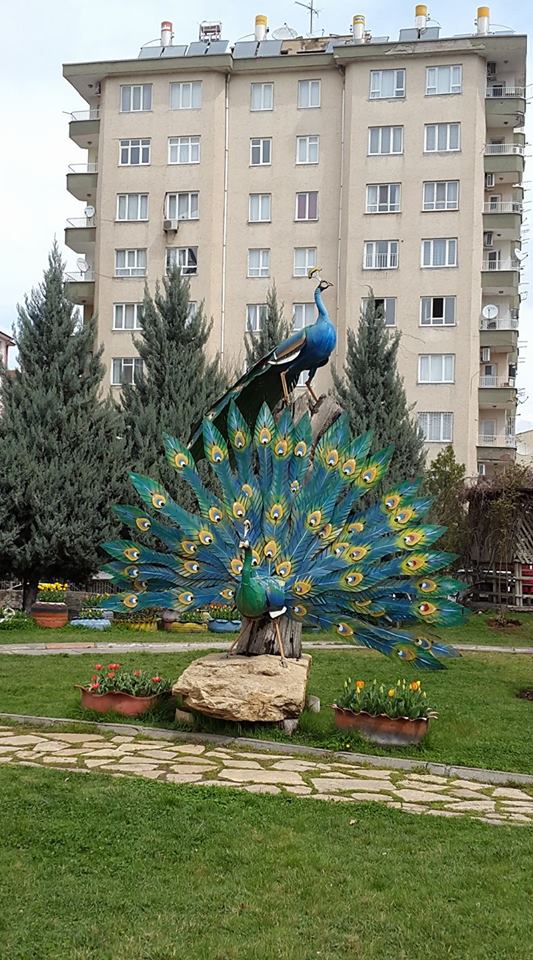 Peacock statue in Amida (Diyarbekir)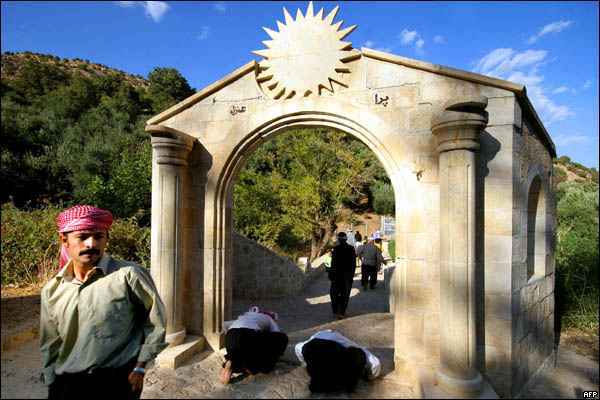 Enterance to the Temple of Ezdi Kurds (2009)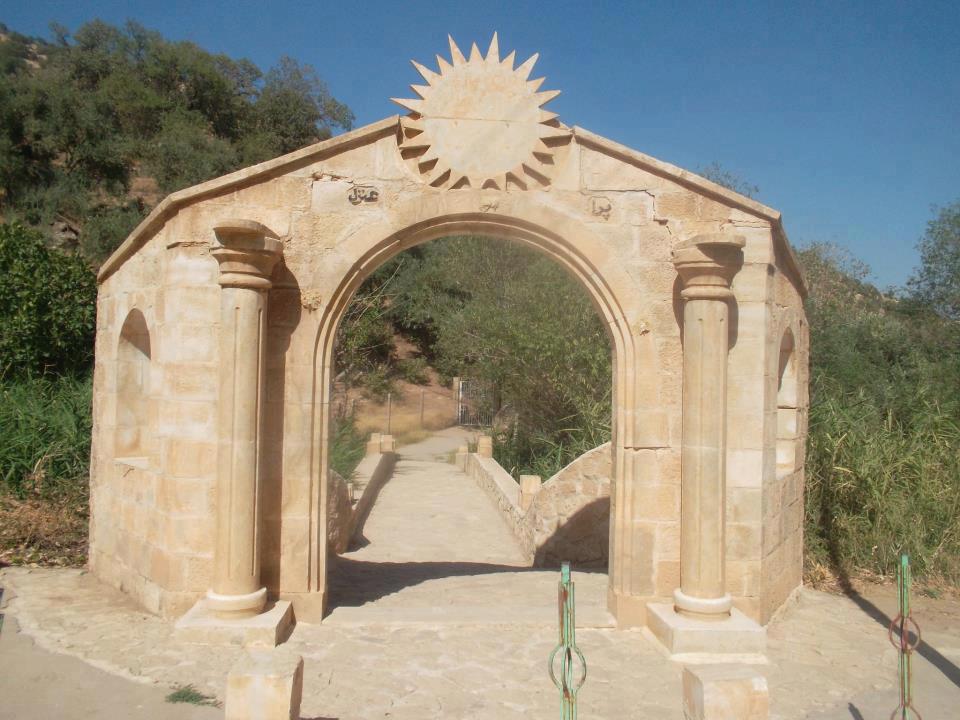 Enterance to the Temple of Ezdi Kurds (2009)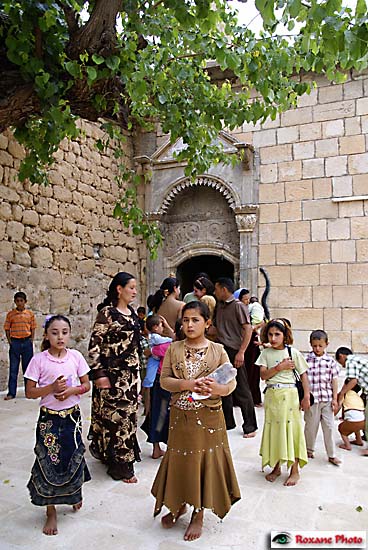 Enterance to the inside of the Temple of Ezdi Kurds (2000)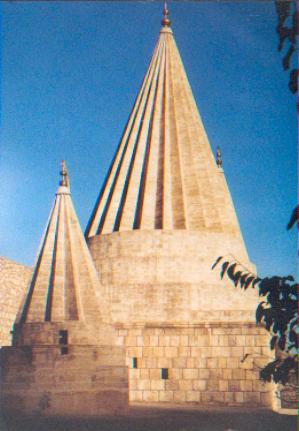 Temple of the "Ezdian Faith" Lalesh, Southern Kurdistan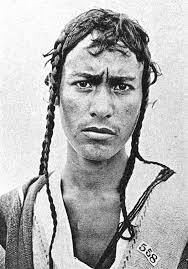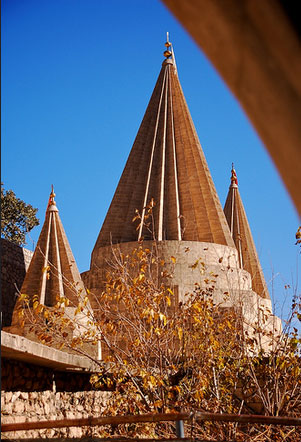 Temple of the "Ezdian Faith" Lalesh, in 18th century, Southern Kurdistan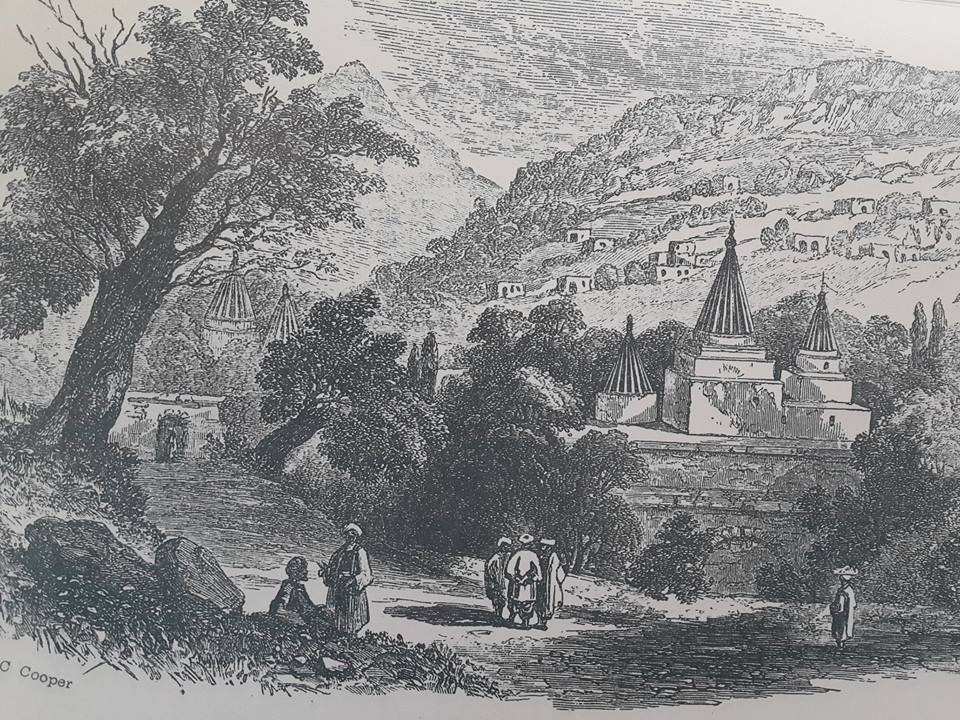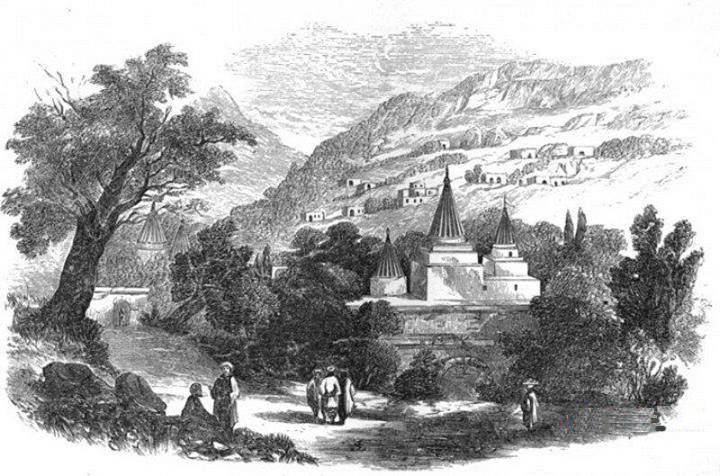 From the Work: THE CRADLE OF MANKIND
Life in Eastern Kurdistan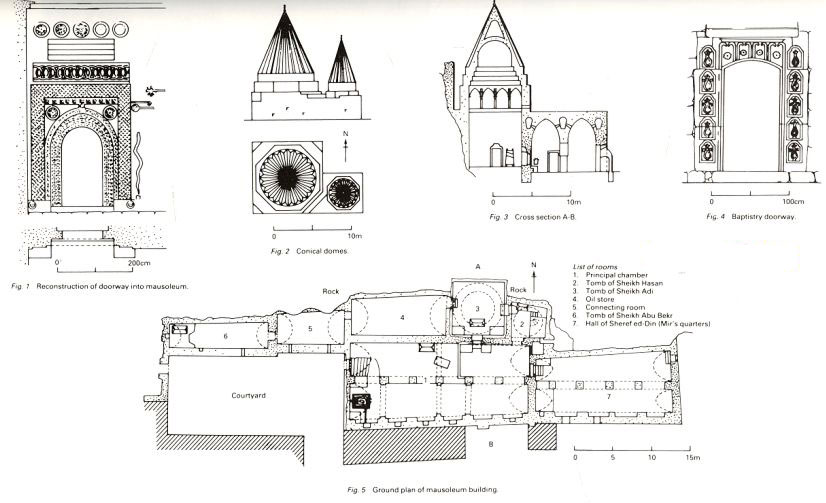 A Detailed Plan and Site of Lalesh

From the Work: THE CRADLE OF MANKIND
Life in Eastern Kurdistan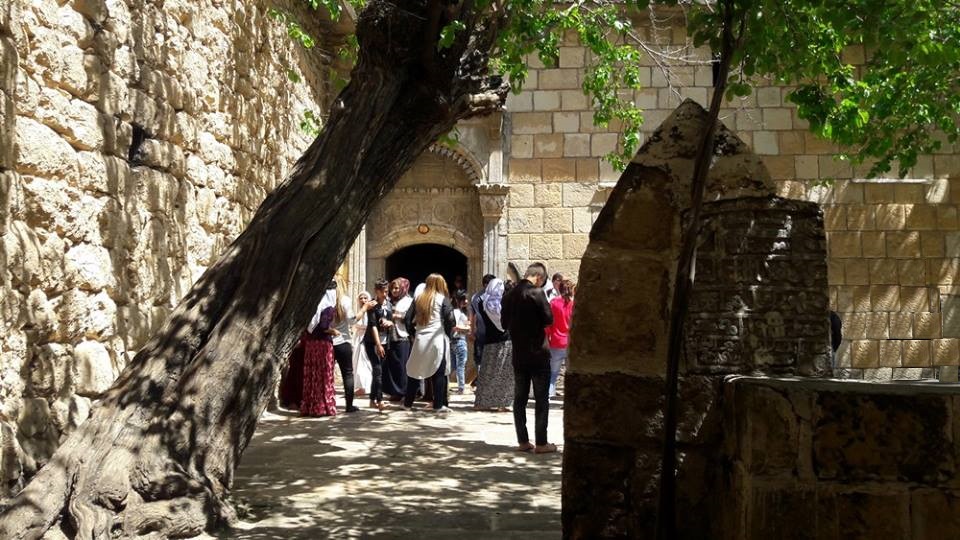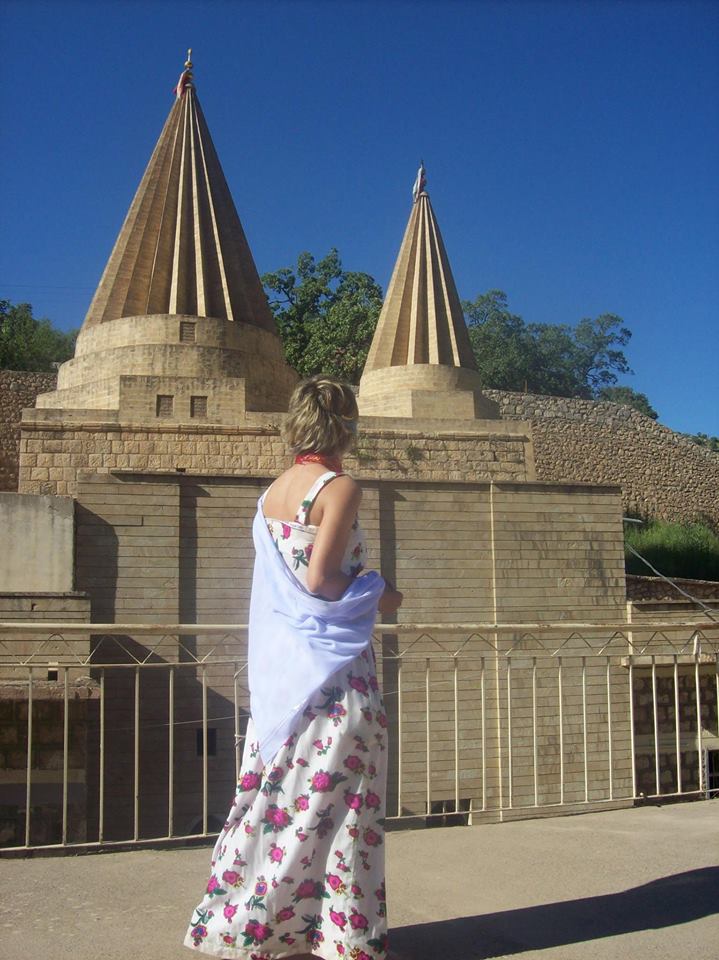 A Kurdish girl visiting the Holly Lalesh in Shingal mountain in Southern Kurdistan. Lalesh is the most holly site for the Yezidian faith.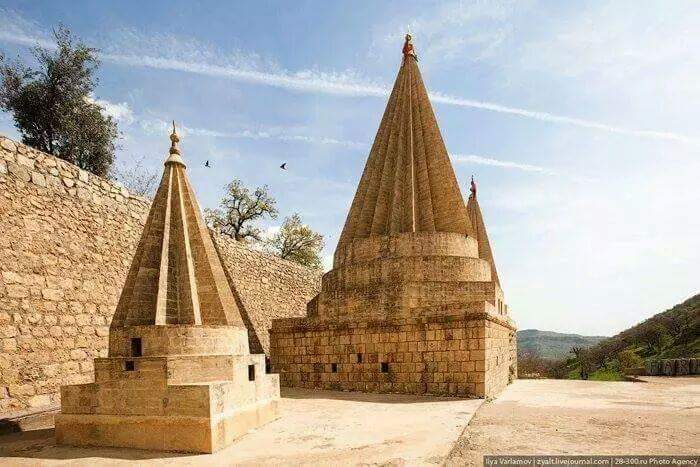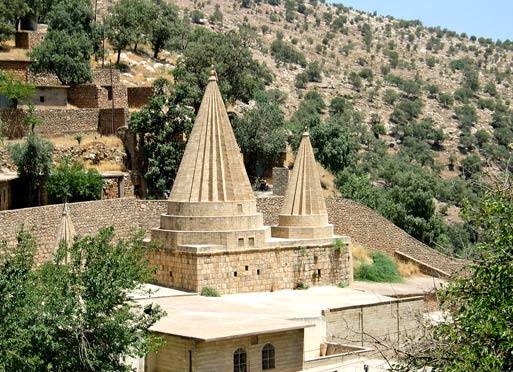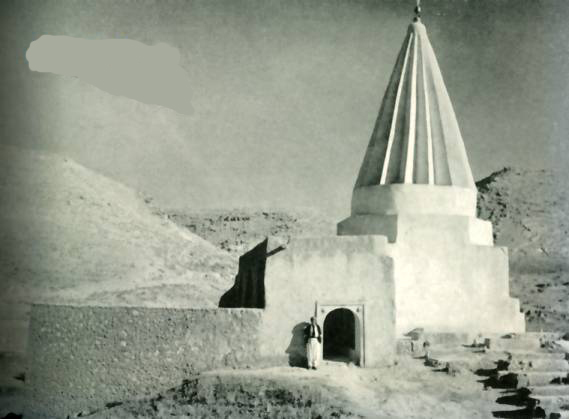 Ezdi Martyr's Shrine at Bashiqa (1955)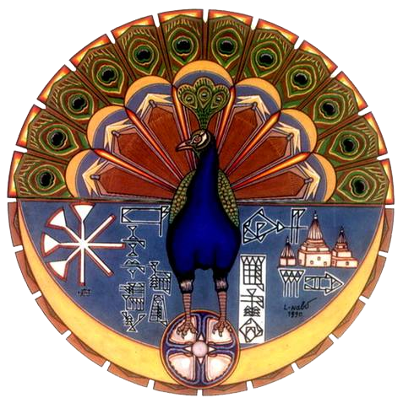 Peacock - a central symbol in the old Kurdish religion the "Ezdian Faith"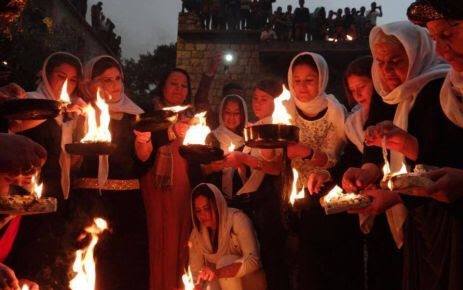 The sacred time Charshemba Sor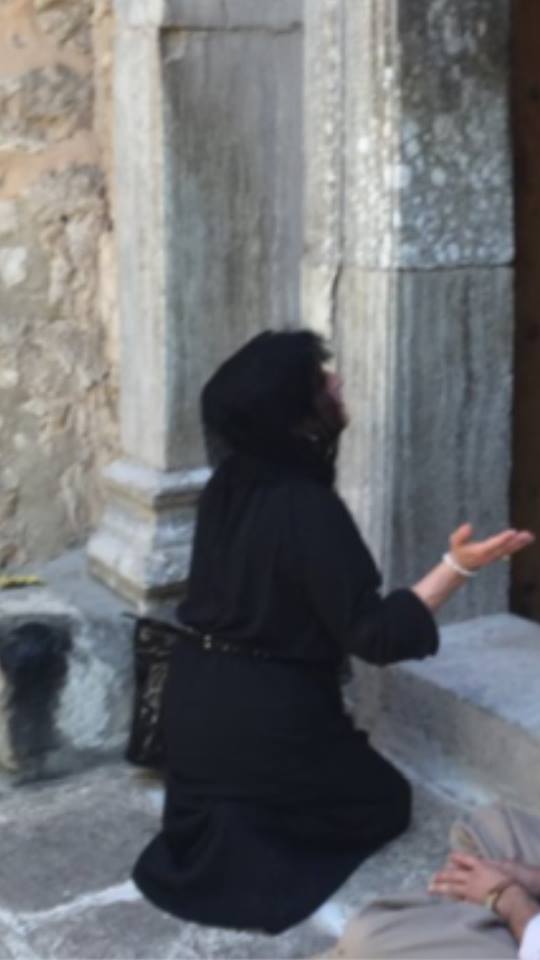 Dergeha Laleş û duakar..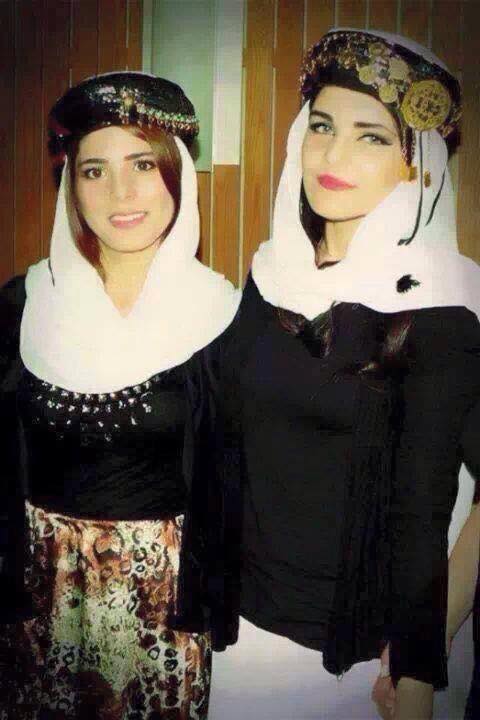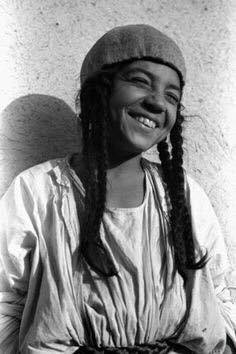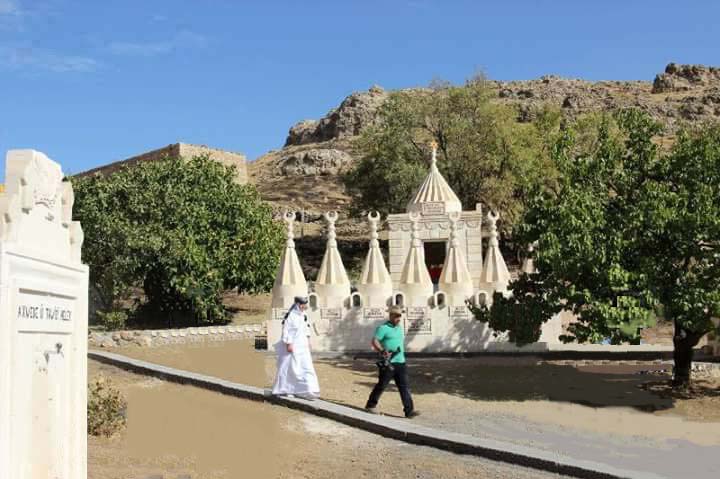 A Yezidi Cemetery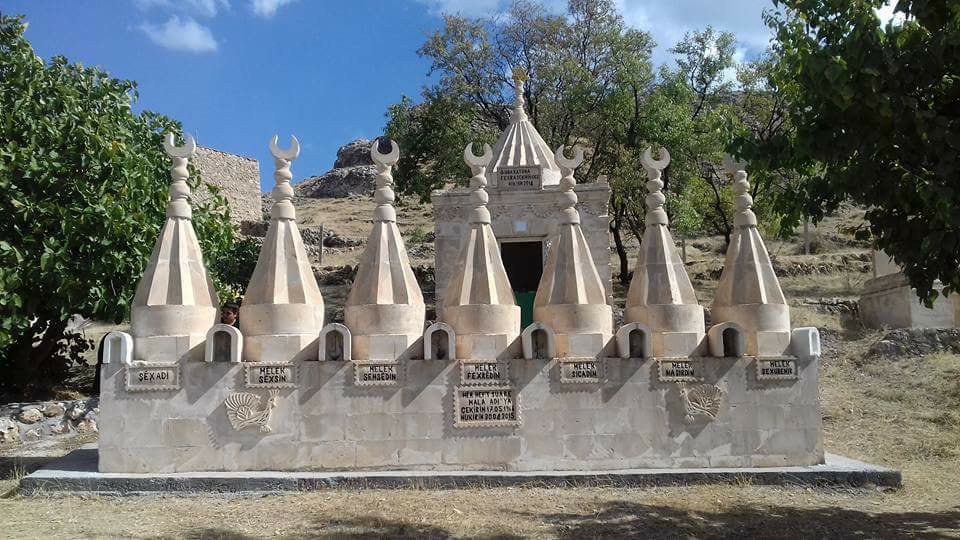 A Yezidi Cemetery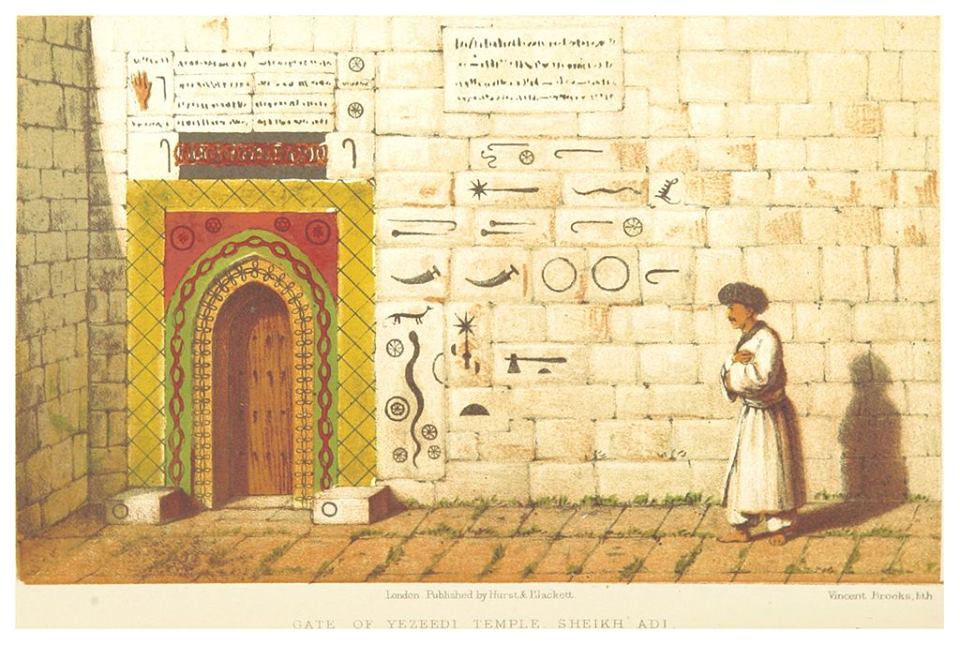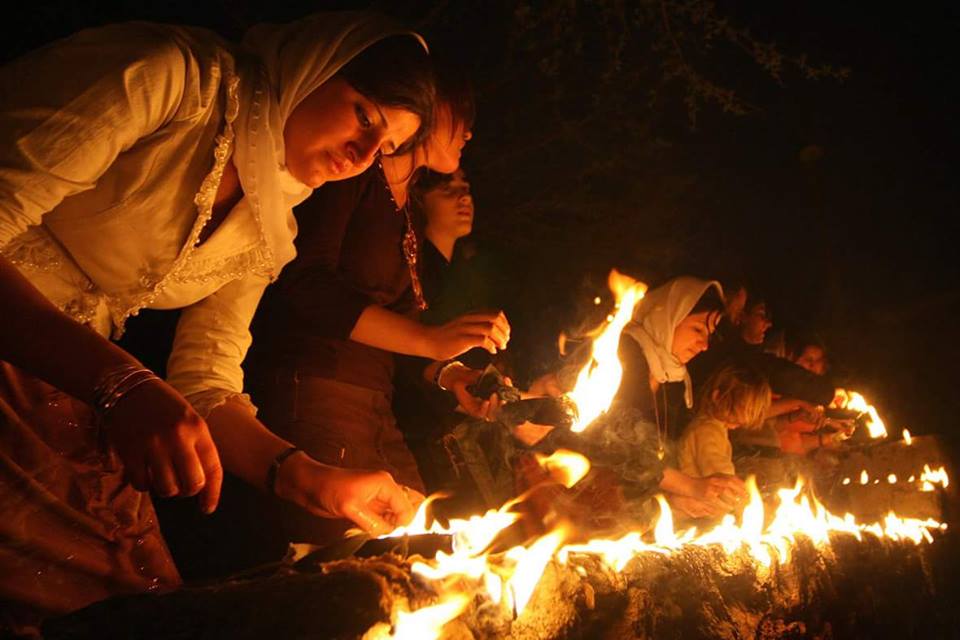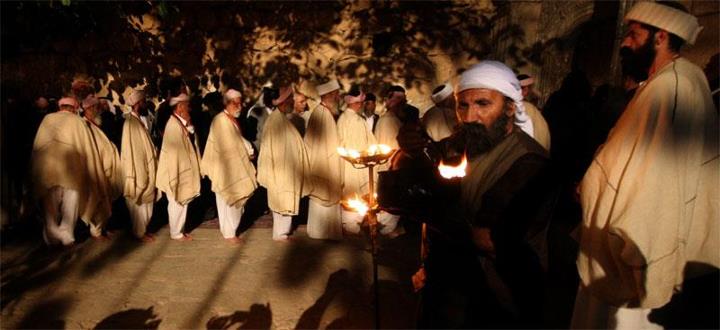 Ezdizm (ezdayetî) is a pre-islam Kurdish religion which survived untill now in Kurdistan.
Here you can see from people in a religious ceremony in Lalesh= the holy sanctuary of Ezdayetî.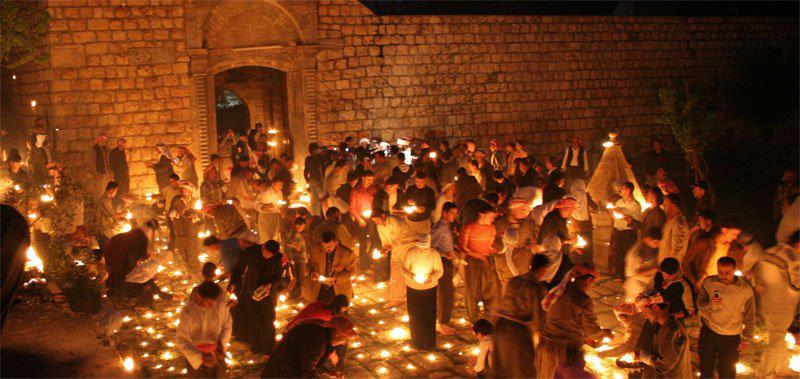 A nightly ceremony for the sacred time Charshema Sor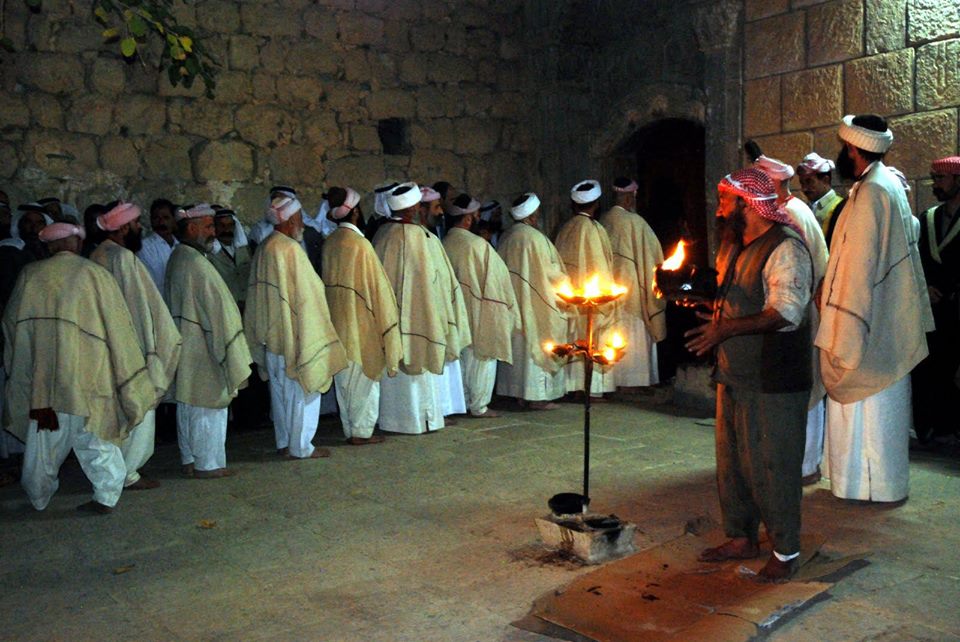 A nightly ceremony for the sacred time Charshema Sor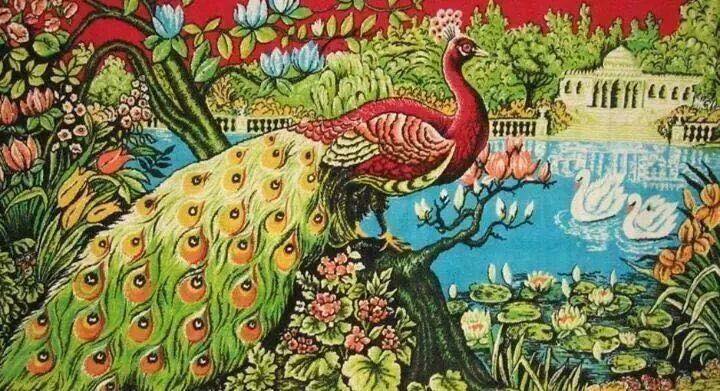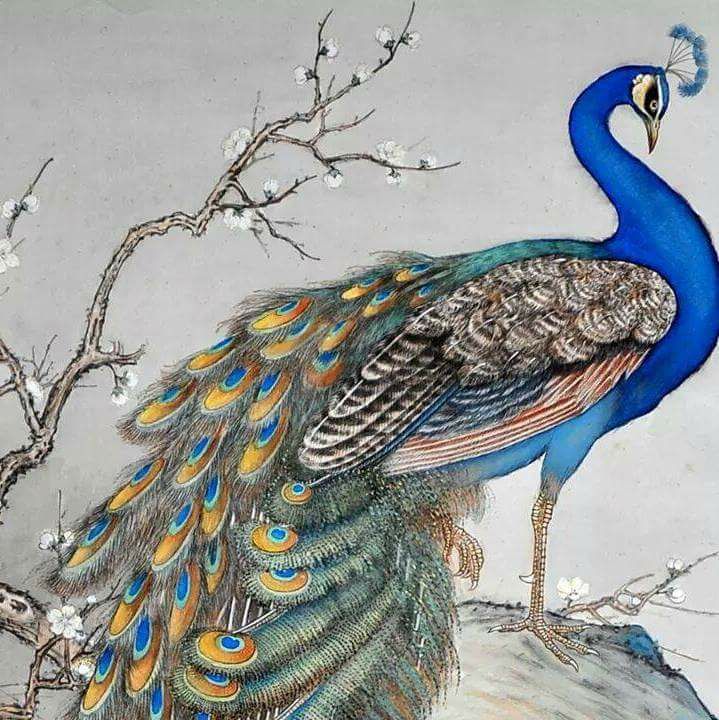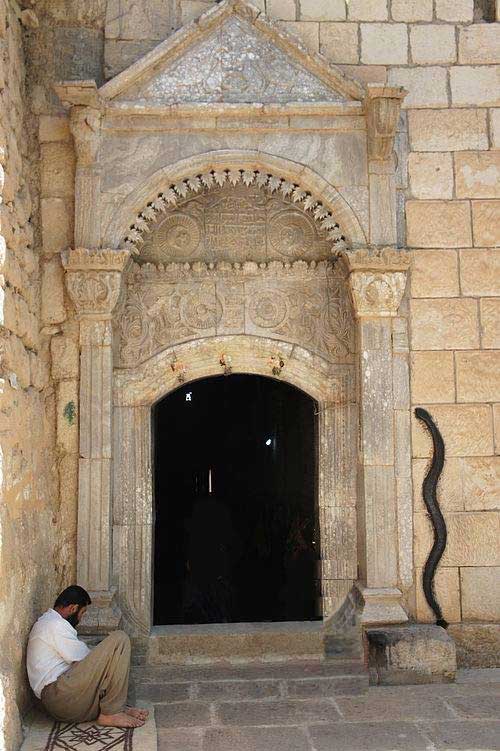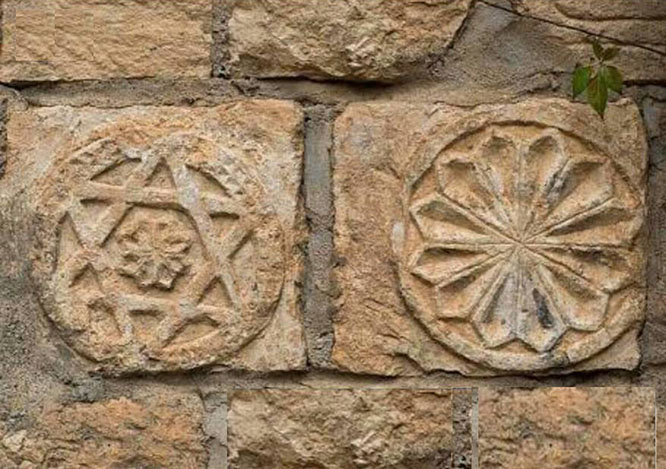 David's Star carved on a wall at Lalesh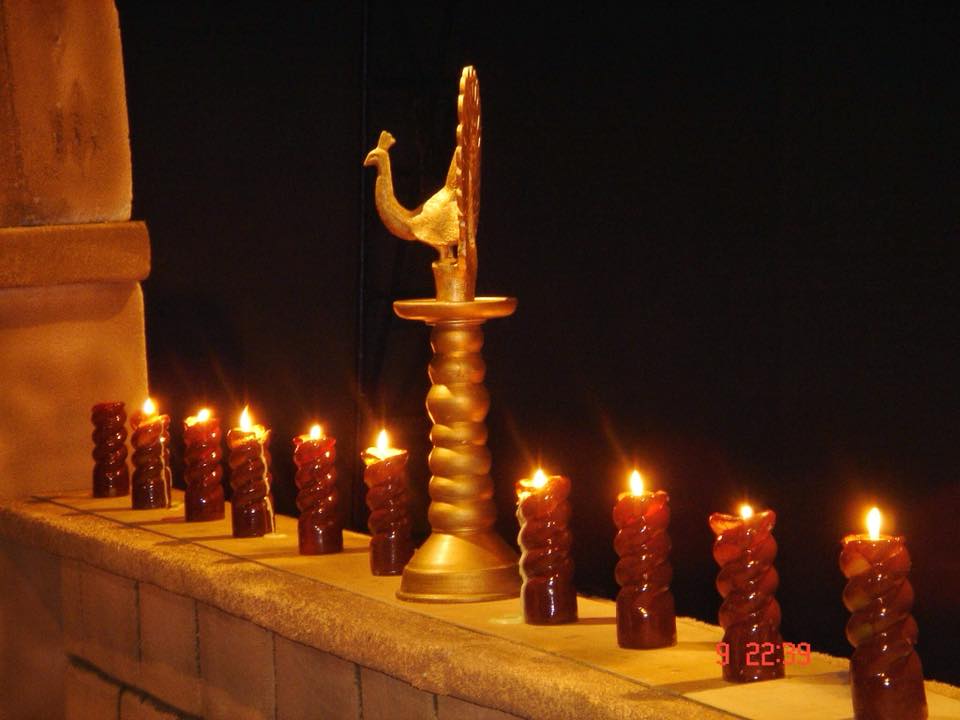 Çarşema Sor Pîroz Be!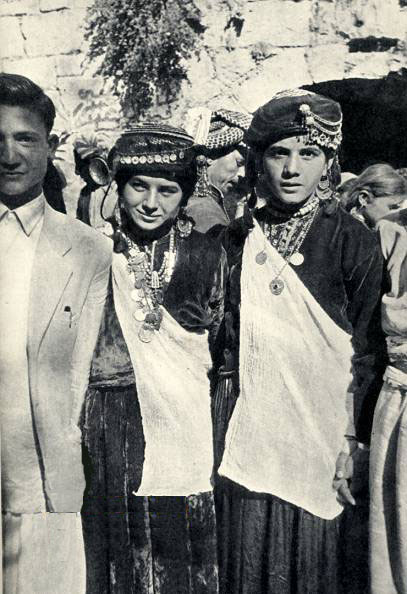 Kurdish-Ezdi Youth (From the book Riding To Tigris by Freya Stark (1950)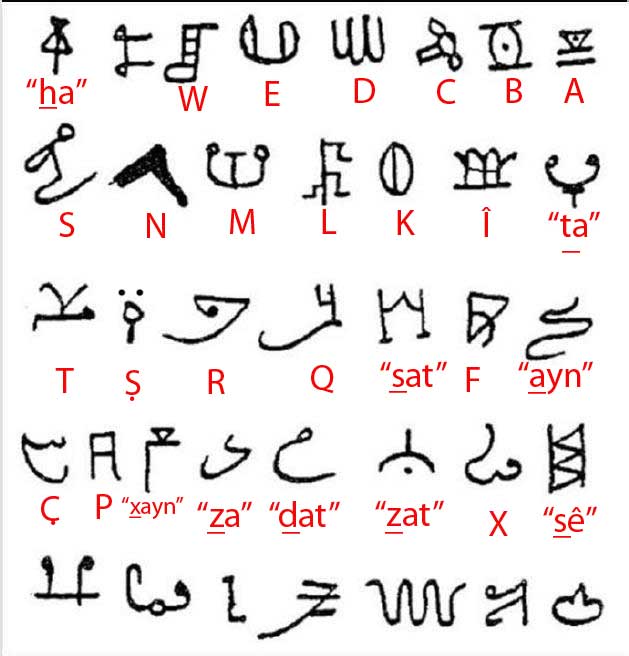 The Kurdish Ezdian Alphabeth, created 855 AC - Alfabeya Mishefa Reş (Cîlwe)
M.S. 855 yılında yazmış olduğu Shawq Al-Mustaham adlı kitabında bu alfabeye değinen arab tarihçi Ibn Vahşiya bu alfabeyle yazılmış en az 30 kitaba rastlamış olduğunu bildiriyor.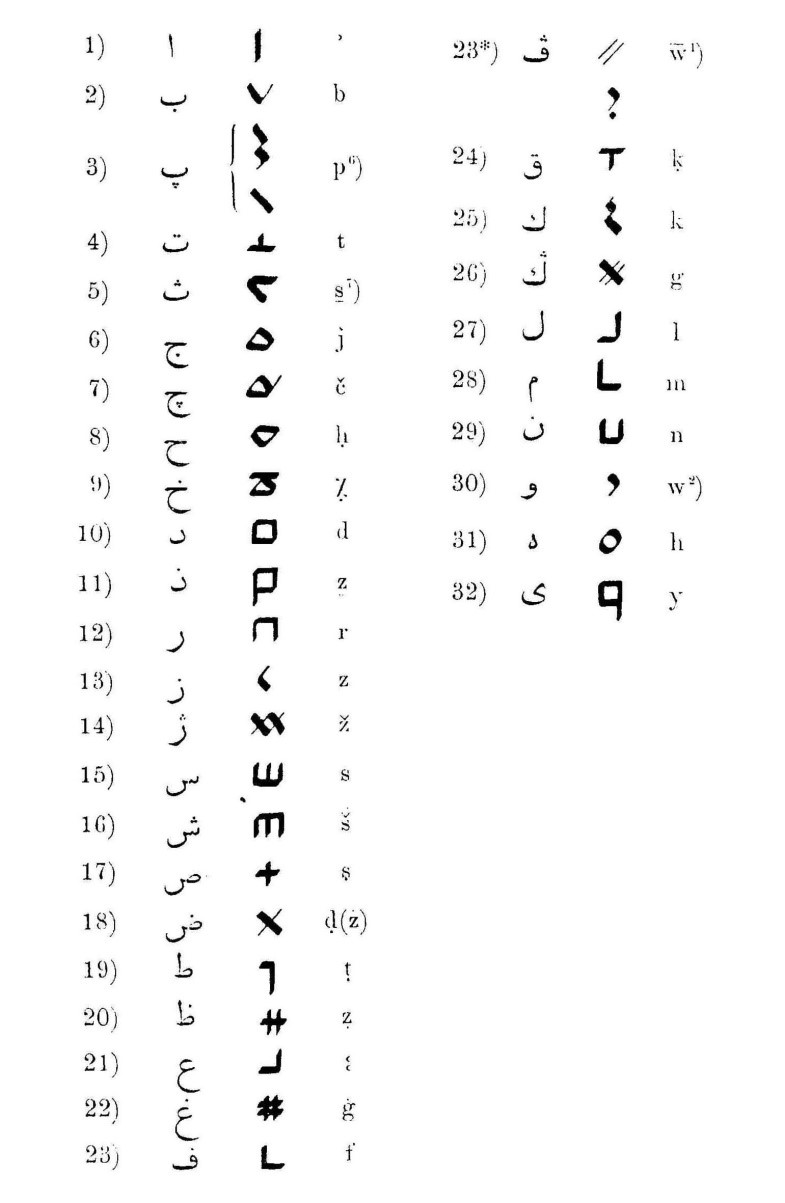 Almaniya vê pirtûkê ji hêla Dr Maximilian Bittner hatiye amedekirin.
Tê gotinê ku keşayekî keldaniyan berê ew pirtûk wergerandine erebî, Maximilian Bittner jî ew bi almanî nivisandine. Pirtûk hem bi tîpên erebî hem jî bi yên latînî hatine nivisîn.
Ji rûpela 88 pê de ferhengoka ziman e.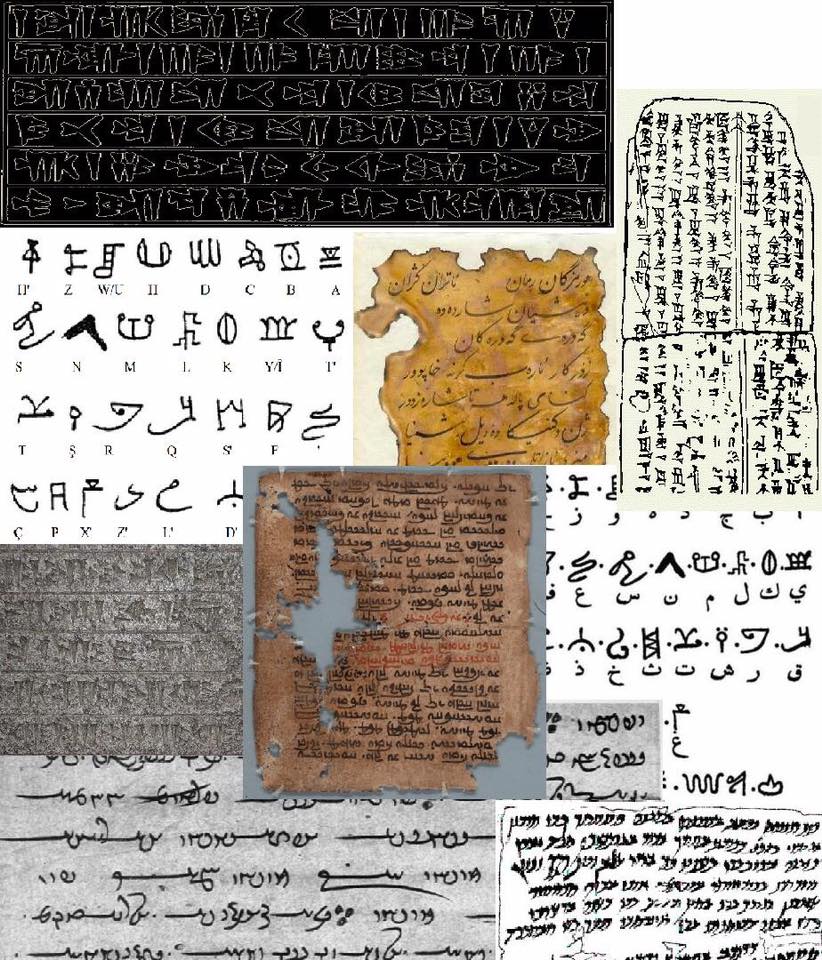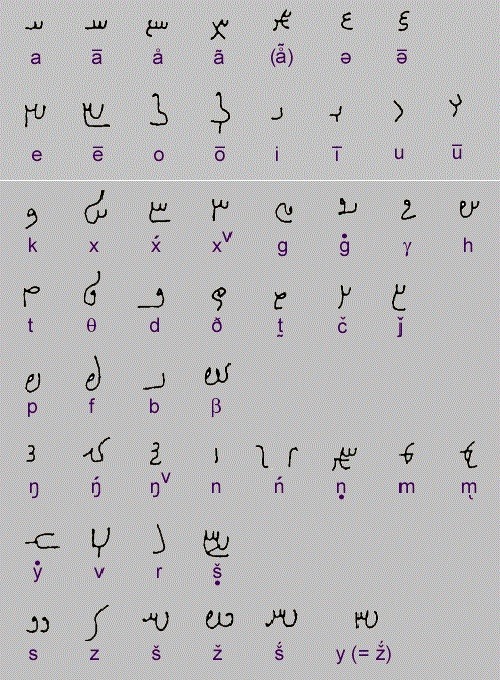 AVESTA ALPHABETH & HOLY SCRIPT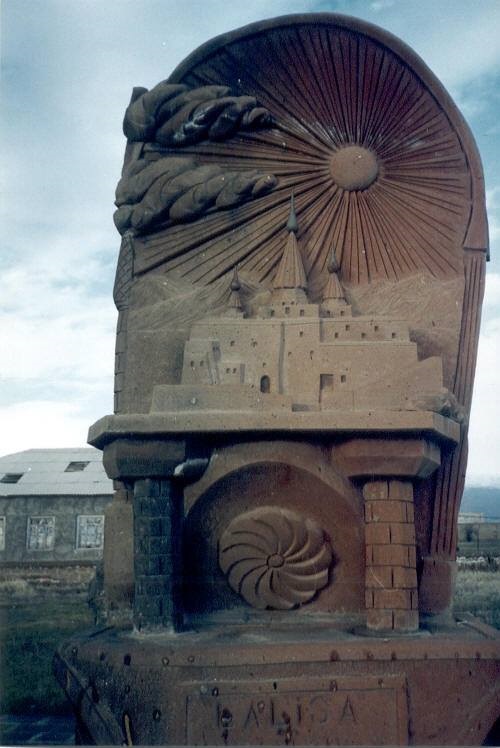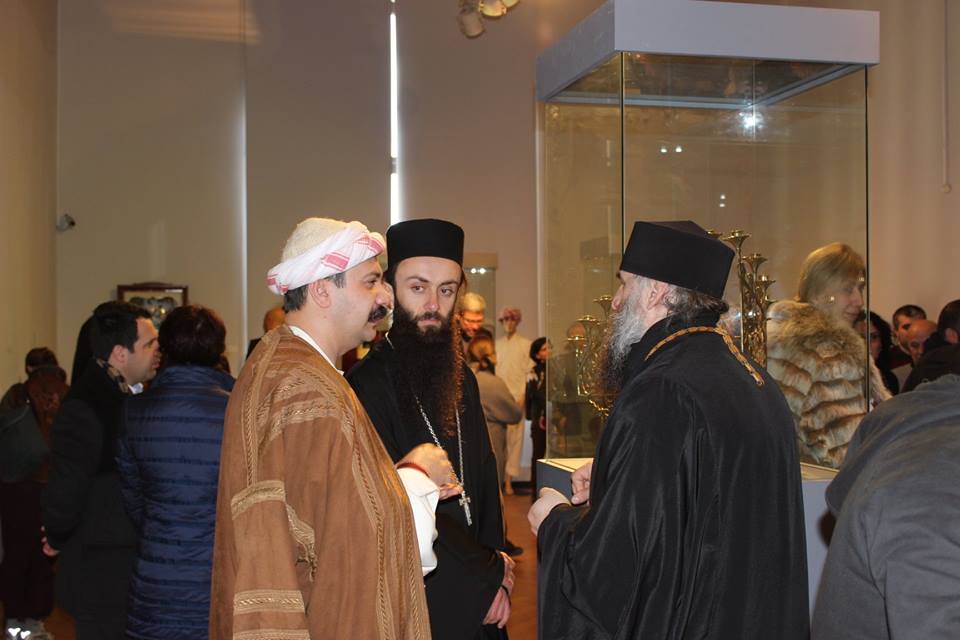 Yezidi Priest Pîr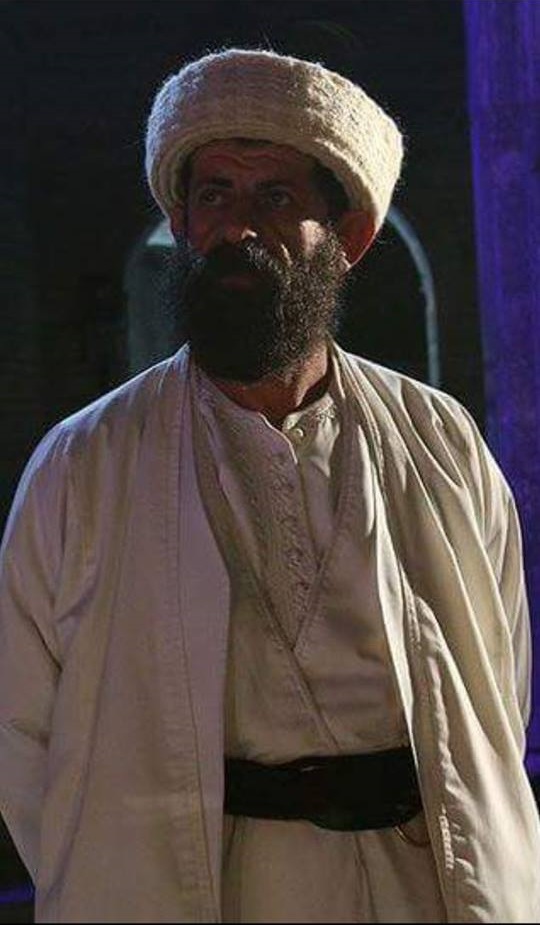 Yezidi Priest Pîr
Ezdiyên Gurcistanê (Georgia)
Ezdiyên Gurcistanê (Georgia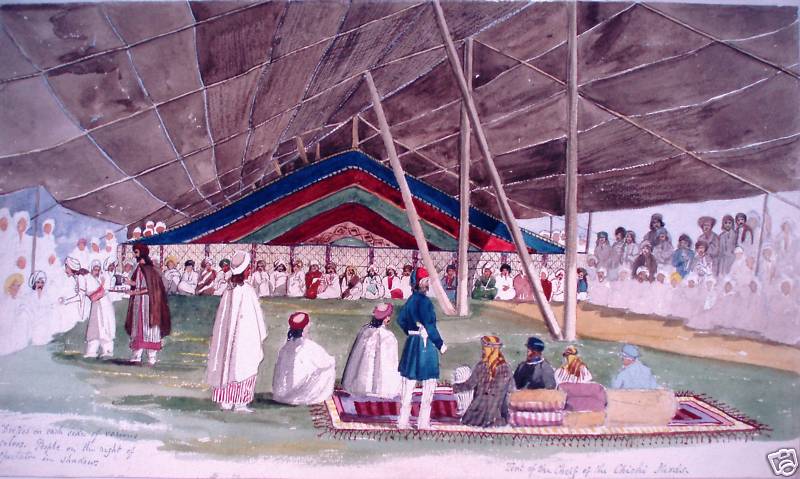 Tent of Ezdi Kurds (Chichi) from Shingal (Arabic Sinjar)

Konên ÊL û MALBATA ÇÎÇÊ ÊZDÎ.. PISTÎ 150 SALAN - CARA YEKÊ BELAV DIBE!!


Artist: Frederick CharlesCooper (c.1810-c.1880)

was a traveller, diplomat & artist, Consul to Queen Victoria in Mesopotamia

(1850-1855) & Kurdistan. He made many drawings, of which this is one, which included his

Arab friends of the Jebouri tribe & places: Beled Sinjar, (Kurdistan) Kowkoob cemetry

Shingal minaret, Akhtar, the Chichi Kurds, the Khadour

Many of his drawings was used by Sir Austen Henry Layard for his archaelogical publications.


Portraits of Kurds, some with their names

Watercolour

Size: 11 x 27 cm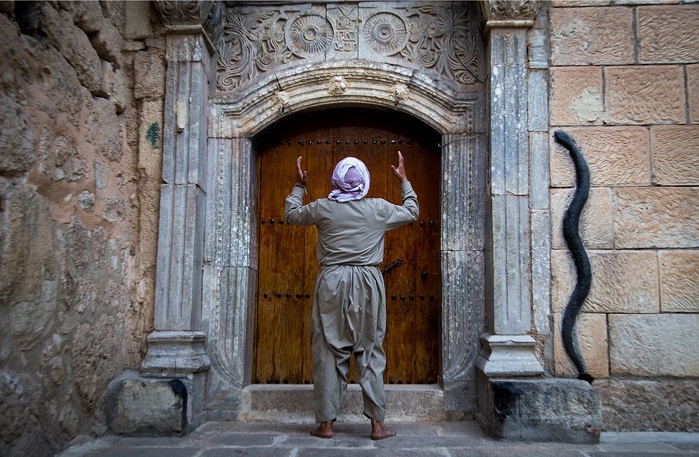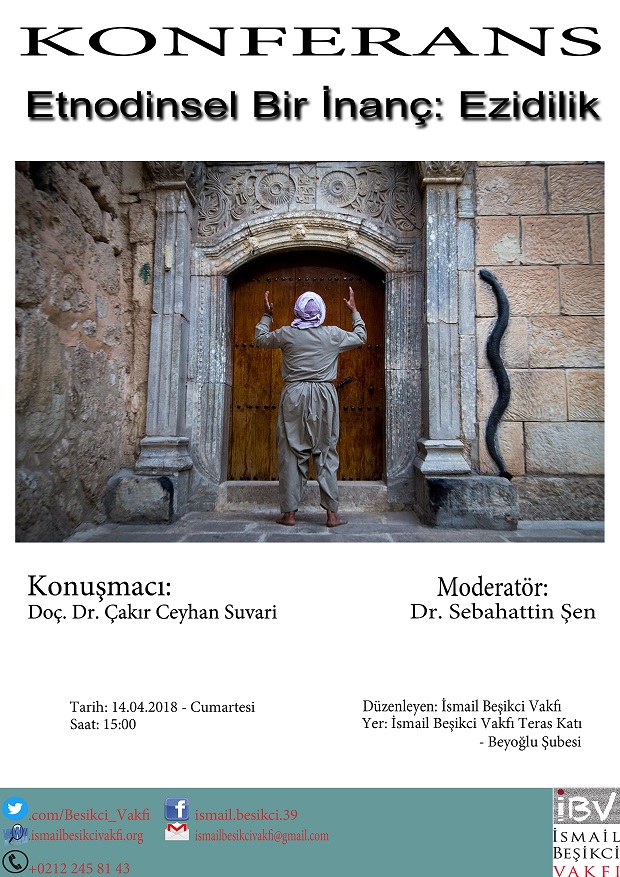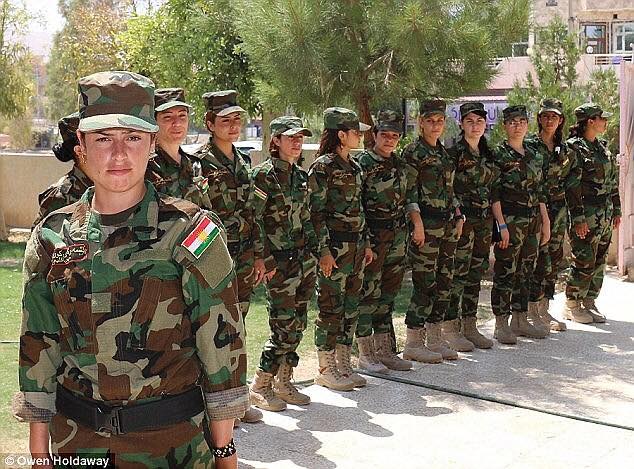 After Islam's Army ISIS attack on Kurdistan 2014 The Yezidi Kurds join Kurdish army. As known the Yezidian religion contains non-violance
principles and it is wyh the Yezidian alwas refused to join any army.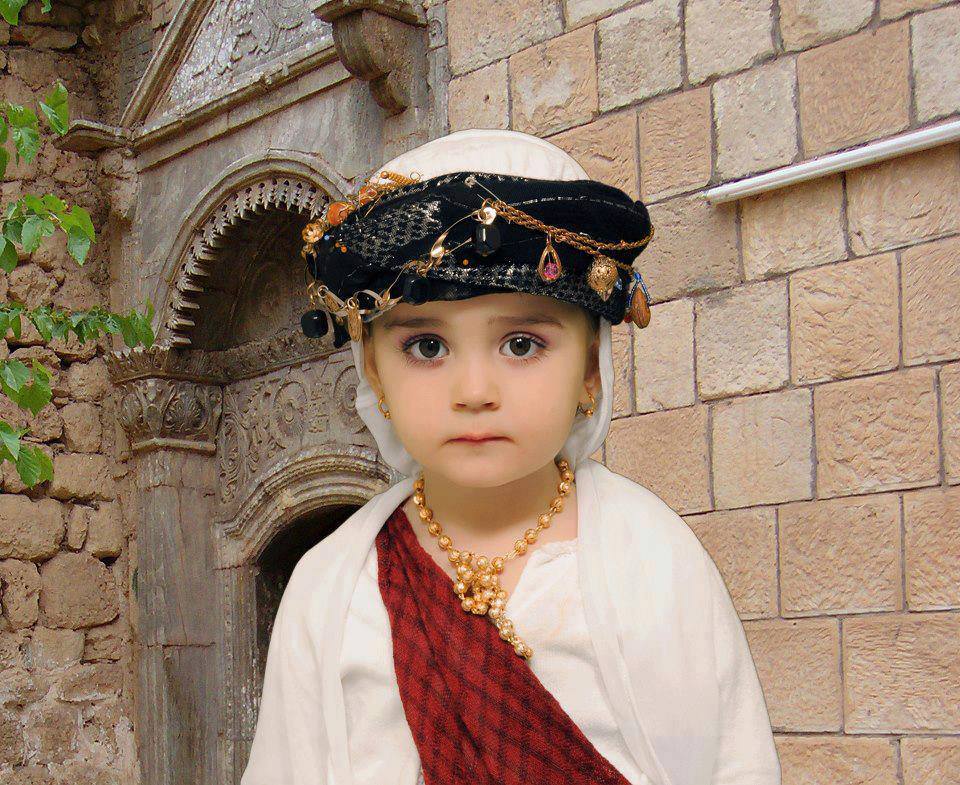 Yezidi girls 1830, Misirch (Kurtalan) Northern Kurdistan
The Yezidi young girl praying in front of the Sun Temple for protection of her people - The Kurdish Yezidi people.

One can clearly see the big fear of the islamist and jihadist Turk-Arab terrorists' fear on her face


The Kurdish Yezidi People of Shingal (Sinjar is Arabic pron.) has faced 74 genocides, all of them by Turkish and Arabic Islamists, even by their own people's -by Kurdish- islamists!
The traditional headwear of Yezidi girls and women
Aktoreka amerîkî; Lily Cahill, ku taca serê wê sembola êzdîyan e, 1913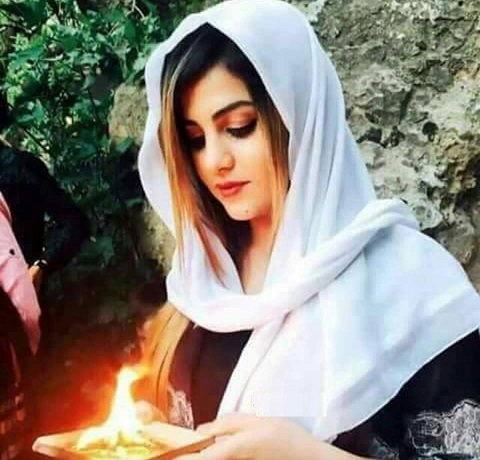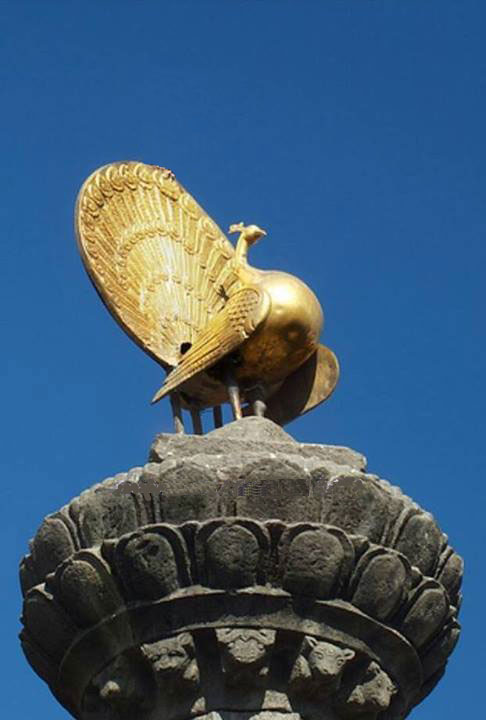 ALEWÎTÎ
Oleke (dînek) ji herî kevin a dunyayê ye û li Kurdistanê dest pê kiriye. Hevgirêdanek di navbera bîr û olên;
Ezdayetî, kakeî (yarsanî) û elewîtiyê de heye.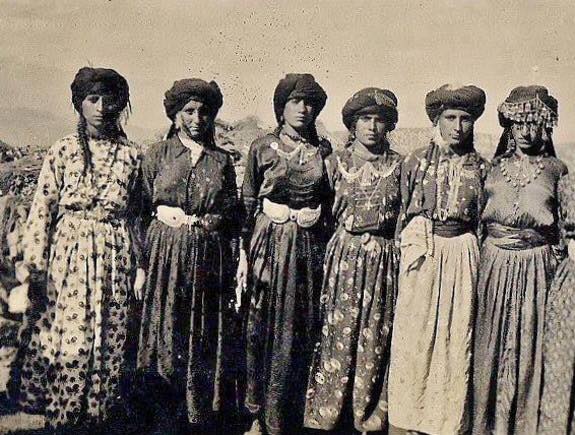 1910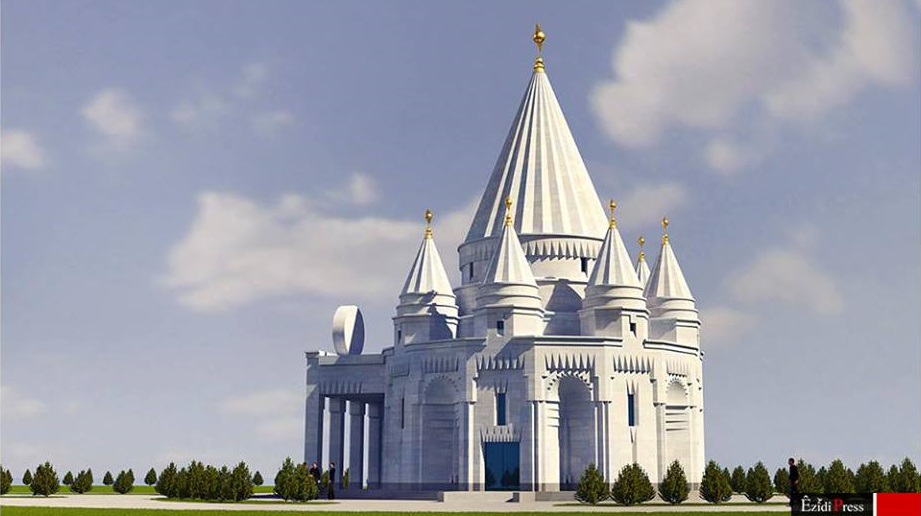 QÛBA SULTAN ÊZDÎ LI KURDISTANA QEFQAZÊ (Rewanê)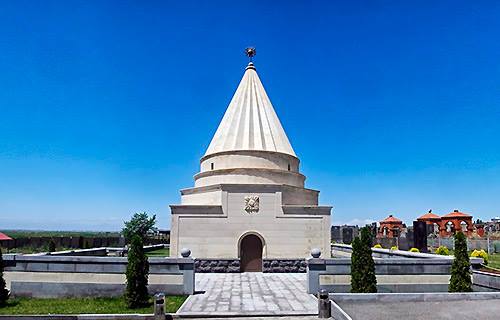 ZIYARETGEHA ÊZDAYETIYÊ LI KURDISTANA QEFQAZÊ (Rewanê)
Hemoyê Shero (1850-1935), Kurdish Yezidi leader who saved and gave shelter in Shingal, Kurdistan, to thousands of Assyrians and Armenians from Iraq, Turkey, Syria, Iran & other countries, during "The Armenian/Assyrian Genocide 1915". MAY HIS SOUL REST IN PEACE!


Hemoyê Shero, Yezidi tribal leader in Shingal, saved with his Fighters around 20,000 Christians during the Assyrian and Armenian genocide of 1915 in the Shingal Mountains. When the Ottoman / Turkish pursuers demanded the surrender of the Christian refugees, Hemoyê Shero decided to defend the Christians."The Ottomans sent their messengers to the Yezidis in the Shingal Mountains and demanded in a letter the surrender of the Christian refugees, otherwise the Yezidis themselves would suffer the consequences. The Yezidi tribal leader tore up the letter and sent the messenger back to the Ottoman army – without clothes.""How can I accept to surrender the Assyrian and Armenian Christians to the Ottomans, who came seeking help to us? I promised them and swear by my honor to defend them and don't deliever them to the some one, as longs as a tear left in me. If my sons and I have to die for it, so be it!"The local knowledge Yezidi hid the Christians in caves and under ledges. When the Ottoman/Turks attacked Shingal from the South, the Yezidis returned fire and held over 2 months. many of the Ottoman soldiers were killed, also a lot of the Yezidis lost their lifes.. nevertheless, it was possible to force the Ottomans to retreat. Several Christian families remained in Shingal and settled in the region where they live partially until today with the Yezidis.*The Ottoman Turks massacred at least 1,5 Million Armenians, 950,000 Pontus Greeks, 750,000 Assyrians and 400.000 Yezidis during the Genocide 1915. Turkey still continue to deny The Genocide of 1915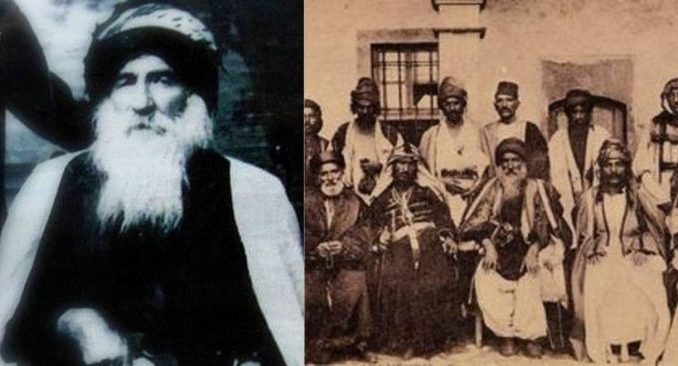 HELP YAZIDI PEOPLE WITHOUT TRYING TO CONVERT THEM
- If you traveled to Kurdistan to help Yazidis: The Yazidi gave their lives rather than changes their believes. ISIS used to threats or death to get them to convert.
Please leave your personal religion out of it! Christian are using words to get them to convert.
"This week, I and my fellow Americans will be celebrating Thanksgiving. Before beginning to eat our Turkey dinner, many will speak at the table about why they are thankful. I am thankful for my wonderful family; however, what I am really thankful for is having been born in a free country.
Having been friends with the Yazidis for 3 years now, I realize more than ever what it means to be entirely free from persecution, oppression and fear.
Most Americans will never know what it is to live your entire life being harassed, killed and discriminated against only because of not belonging to a certain religion. The Yazidis are small in number. They have no one helping them as they are considered insignificant. Yes, they are my friends. My heart saddens as I speak to them every day while they suffer in tents rotted from the sun. Winter is here and they have nothing to give them warmth in the tents. Their buckets of water to bathe are freezing cold. They sleep on thin matteresses on the the floor with little hope of any joy. Many are even college graduates but cannot find employment. All because they are not Muslim and refuse to convert.
I so wish others know them as I do. I so wish my American Government would recognize the need to help them become free and the opportunity to leave a country that does not want them but will not allow them to emigrate."
By Beverly Hinch Luttrell, an American activist helping persecuted Yazidis: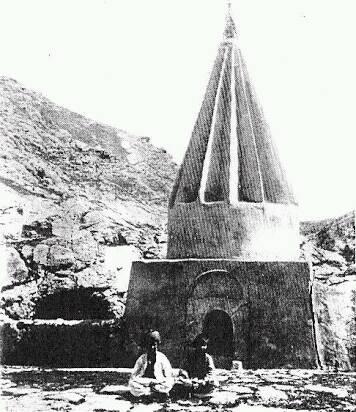 Laleş, li dewranên kevn, 1905
TEMPLE OF THE SUN IN KURDISTAN



THE RELIGION OF THE KURDS
- BULLETIN Of The School of Oriental Studies,
London Institution - 1922




KURDISTAN'S CHURCHS

& SYNAGOGUES
YEZIDISM - The ancient religion of the Kurds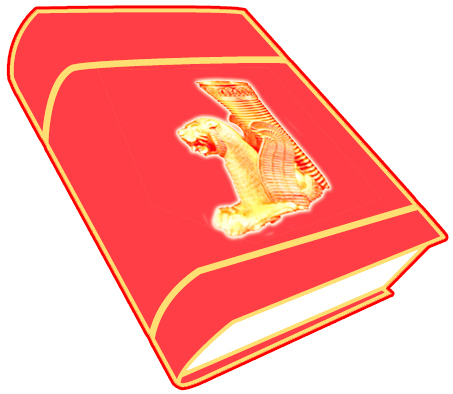 Foundation For Kurdish Library & Museum