KURDS
FROM THE EARLIER CENTURIES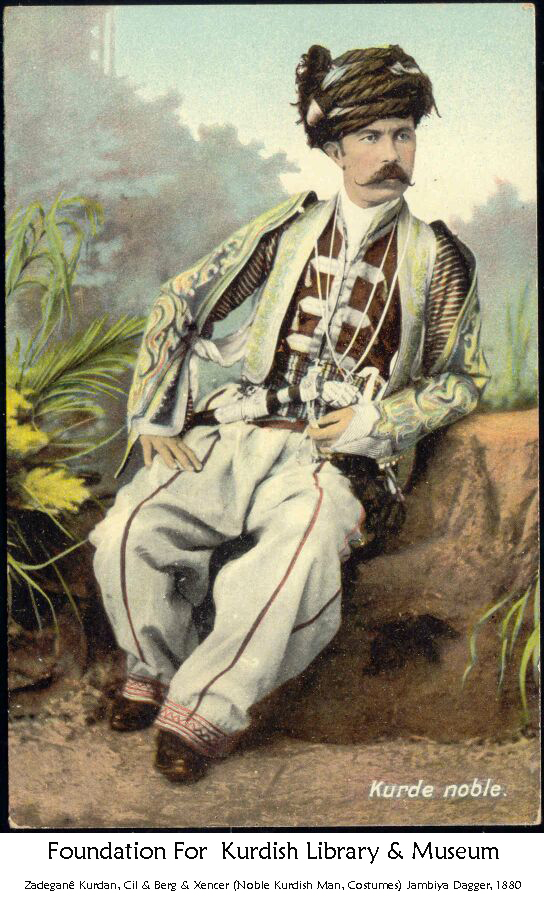 Mûsa Beg - Serokê Êla Motkan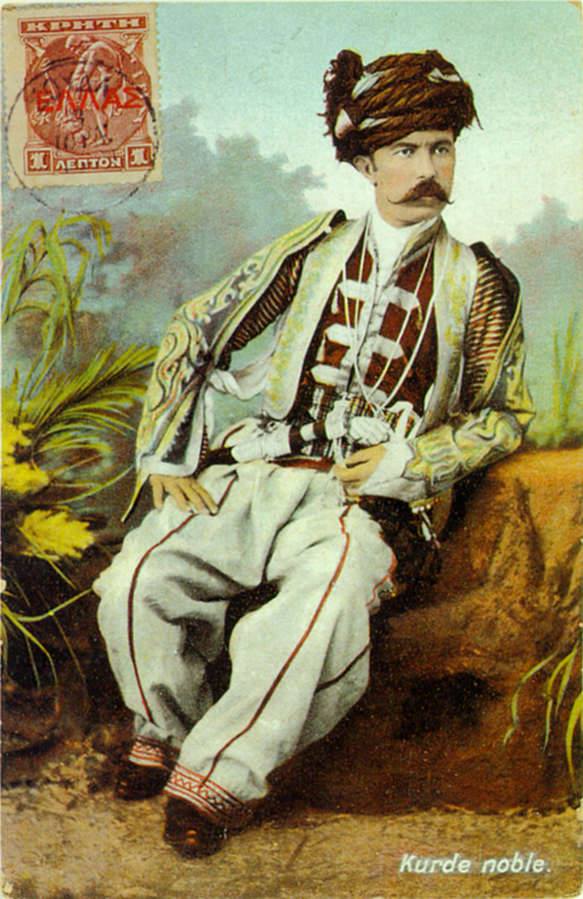 ''Böyle modern tarzda bir kıyafeti Kürdistan'ın bu dağları arasında görebileceğimi hiç sanmıyordum ve çok afallamıştım ilk başlarda. Ancak daha sonra öğrendim ki
bu tarz kıyafetler buralarda çok yaygın ve normalmiş.''

Amerikalı Misyoner Horatio Southgate 1838 – 1839, Bitlis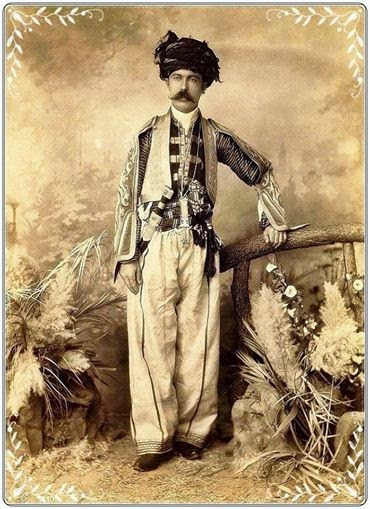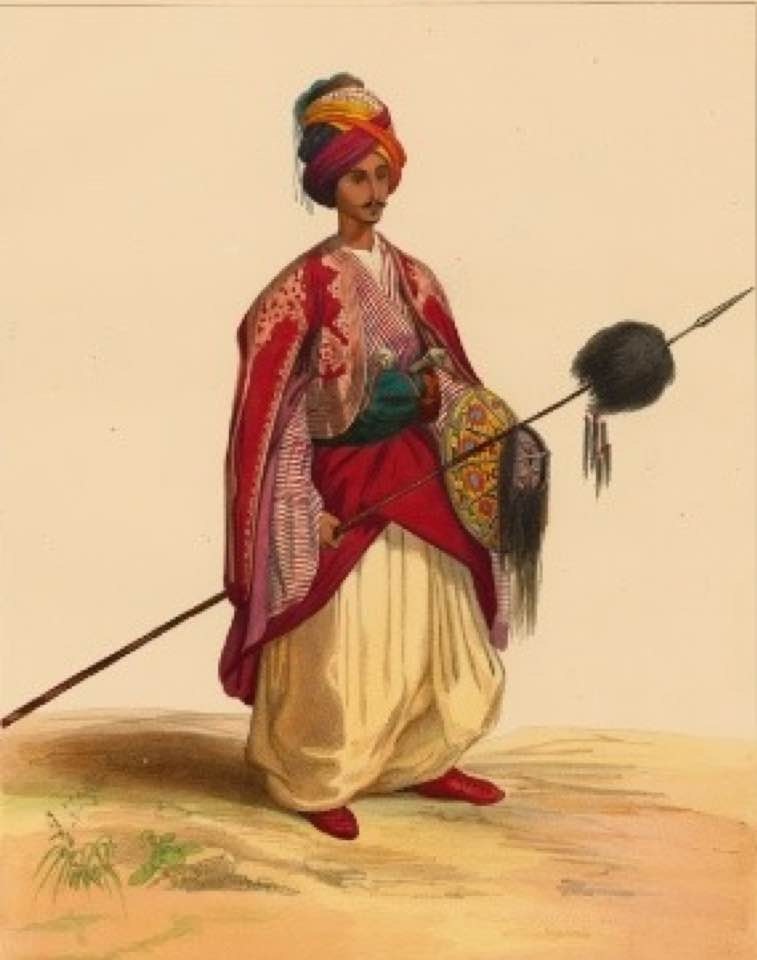 Kurdish Warrior, 15th Century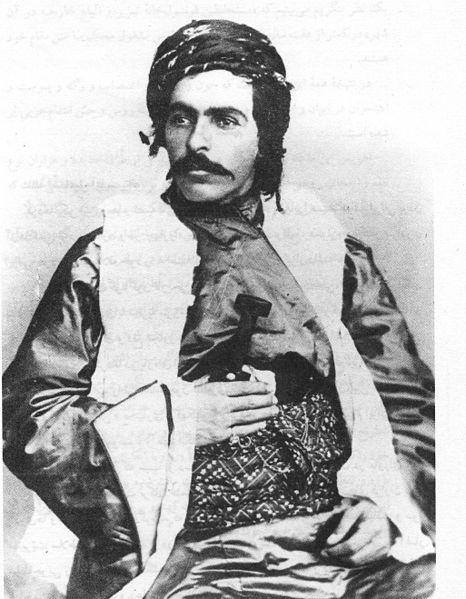 Smaîl Axa Shikak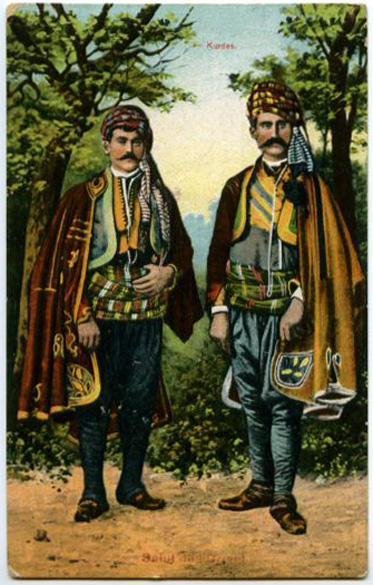 Two Kurds From Constantinople 1899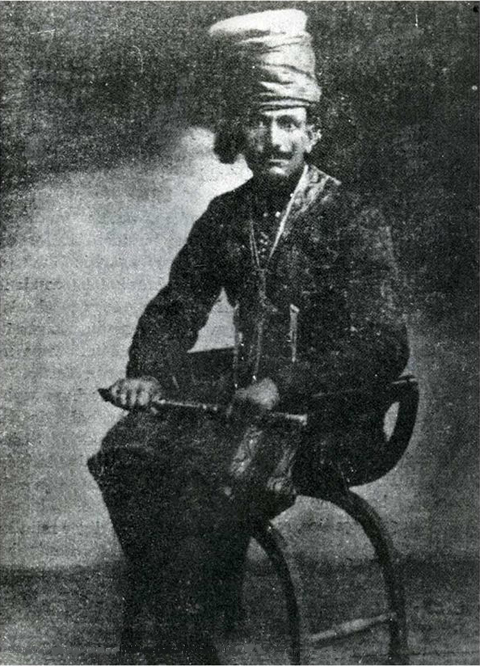 YADO - The legendary Kurdish Leader - 1925 - Leader of Kharpout front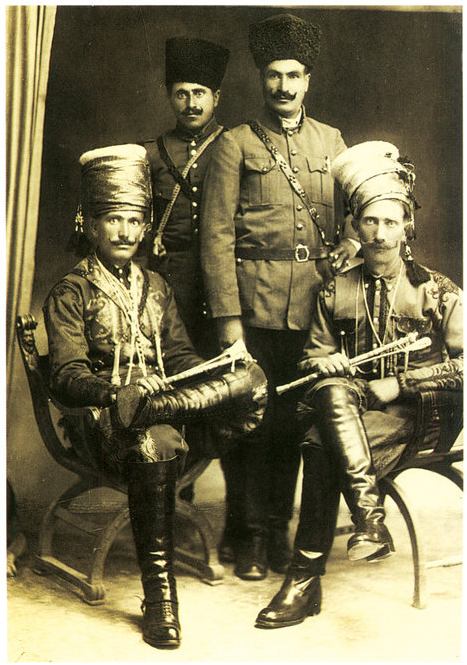 YADO - The legendary Kurdish Leader - 1925 Beyrût
Yên rûniştî: Komandan Yado Paşa û Sadîn Talha - Yên li piya: Mala Îbrahîm û Mihemed Efendî (Mutewellî)
Şeyh Sait Kıyamına Katılan Yado Paşa Solda, Sadin Talha sağda, Mele İbrahim ve Mütewelli 1925 Beyrut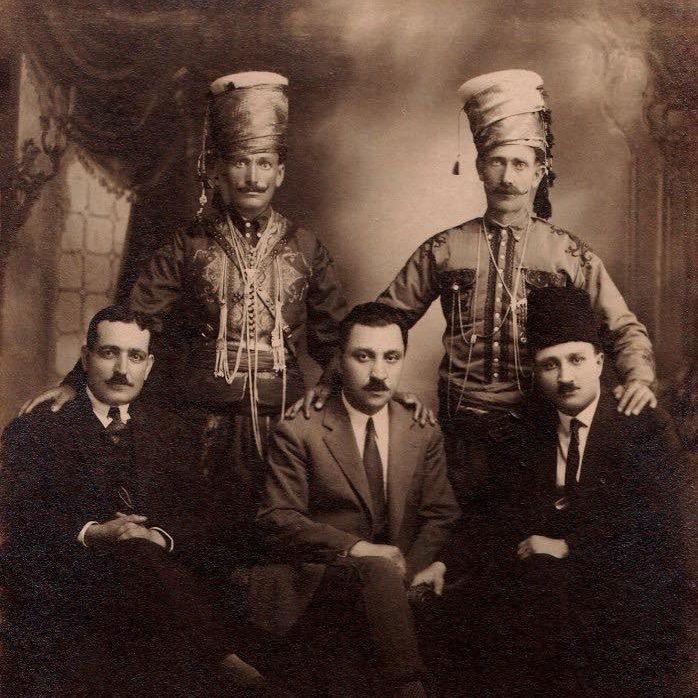 YADO - The legendary Kurdish Leader - 1925, Talha, Memduh, Celadet & Kamûran Bedir Khan Brothetrs

16 Haziran 1942

Milli Şef İsmet İnönü'nün hapishane ziyareti sırasında kürt giysilerini çıkarmayı reddeden Sadin Talha, Sivas'ta idam edildi. 
Sadin Telha, 1930'da evine yapılan baskında ele geçirilen Xoybûn'la ilgili dokümanlardan dolayı mahkûm edilmiş ve müebbet hapis cezasını önce Erzurum'da ardından Sivas Hapishanesi'nde ağır şartlar altında geçirmişti. 
(Fotoğraftakiler: Ayaktailerden soldaki Kürdistan Kahramanı Yado, sağdaki Sadin Telha; oturanlar ise solda Memduh Selim Bey, ortada Celadet Ali Bedirxan ve sağda Kamuran Bedirxan)
Mi ra vûn Yad Mehmûd Ebas,
Mi dest ra çiniyo xelas...

(Savaşırken attığı meşhur nara:

Bana YAD MEHMÛD ABAS derler
Elimden kurtulus yok!)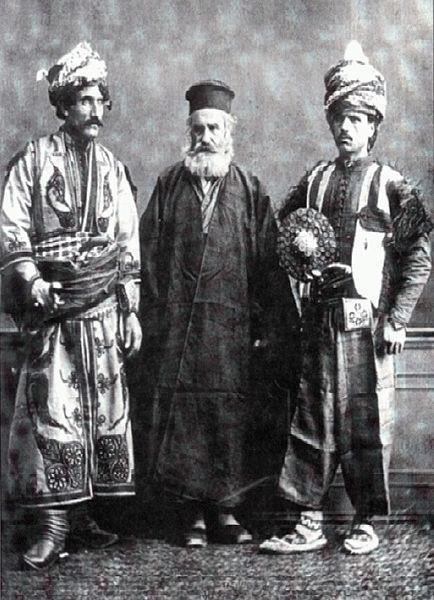 Kurdên Çiyayê Hezonê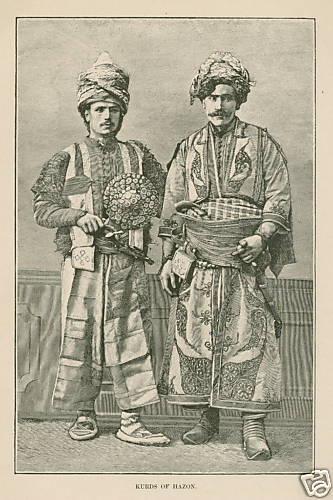 1894 ANTIQUE PRINT – KURDS OF HAZON (MOUNT HAZON)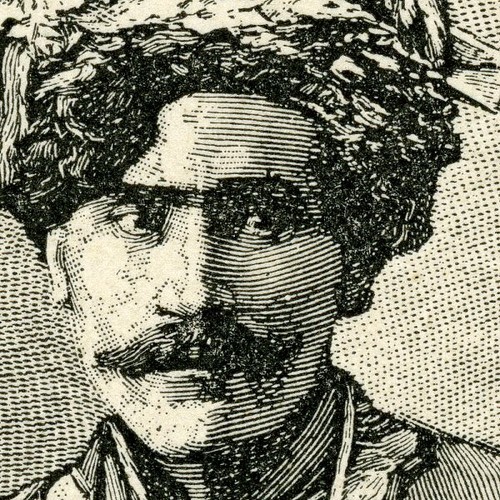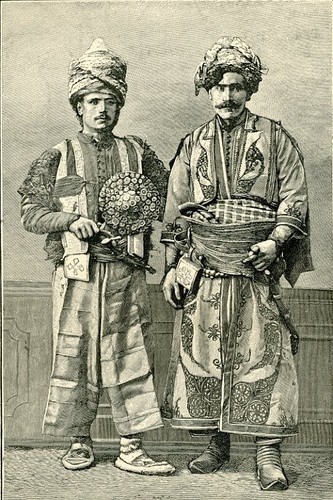 Hazon Kurds 1894 Antique/ Israel - Print art Kurdish men with weapons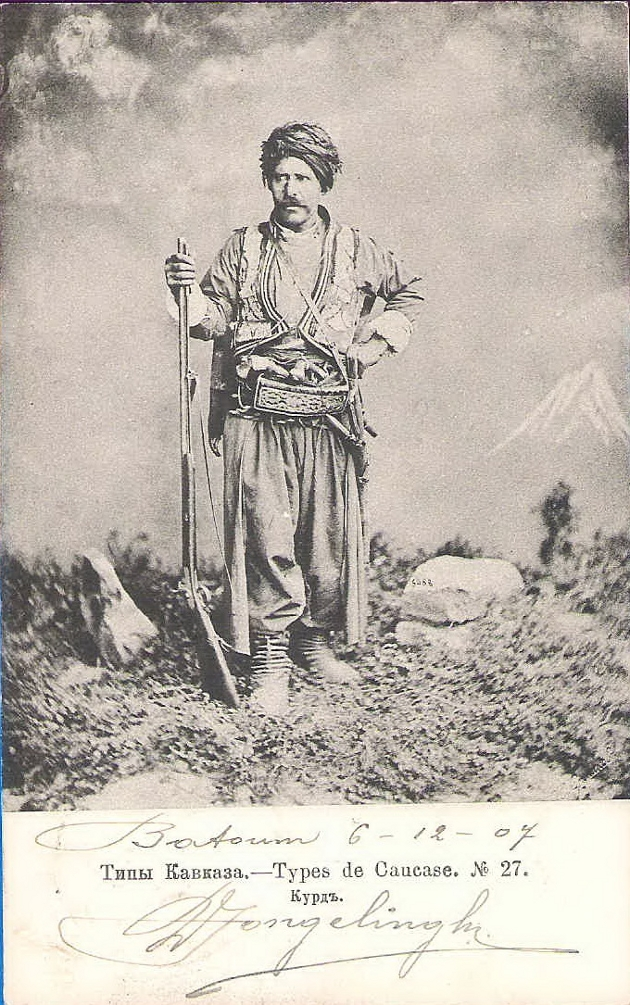 Kurds of Caucasus, Photo from 6.12.1907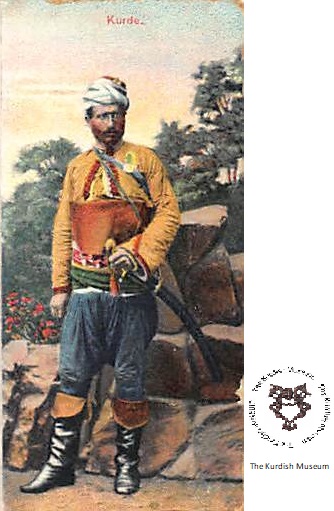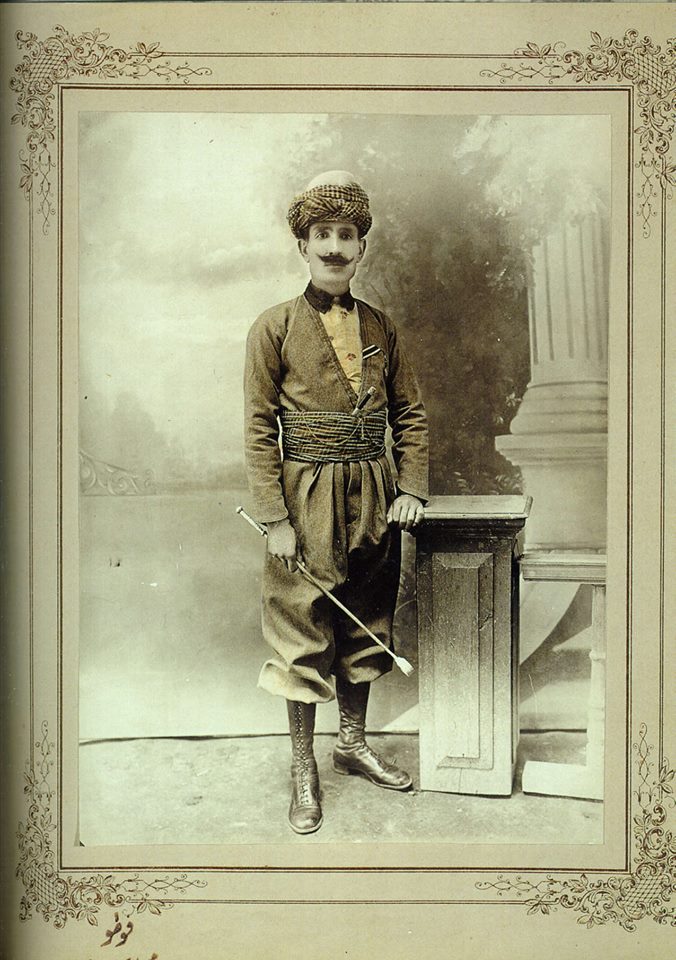 Hesen Xeyri
Türklerin 1920 Meclisi'nin Kürt mebuslarından Hasan Hayri, 1922'de Mustafa Kemal'i en fazla destekleyen, Lozan'da Kürt haklarının savunulmasının gerekli olmadığının propagandasını yapan kişiydi. Mustafa Kemal, Hasan Hayri'den aynı propagandayı kürt kiyafetleriyle Meclis'te de yapmasını istemiş ve Hasan Hayri bu isteği aynen gerçekleştirmiştlr. 1925 yılında Şeyh Said kıyamı nedeniyle Şark İstiklal Mahkemesi'nde yargılanan Hasan Hayri, mahkemenin 'falanca tarihte neden kürt kiyafeti giyerek Meclis'e geldin" sorusuna muhatap kalmış ve 23.11.1925 de idam edilmiştlr.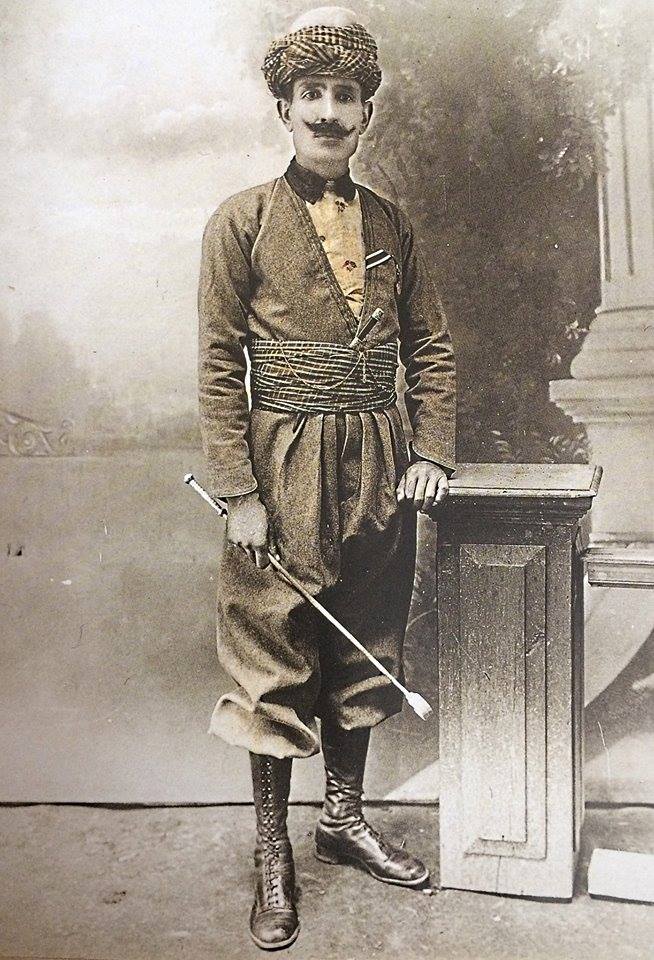 Ey Kürd Halkı! Bizden ibret alın ve hiçbir zaman işgalci-ırkçı türk devletine güvenmeyin.
Şunu bilin ki bu dünyada en kıymetsiz şey, türkün vermiş olduğu şeref sözüdür.
Hasan Hayri
İlk türk meclisinin kürd millet vekili

NOT: İşgalci türklerin lideri ırkçı-katil Mustafa Kemal'in türk devleti kurulmadan önce topladığı meclis toplantılarına 'kurulacak olan bu devlet hem kürdlerin ve hemde türklerin devleti olacak' vaadiye katılan kürd delegelerden olan kürdlerin Dersim'de önde gelen liderlerinden olan Hasan Hayri, bu türk devleti kurulunca işte bu kürd geleneksel kıyafetle meclise gider, ama ırkçı türk lider Mustafa Kemal onu tutuklatıp idam eder. Bu kalleş davranış üzerine Hasan Hayri bu meşhur son sözünü söyler.

Kendi ulusunu bu kadar çok katletmiş olan işgalci-katil türk devletine yardım eden, onların toplum sistemine yedelenmeye yeltenen bütün işbirlikçi kürdler; ya hep böyle işbirlikçi olarak şahsiyetsizce ihanet içinde yaşayarak bütün sülalenizi sizin gibi rezillerden edeceksiniz, yada bu hainane tutuma bir an evvel son vererek, kendi gadre uğramış milletinizin kurtluş, demokrasi , özgürlük ve bağımısızlık mücadelesine katılacaksınız.

Başka yolunuz yoktur. İşgalci-ırkçı türk toplumuna dahil olmakla hiçbir zaman huzur bulamayacaksınız. Siz ne kadar çok o yabancı topluma dahil olsanız bile, ne kadar da çok türk toplumunda mal, mülk ve servet sahibi olsanız bile, kürd olduğunuz için yine de hiçbir can güvenliğiniz olmayacaktır. Sizi ırkçı türklüğün ihanet saldırılarından hiçbir servet ve para kurtarmaya yetmiyecektir. Akıllı olun, kendinize dürüst olun. İşte dağ gibi büyük tecrübeler meydandadır.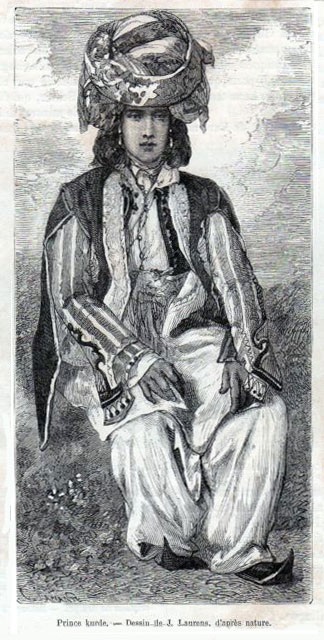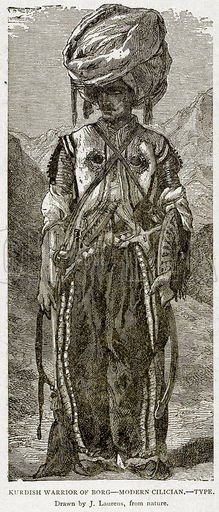 Kurdish Warrior
Sheikh Mahmoud Hafid - The Kurdish King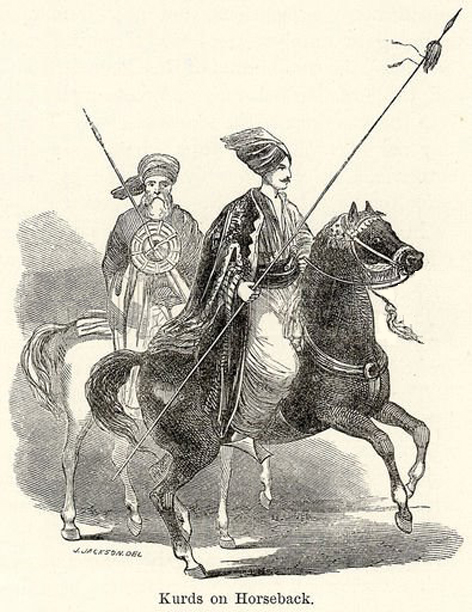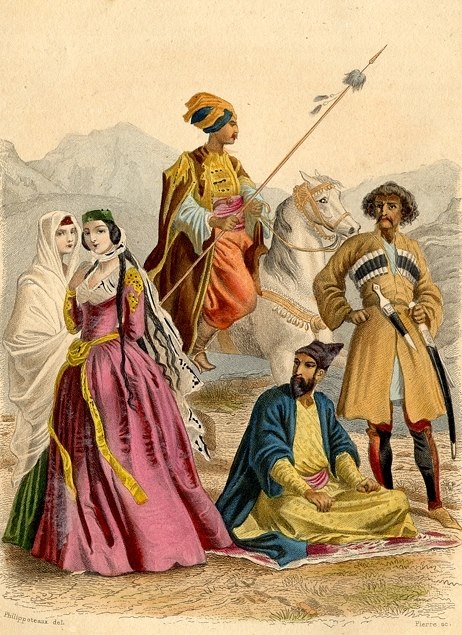 Cavalier Kurde, Circassien. Eastern Kurdistan, 1859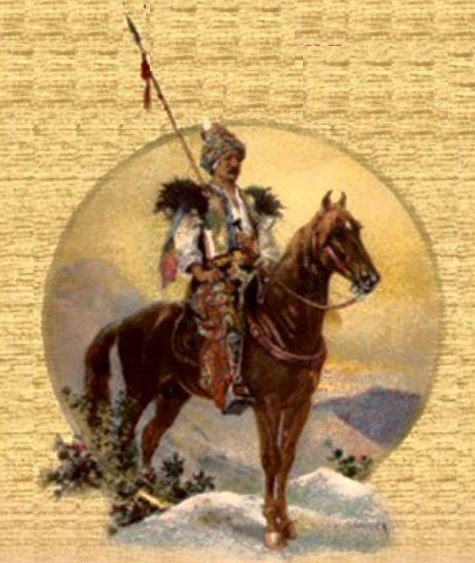 Kurdish Rider 1800
Kurdish Muzicians 1890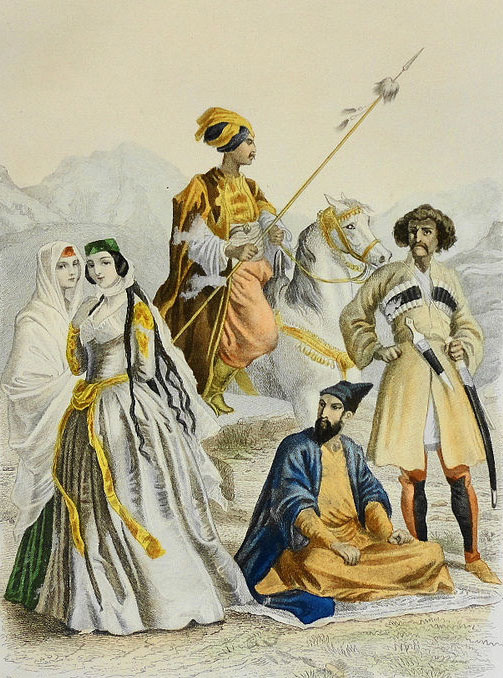 1863 GRAVURE 19 ème EN CO
BIJÎ SEROK APO OSMAN SEBRÎ!
- Kes wek Wî cendirmên tirkan ne kuştiye di zemanê xwe de!
EM BI TE RE NE..
STUME ASIE CAVALIER KURDE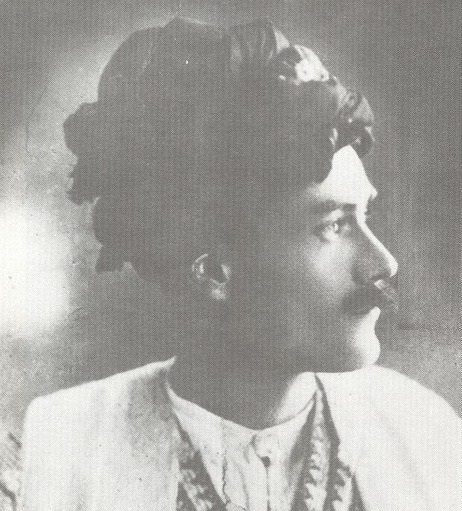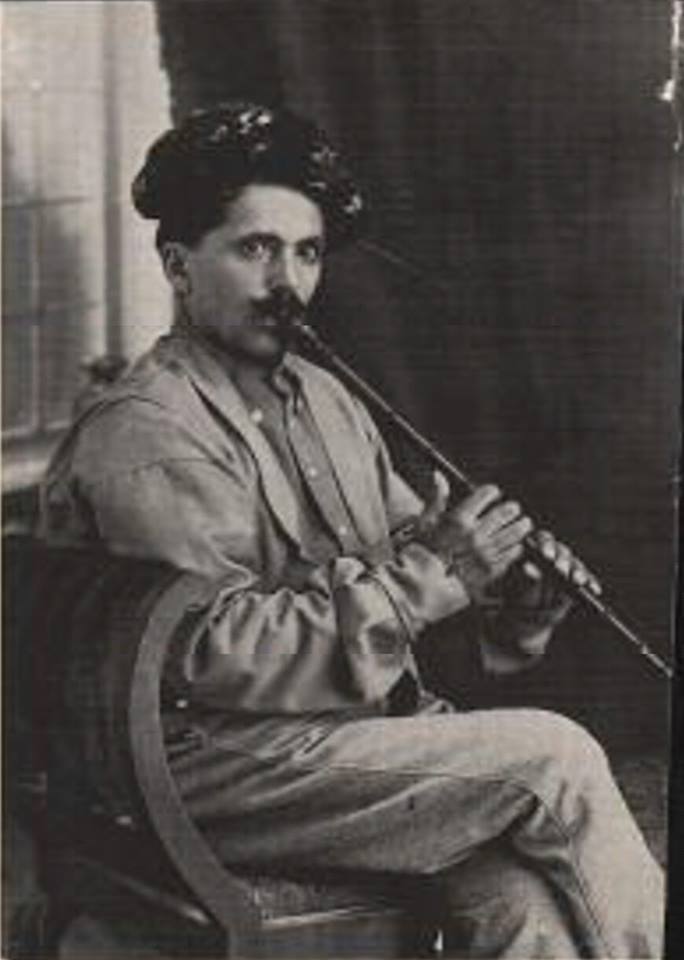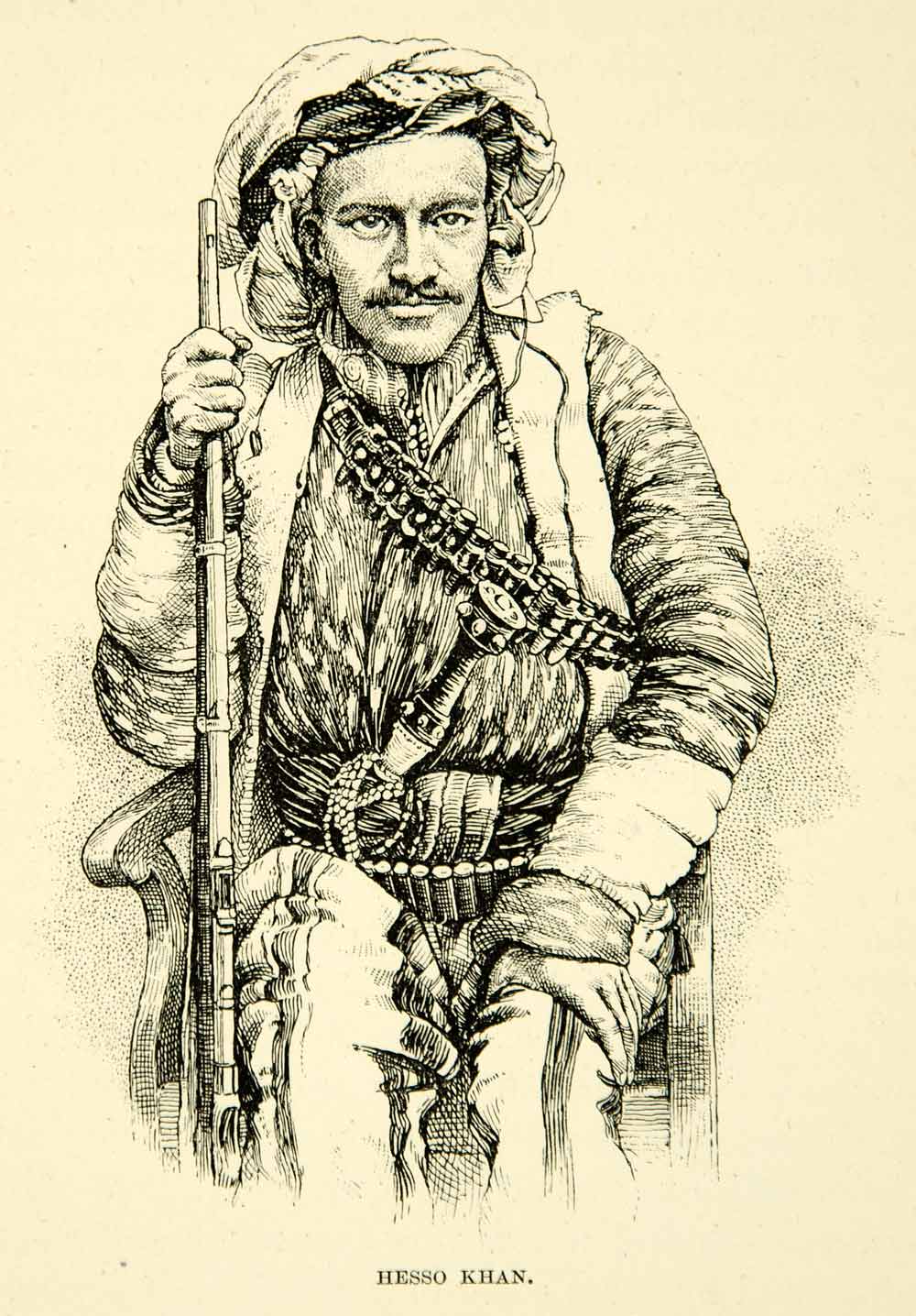 Hesso Khan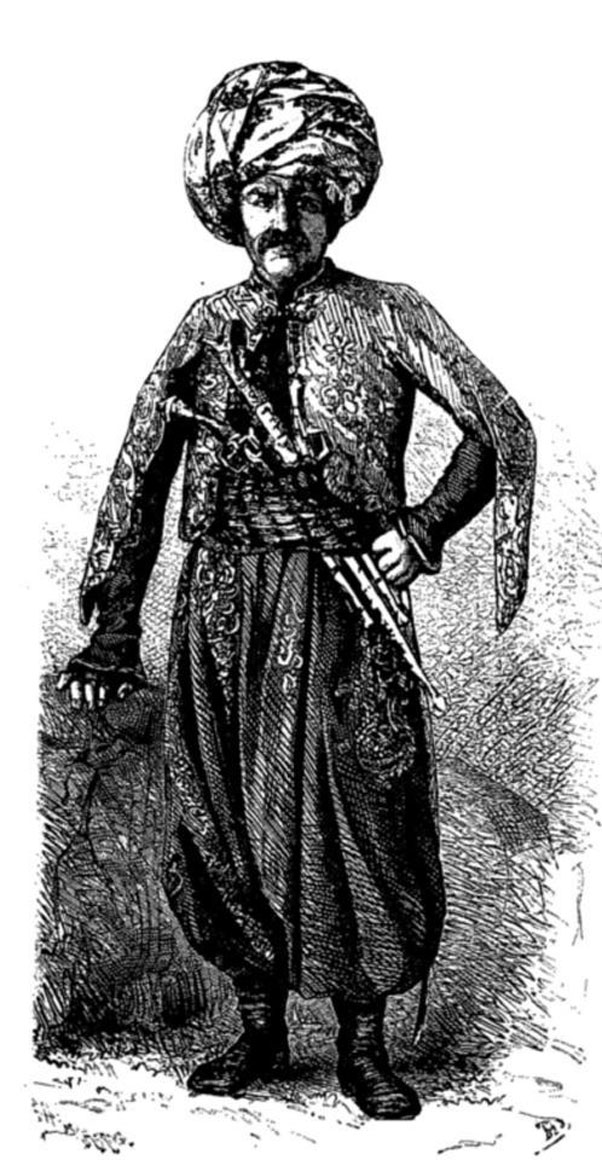 Begekî (nekurd!) ji Bitlîsê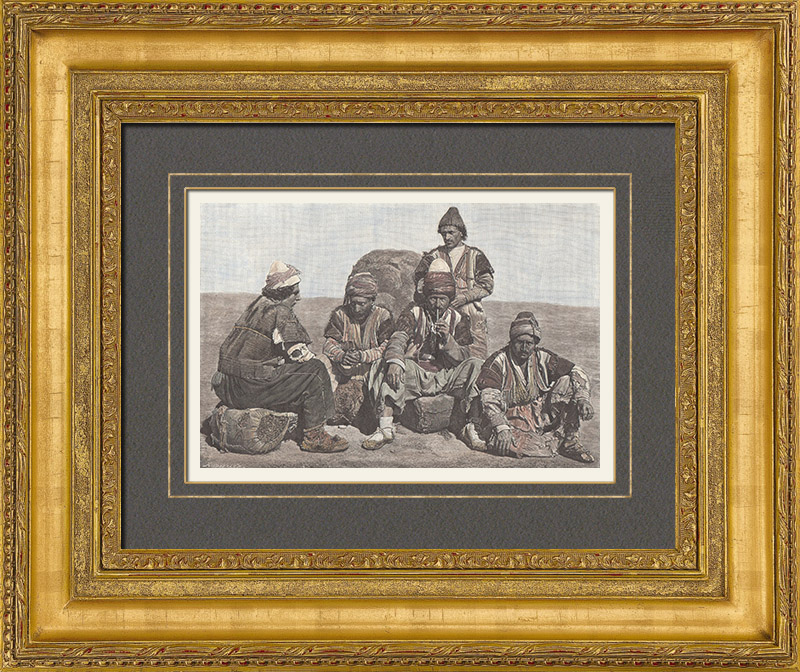 Kurdish Field Workers - Pale, 1901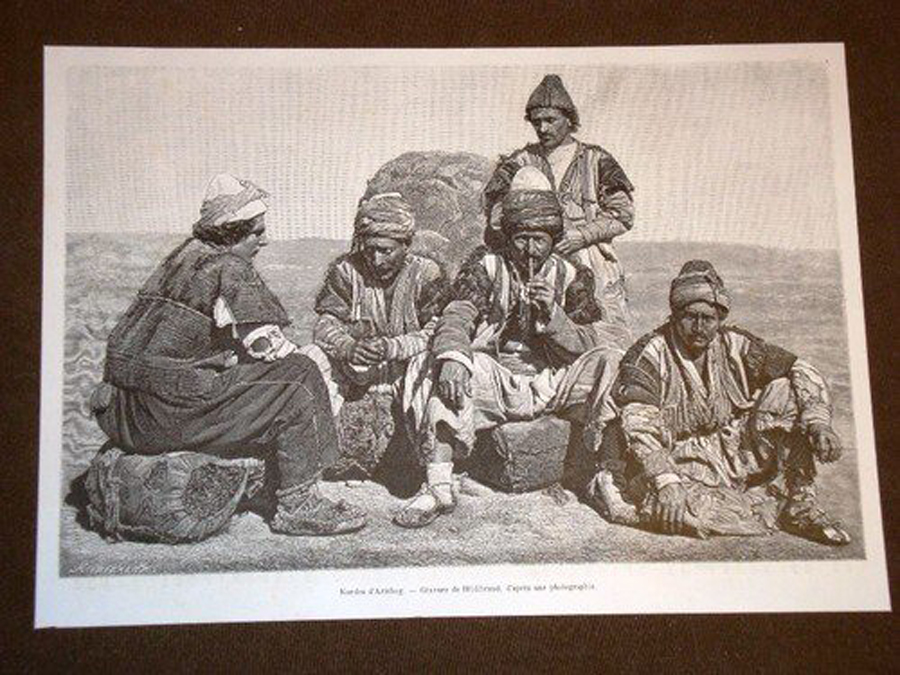 Kurdish Field Workers - Pale, 1901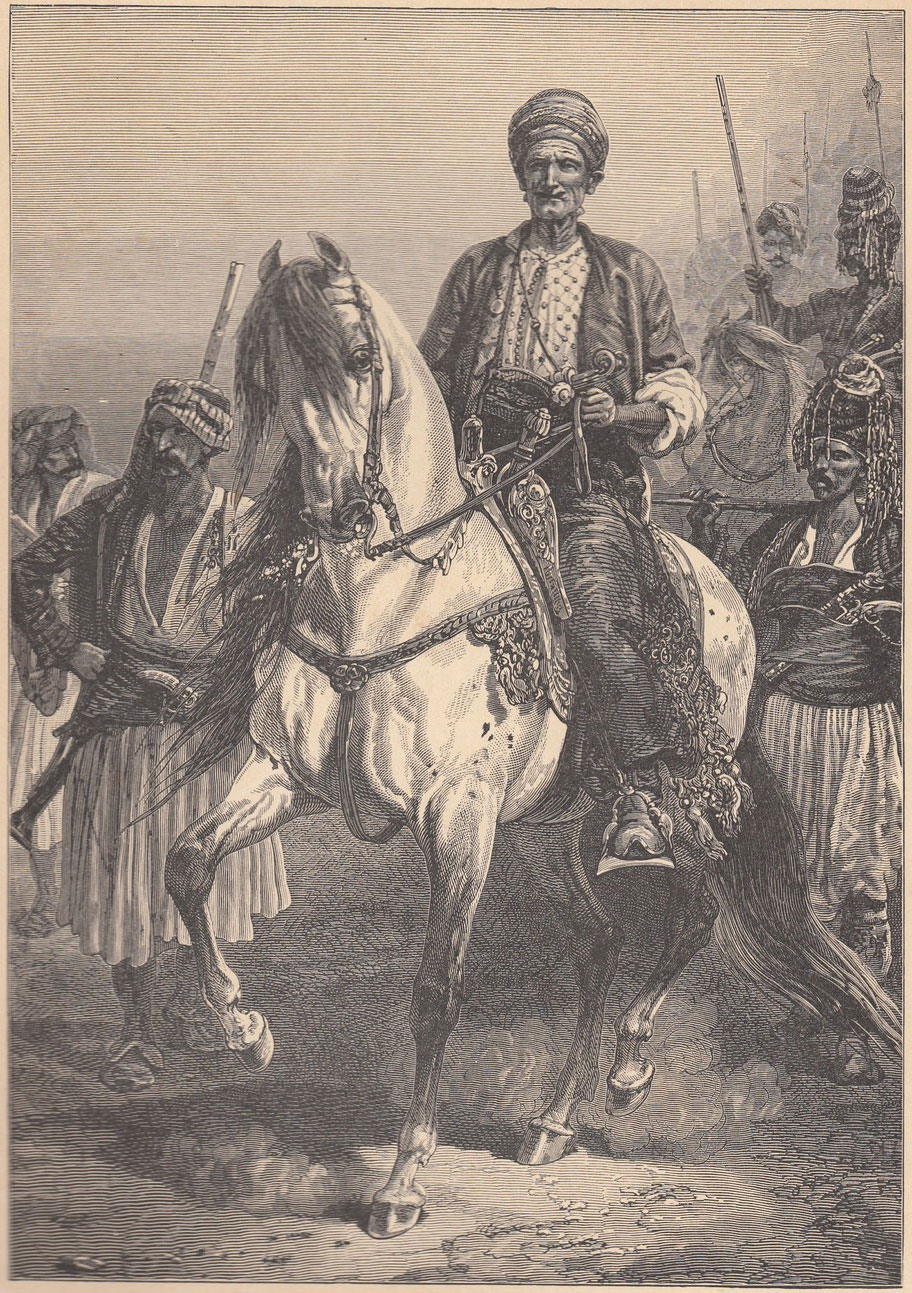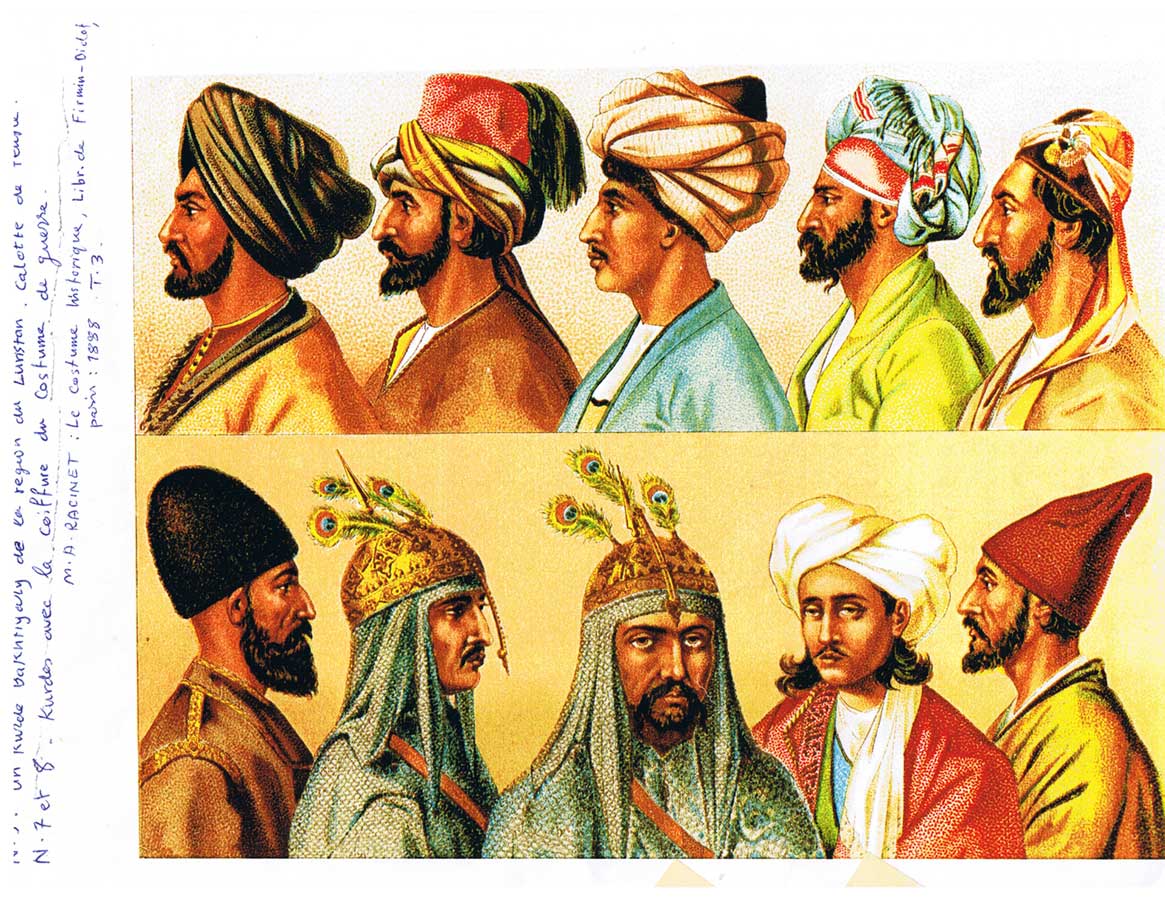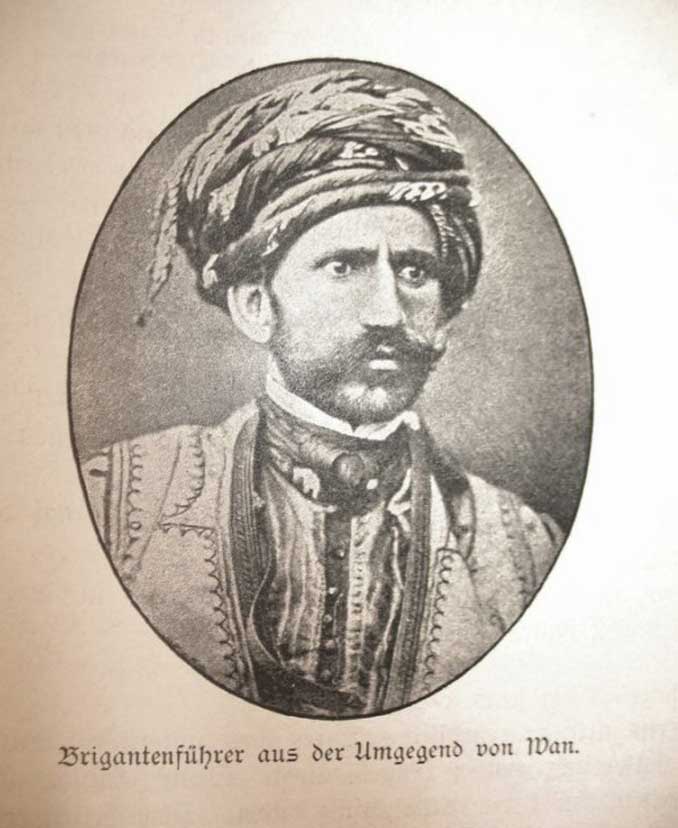 Brigantenführer aus der Umgegend von Wan, 1897

Müller-Simonis, P.. Vom Kaukasus zum Persischen Meerbusen. Durch Armenien, Kurdistan und Mesopotamien. Mainz, Kirchheim, 1897. 4°. VIII, 350 SS., mit 1 Heliogravüre als Titelbild, 6 Vollbildern in Lichtdruck, 1 Karte und 104 Textillustrationen Halb-Leder d. Zt. mit Rückenvergoldung.

- Autorisierte Übersetzung aus dem Französischen.

- Mit einer Photogravüre von Obernetter, München: Der Katzbeck. Ansicht von der Poststation, weiteren Ansichten auf Tafeln (Tiflis, Nachitschewan, Dschesireh ibn Omar, Eingangstor des neuen Klosters von Rabban-Hormis, Karmeliterkloster in Bagdad und Taq-e Kisra) sowie einer großen Faltkarte von Armenien und Kurdistan.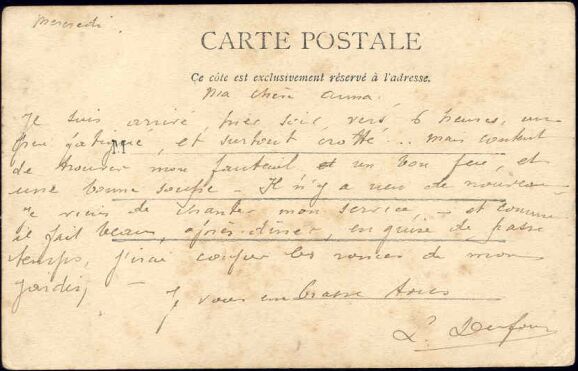 Two Kurds From Constantinople 1899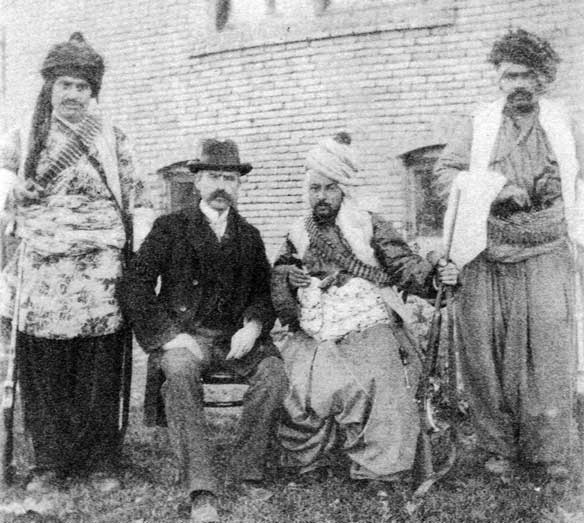 Sheik Ubeydulla NEHRI's son with Cochran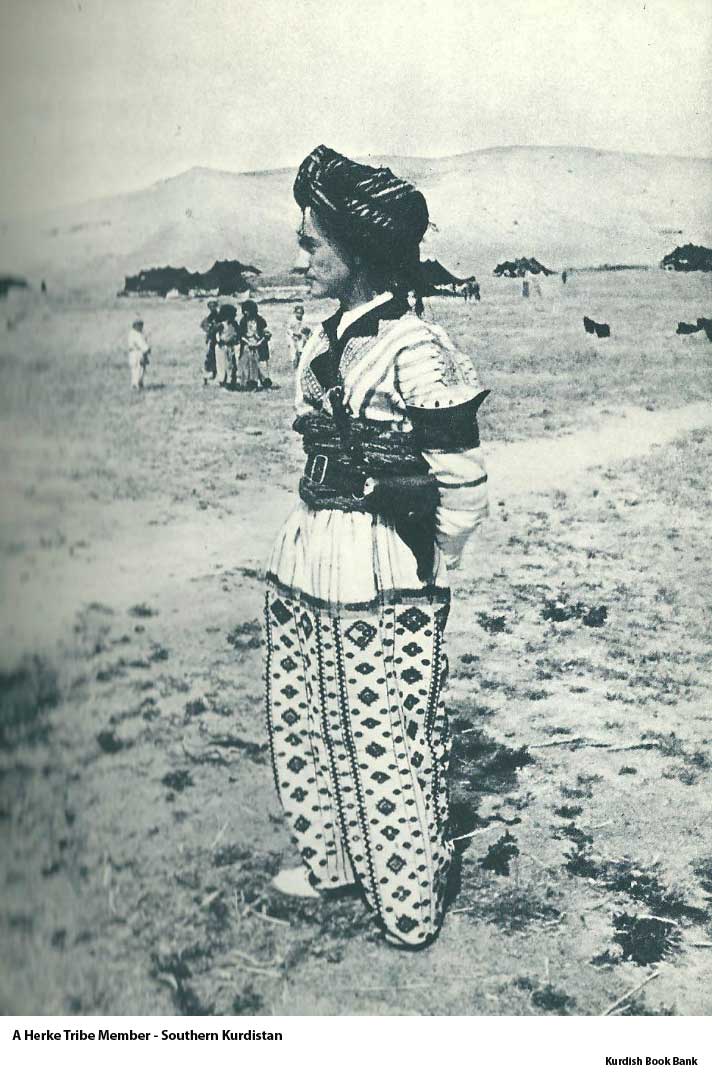 A Herke Tribe member, Sothern Kurdistan, 1959
Kurdish chief - Ethnic mission postcard - Un Kurde chef de tribu - Missions des Lazaristes
Sepia Postcard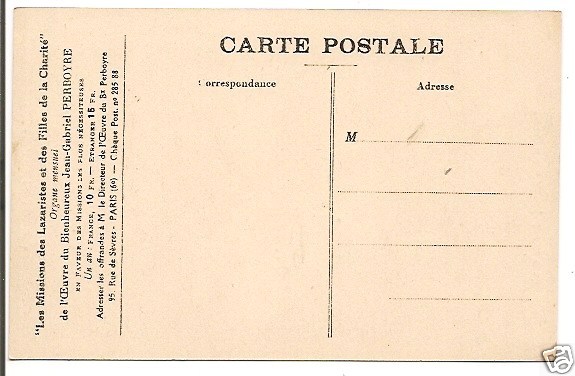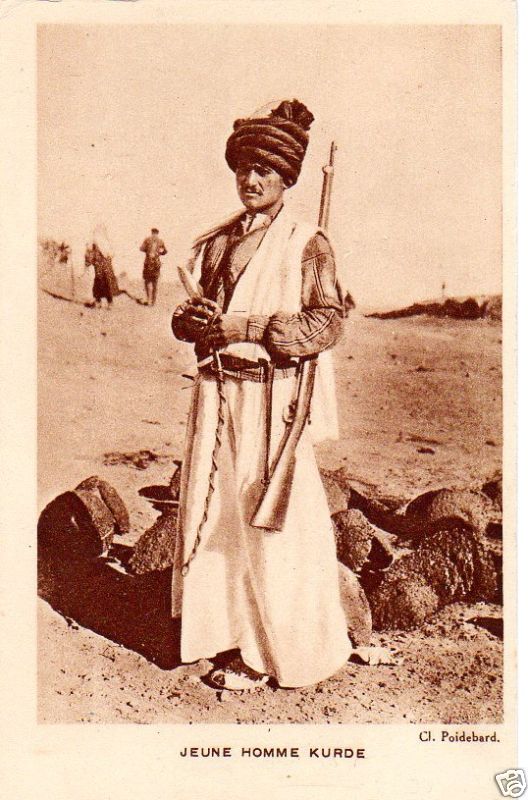 Je Une Homme Kurde (Western Kurdistan - Syria 1945)


Kurd From Caucasus 1876 original painting by Gregory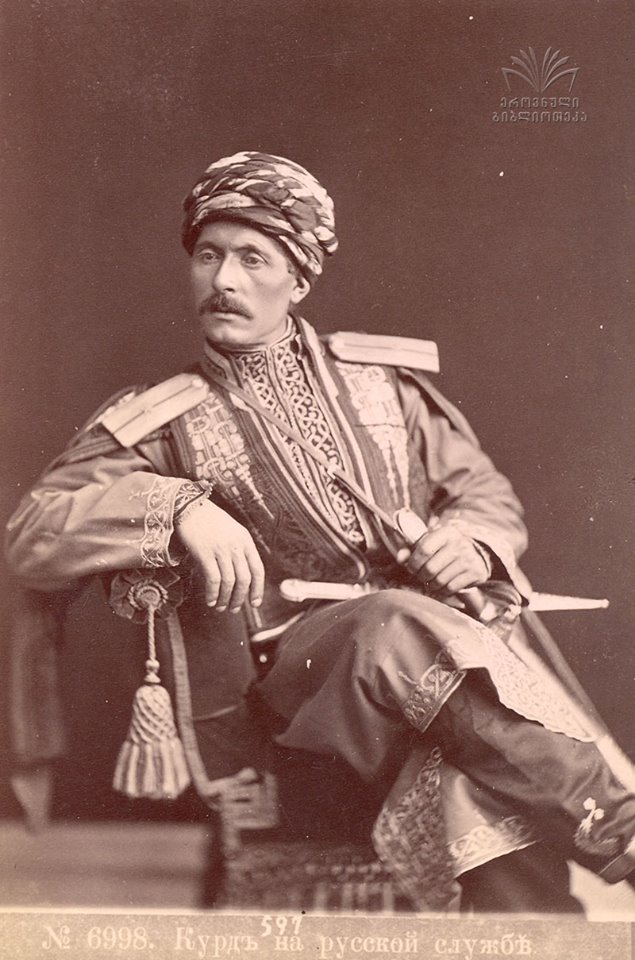 Kurd From Caucasus 1876 original painting by Gregory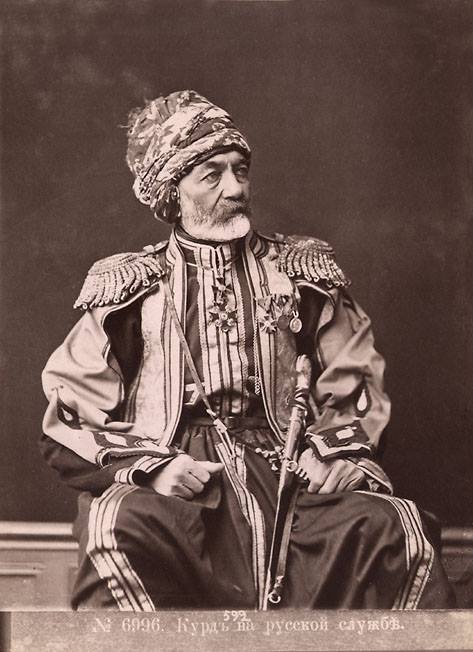 Kurdish General Jafar Aga 1806-1878 Caucasus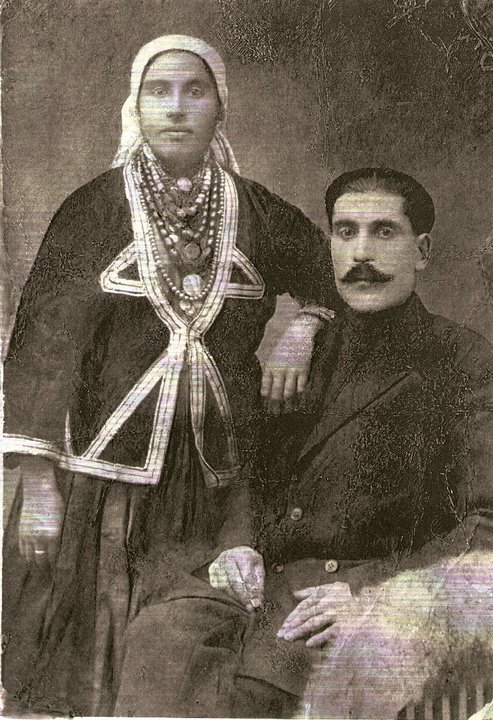 Kurd From Caucasus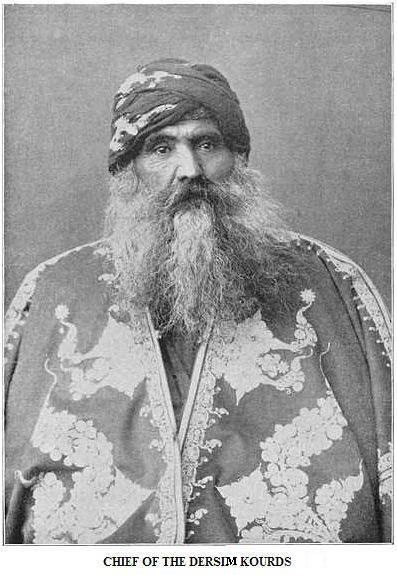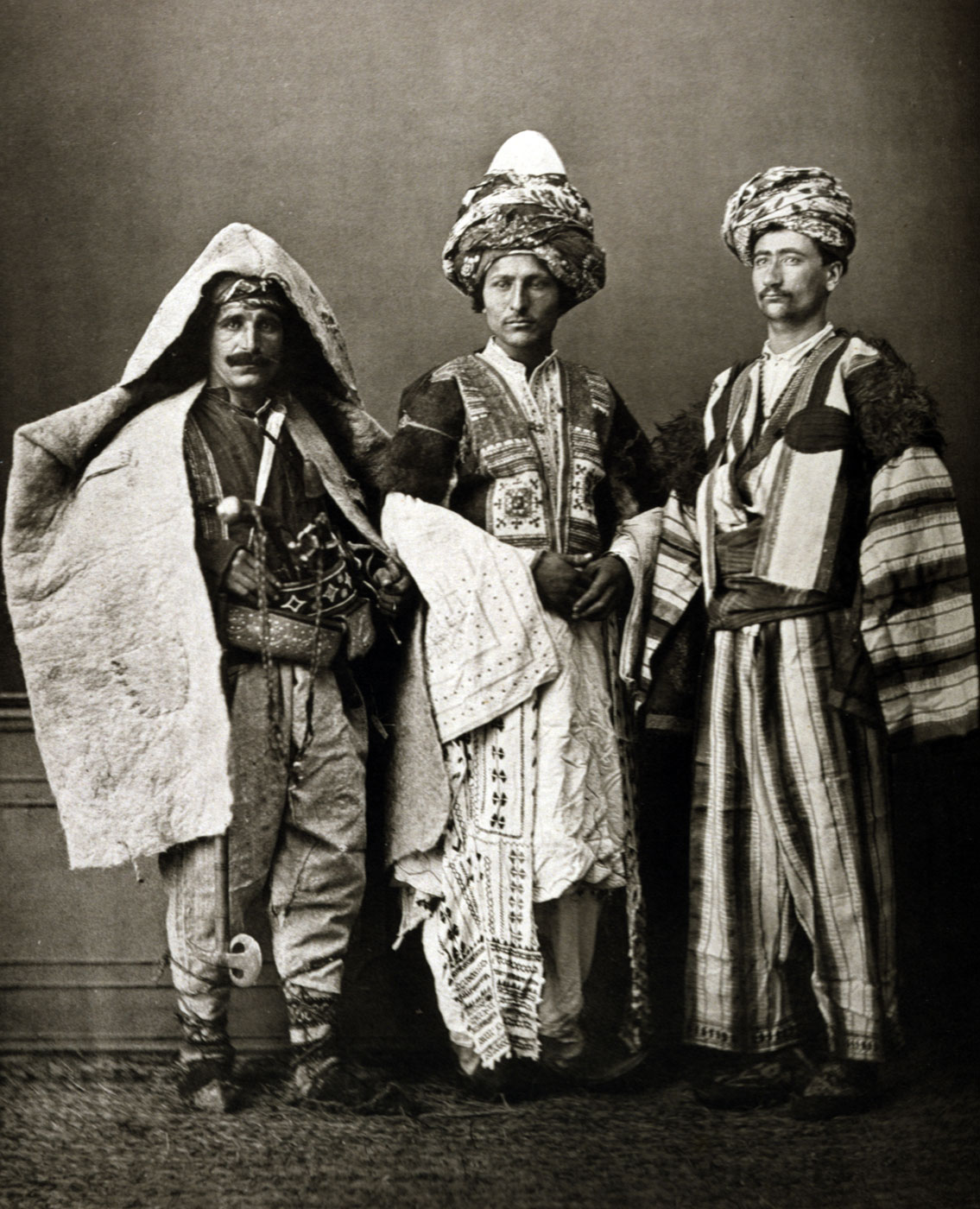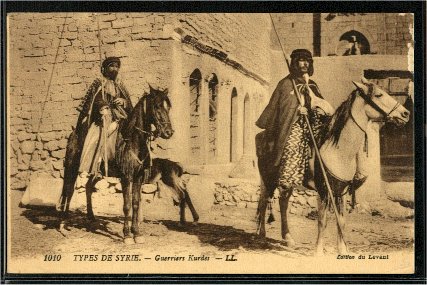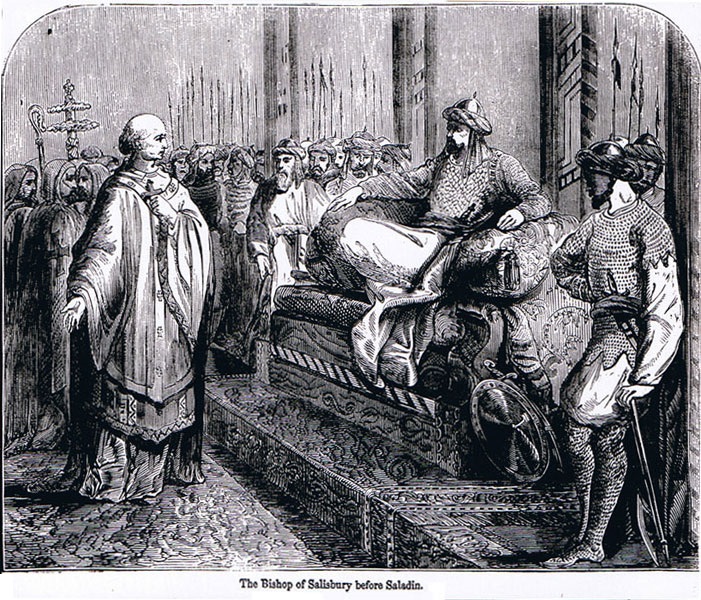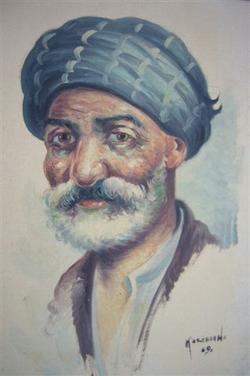 FINE VINTAGE SIGNED  FRAMED (OIL ON CANVAS) PAINTING OF AN  OLD ETHNIC KURD MAN  (Eastern Kurdistan "Iran") BY WELL KNOWN IRANIAN /ARMENIAN PAINTER KAZARIAN
THE PAINTING IS SIGNED "KAZARIAN , 69" (1969) .
SIZE: THE  PAINTING MEASURES 7 INCHES OR 17.5 cm WIDE X 9 3/8 INCHES OR 23.5 cm LONG . THE FRAME IS 7 3/4 INCHES OR 19.5 cm X 10 1/8 INCHES OR 25.5 cm .
* * *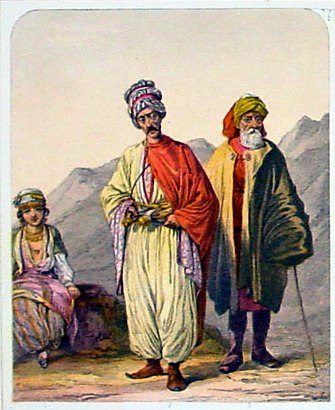 This beautifully coloured original antique lithograph print of the Kurdish peoples
was published by Blackie & Son of Glasgow in the 1880 edition of Geographical Atlas.
(Ref: Tooley; M&B)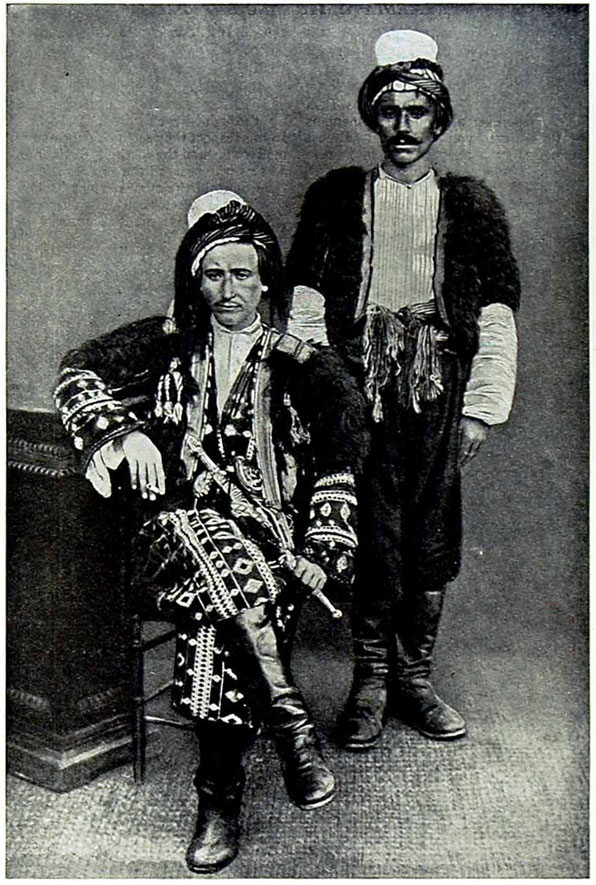 The Kurdish Lord with a servant

c1920 KURDISTAN A Page and reverse from People of All Nations, their life story today and the story of their past captured in numerous photographs edited by J A Hammerton. Countries include Abyssinia, Afghanistan, Albania, Algeria, Andorra, Annam, Arabia, Argentina, Armenia, Australia, Austria, Azerbaijan, Belgium, Belgian Congo, Bhutan, Bolivia, Bokhara, Brazil, British empire in Africa, and the British empire in America. Dates c 1920 size of each page is approx 9.5 x 6 inches (240 x 150) all are genuine prints and not copies.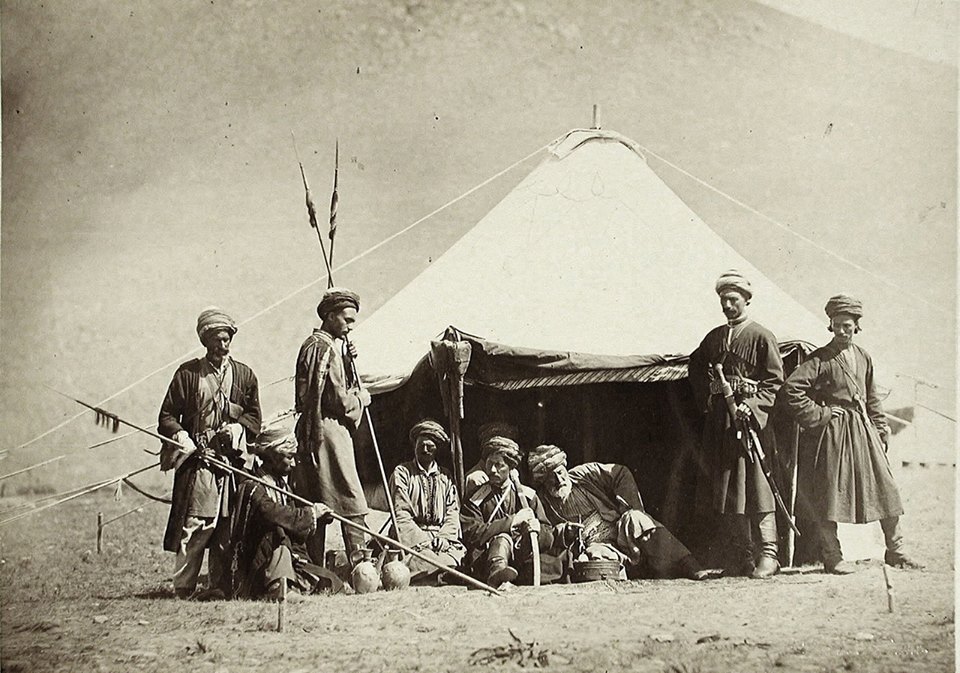 Kurdish Soldiers, 1877, Caucasus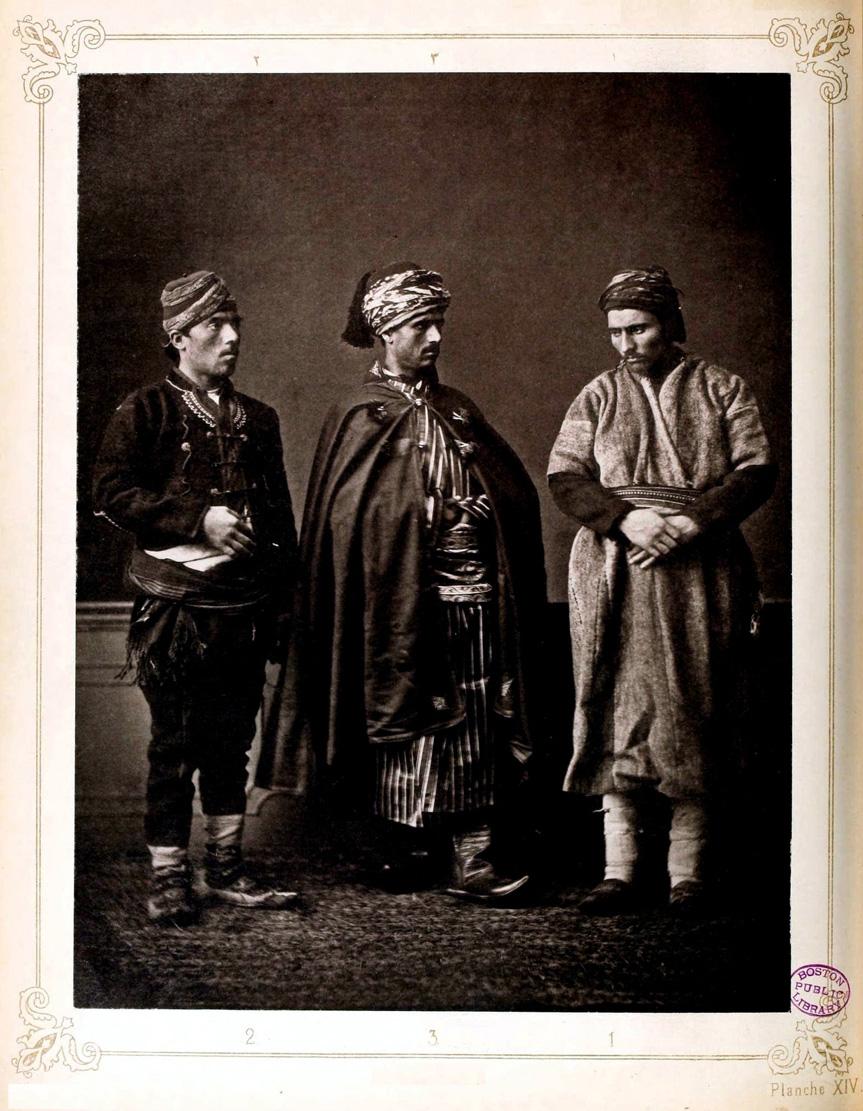 There Kurds; two lords and servant, from Wêranshar (Viransehir) Northern Kurdistan


Kurdish Gentleman, 1889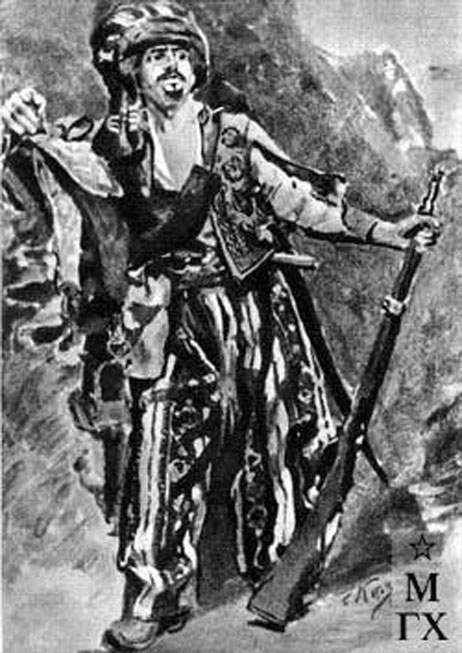 Katov Pytor Îvanovîç 1915 gravûr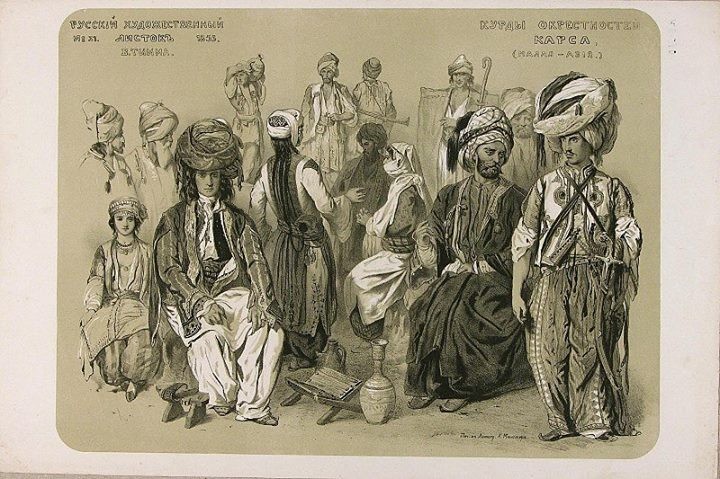 Kurdish costumes Vasily Timm 1855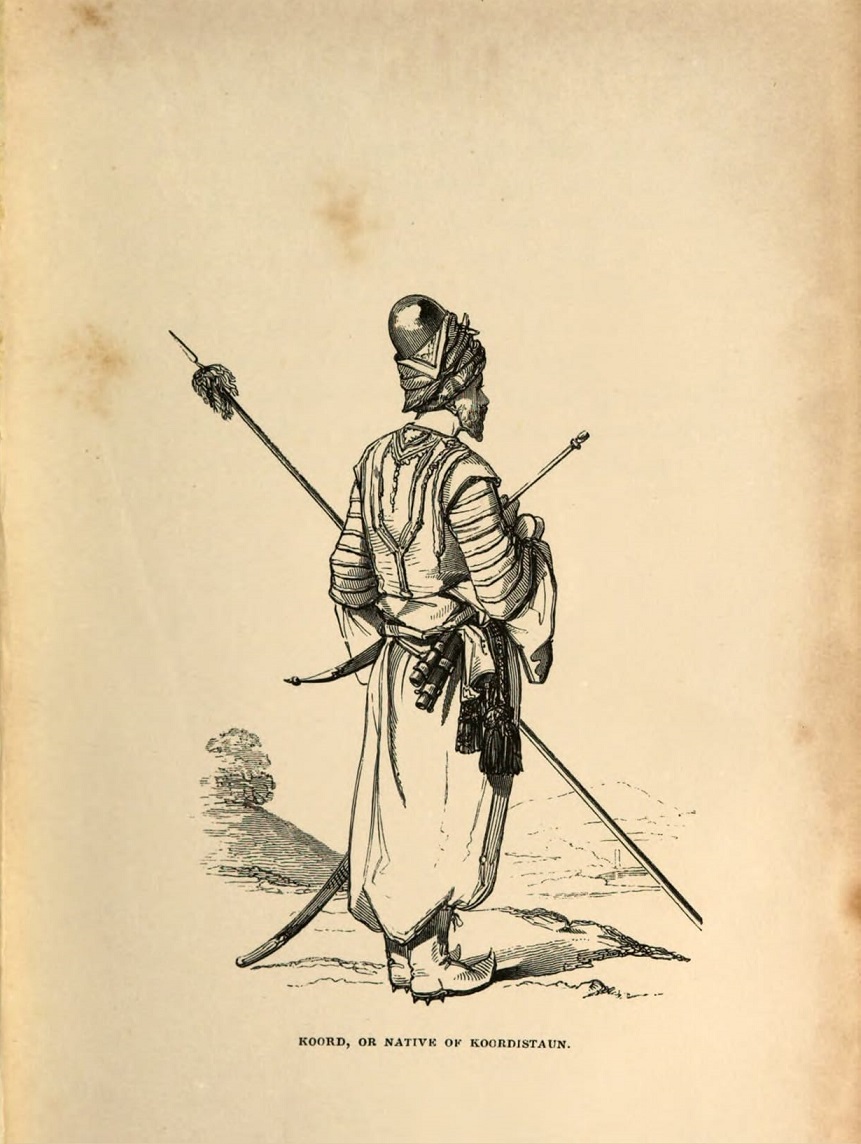 Kurd, Native of Kurdistan, 1888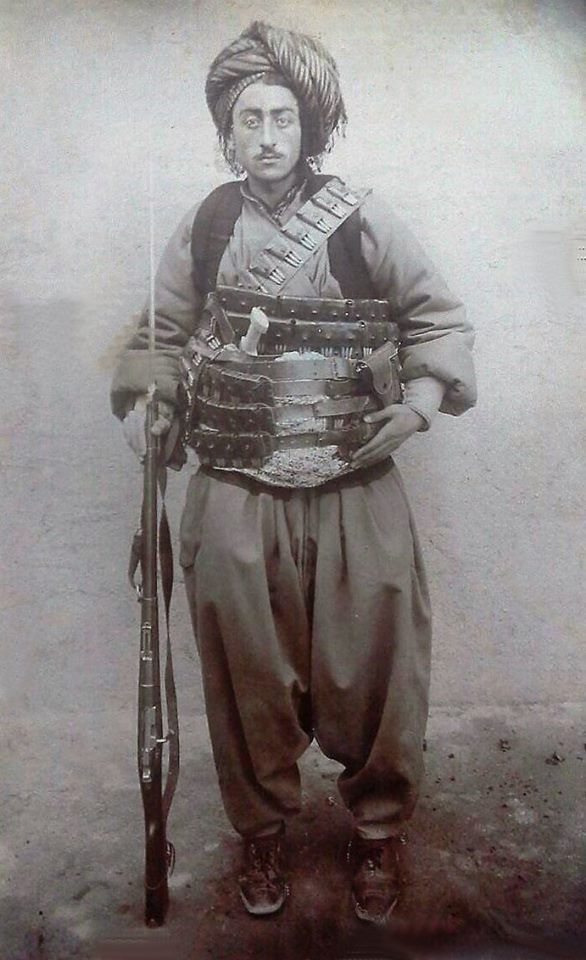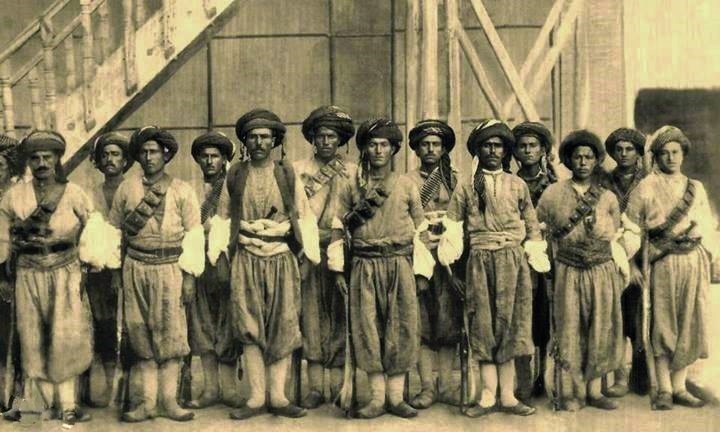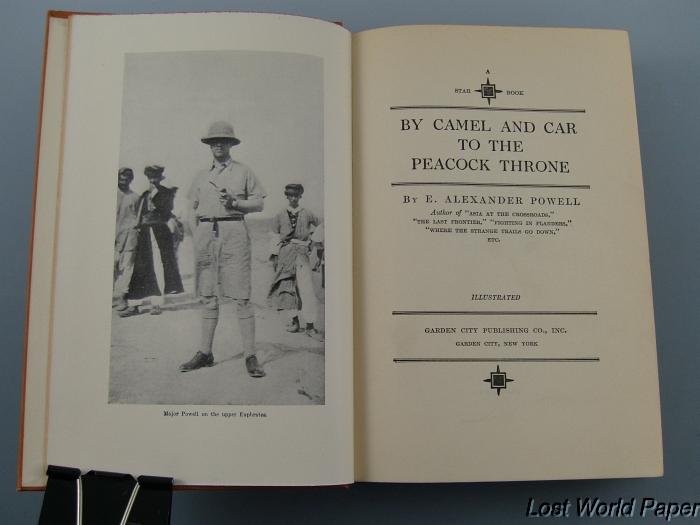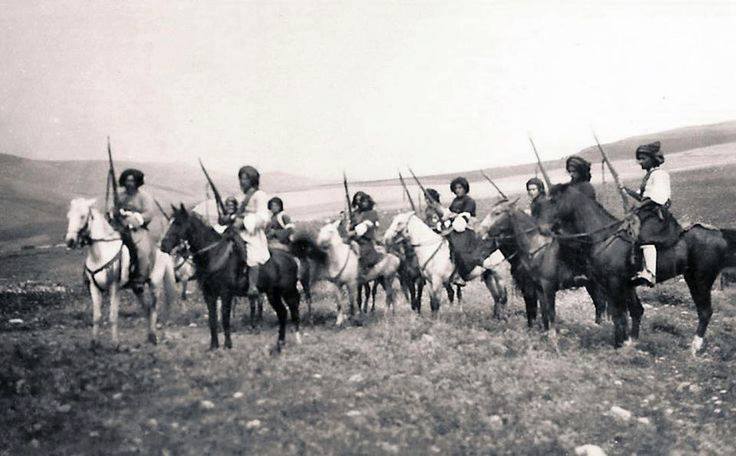 Suwarên kurd, 1910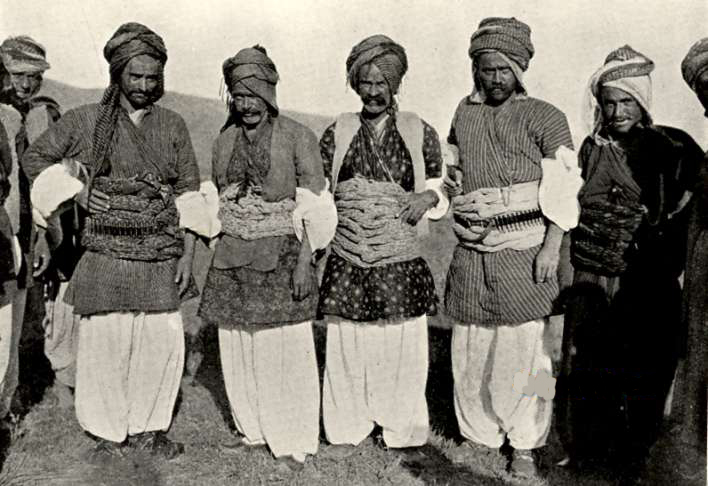 Gerdi Kurds 1915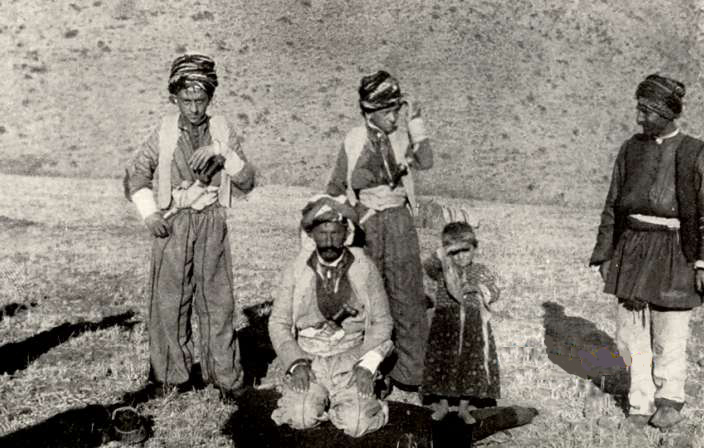 Mûsa Agha 1915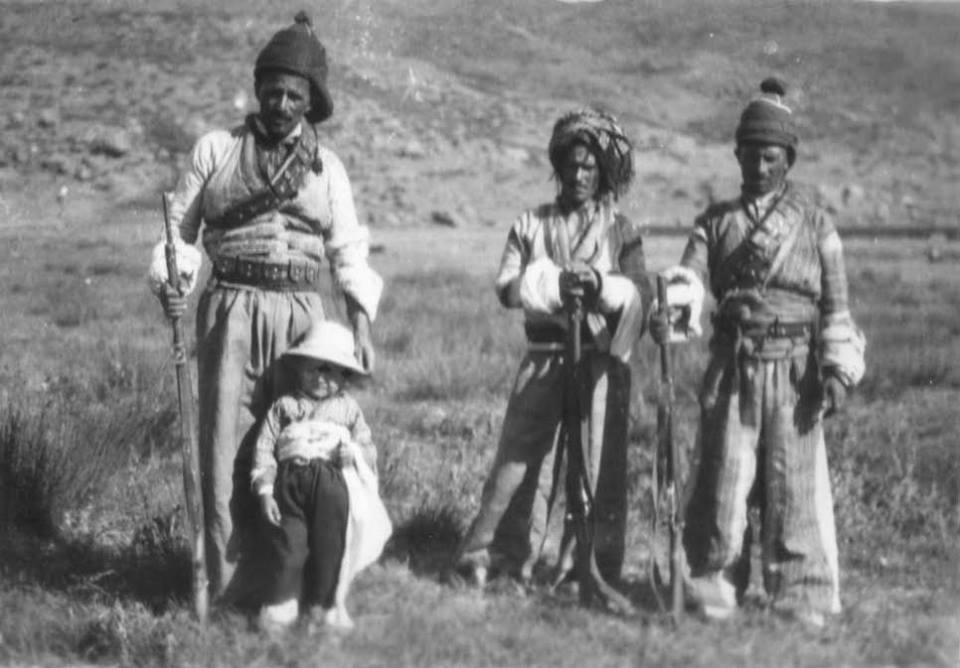 Ethnic Peoples Card - KURD from ARARAT, 1932

KURDS FROM ARARAT / KURDÊN AGRIYÊ (SERHEDÊ)
'Farsların, türklerin, arapların ve ermenilerin korkulu rüyası Araratlı kürdler' diyor.
Kürd tarihini ve hatta kürd adını kelimenin tam anlamıyla haritadalardan bile kazıttılar ama gerçek yine meydana çıkıyor. İsterseniz tarihinize sahip çıkmayın.
DIE VÖLKERSCHAU IN BILDERN
KURDE VOM ARARAT. Von Persern, Türken und Armenien gleich gefürchtet, haben die Kurden bis beute ibre Unabbängigkeit behauptet:ein kriegerisches, den Persern verwandtes Bergvolk, dassich zun Islam bekent u. neben Ackerbau und Viehzuht das einträglichere Gewerbe des Karawanenraubes betreibt, 1932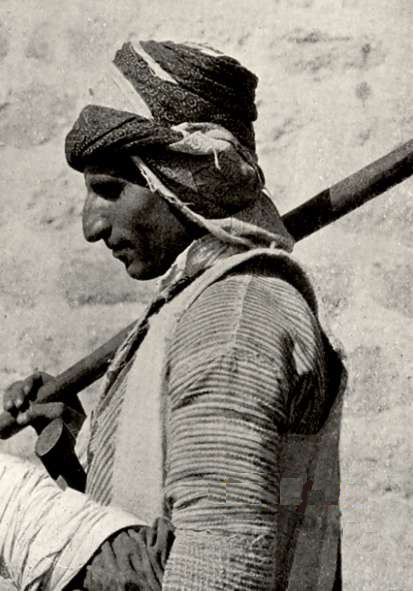 Kurd of Neiri 1915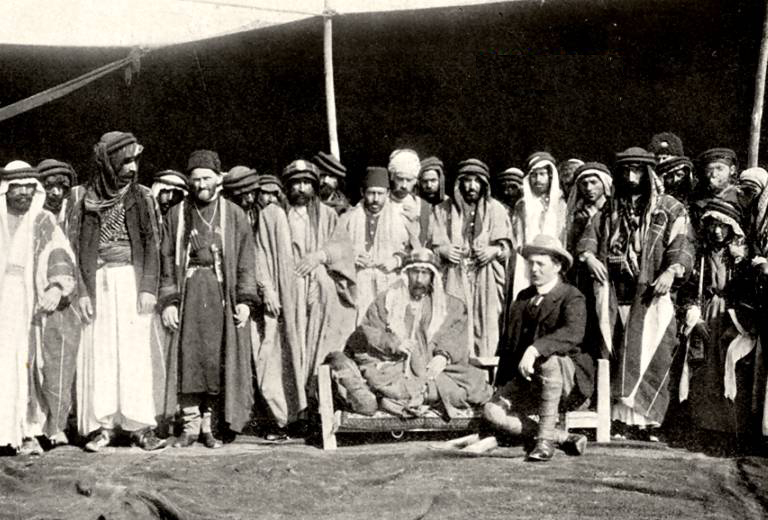 Ibrahim Pasha and Mark Sykes 1915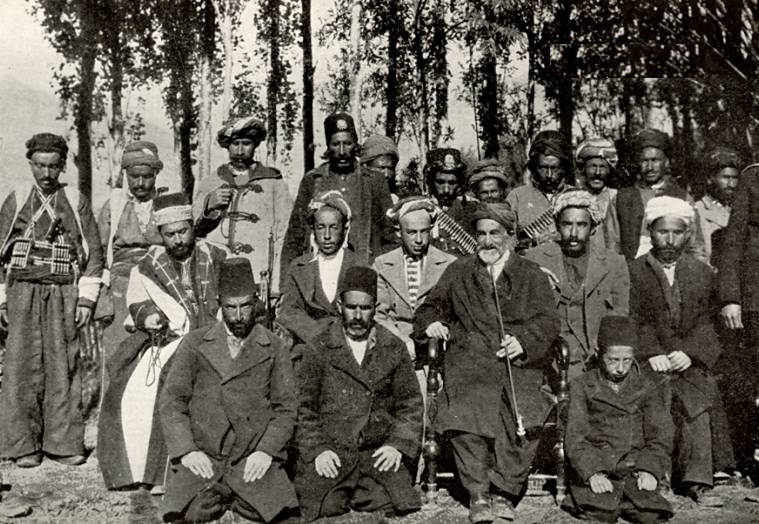 Sheikh Hamid Pasha 1915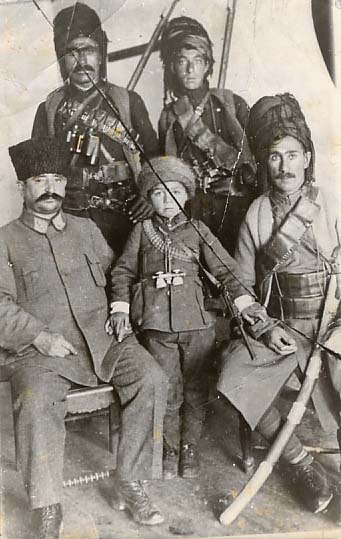 SIMKO (right) 1915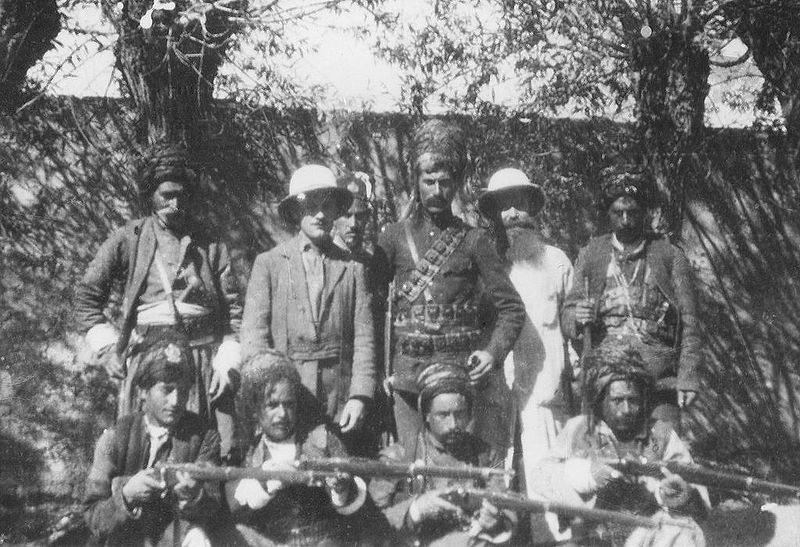 Kurds with missioners (1910)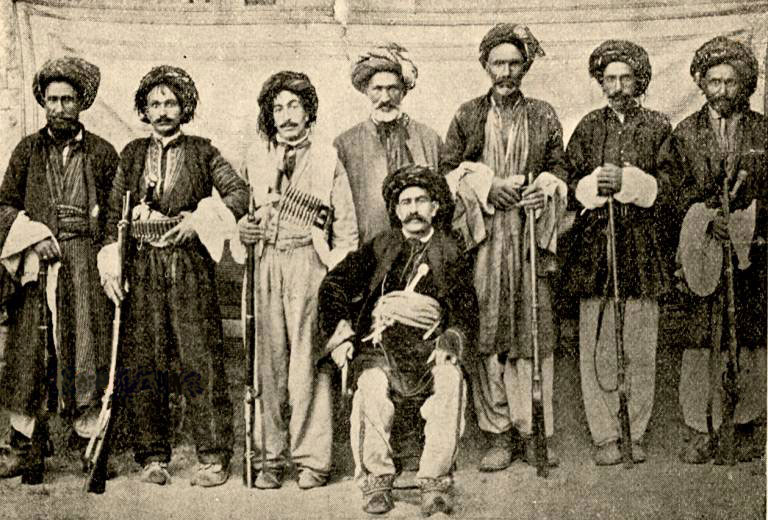 Eastern Kurds (1898)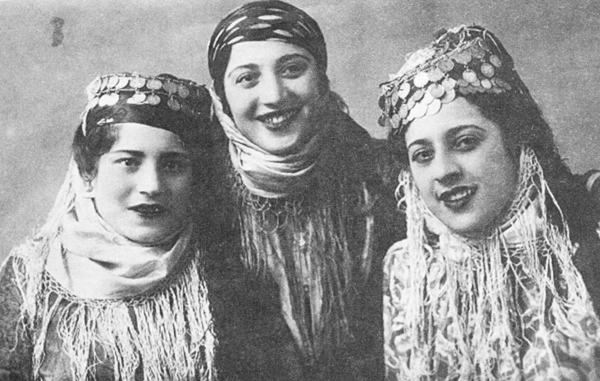 Kurds from Caucasus - three sisters (1940)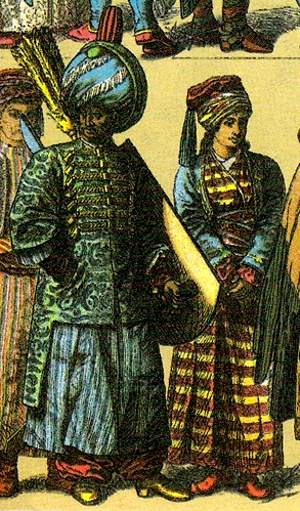 Kurds from Caucasus -1850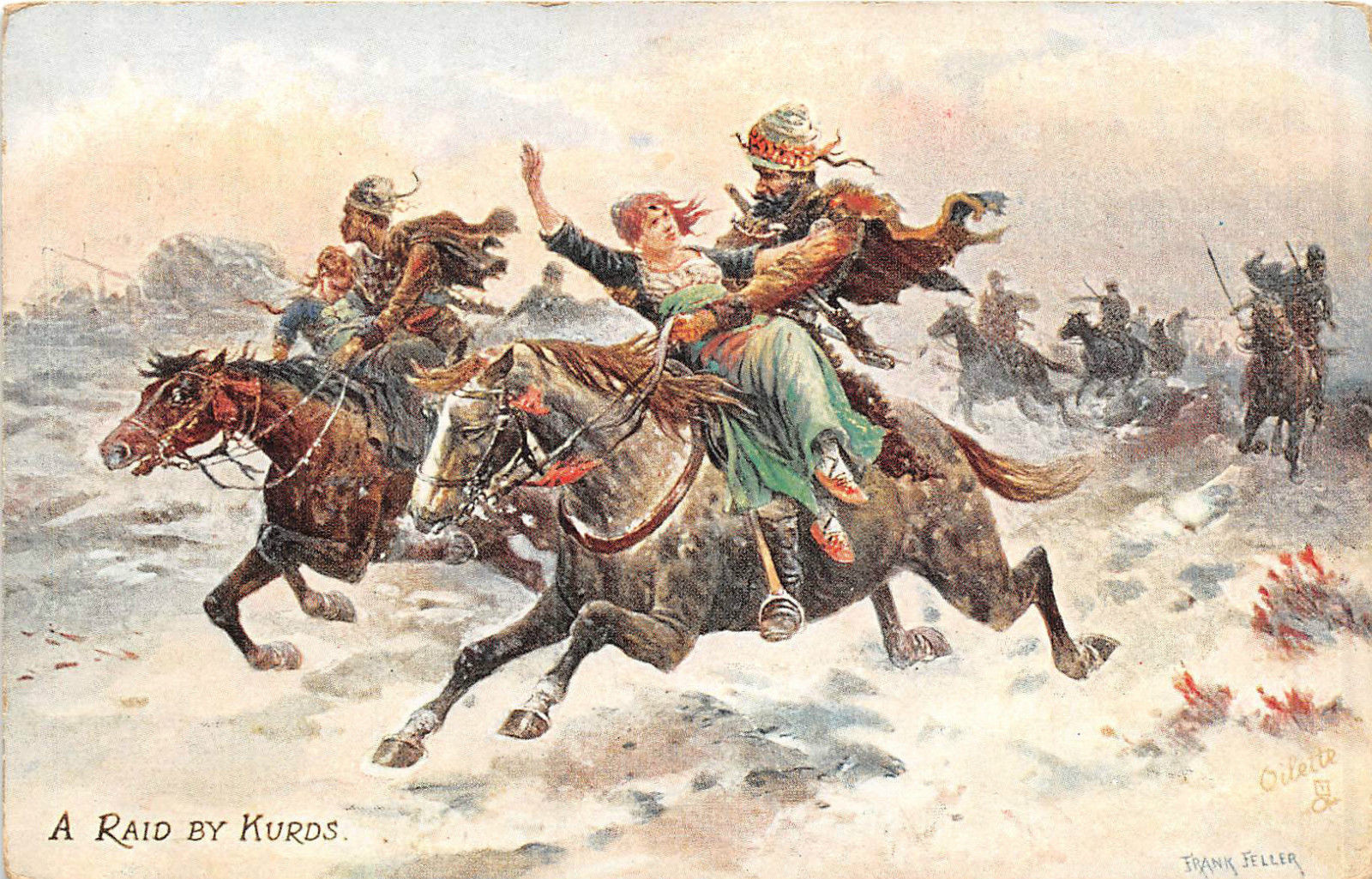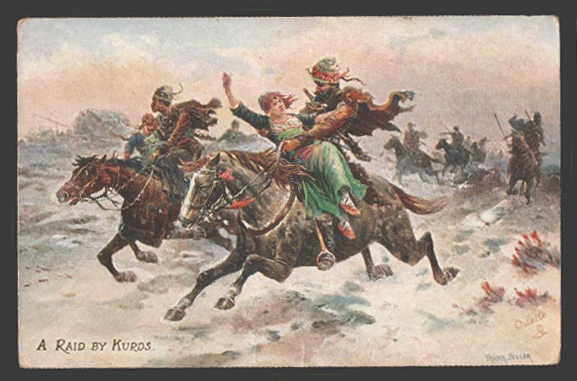 Age: Vintage original old photo postcard (1898)

Approx.Size: 5.5X3.5 inches (14X9 cm)
Publisher: Raphael Tuck & Sons
Series# Life in Russia (Caucasus) II
Number# 9296
Caption: A raid by Kurds
Embossed: no
Undivided back: no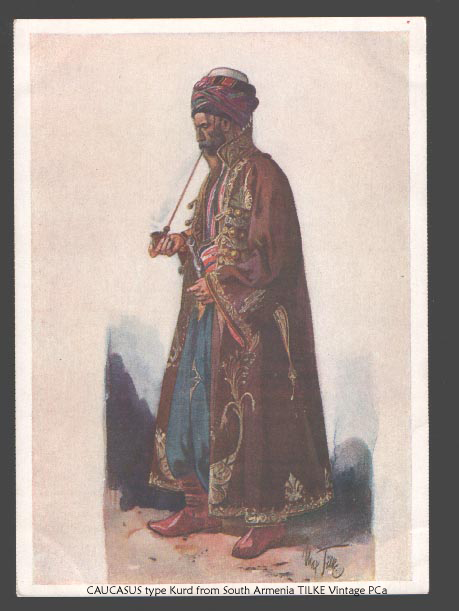 Age: Vintage original old postcard
Approx.Size: 6X4 inches (15X10 cm)
Publisher: Georgia Museum
Series# Peoples of Caucasus in national suits by Tilke
Number# 30
Caption: Kurd from South Armenia
Embossed: no
Undivided back: no
GREECE SALONIKA YOUNG KURDE
A KURDE YOUNG ARISTOKRAT IN EXCELLENT COSTUME.
EDITION : MORDO MENAHEM SALONICA
"JEUNE KURDE DE LA NOBLESSE  A SALONIQUE"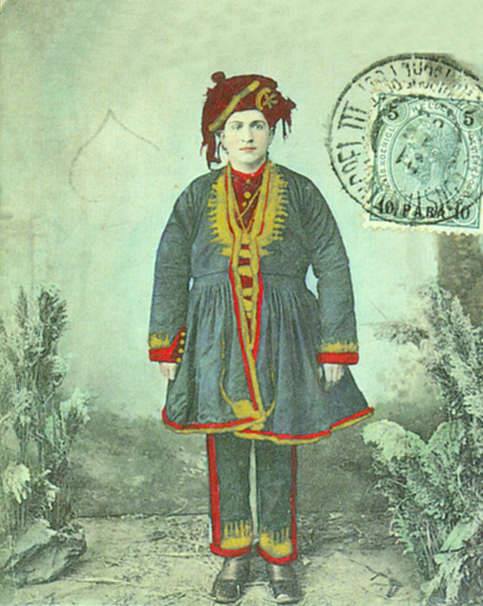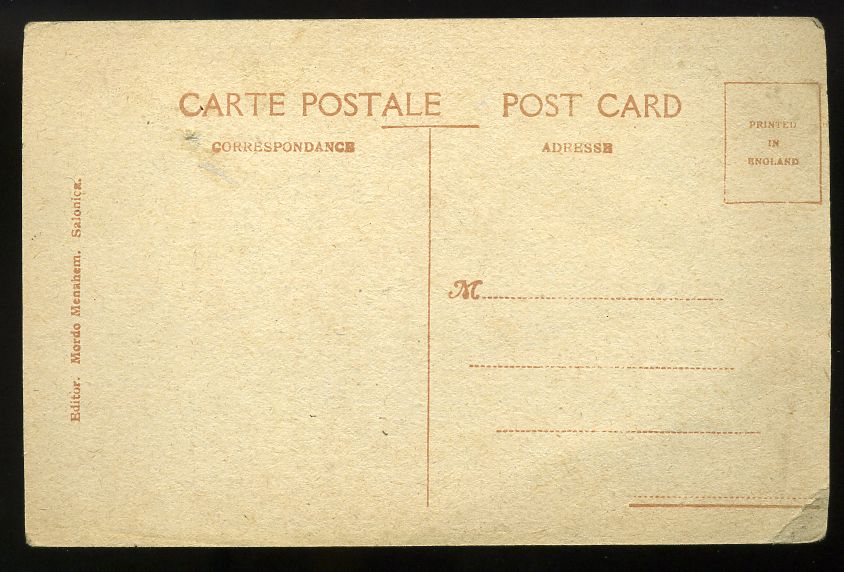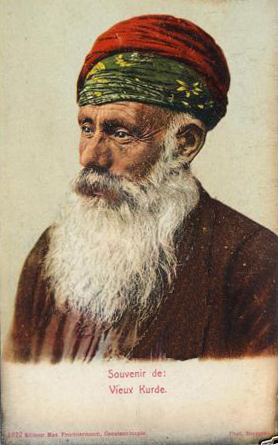 Kurdekî Bakur, 1904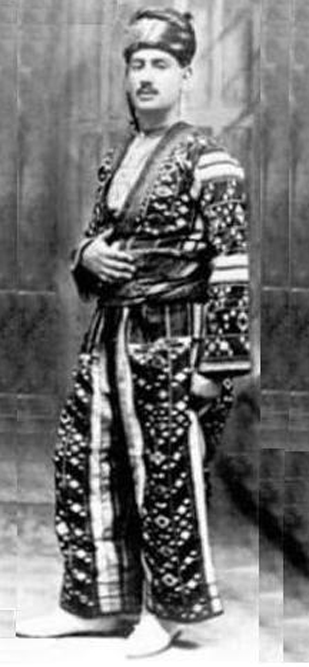 Ciwanekî kurd, 1930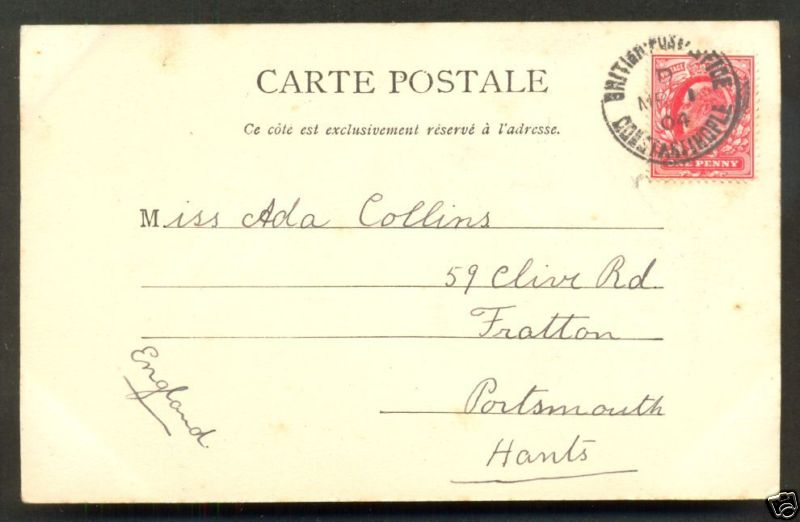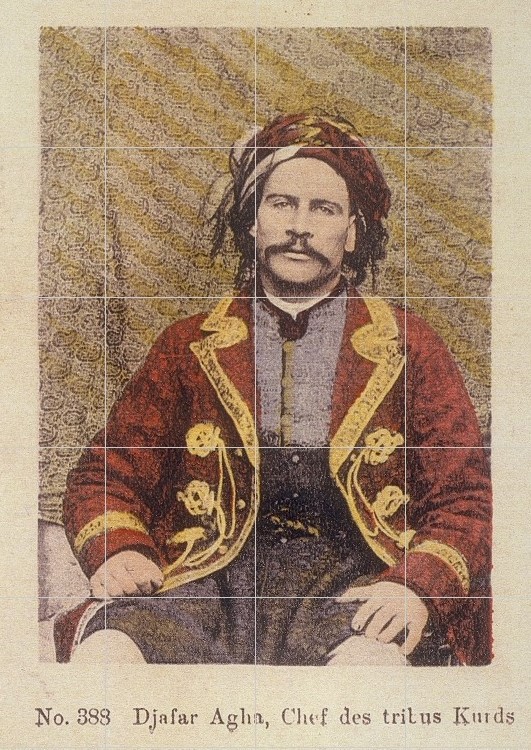 Cafer Axa, birayê mezin ê Simko -Pierre de Gigord 1910,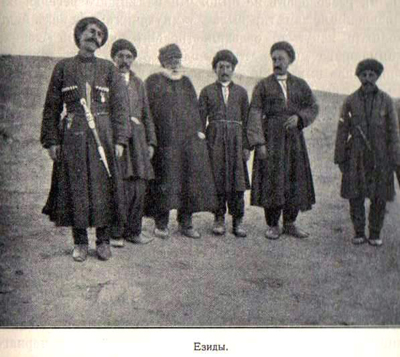 Ezdi Kurds From Caucasus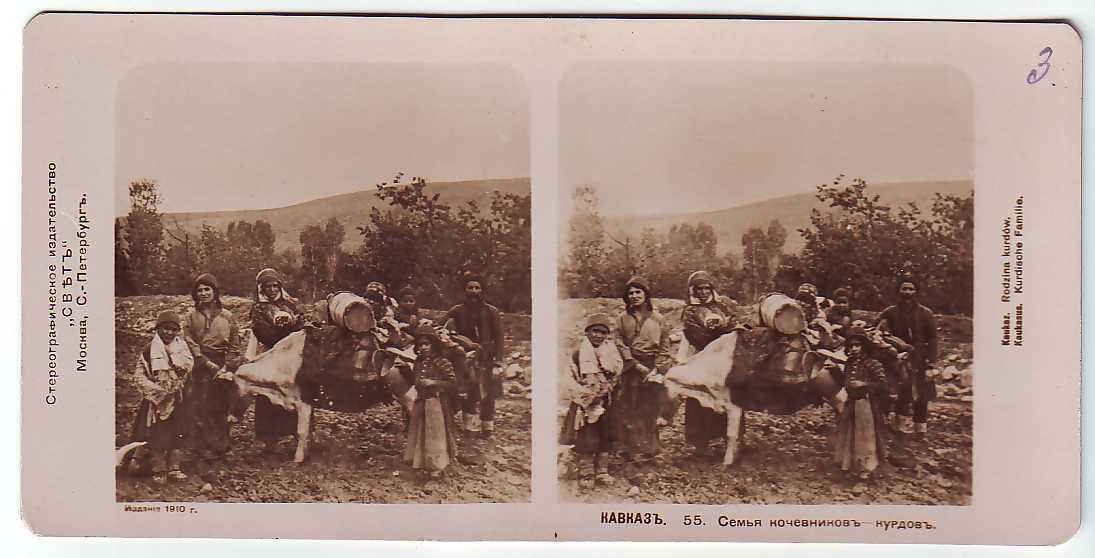 "A family of nomad, kurds from Caucasus" – RARE original Stereo view Card.
Publisher : "SVET'.
Age: 1910.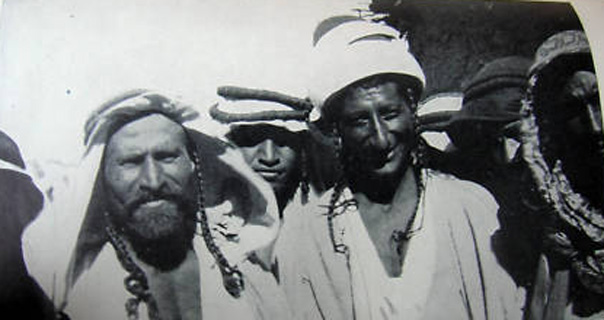 Ezdi Kurds, 1920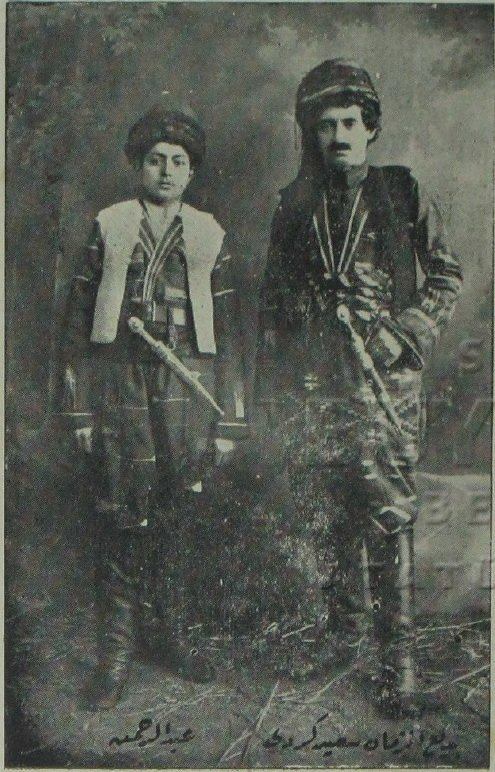 Bediuzzeman Saîd-î Kurdî. AL-Musawwer, Egypt, 1925
Kurd' ermen & oset#i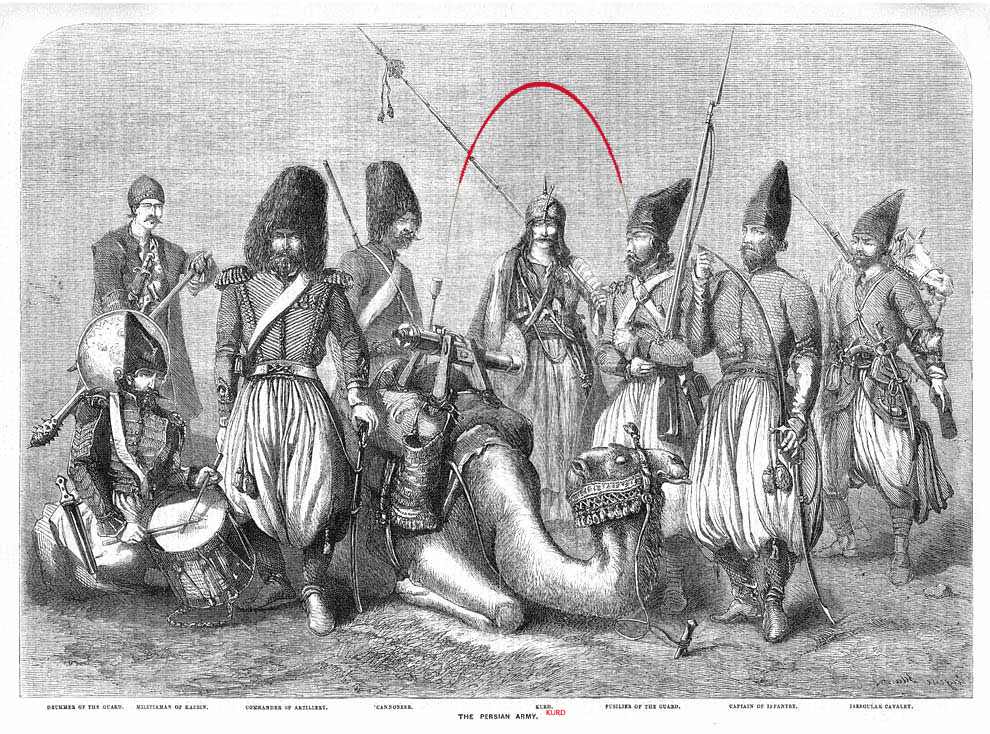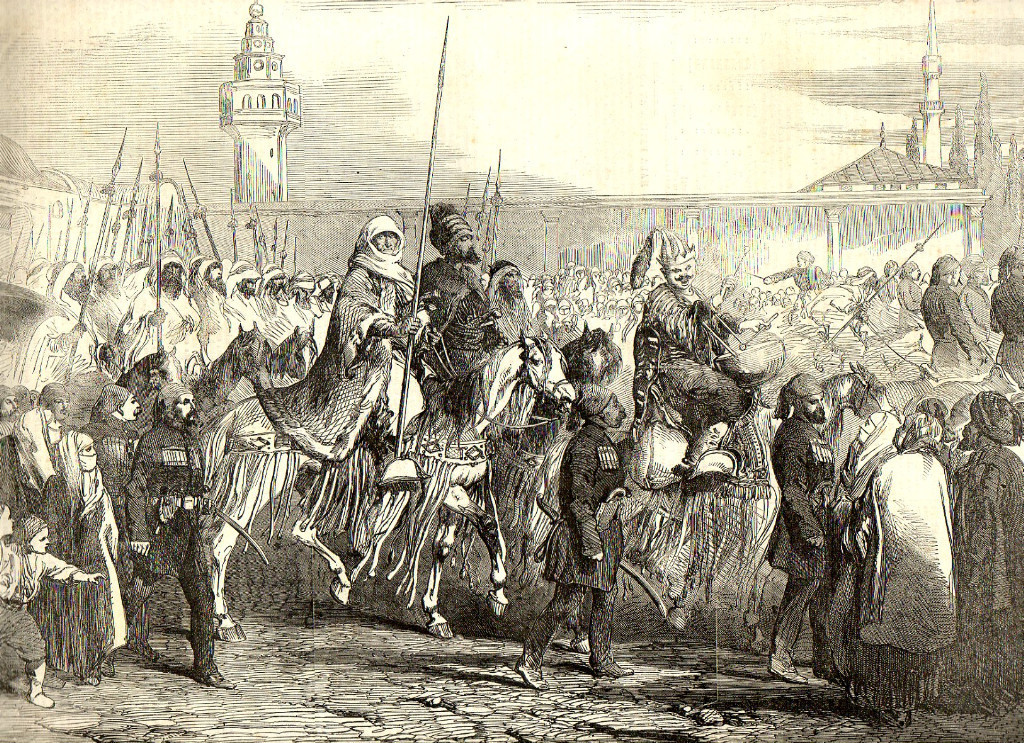 Kurdish Amazon Kara Fatma Hanoun with her Kurd Cavalcade, at Constantinople, old print 1888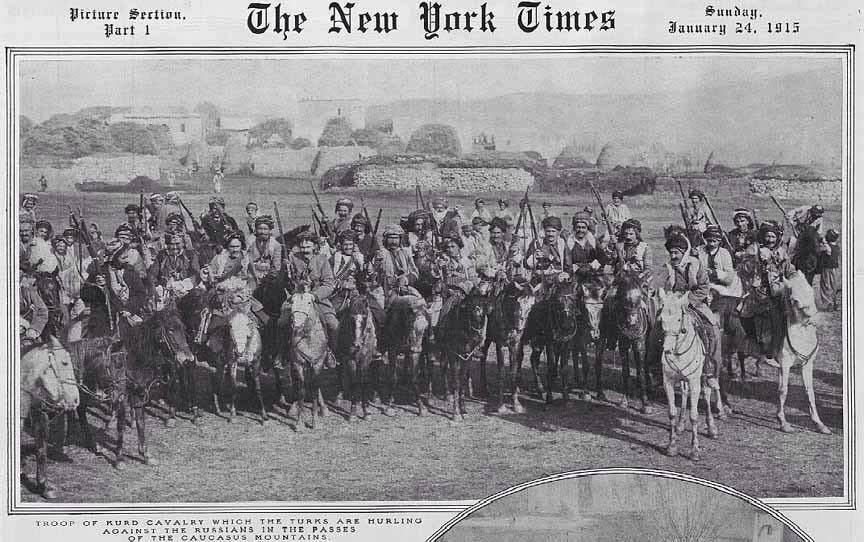 Kurds of Urmê from Eastern Kurdistan, The New York Times 24-1-1915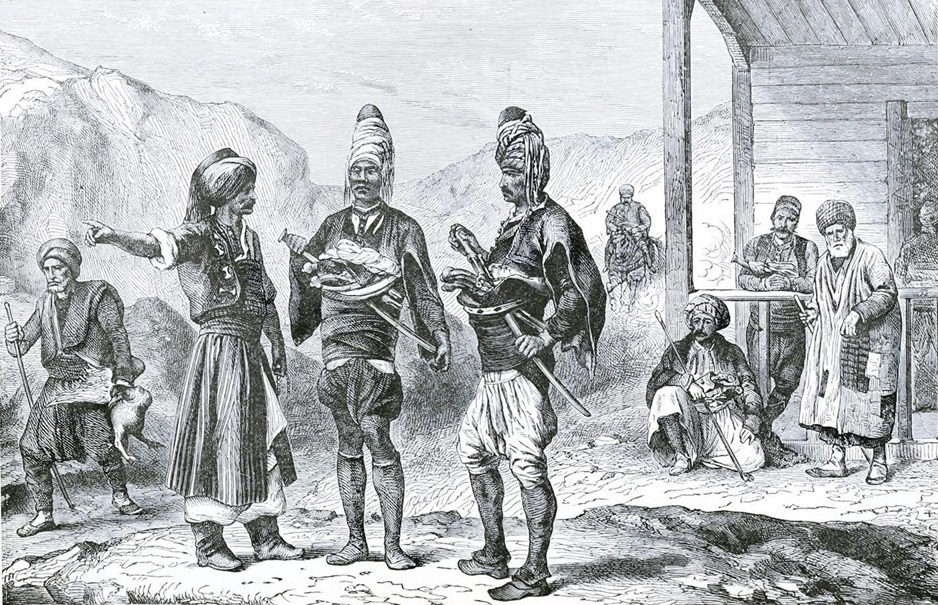 Kürd savaçılar Hakkari 1800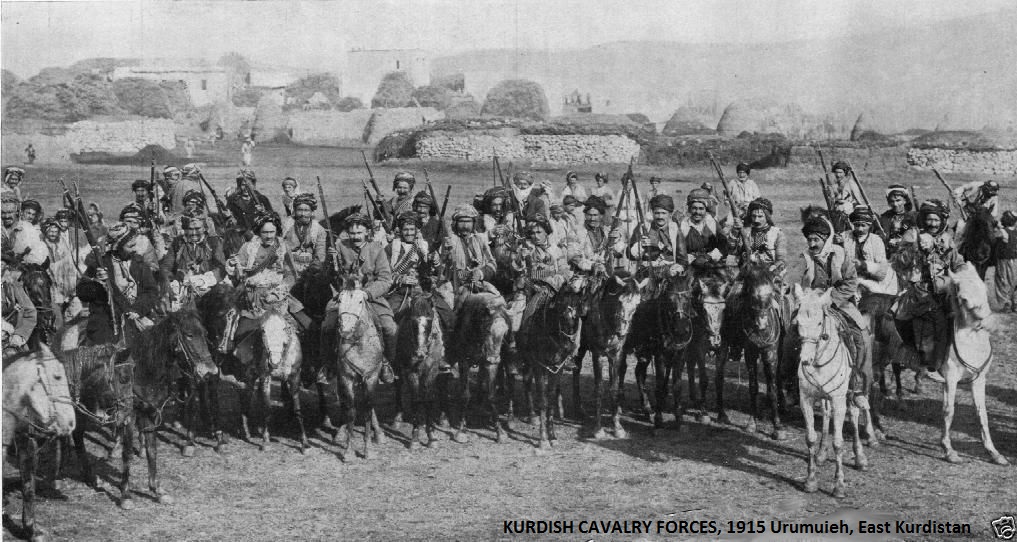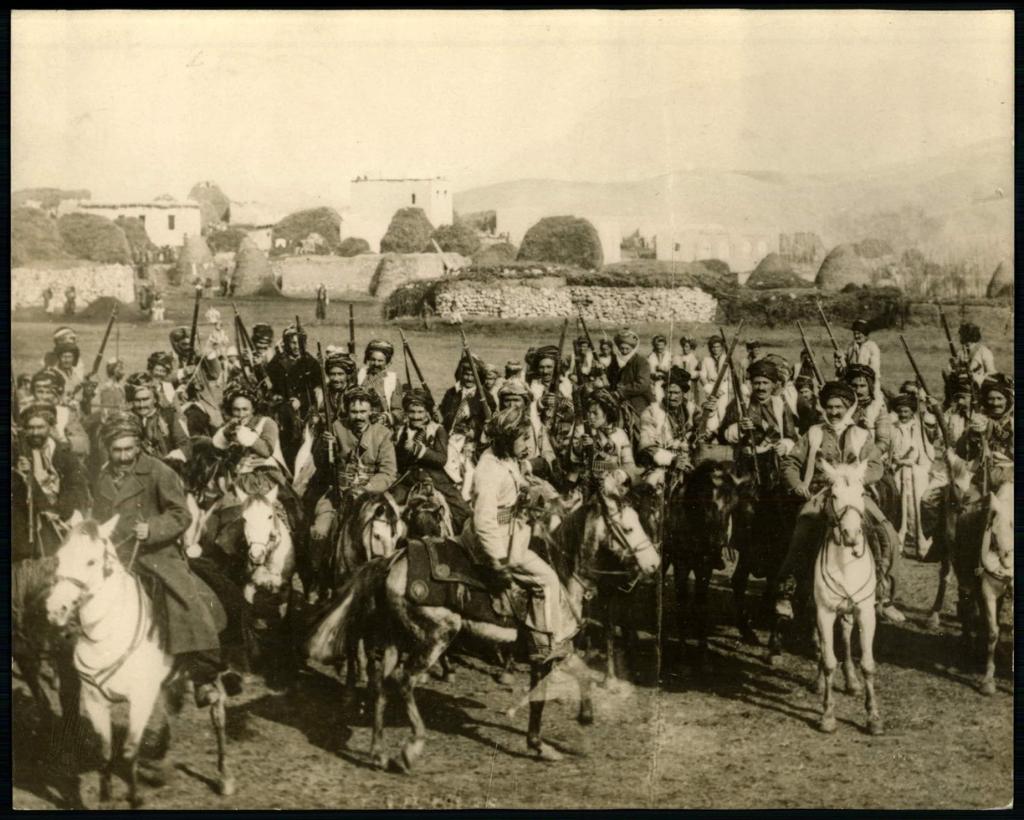 Kurds of Urmê from Eastern Kurdistan (Click to see Text on behind the picture - a typical colonialist English describing of the Kurds)
KURDISH WOMEN
FROM THE EARLIER CENTURIES




KURDISH PICTURE GALLERY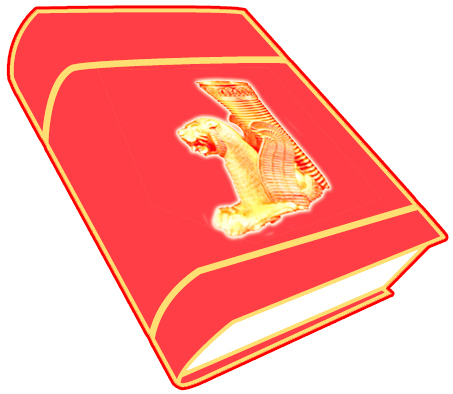 Foundation For Kurdish Library & Museum