Eightenth Century Engravings:
Original Kurdish Prints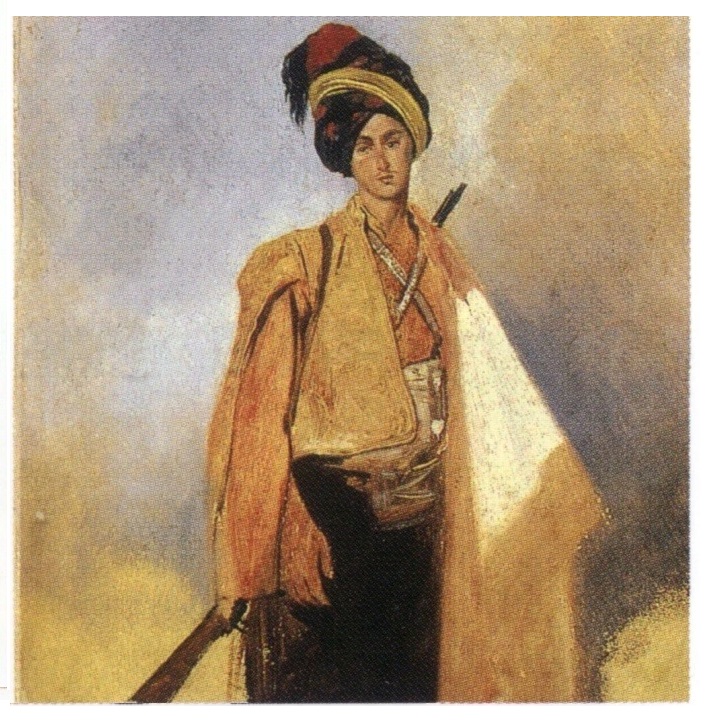 Young Kurd by Gregori Gagarin 1810-1893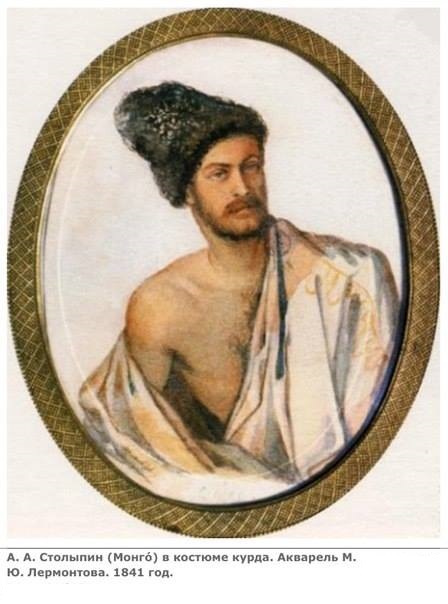 LERMONTOV Handsome semi nude man. Kurd. Russian-Soviet postcard 1987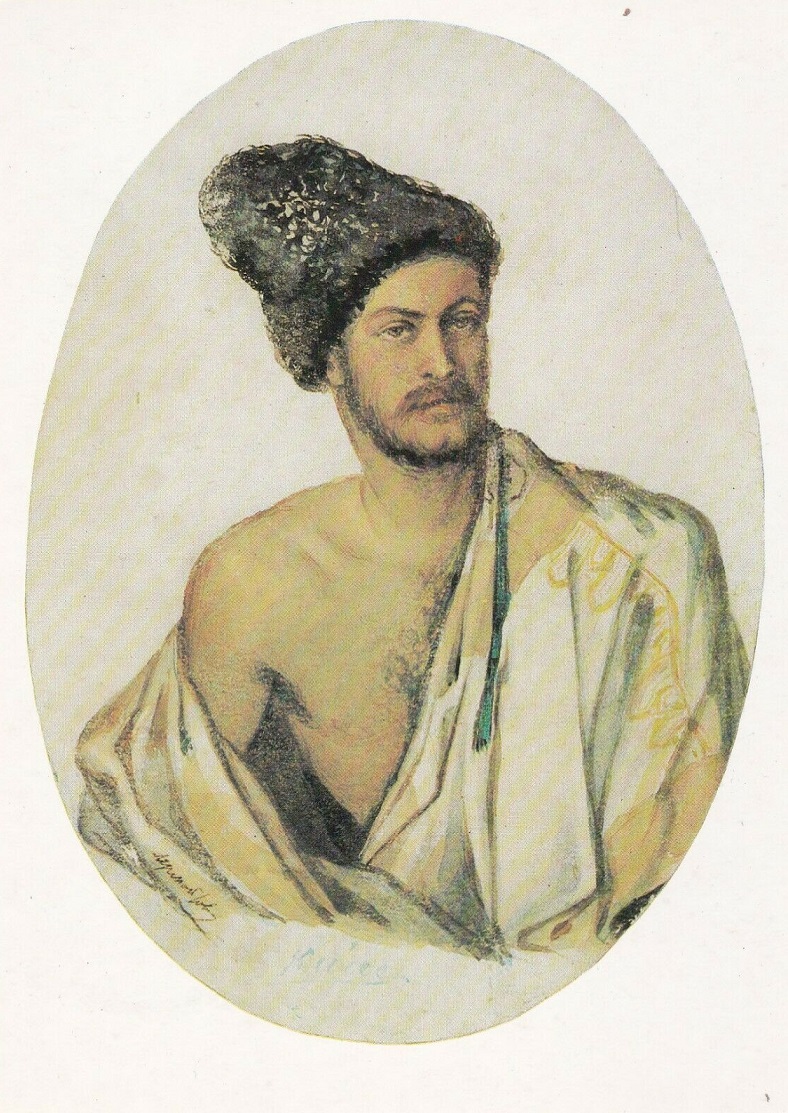 "Kürd isminin anlamı 'gurur verici' olarak ifade edilir. Kürdlerin büyük bölümü cesur ve iyi savaşçıdırlar."

C. Knight, 1855, İngilizce Ansiklopedi, Coğrafya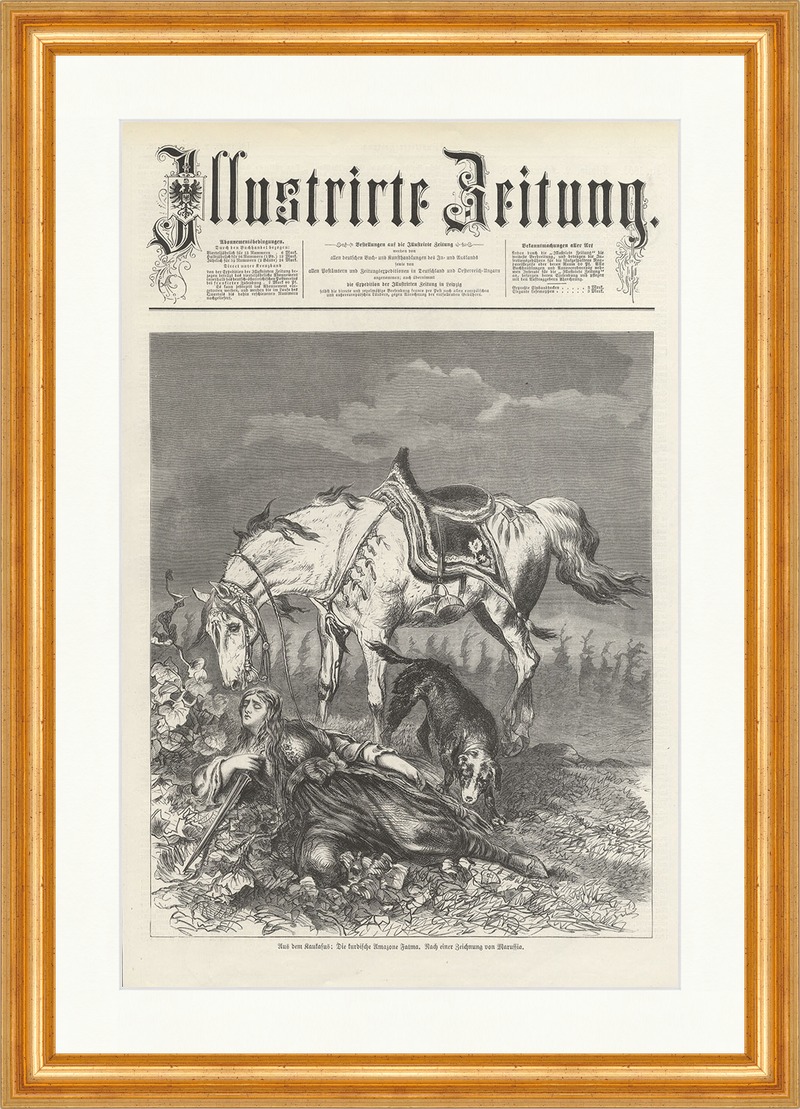 Die Kurdische Amazone Fatma Marussia Pferde Holzstich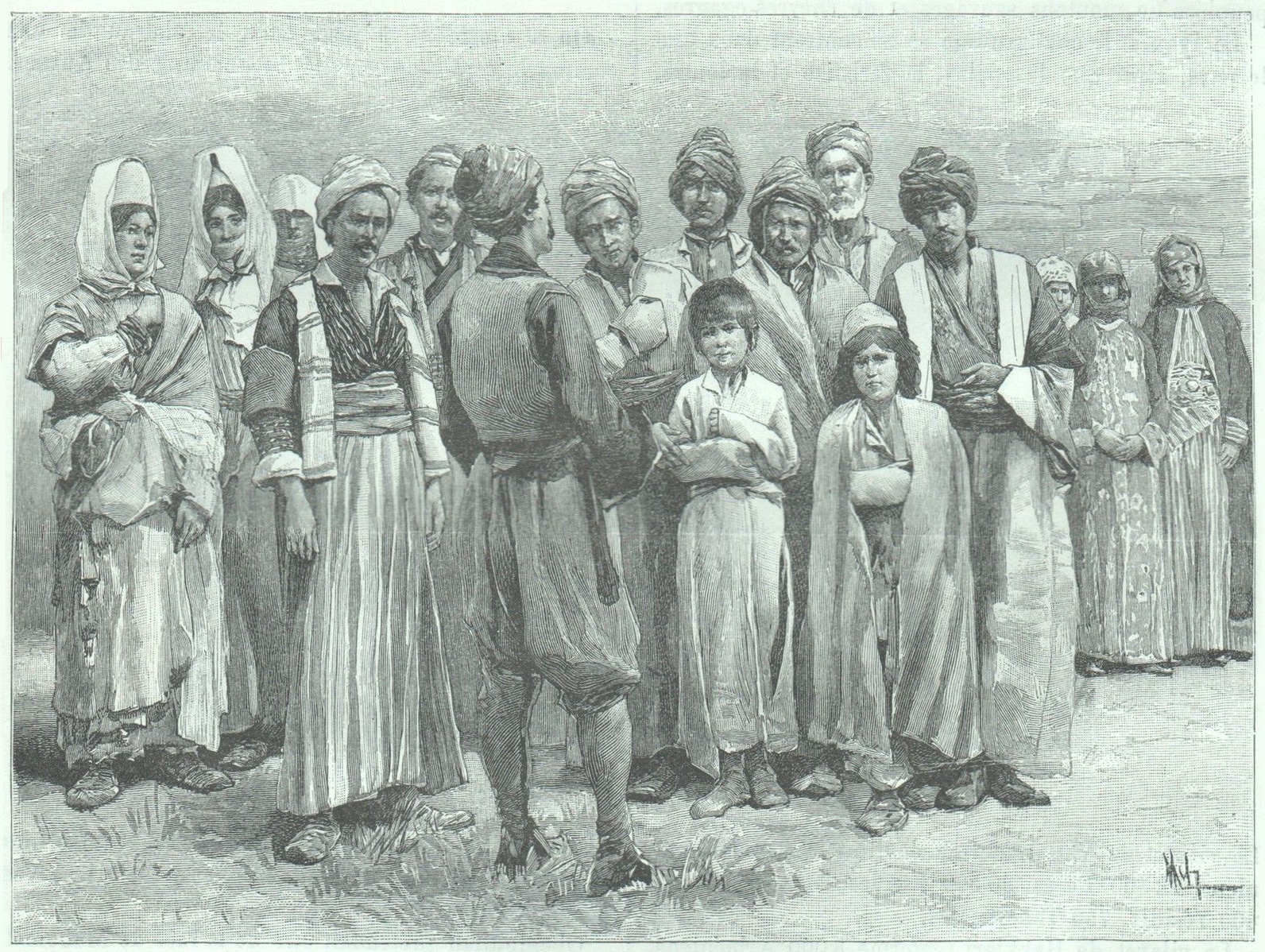 Engraving: Kurds of Kurdistan. Style Realism, 1899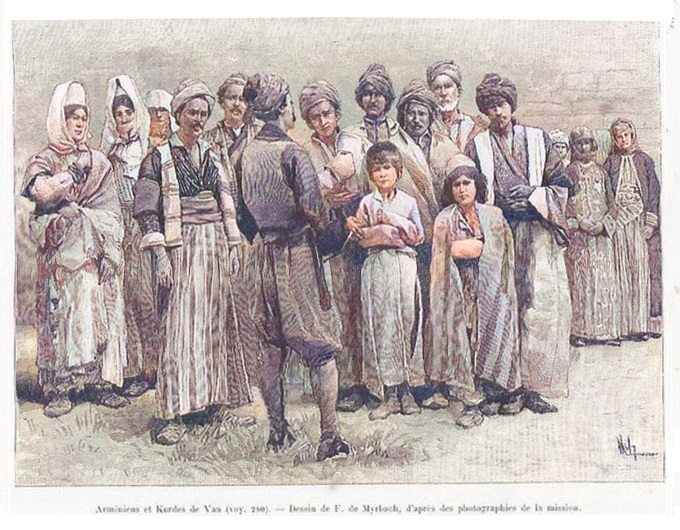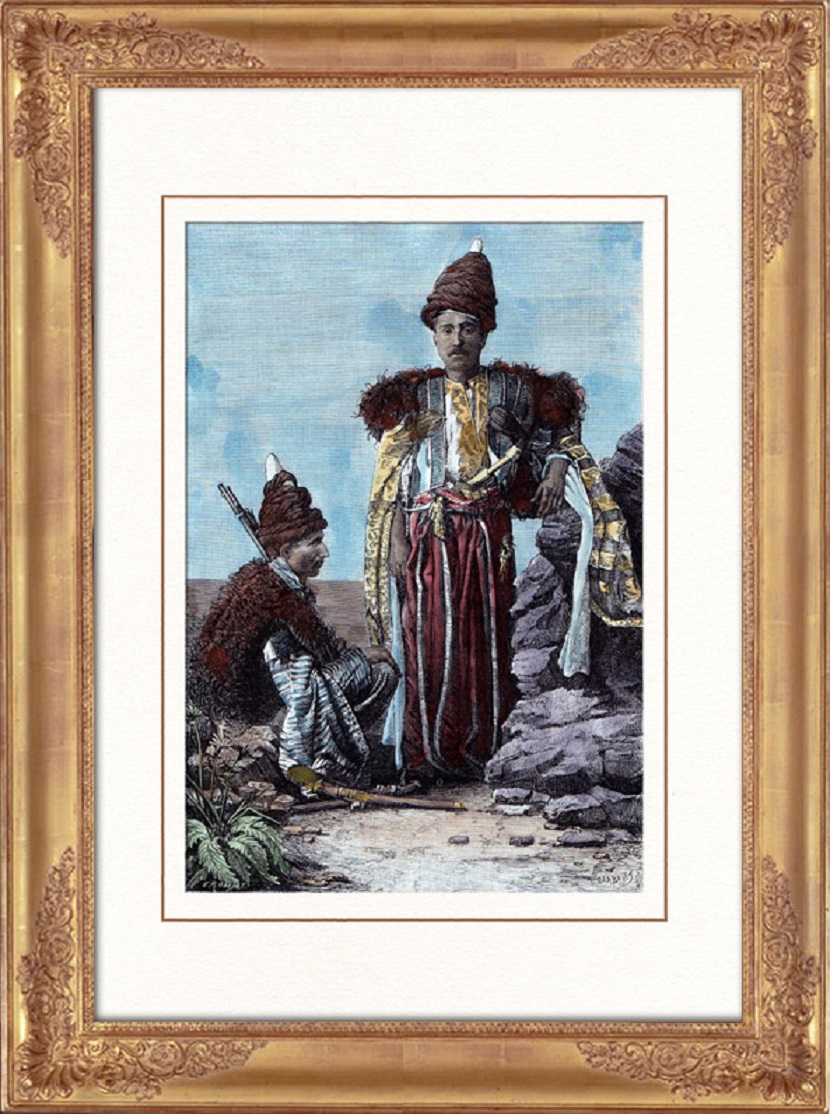 EIGHTEEN CENTURY KURDS-COSTUME - Reclus-Ronjat-1884-original old antique print plate originates from 'Nouvelle Geographie Universelle La Terre et les Hommes IX L' Asie Anterieure.' by Jacques Elisee Reclus,
published in Paris by Hachette & Cie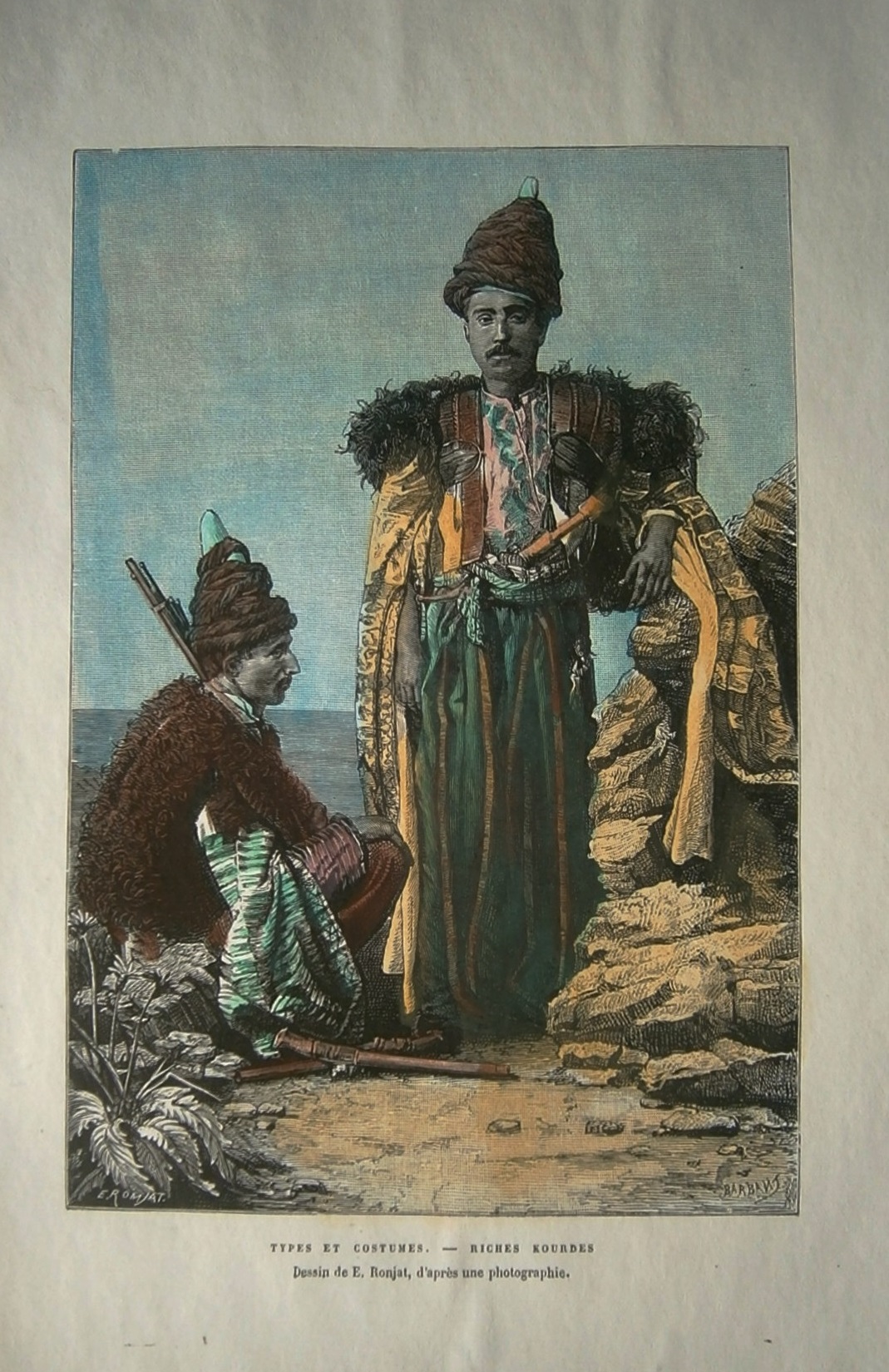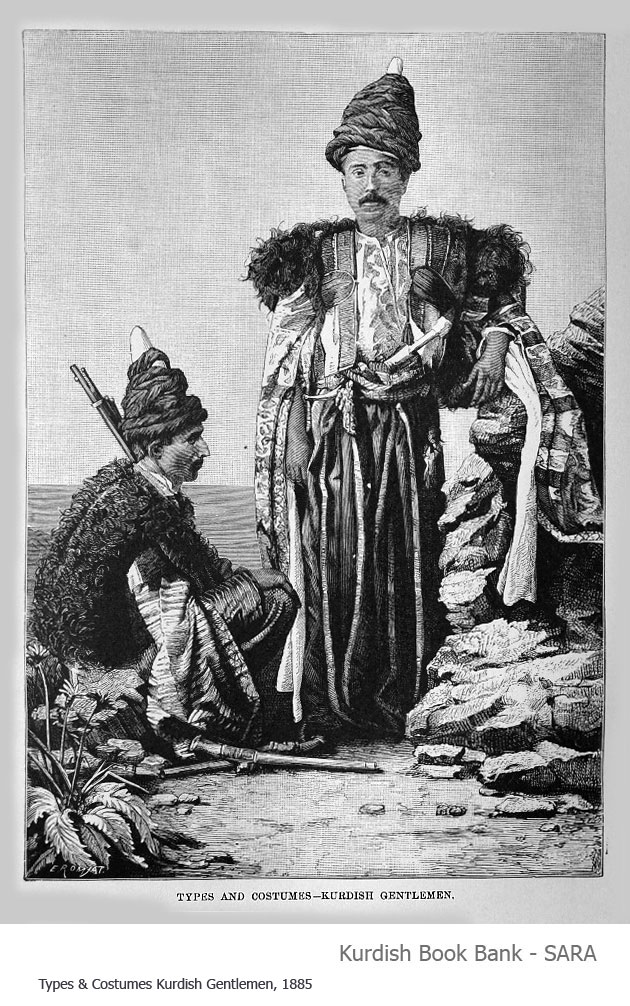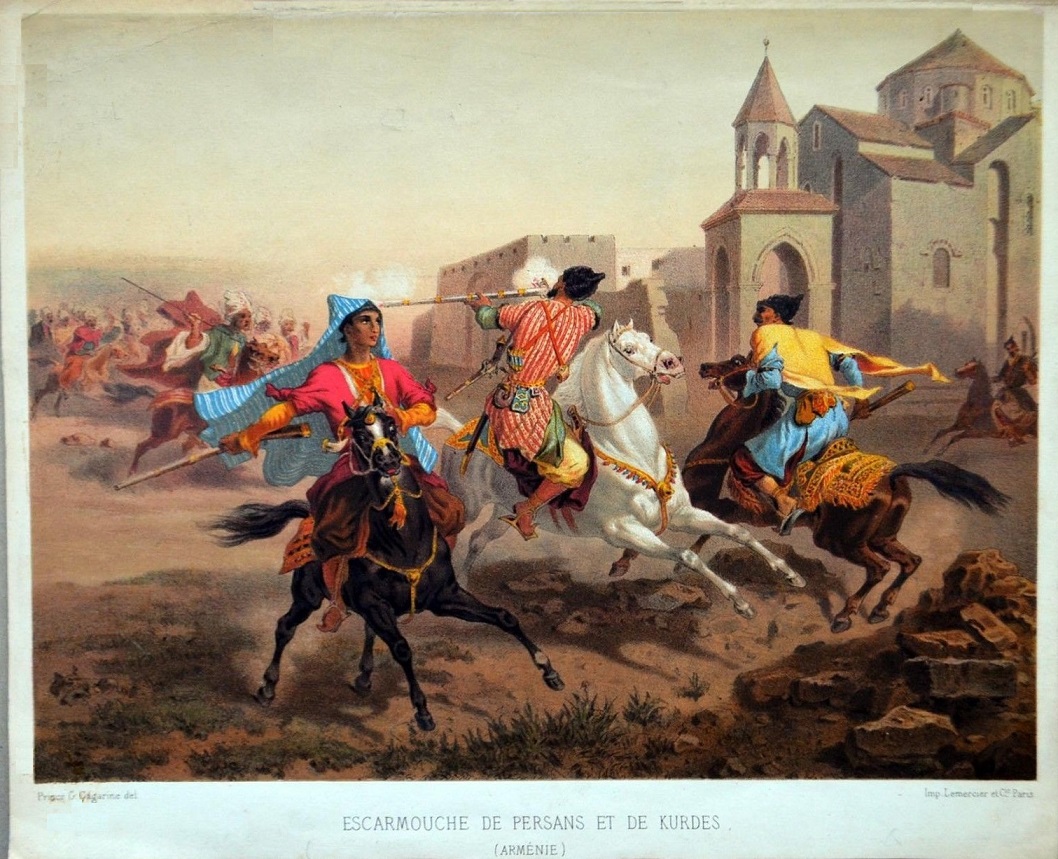 G. Gagarine original gravure Armenia Persians and Kurds Hripsime temple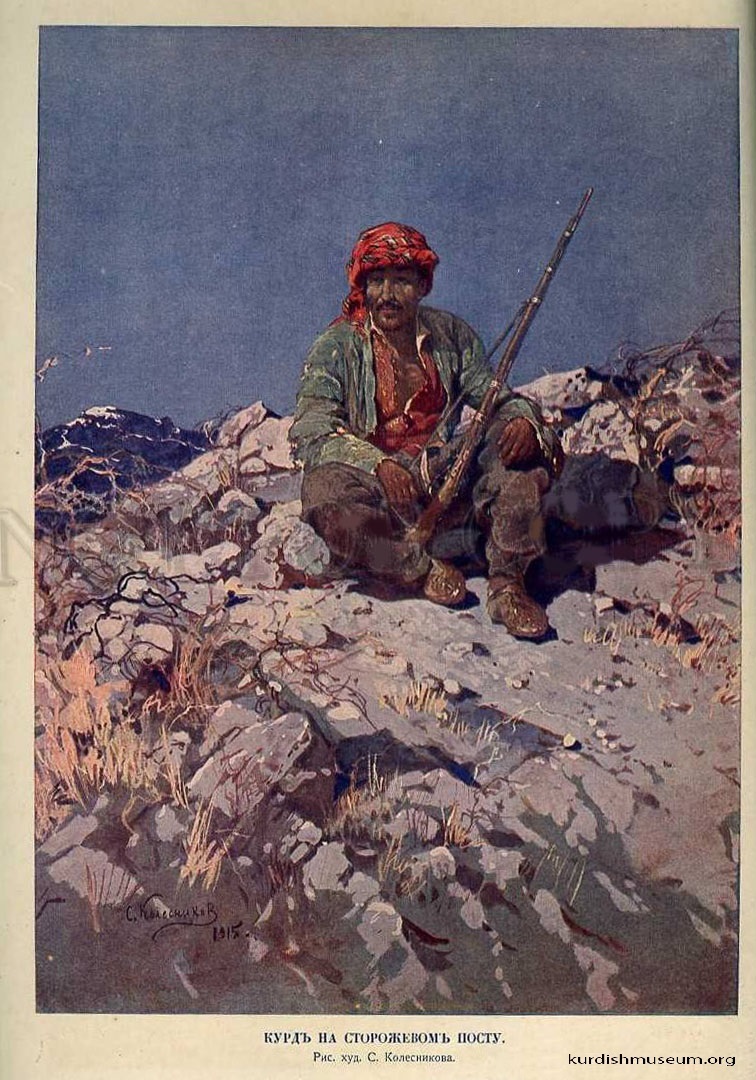 LETOPIS-VOYNI-Magazine, 1915, Russia
''Kürdler, sahip oldukları dağları herhangi bir güce teslim etmeyi sevmezler. Özgürlüklerine oldukça düşkünler.
Bağımsız ve dağlı olan Kürd aşiretlerinin özgürlüklerine dokunulduğunda çok acımasız ve sert oluyorlar.''

ABD Savaş Tarihi Arşivi (New York), 1916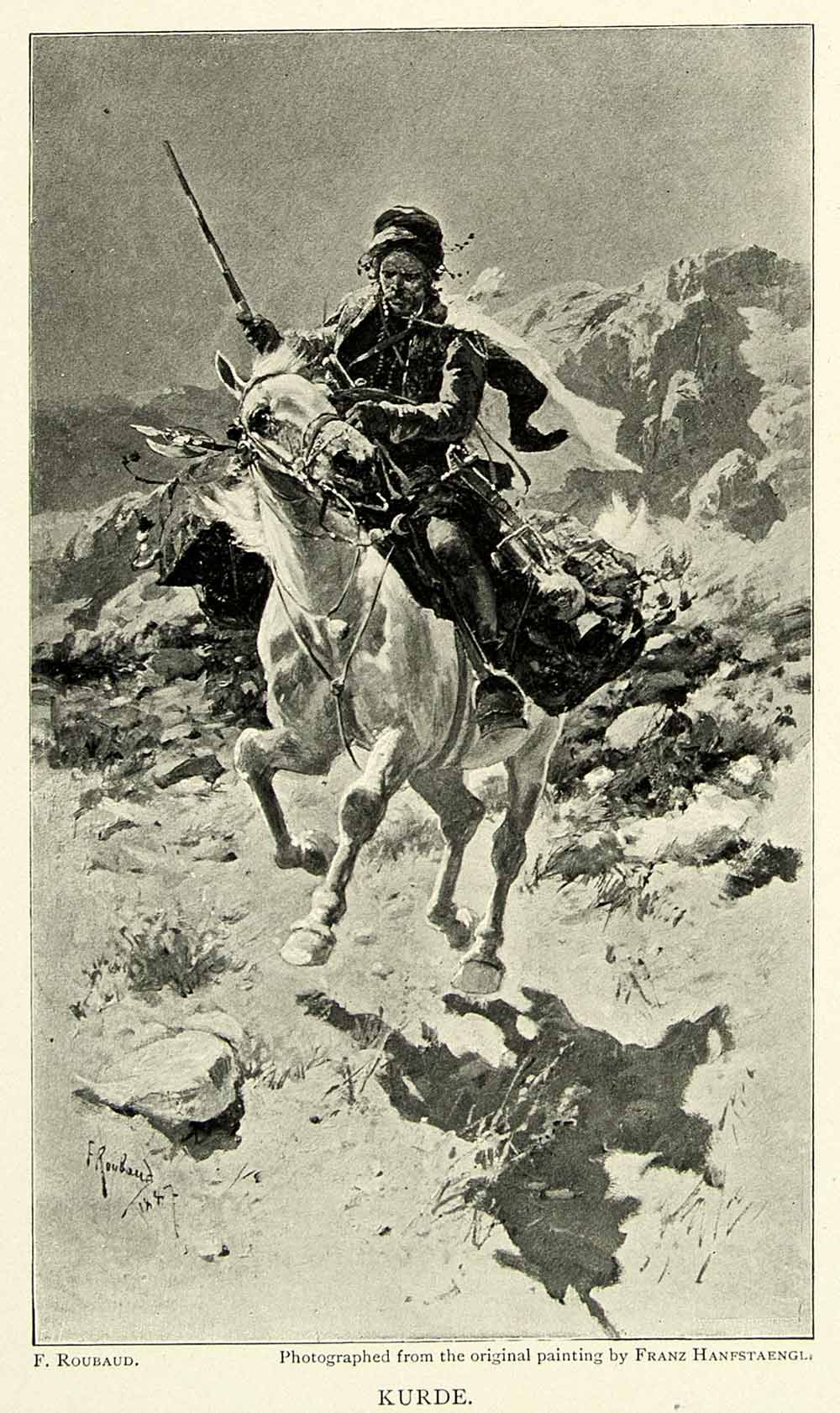 Print R Roubaud Kurde Horseback Rider Knight Pillage Sword Art, 1859
"Kürd savaşçılar doğuştan at binme eğitimi aldıkları için araplardan üstünler. At yetiştiriciliğinde o kadar ustalar ki, yetiştikleri atlar bir dağ keçisi gibi kayalık tepelere tırmanıyor."

Yabancı gezginin notları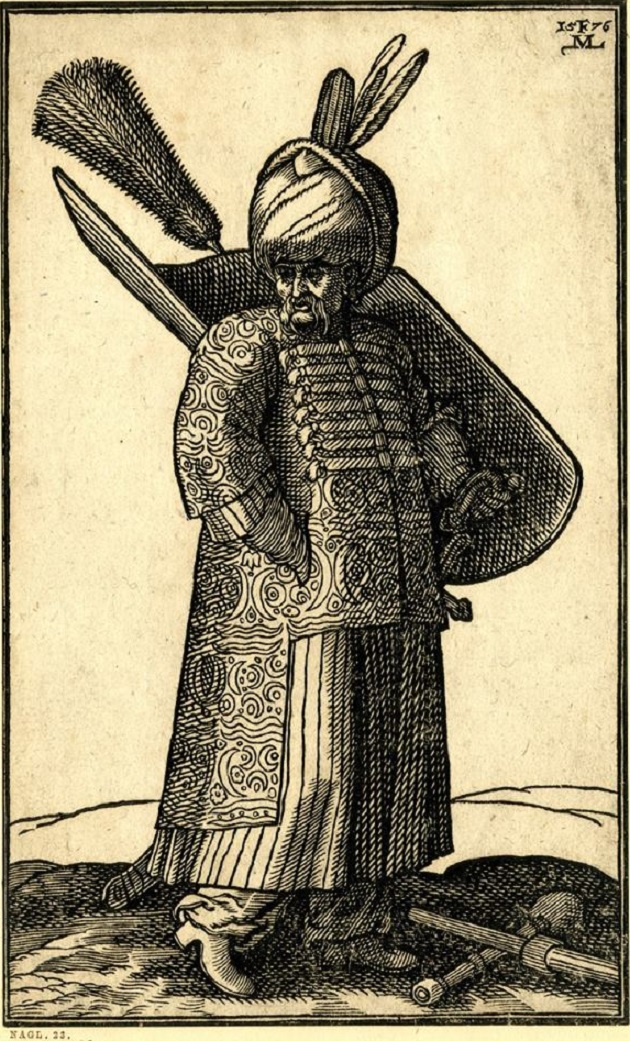 Serbazê Kurd, sala 1576an, Melchior Lorck
"Ermeni ve Kürdler iki rakip halktır. Ermeniler, Kürdlerin Medlerden geldiğini söylüyorlar.
Sert mizaçlı, fiziksel olarak güçlü yapıları vardır. Kürd kelimesi 'mükemmel' anlamına gelmektedir."

Antropolog Arkeolog E. Chantre (1843-1924)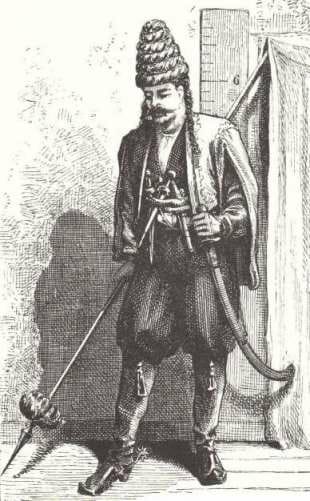 Serbazê Kurd, 1800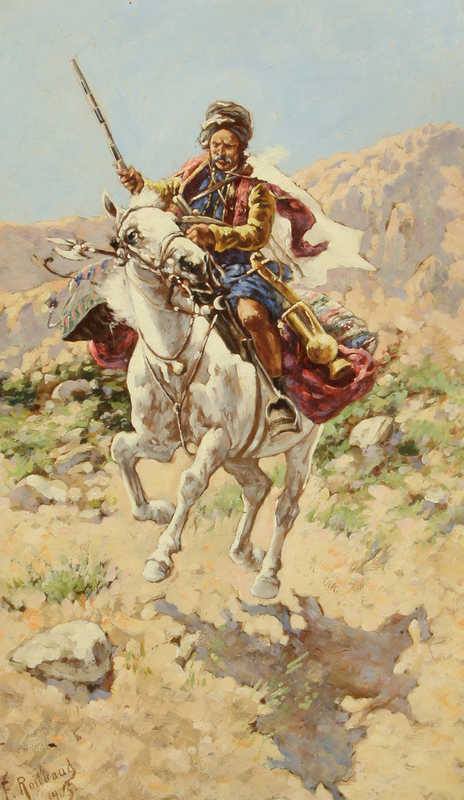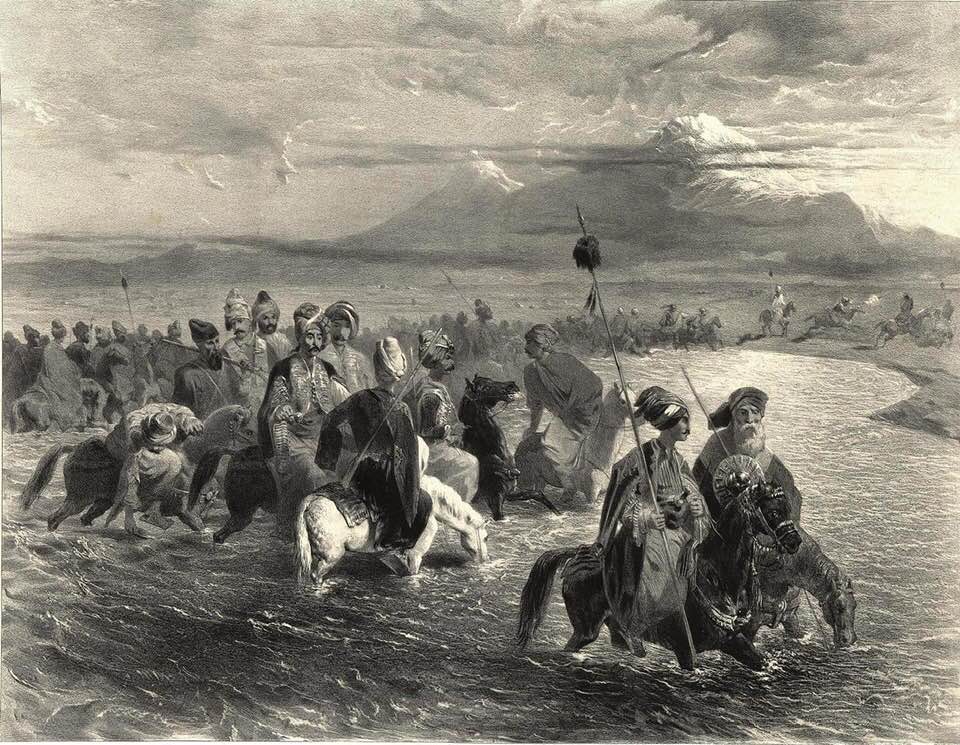 TRADITIONAL DRESS: Kurds fording a River, Genuine original antique engraving, 1855; approximate size 16.5 x 23.0cm, 6.5 x 9 inches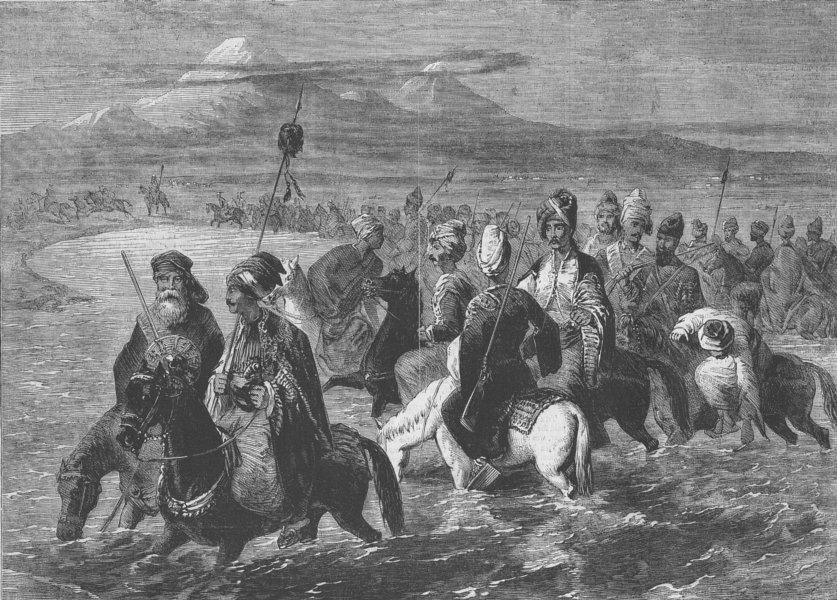 TRADITIONAL DRESS: Kurds fording a River, Genuine original antique engraving, 1855; approximate size 16.5 x 23.0cm, 6.5 x 9 inches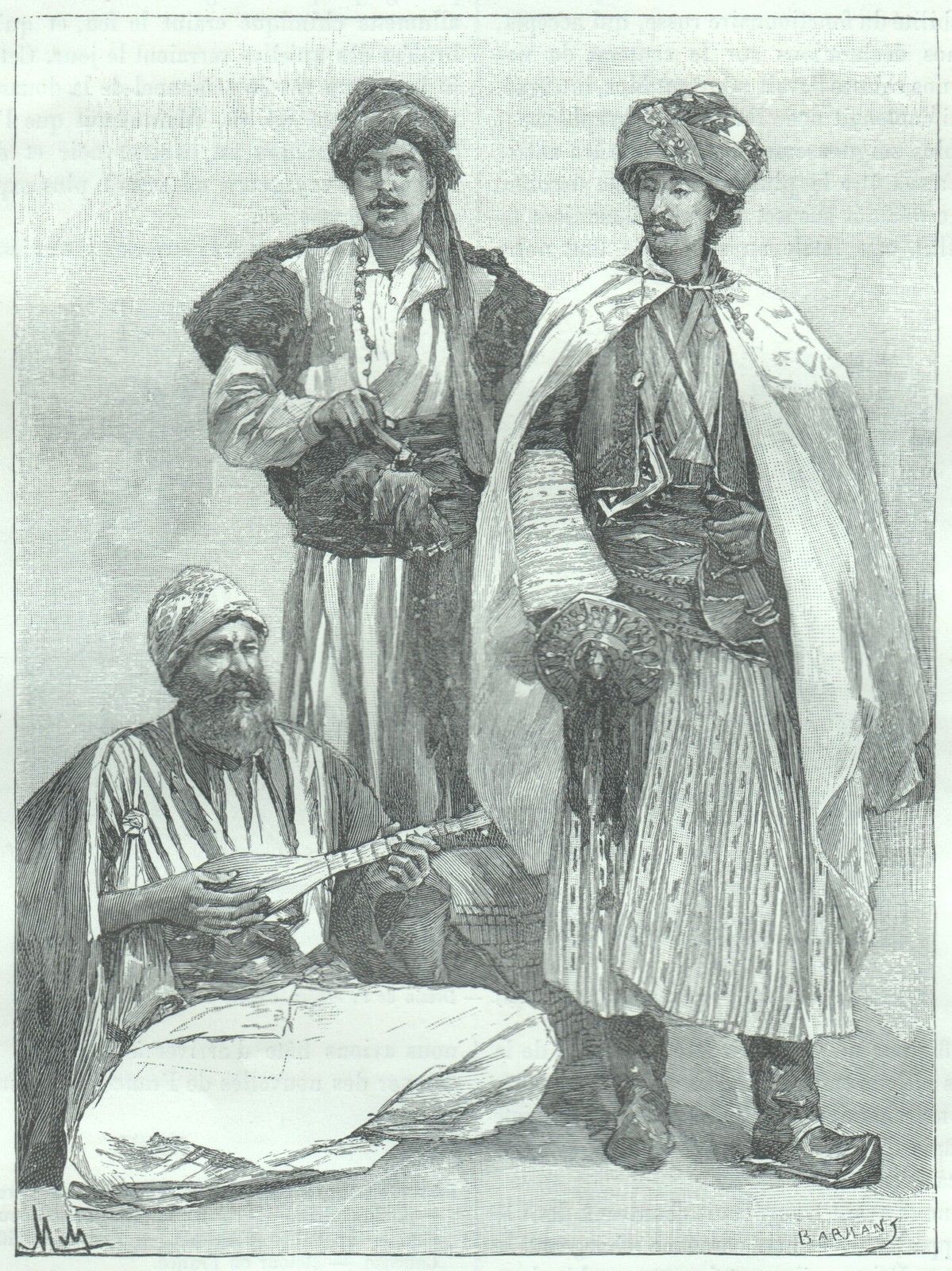 Engraving from 1899: ZAZA (DJELALIS) KURDS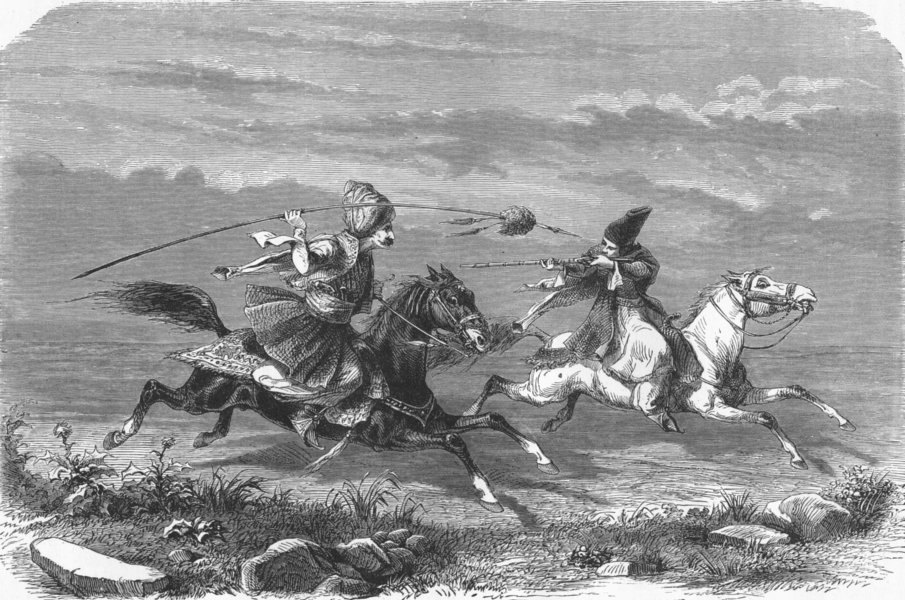 Kurdish Warrior; An original antique wood engraved print, 1880


Kurdên Hewramanê. 1876 orig. Xylografie + Lexikon-Artikel Gûran (Goran) Eşiret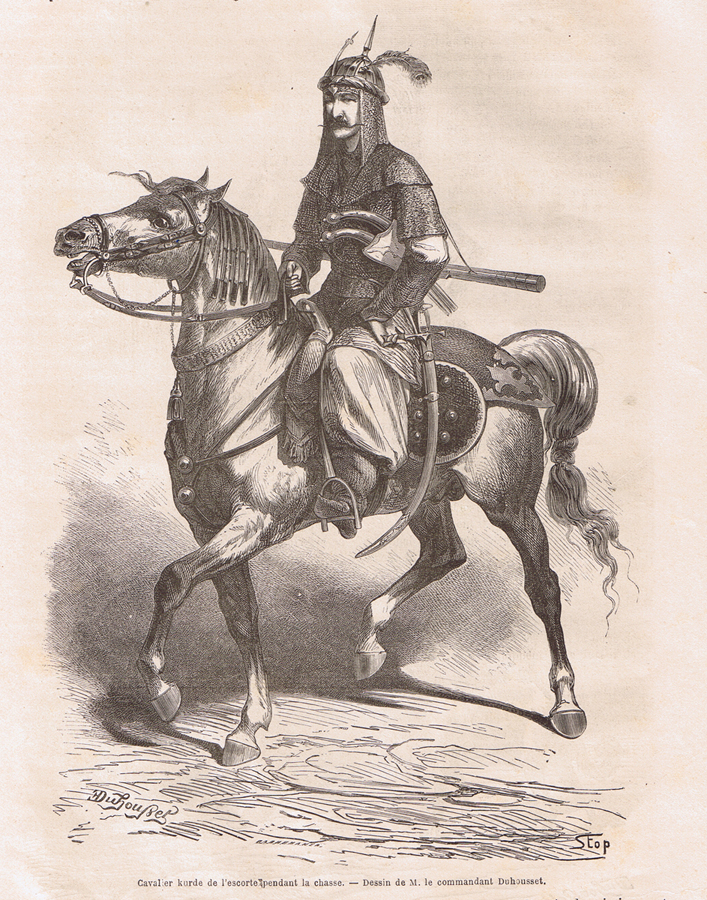 Kurdish Cavalier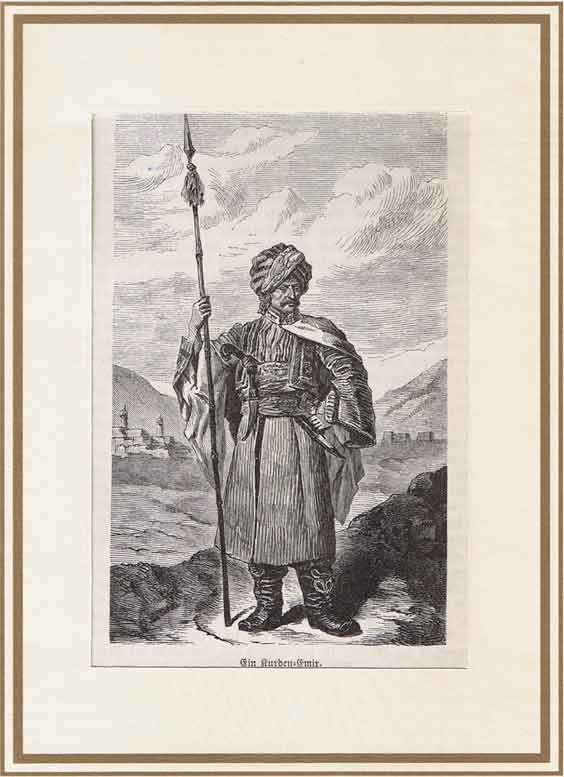 Kurdish Mir ("e"mir) 1880 Orienten, Lerchenfeld 1881, Germany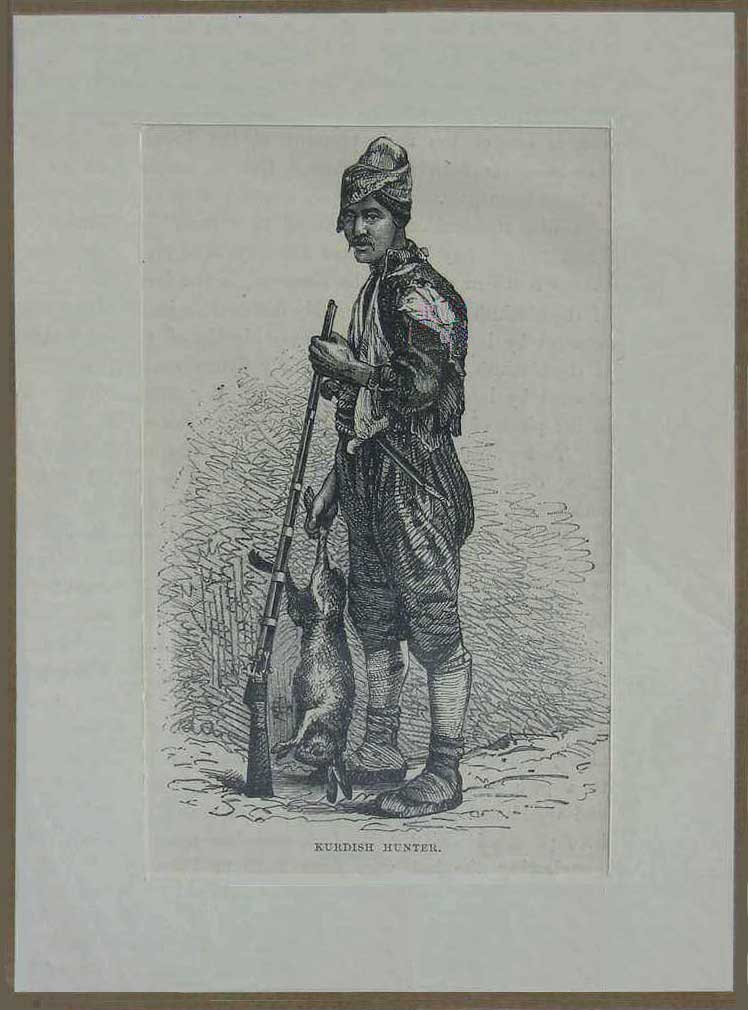 Kurdish Hunter1880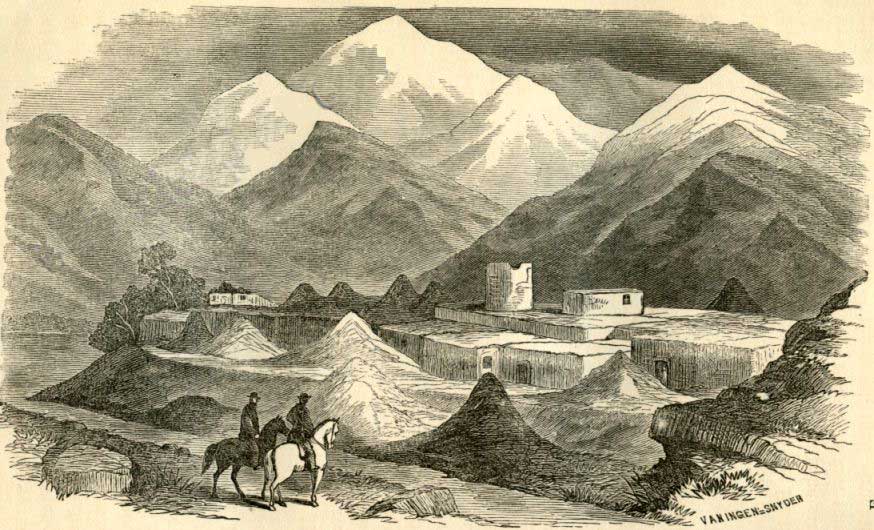 Village in montains of Kurdistan
''Şirvan'dan gelip Bitlis'e gitmekte olan bir katır kervanı ile karşılaştık. Bize şaşkın gözlerle bakıyorlardı. Çünkü Kürdistan'ın bu parçasında farslıları hiç görmemişlerdi nede olsa.
E onlar da haklıydılar, çünkü benim üstümdeki elbiselerimin hepsi o tarzdaydı ki görenler 'hey Acem oğlu nereye gidiyorsun?' diye hep soruyorlardı.''

Yarbay J.Shiel, 1836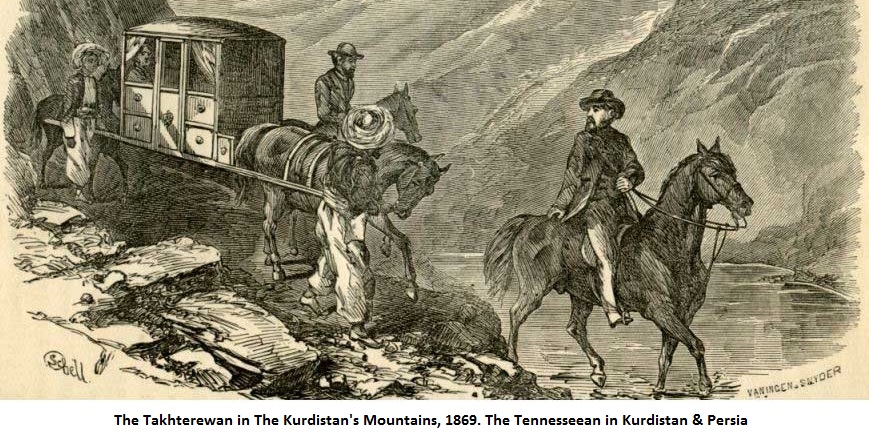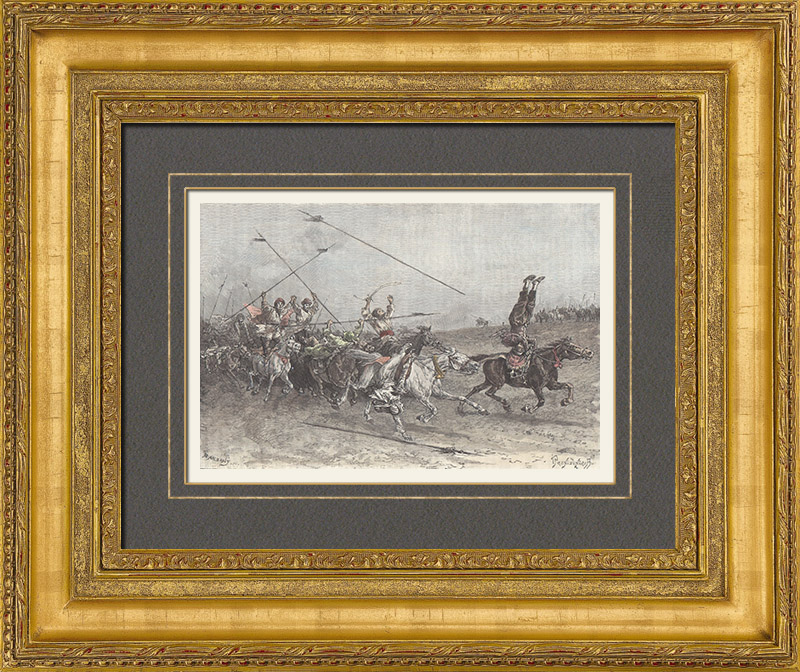 KURDISH WARRIORS 1889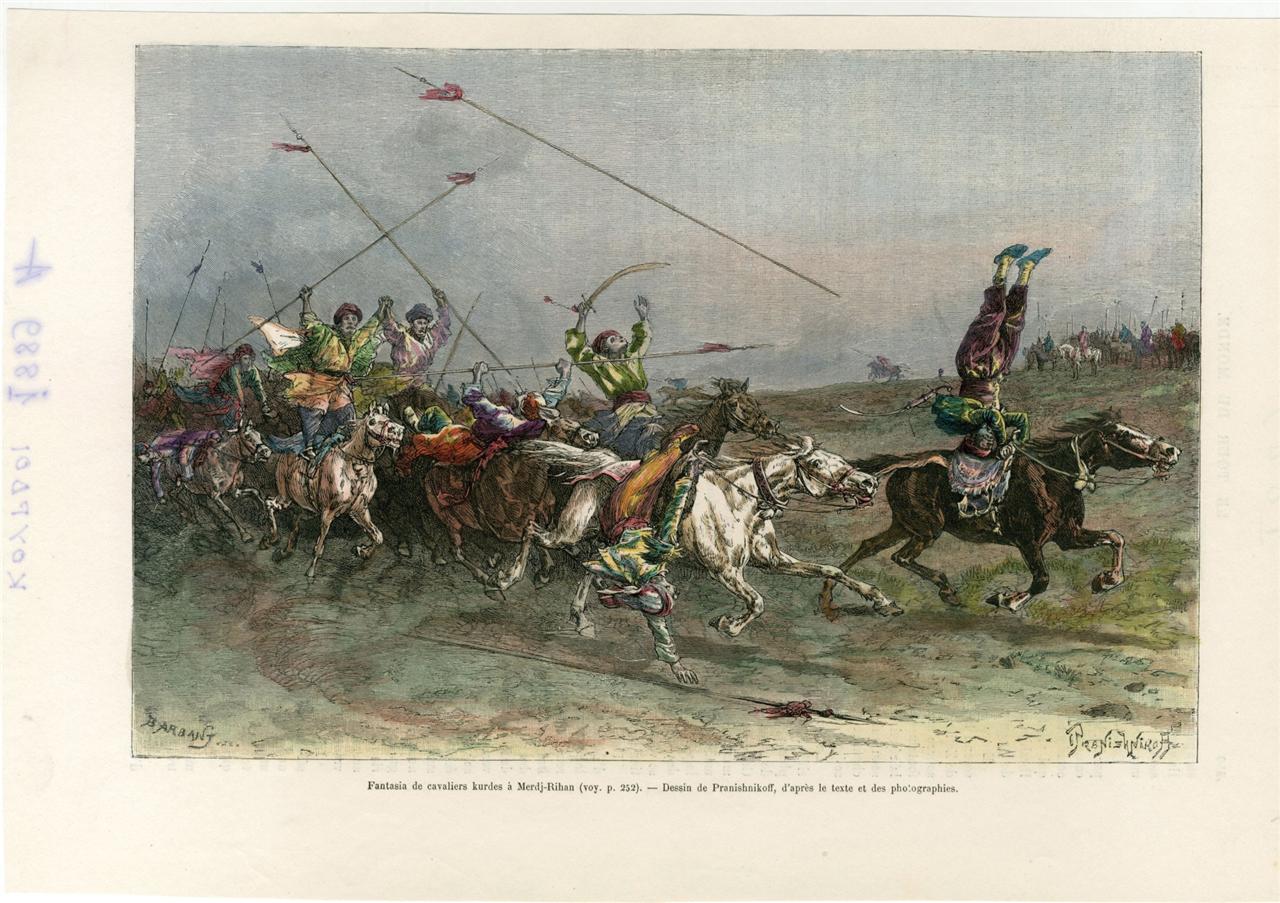 ''Kürd erkekleri çok iyi binicilerdir. Binicilik neredeyse meslek halini almıştır. Kürd erkekleri silah bulundurur ve at üzerinde jimnastik hareketler yaparlar.''

S. Arakelyan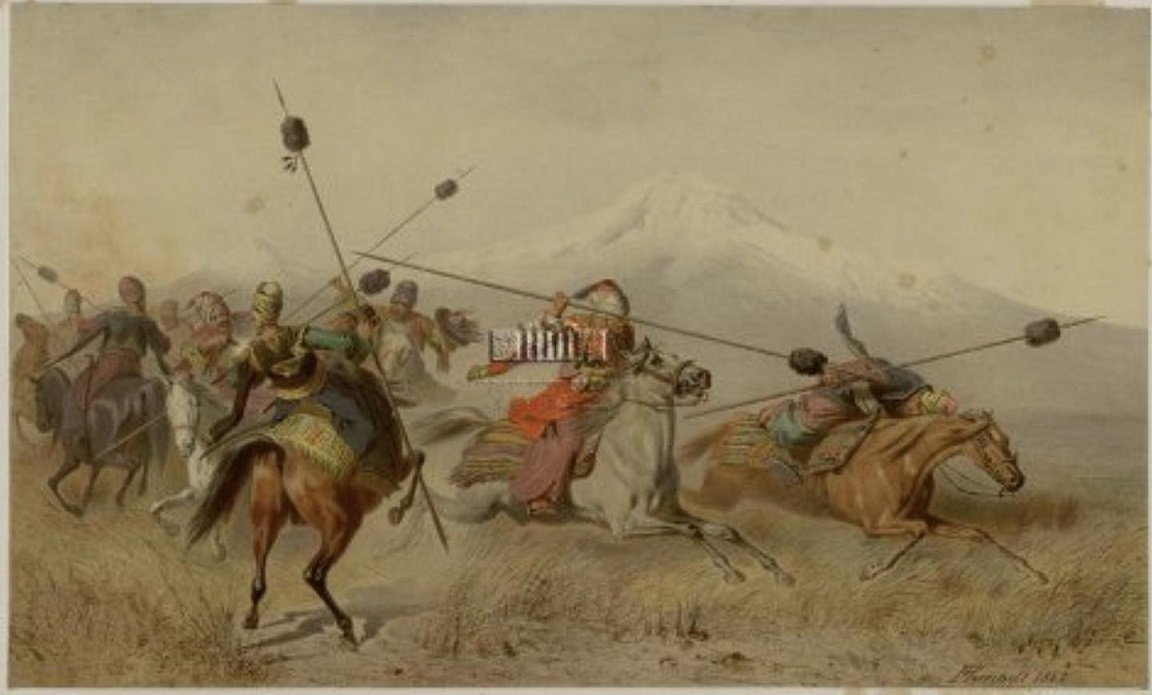 Erivan yakınlarında kürd süvari birliği. Tatbikat sahnesi… 1865

Gravür T. Gorshelt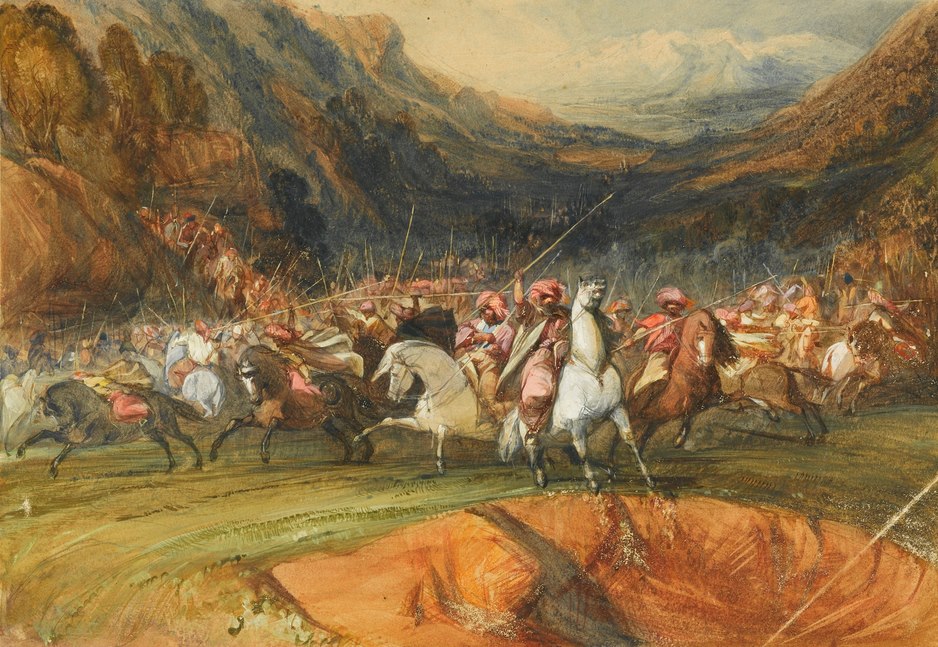 Kurdish wariror, by James Balille Fraser, 1822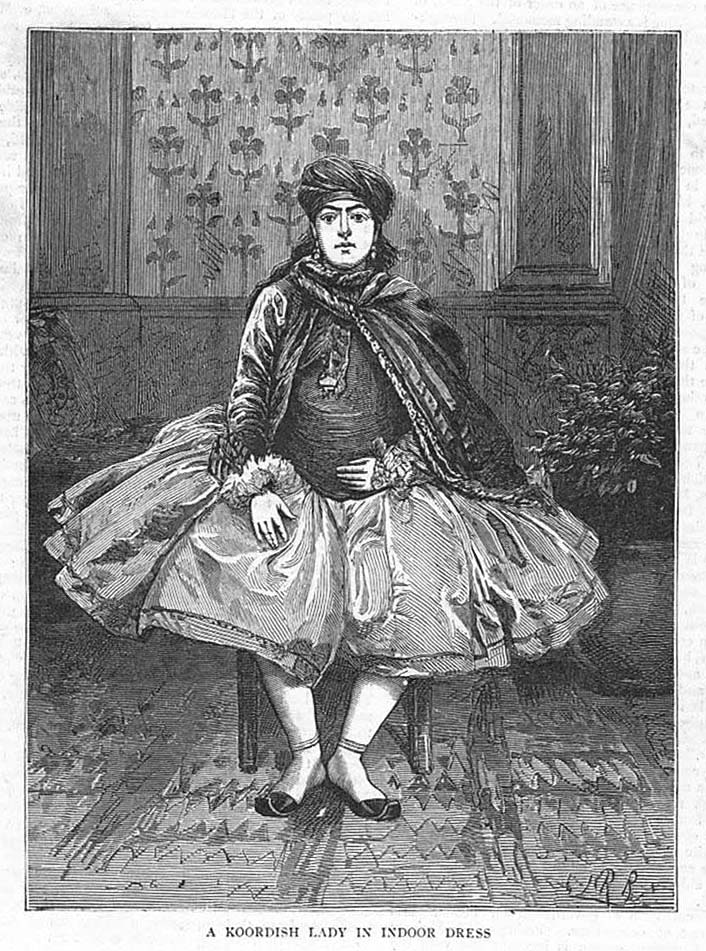 A Kurdish lady in Indoor Dress, Eastern Kurdistan - Antique Print 1885
Antique wood engraved print taken from The Graphic. The Graphic was a British weekly illustrated newspaper, first published on 4 December 1869 by William Luson Thomas's company Illustrated Newspapers Limited. The Graphic's influence within the art world was immense, its many admirers included Vincent Van Gogh, and Hubert von Herkomer.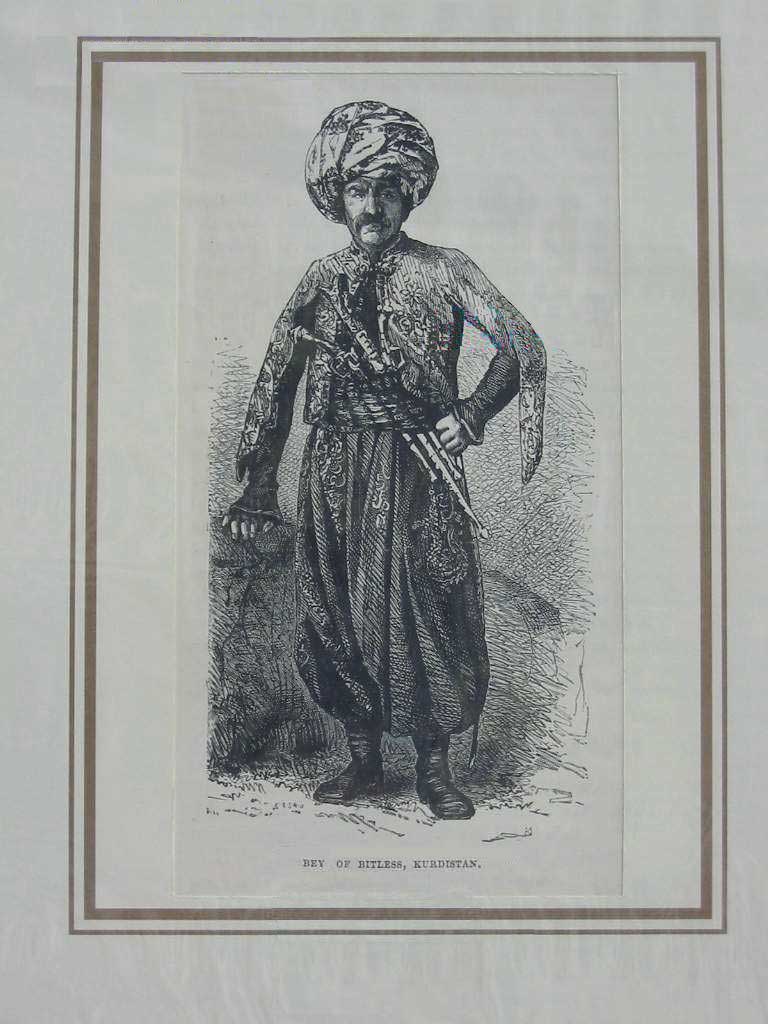 Beg-Bitles-Kurdistan-1880

1 Alter Holzstich / wood-engraving.
aus einem Buch mit rückseitigem Text oder Bild ,
(from a periodical / book with printing on reverse) ,

ca.1880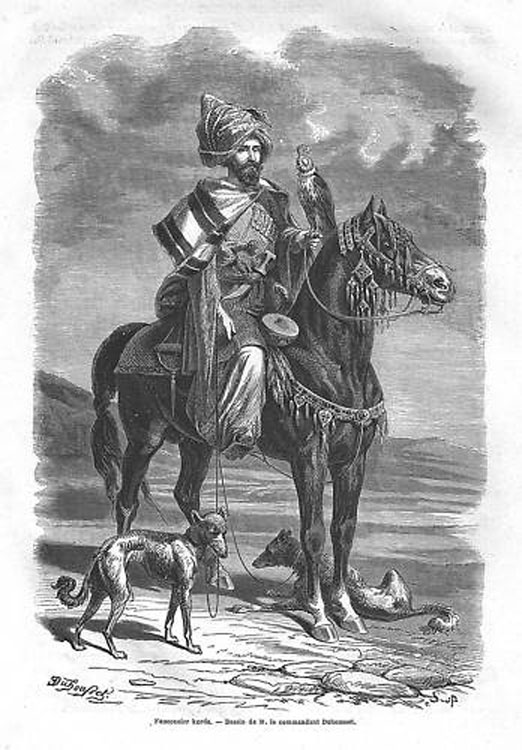 Hunting Kurdish Prince - 1862
(FALKENJAGD - FAUCONNIER KURDE - WINDHUNDE 1862)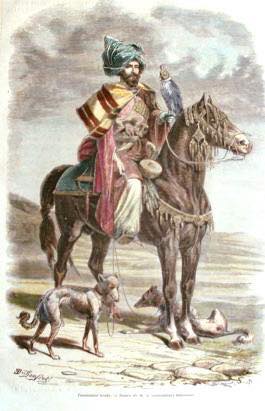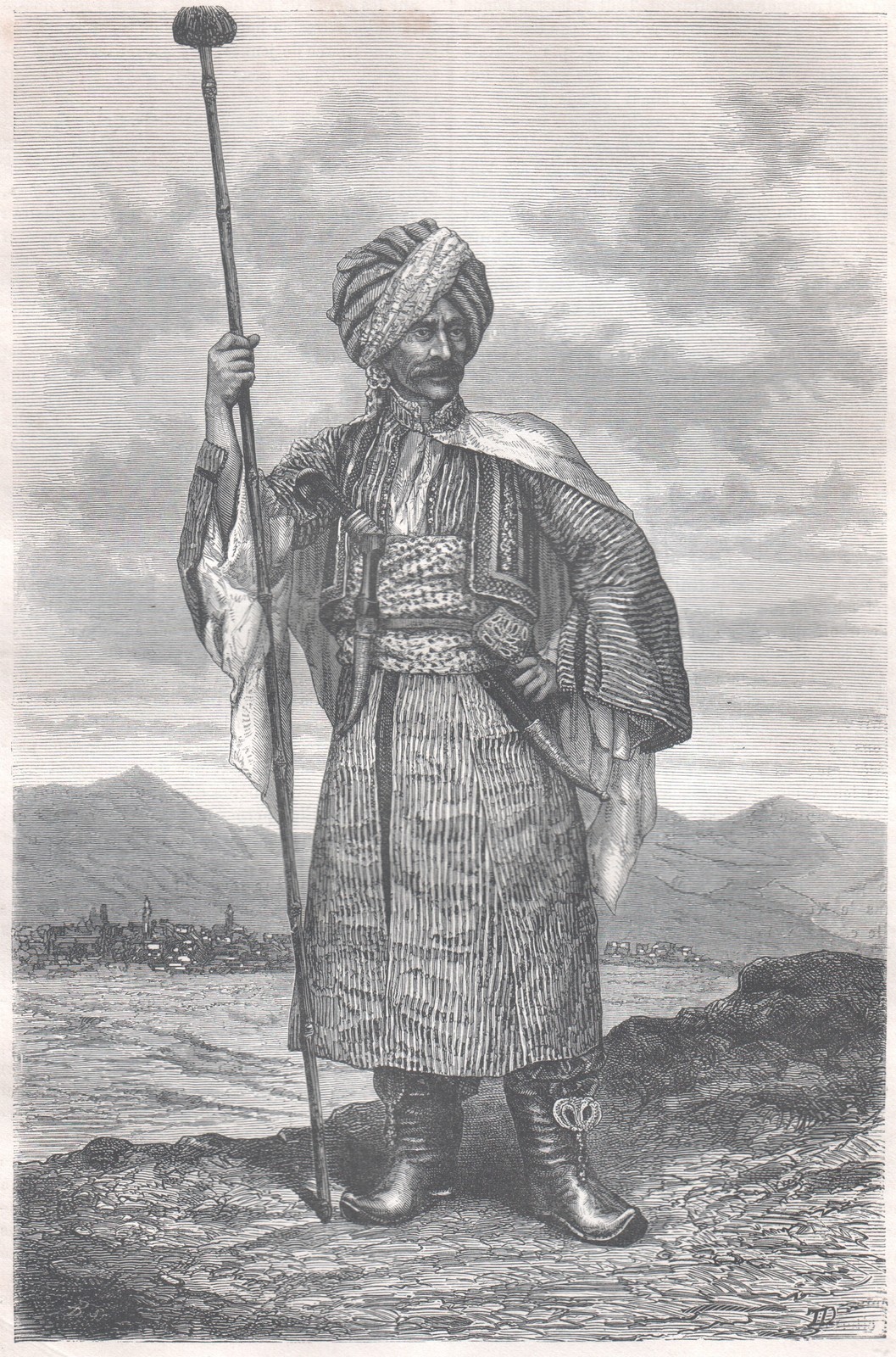 MÎRÊ KURD - KURDISH PRINCE -CAPO CURDO
(Capo Kurdo, 22x30 cm, from the Italian book: 1876, Giro Mondo)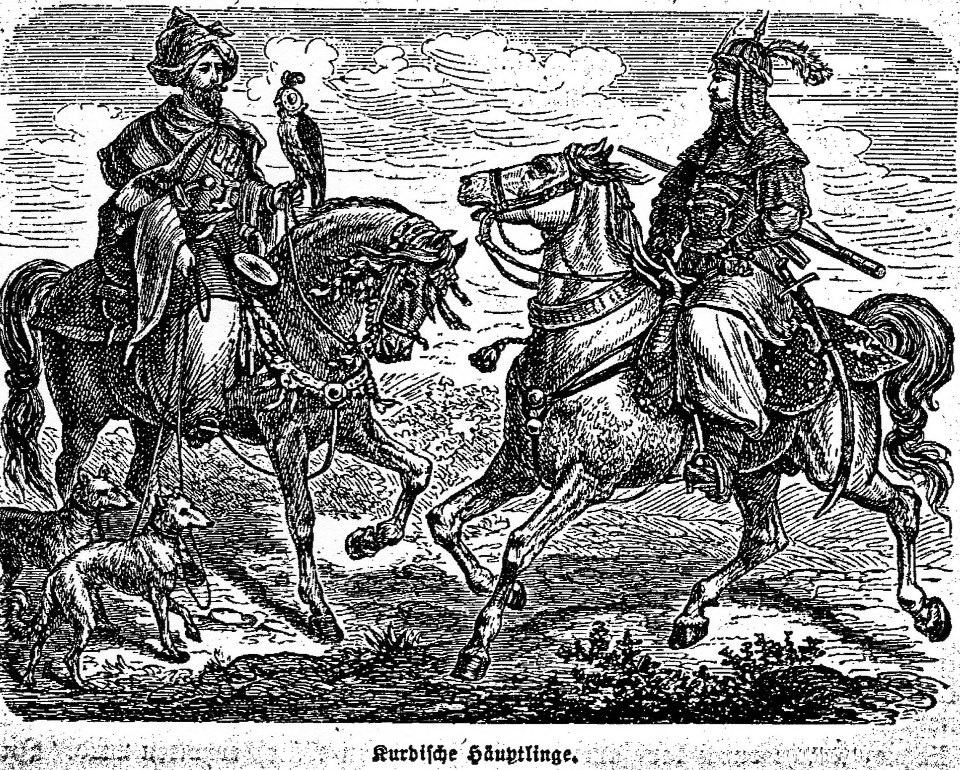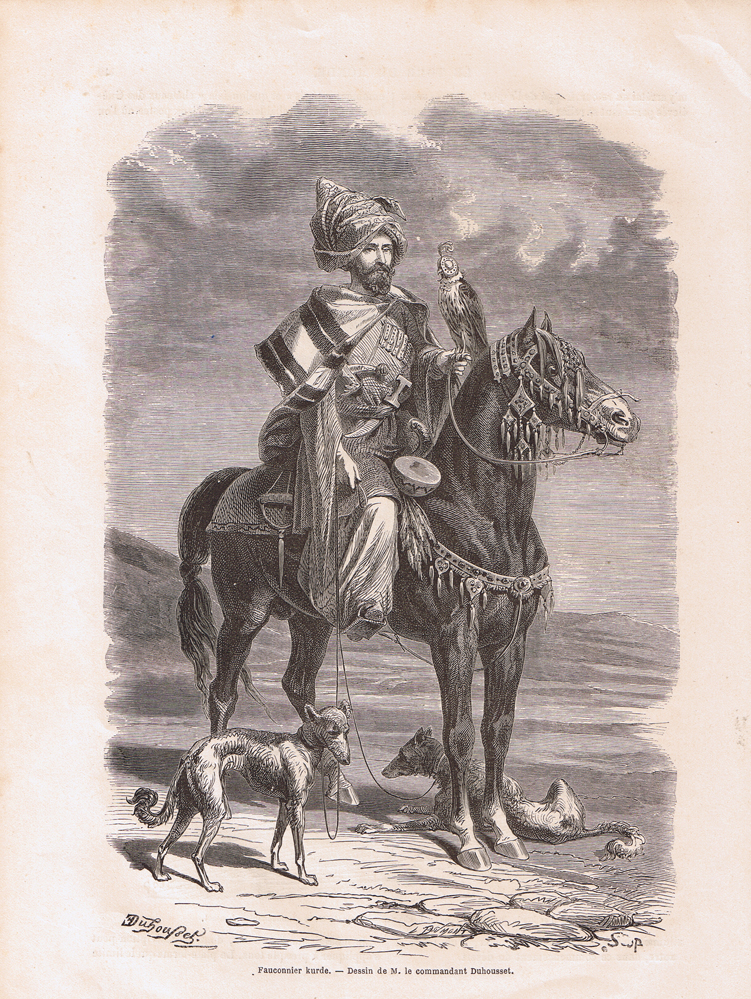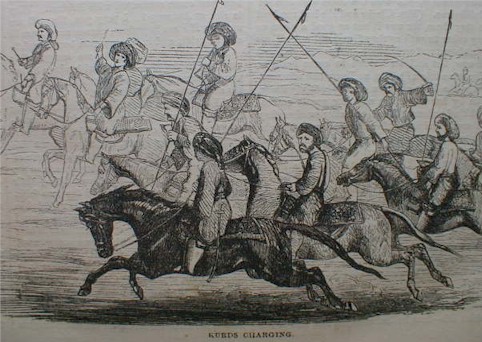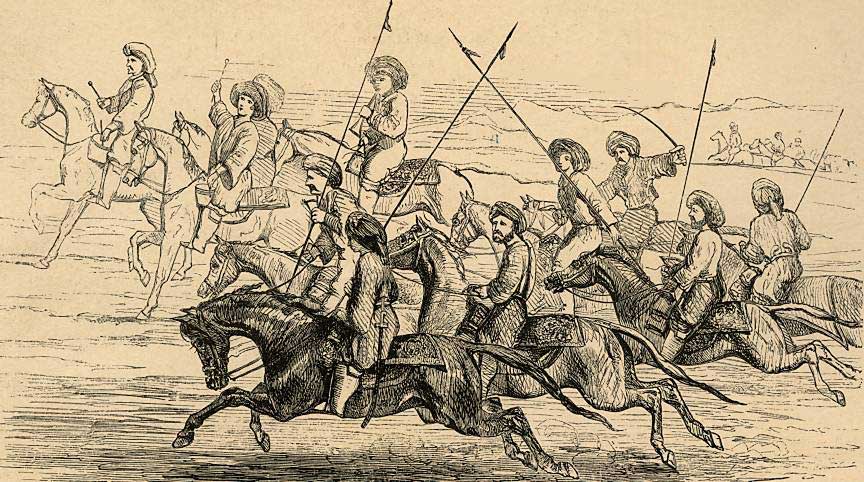 Kurdish Military 1700
"PATRE DU KURDISTAN, 8c. 20
(Environs de Vann)
MUSEE COSMOPOLITE, No. 111 Ancienne Mon. AUBERT, 20.rue Bergere."
Genuine antique watercolored by hand steel plate engraving from Musee Cosmopolite, Paris, Ancienne maison Aubert, 1850-1863, a loose leaf publication of costumes from all over the world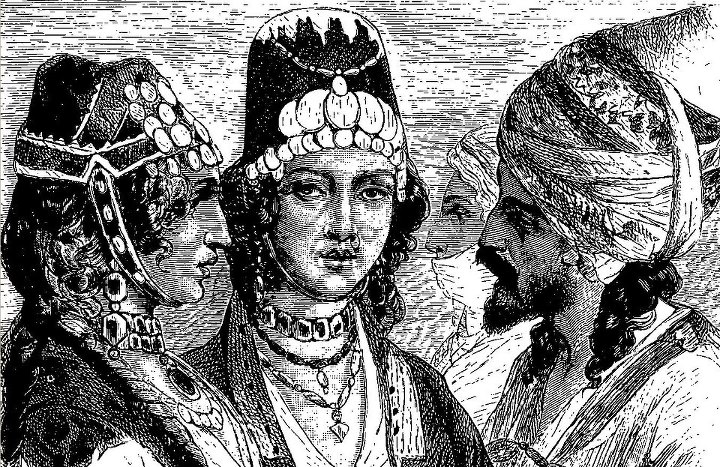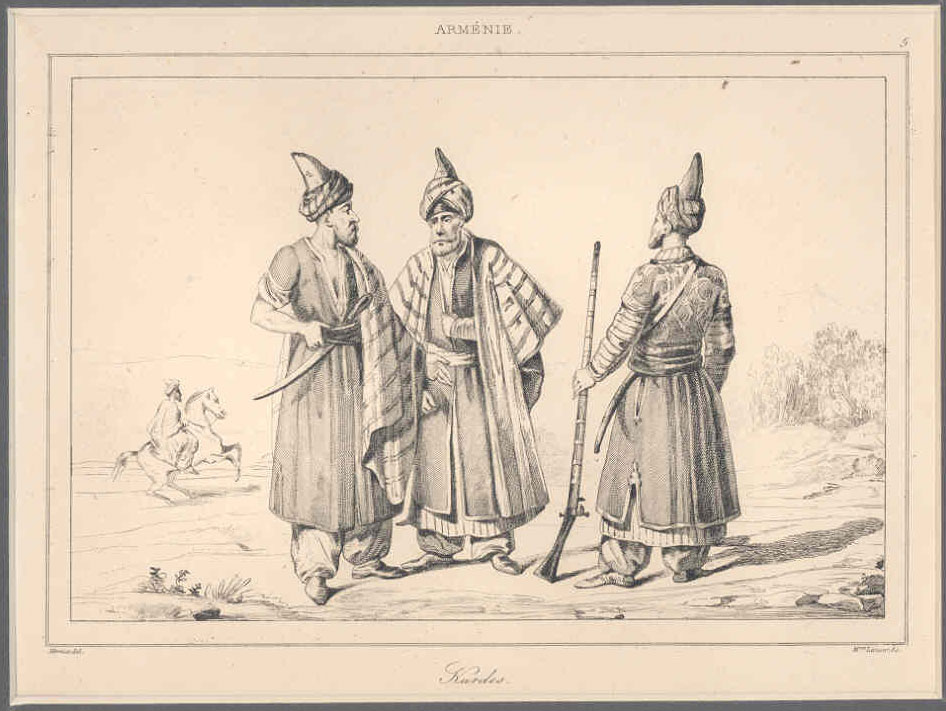 Original Print Engraving 1840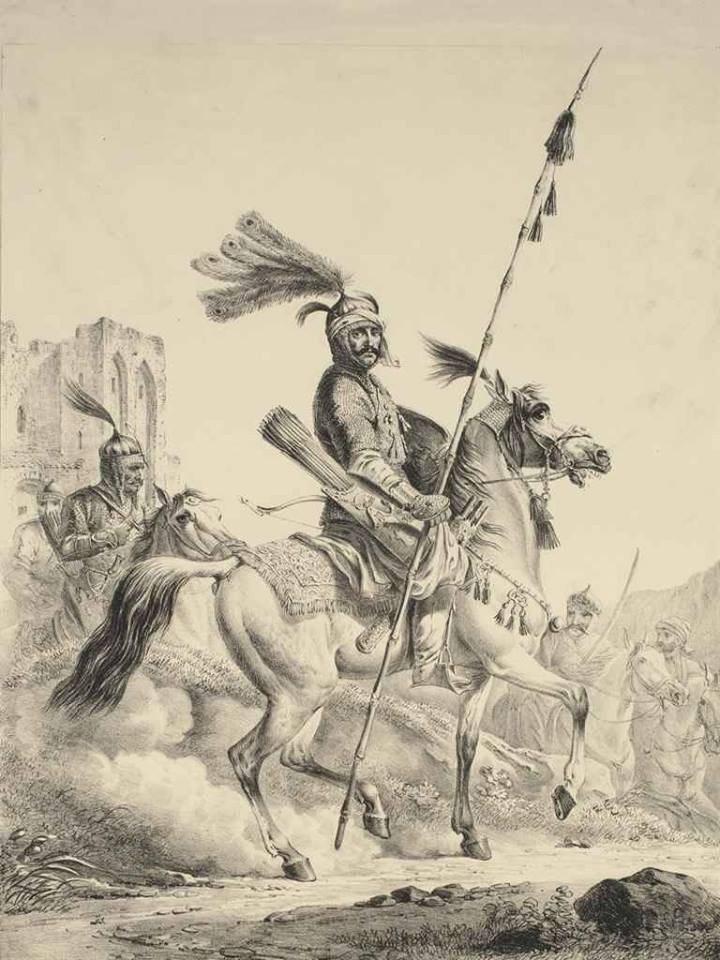 Kurdish Prince (Mîr), by Alexander Orlovsky (1777–1832, Polish-Russian battle painter)
Gravûrên Alexander Orlovsky di pirtûka Gaspar Drouville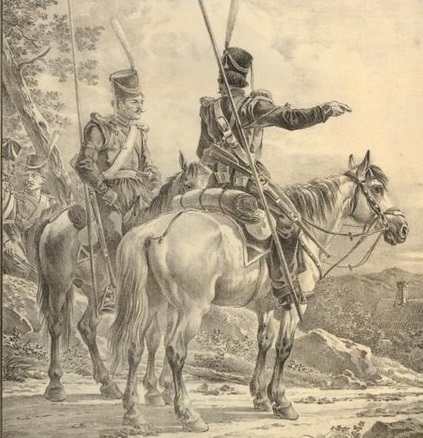 Gravûrên Alexander Orlovsky di pirtûka Gaspar Drouville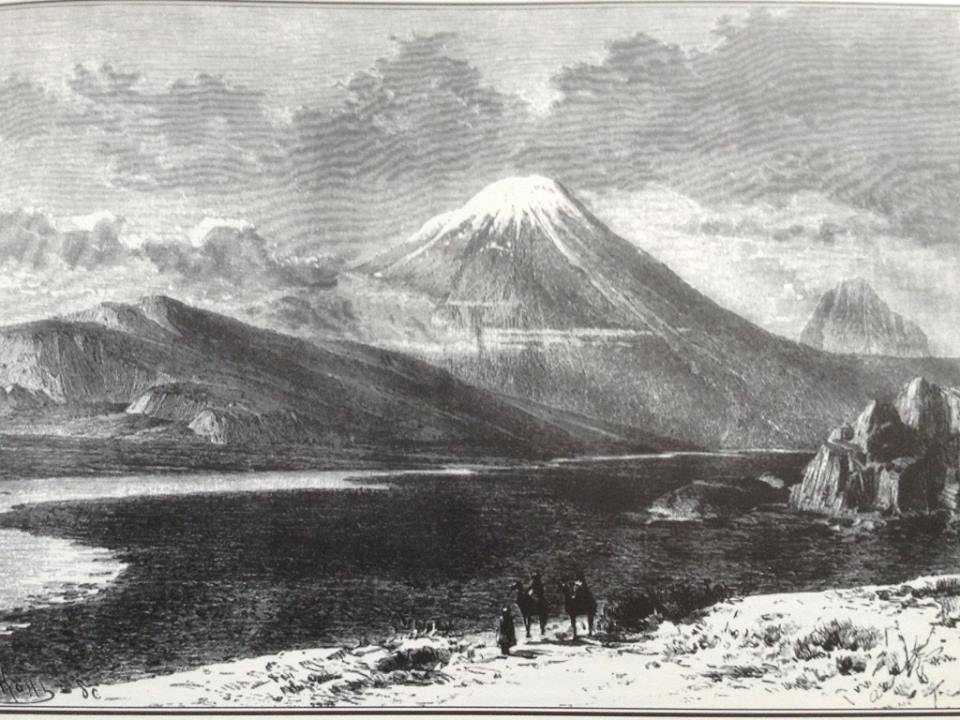 AGIRÎ (Ararat) 1870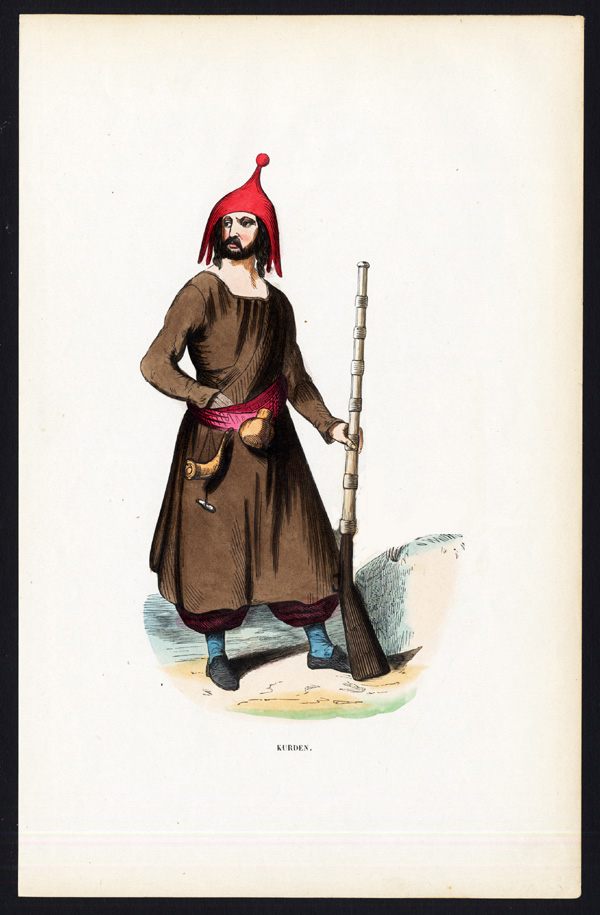 Title: "Kurde (Asie)"
Age: 1843 (Bruxelles)
Author: Auguste Wahlen
Editor: Libraire Historique-Artistique
Technique: hand-coloured lithography
litografia a colori originali d'epoca
lithographie aux couleurs d'epoque
Note: from "Moeurs, usages et costumes de touts les peuples du Monde"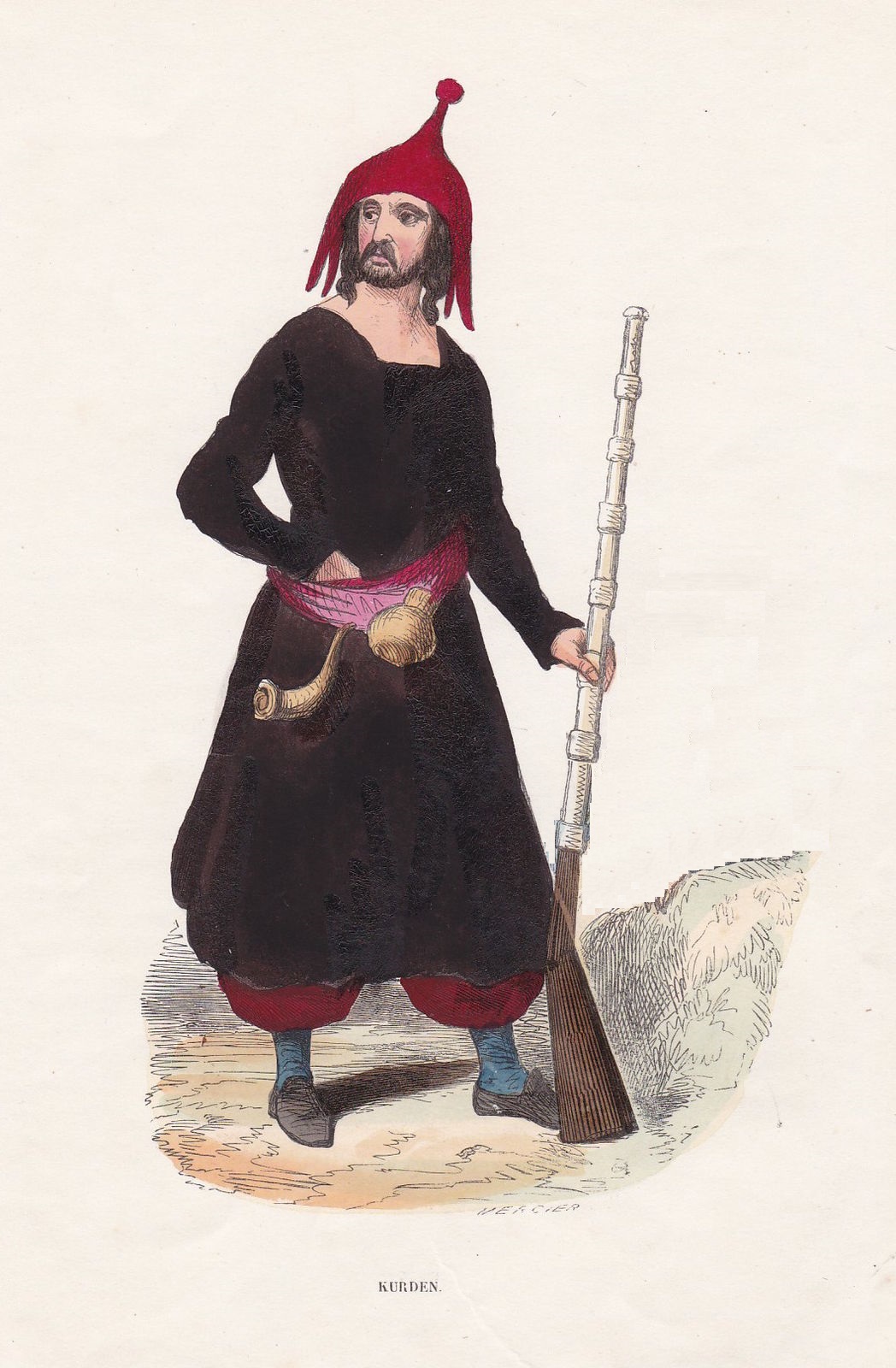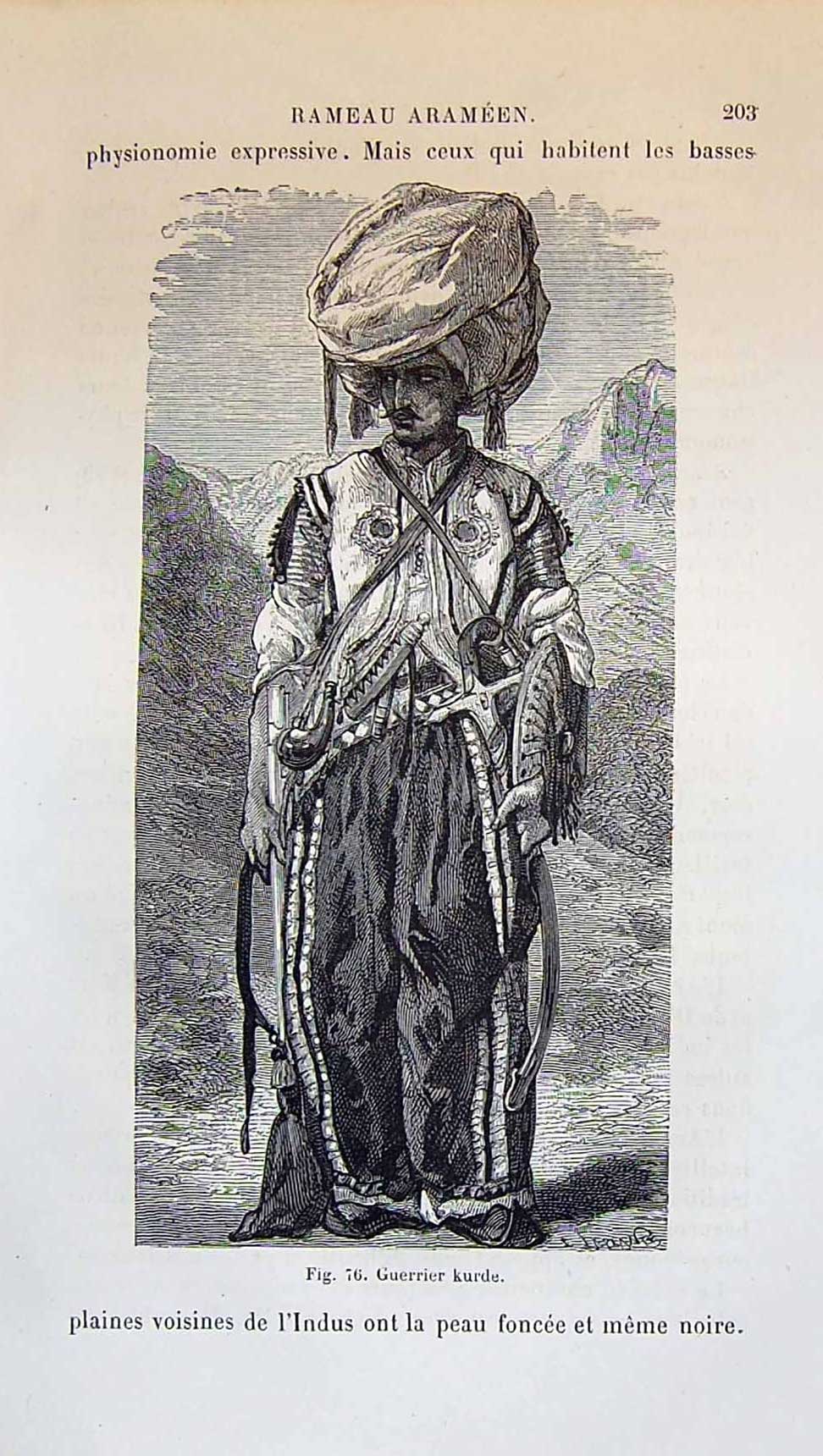 SAMÛRAYÊ KURD / KURD SAMURAYI / Kürd Savas,ç? (Guerrier Kurde)
Antique Print of 1880 Human Races Humaines Figuier Guerrier Kurde Man Costume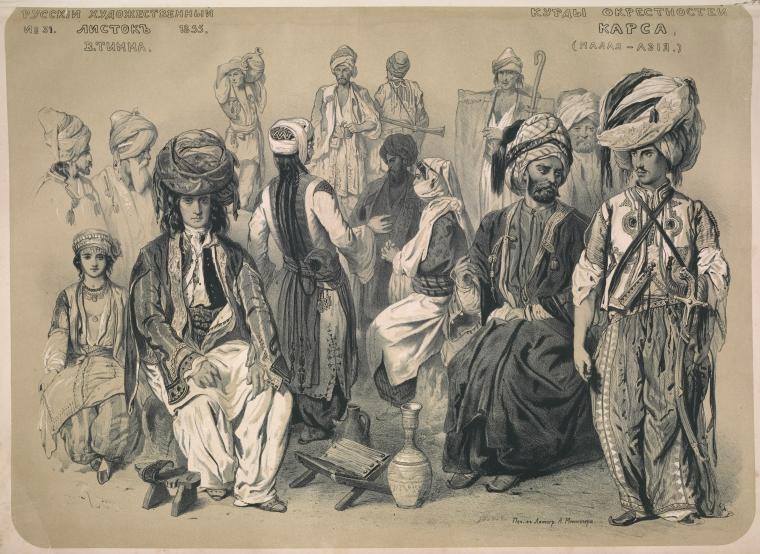 Original Print Engraving 1840 (The Kurd: from the left first)
1894 ANTIQUE PRINT – KURDS OF HAZON (MOUNT HAZON)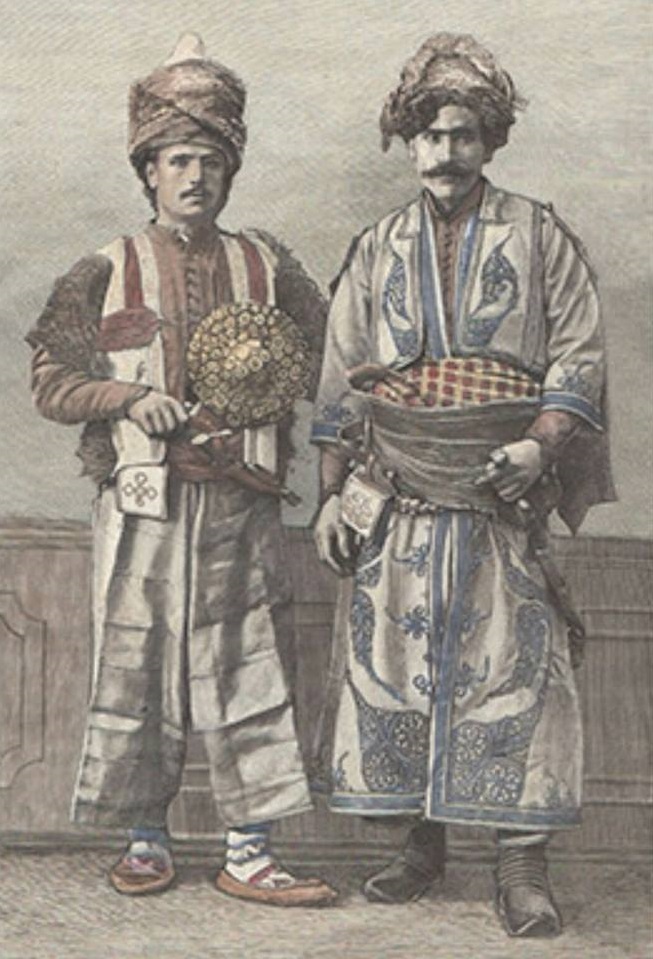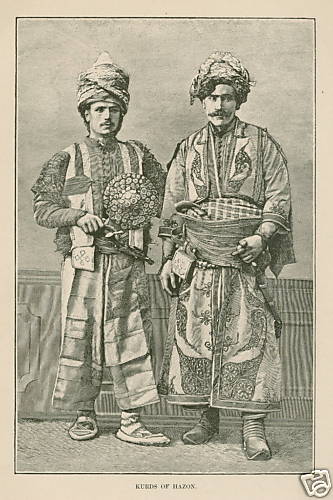 1894 ANTIQUE PRINT – KURDS OF HAZON (MOUNT HAZON)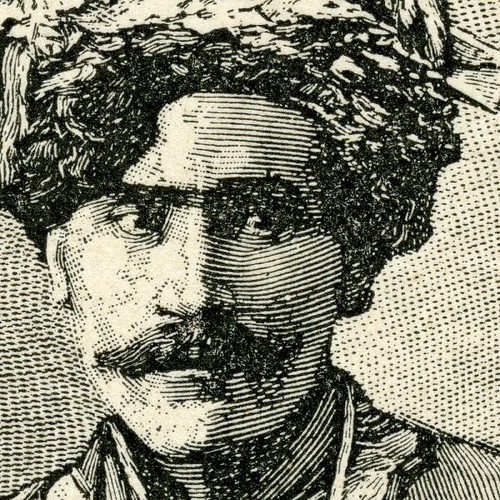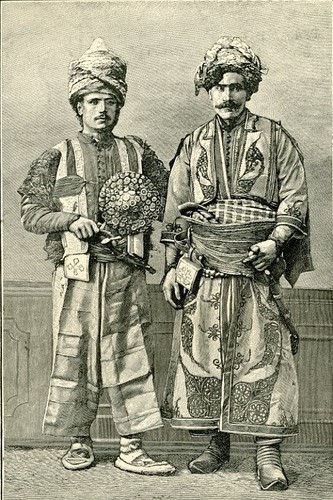 Hazon Kurds 1894 Antique/Vintage Israel - Print art Kurdish men with weapons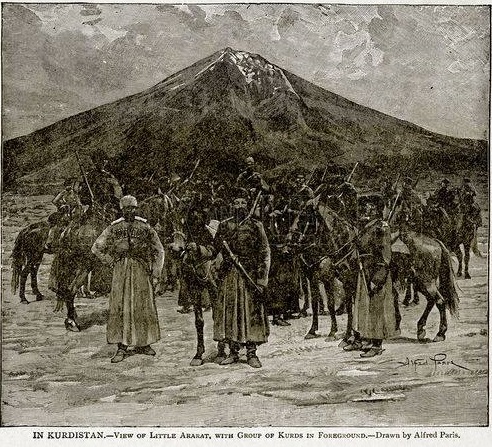 Kurdistan - Ararat. Alfred Paris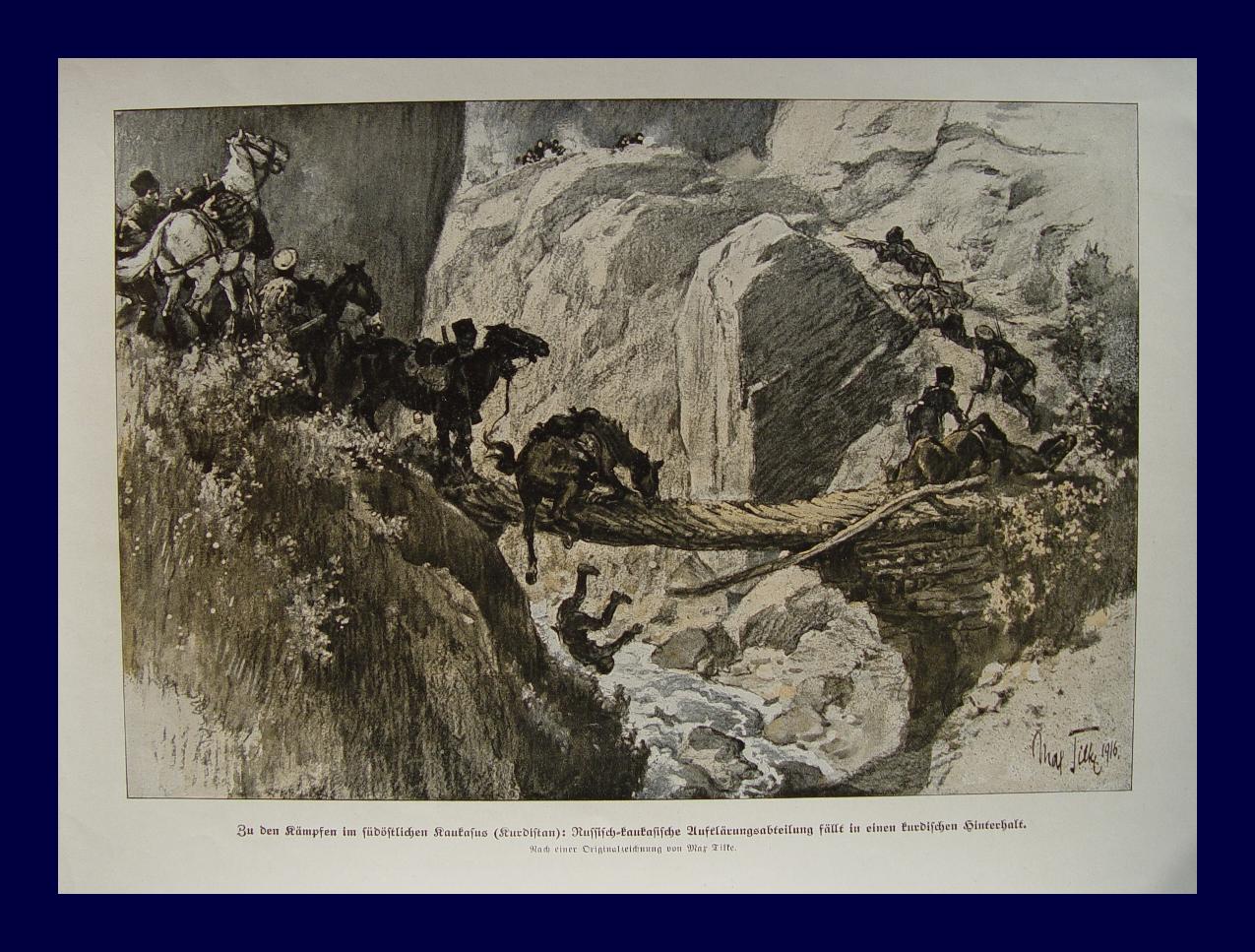 "Zu den Kämpfen im südöstlichen Kaukasus (Kurdistan)..." originale Offset-Lithographie ca. 17x 25 cm (Darstellung/image size) nach einer Zeichnung von Max Tilke; unterhalb der Darstellung betitelt und bezeichnet; Union Deutsche Verlagsgesellschaft Stuttgart um 1918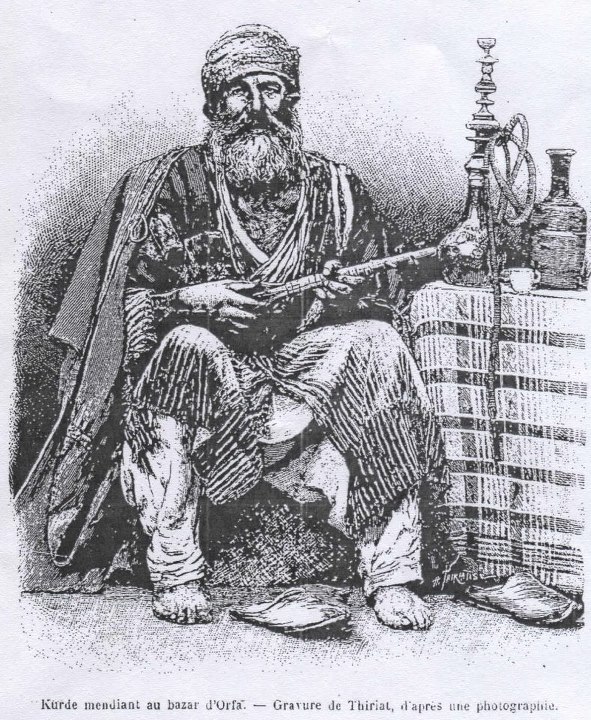 Kurd from Ruha (Or-fa)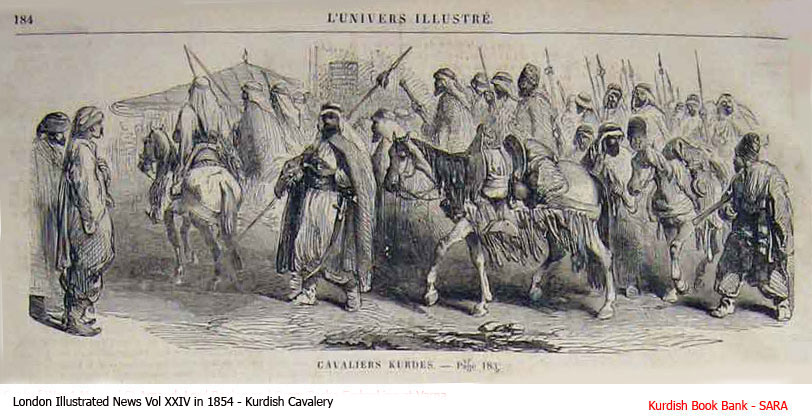 London Illustrated News Vol XXIV in 1854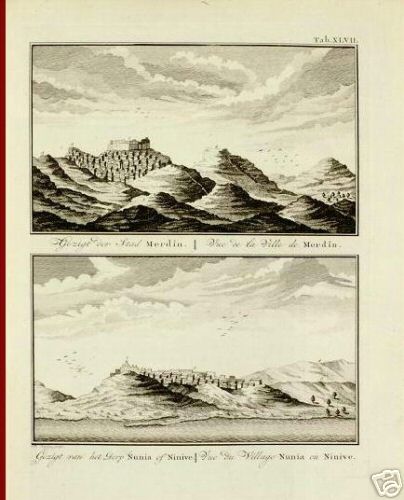 ANTIQUE PRINT -MERDIN- & -NINIVÉ- KURDISTAN-ASIA-1776

This is an original antique view of Ninivé and the city Merdin (Capital of the province Merdin), Kurdistan, from "Description of Arabia" by Carsten and Niebuhr. This original copper engraving was printed in 1776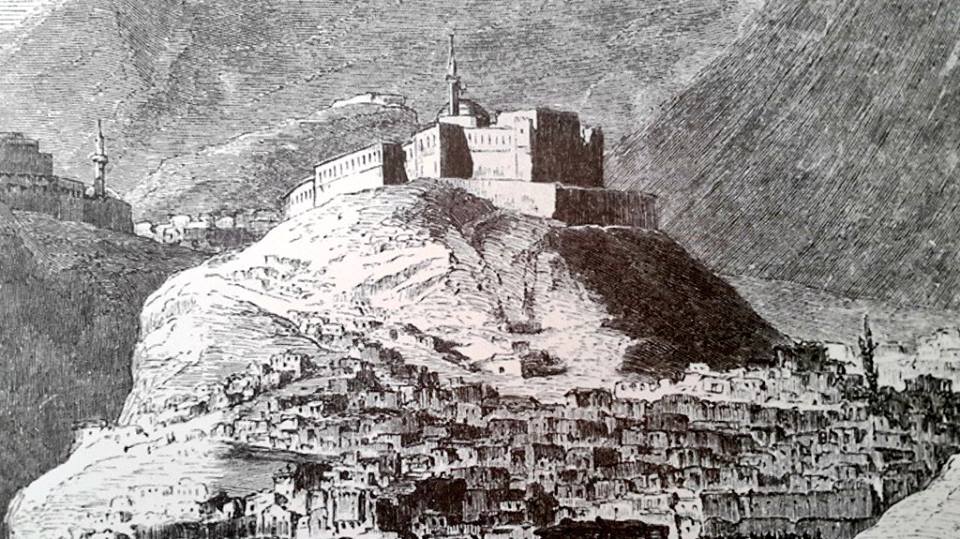 Yapımına 1685'de başlanan Qesra Mir Behlül (İshak Paşa Sarayı)
Mimar Hemed beg tarafından 1784 yılında tamamlandı.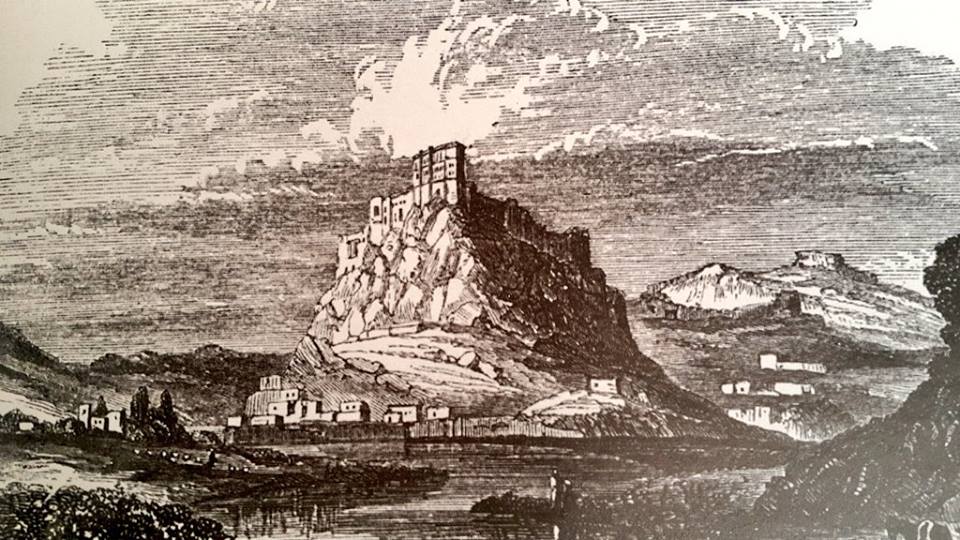 1643 - Mehmudi Handanı'nın Ünlü kalesi Hoşab, 350 odası ile Biyan (Nerin)
Kürdleri tarafından inşa edildi.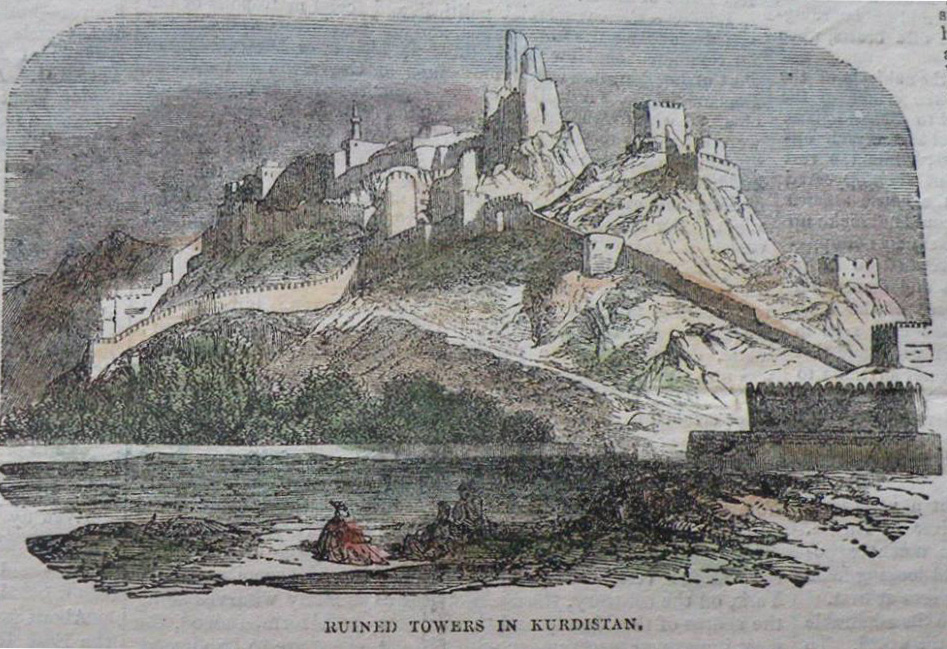 Bitlis 1800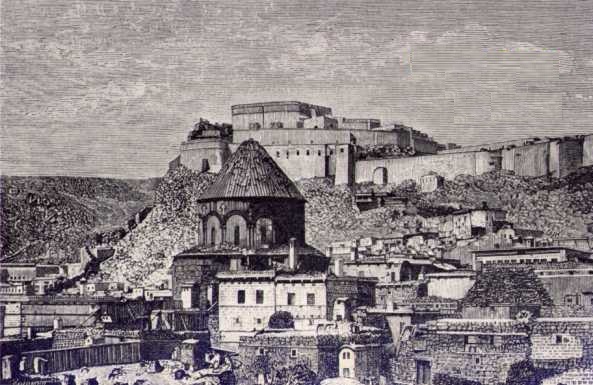 Citadel and St Apostles, Qars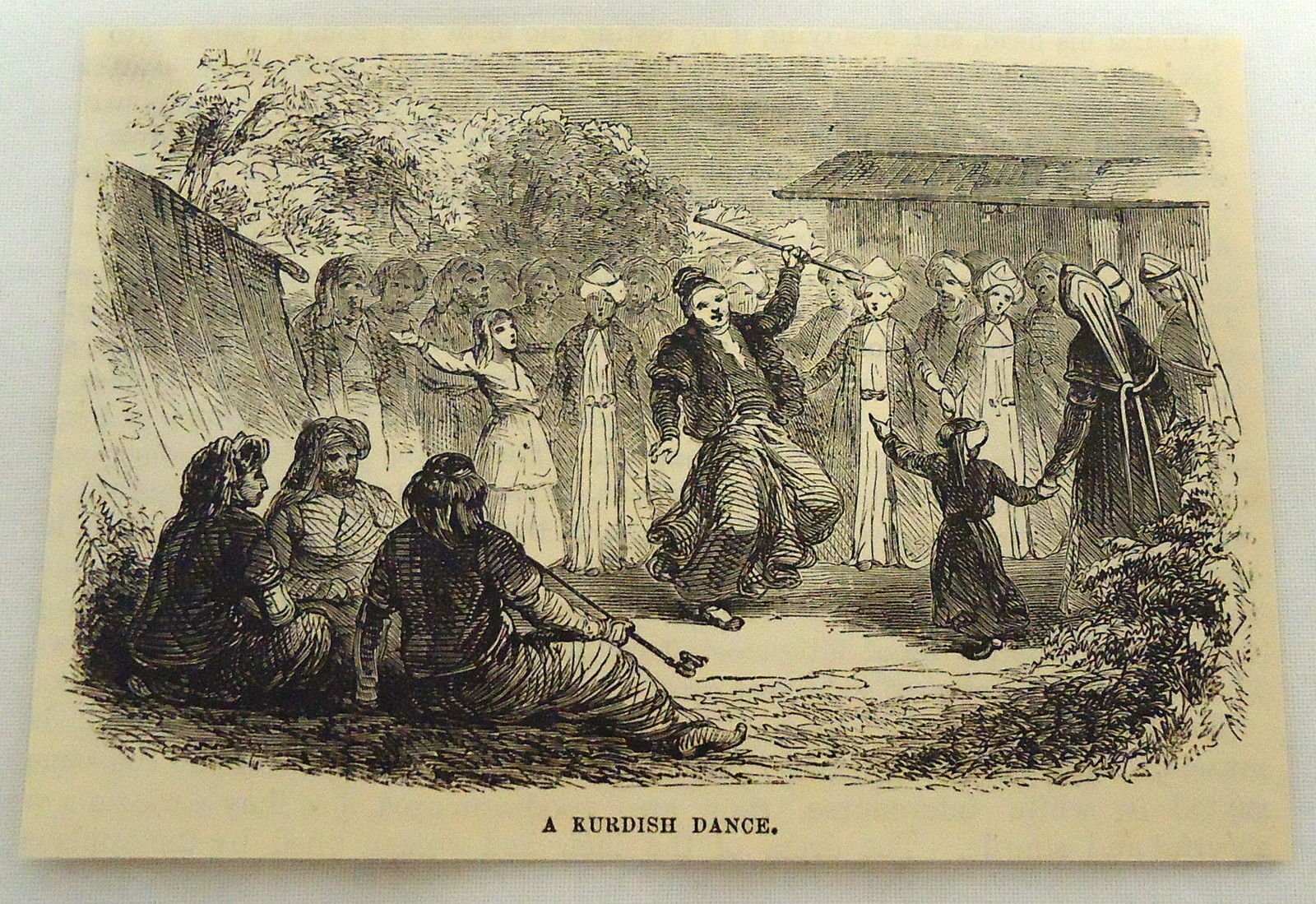 Dancer des femmes Kurdes (Dancing Kurdish Women Caucasus - 1838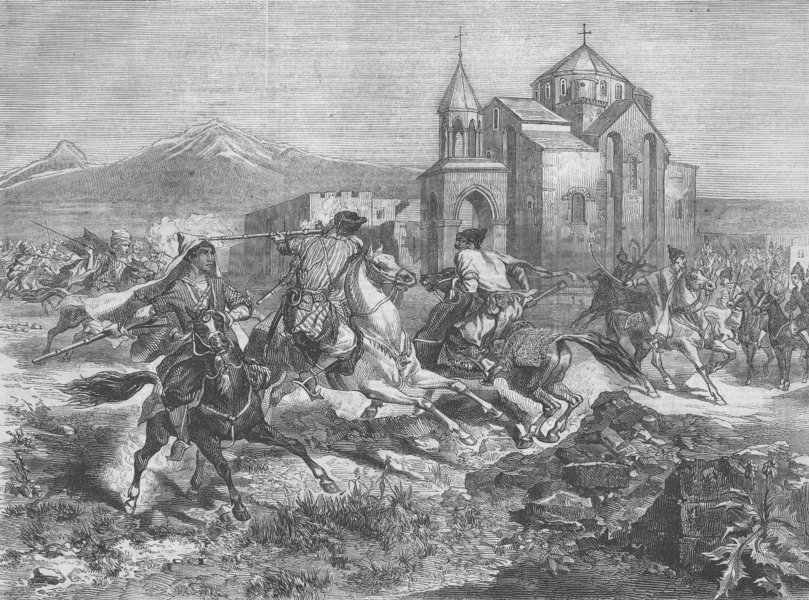 'A skirmish between Kurds and Persians '
Genuine original antique engraving, 1856
DATE PRINTED: 1856
ARTIST/CARTOGRAPHER/ENGRAVER: Unsigned
PROVENANCE: Illustrated Times
TYPE: original engraving.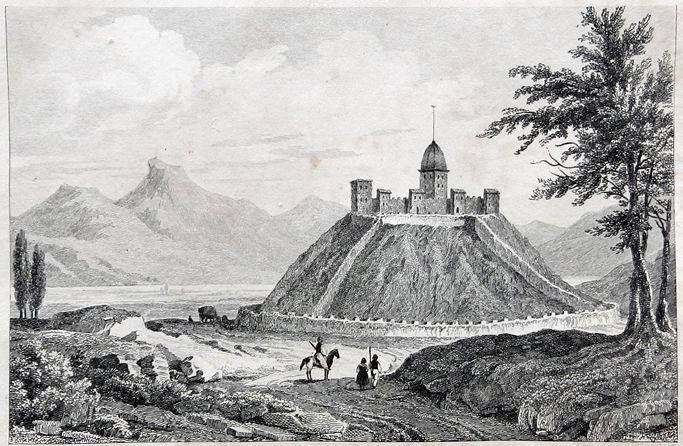 Keleha Erzerum - Zitadelle Burg Castle, 1840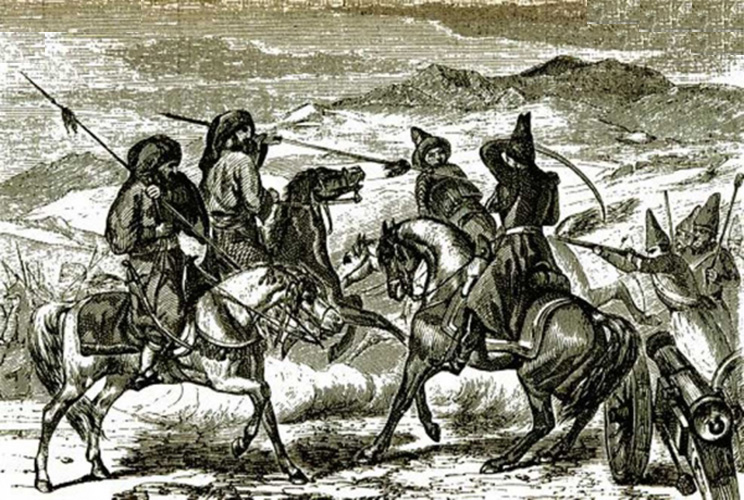 Kurds in War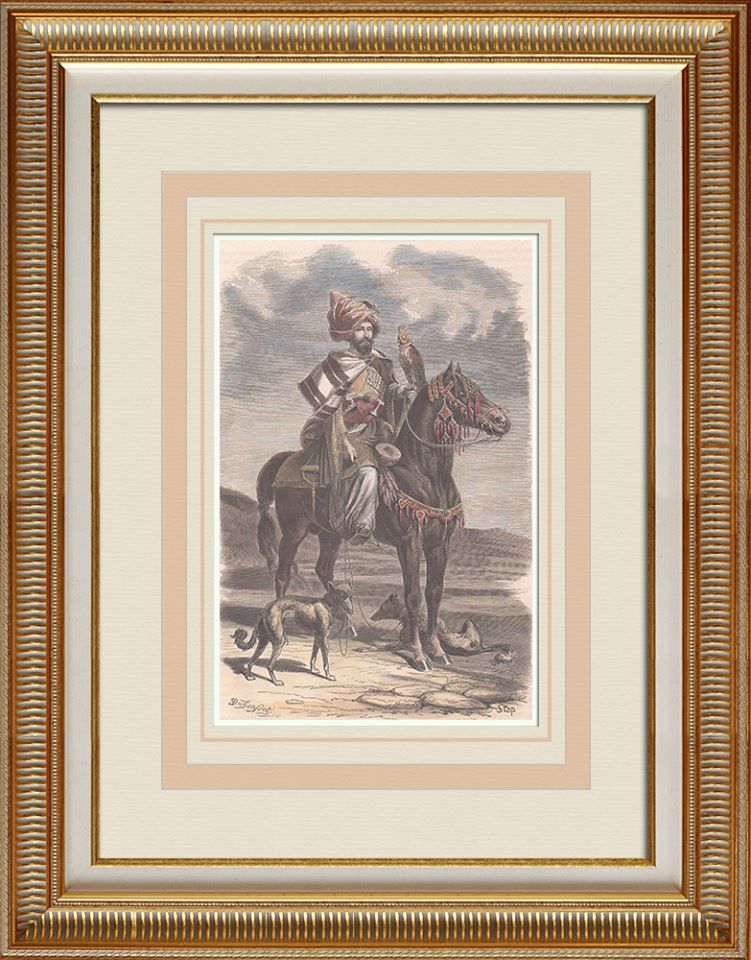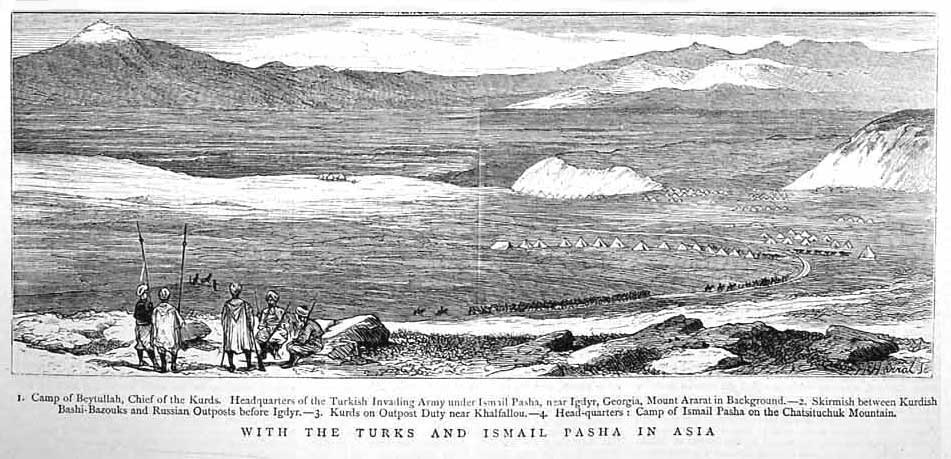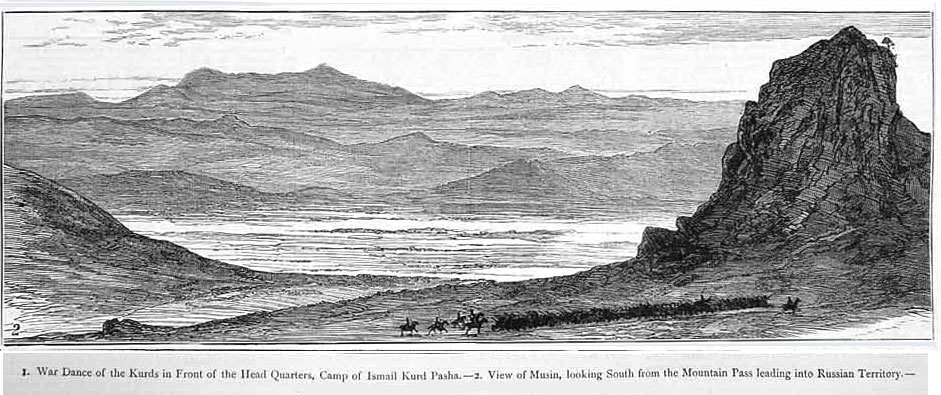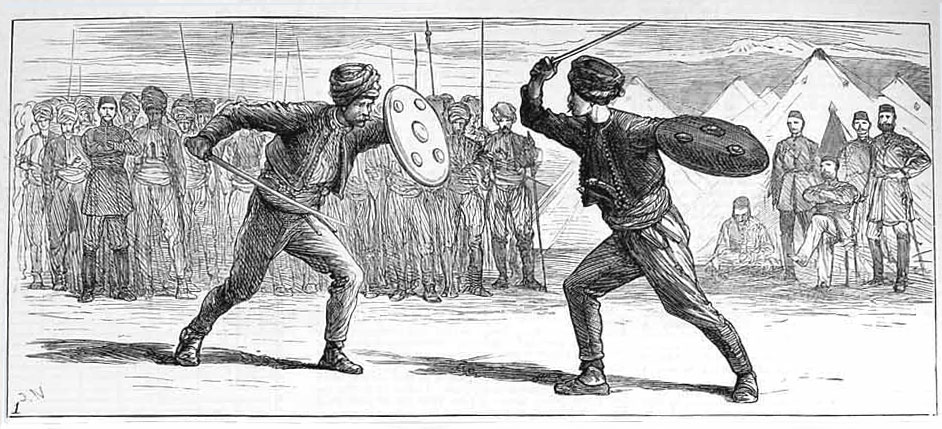 1877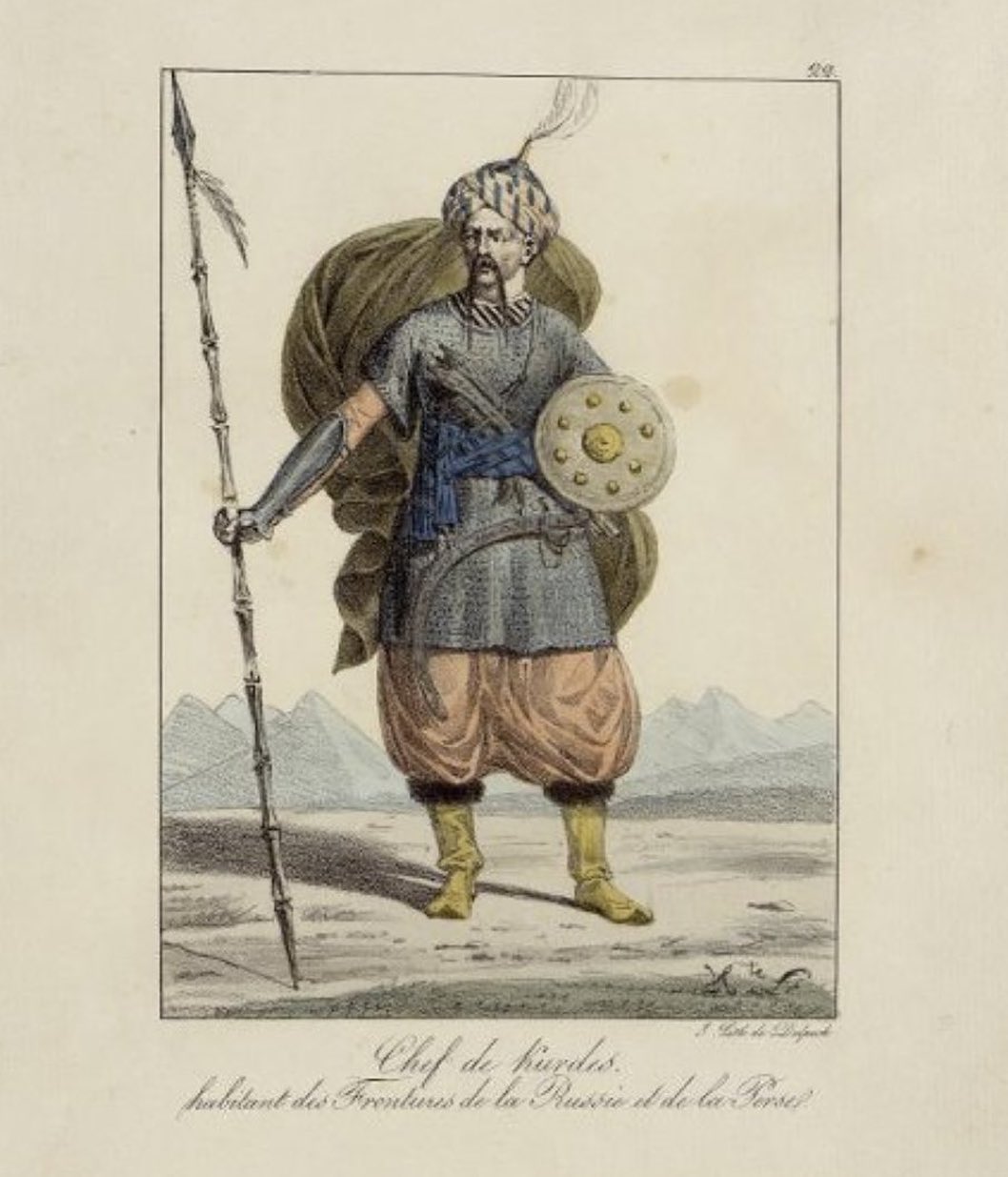 Chef de Kurdes 1850
Ezidi Kürd savaşçının mızrağının ucundaki melek tavus kuş'un tüyüdür. Miğferin üzerindeki tüyler ise her bir tüy kaç savaşa katıldığının anlamını taşıyor.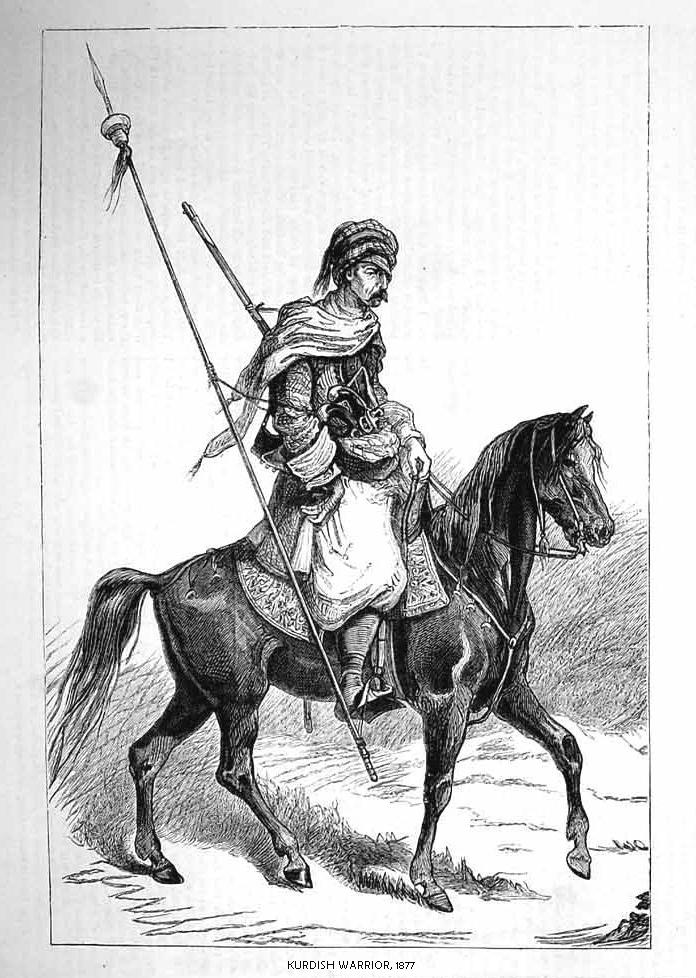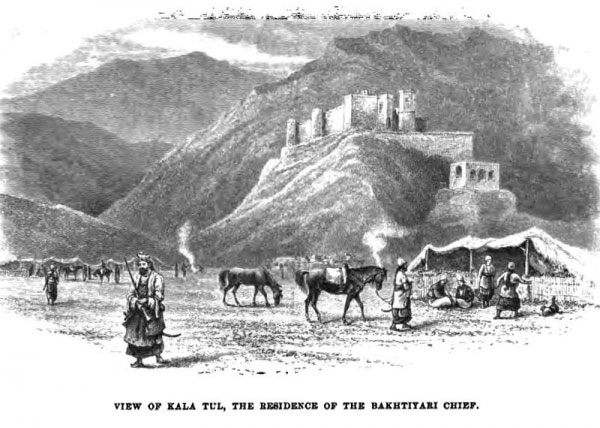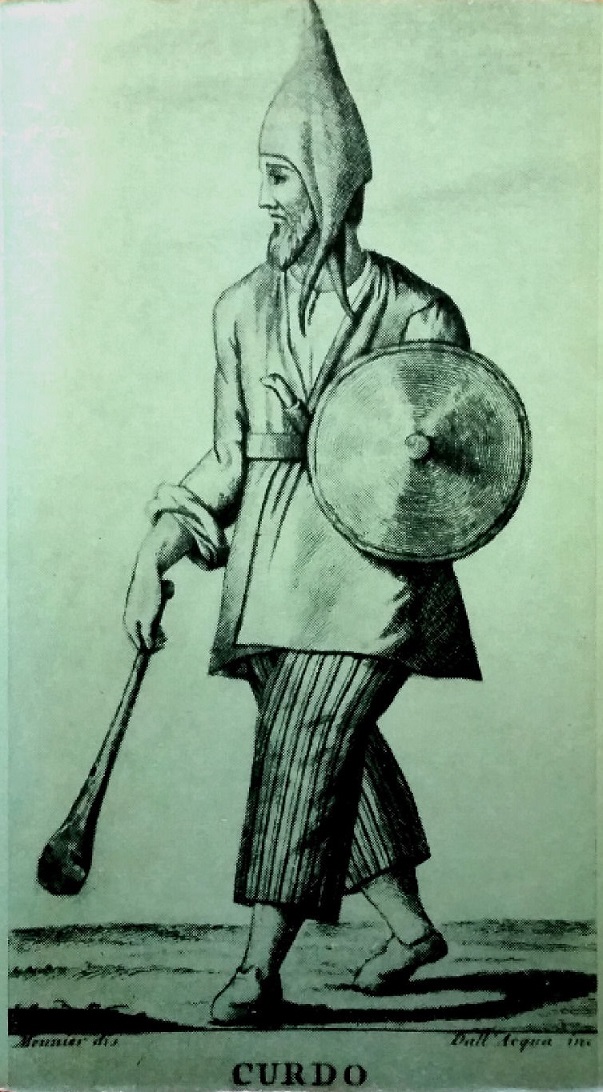 Curdo - Original print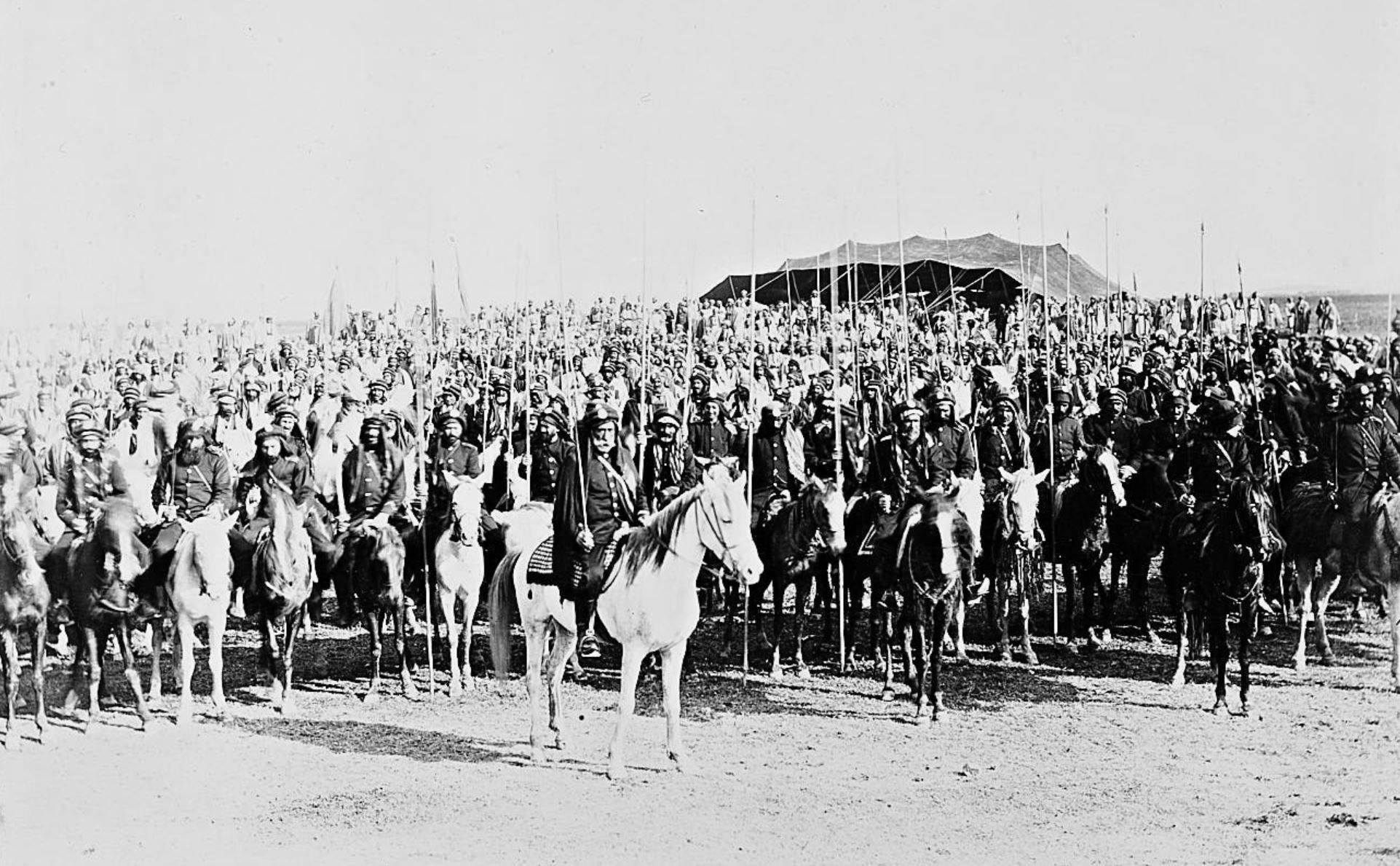 Berazi aşireti liderlerinden Dinai Reşid Bey'in Giregewr köyündeki çadırı 1898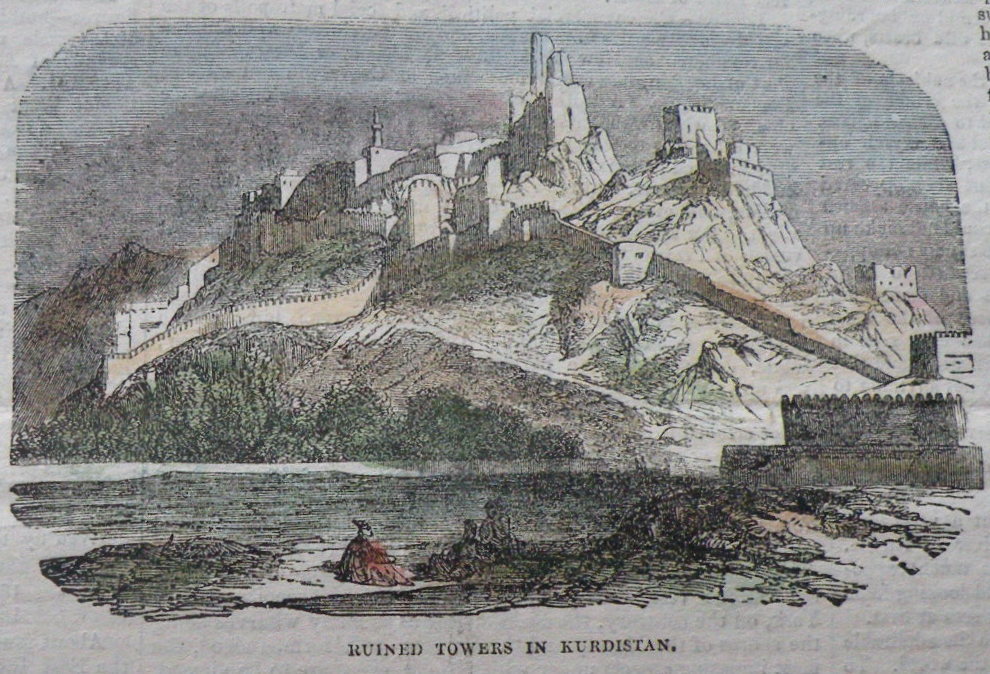 Wood block Engraved view of Kurdistan, 1854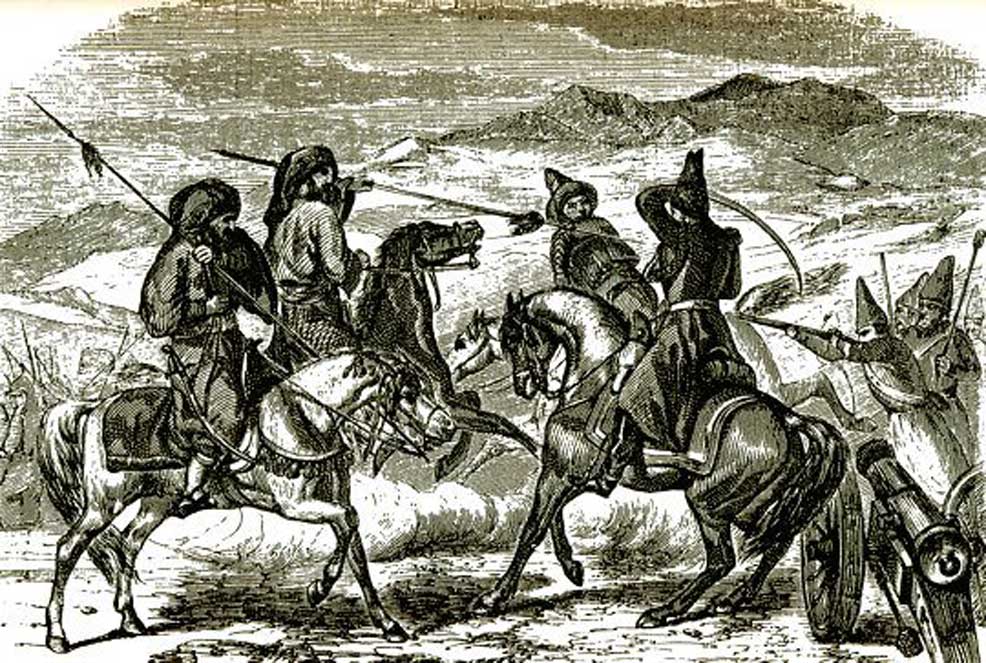 Kurds in war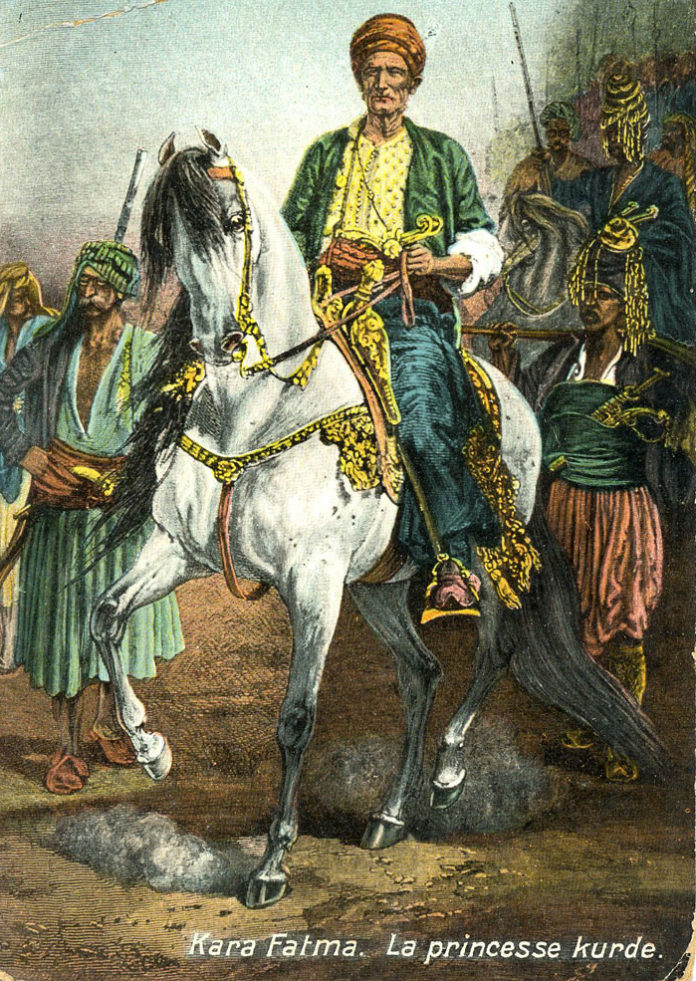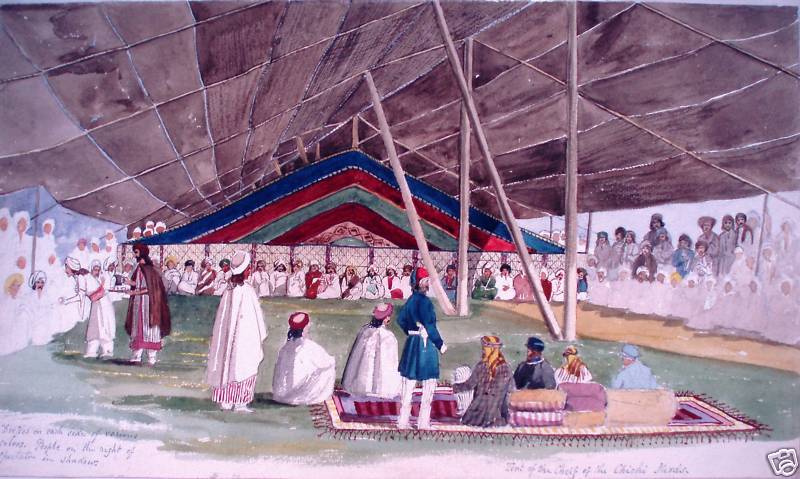 Kendir kamışlardan birbirine örülerek yapılan kısmın adına "Carcim" (zazakî: Cacîm) denir.
Bu bir seperatördür ve çadırın içini bölümlere ayırmaya yarar.
Çadır ile ilgili birkaç kelime bırakalım.
Kon / Qot: Çadır
Qotqil: Keçi yünü çadırı
Stûn: Sütun, çadırın ana gövdesini taşıyan direkler
Çît: Çadırın çevresine konulan çubuklar
Çetil / Çetol: Seyfiye yerlerine kurulan küçük çadır.
Hêşî / Hişî: Çadır saçağı, bağlayıcı halat
Hêşiv: Çadır önü siperi
Parênke: Çadır önüne koruma sebebiyle kazılan hendek
Pargon: Çadırın etrafına kazılan su yolu
Kon vegirtin: Çadır açmak
Kon girêdan: Çadır kurmak
Rewik / Rewaq: Çadırın sundurma bölümü
Seywan: Büyük çadır
Eywan: Büyük çadırın önü açık oturma odası
Sing: Çadır halatları için kazık
Şûre: Çadırın kenarındaki ağaçlık bölüm
Xime: 12 direk üzerine kurulmuş çadır
Xêl: 7 direk üzerine kurulmuş çadır ve bir çadırın içinde yaşaya ahali.
Xwêt: Çadır beyi (Xwêtî aşiretinin de ismi buradan gelir)
Zûme / Zome: Çadırın kurulacağı düzlük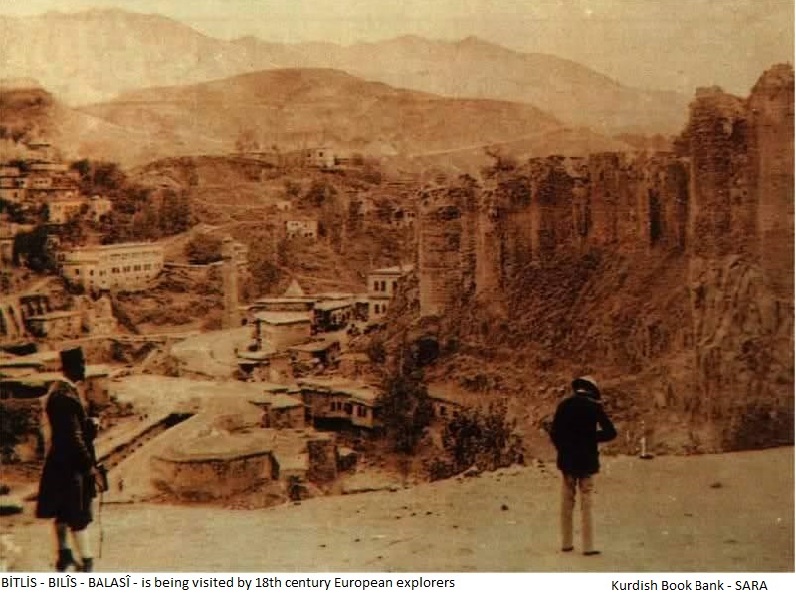 BITLIS - BILÎS - BALASÎ - is being visited by 18th Century European explorers

SEE M ORE PICTURES OF
Kurds From Earlier Centuries

18th CENTURY KURDS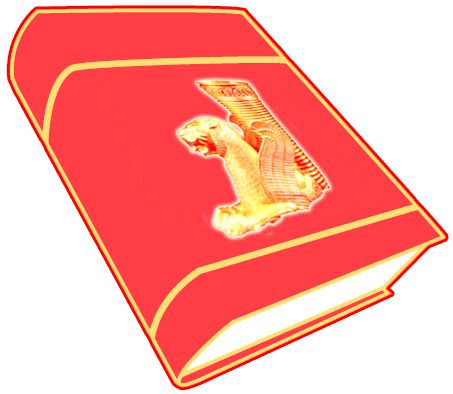 Foundation For Kurdish Library & Museum