NOTES ON THE
PHONOLOGY
OF
SOUTHERN KURMANJI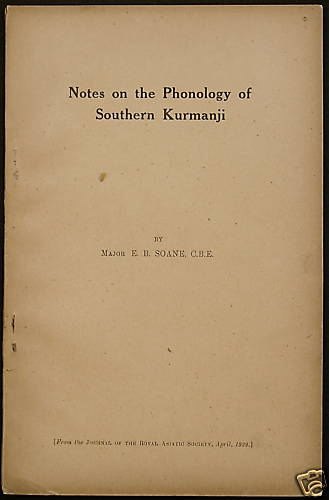 by E. B. Soane
Journal of the Royal Asiatic Society, London, April 1922

About the Book
The Kurdish language belongs to the western sub-group of the "Iran"ian languages which in turn belong to the Indo-Iranian branch of the Indo-European language family.
Persian, which belongs to the south-western branch of "Iran"ian language, is also considered a related language, however the differences between Kurdish and Persian are far stronger than the similarities.
In the beginning of the 20th century the countries that controlled the Kurdish-speaking regions refused to accept Kurdish as an official language and placed restrictions on its use. Today, only in Iraq, is Kurdish an official language.
In this article Soane presents a survey of the phonology of Southern Kurmanji
All Kurdish words are given using "transliteration" - i.e. the use of letters of the Latin alphabet to represent the sounds of Kurdish. The Arabic alphabet is used to represent Arabic words.
Soane did write two grammars of Kurdish, one in 1913 and the other in 1919; this article post-dates these works and obviously represents work in progress.
An unusual item from one of the major European Kurdish scholars of the early c20th and of great interest to students of the Kurdish language.

About the Author E. B. Soane (1881-1923)
E. B. Soane was a pre-eminent expert of the Kurds, a kurdolog and wrote many articles and books about the Kurds and their language and culture. He worked at one time for the Imperial Bank of Iran and is probably best known for his book "To Mesopotamia and Kurdistan in Disguise". In this book he recounts a journey he made from Constantinople to Baghdad disguised as a Persian traveller. He spoke Kurdish, Persian, Arabic and was an acknowledged expert on the Kurdish language.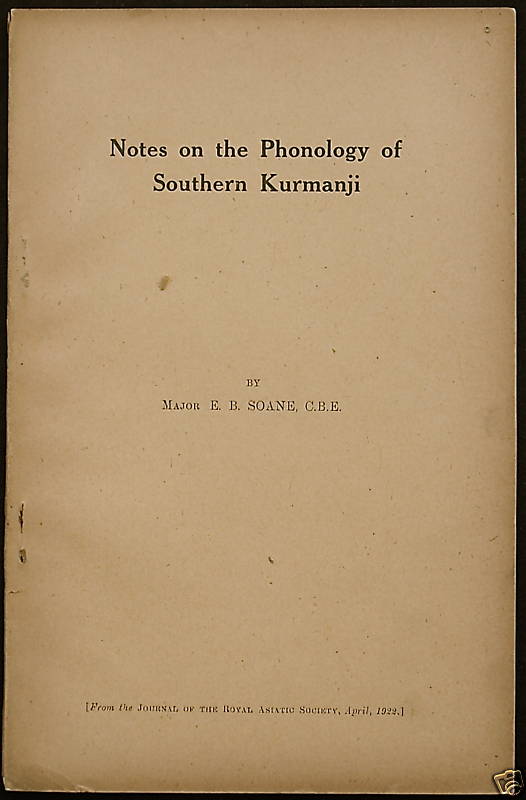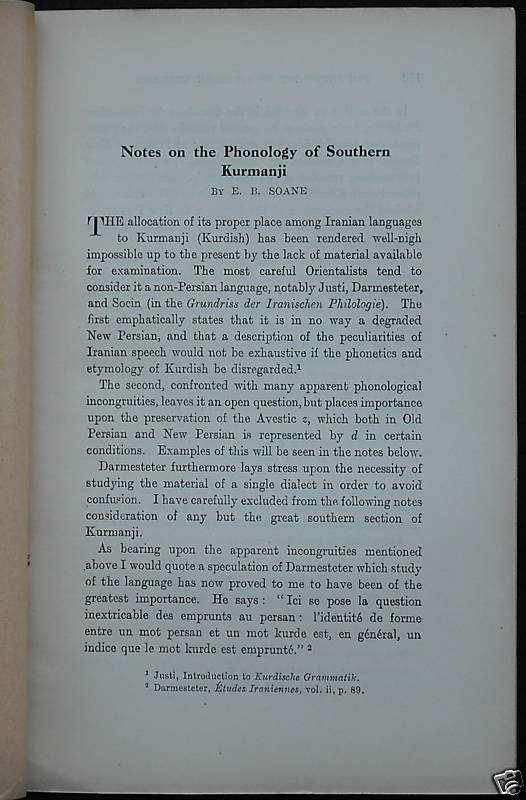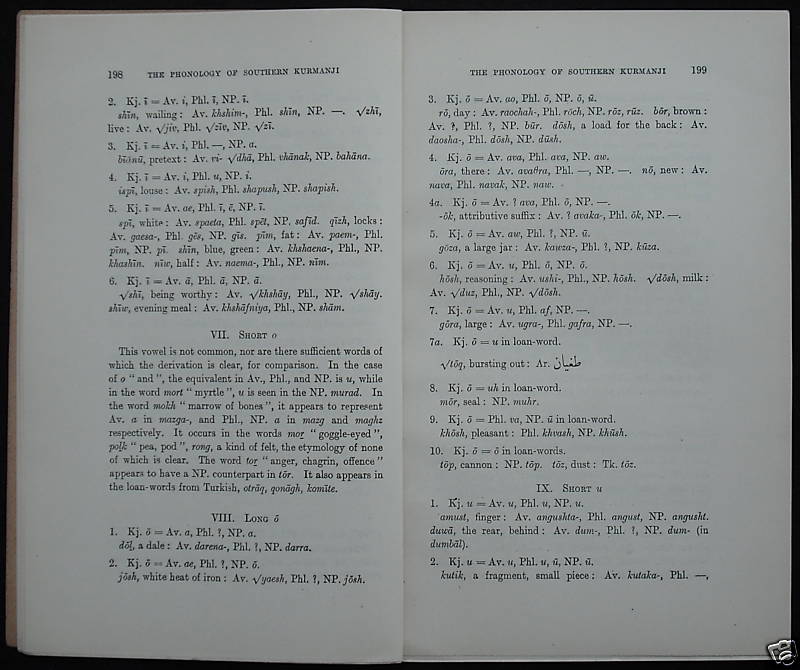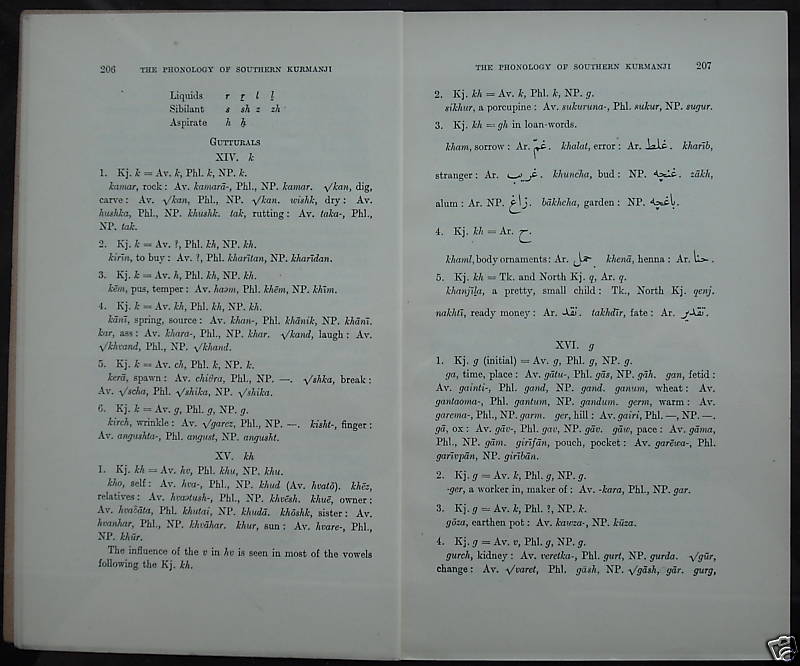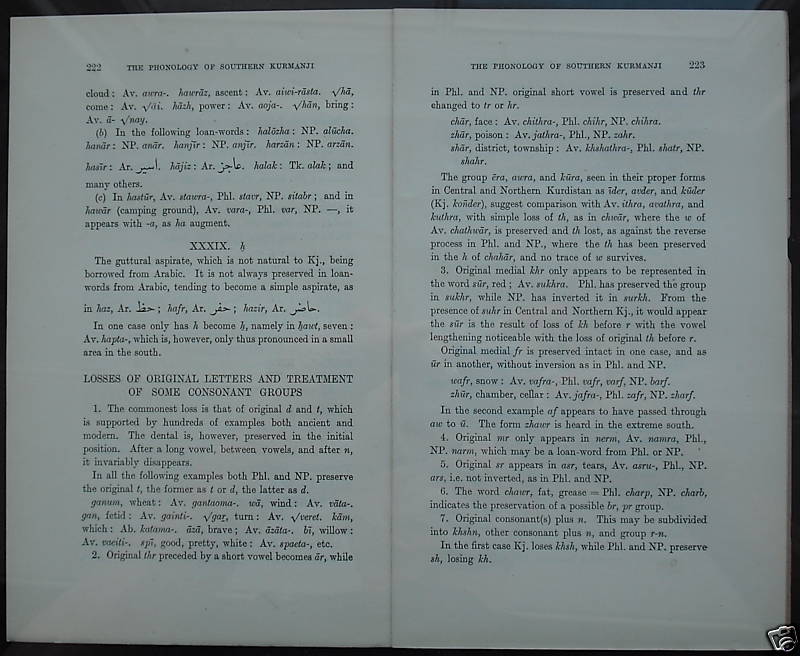 SOANE - GRAMMAR OF THE KURDISH LANGUAGE


SOANE - A SHORT ANTOLOGY OF GORAN POETRY


SOANE - NOTES ON KURDISH DIALECTS


SOANE - KURDISTAN AND MESOPOTAMIA IN DISGUISE

KURDISH DIGITAL REGISTER
For Kurdology - Research & Sicence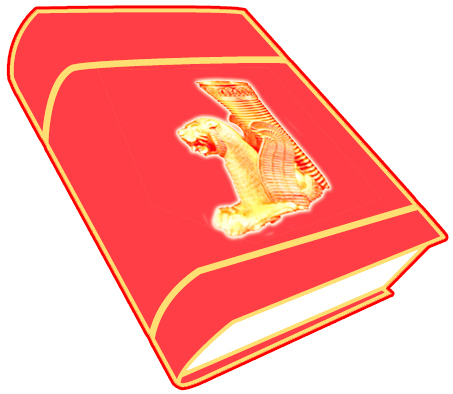 Foundation For Kurdish Library & Museum