GORAN

1904 Helebce - 1962 Silemani
Home †|††DestpÍk††|††Ana Sayfa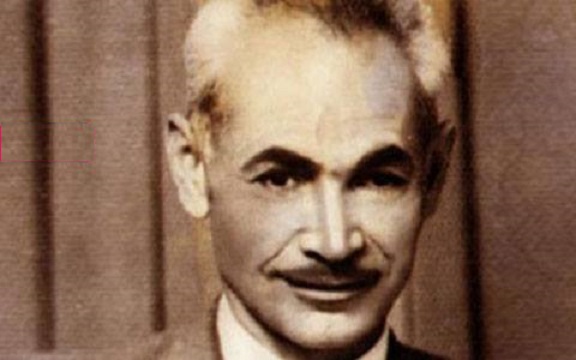 Kürd Şair, Çevirmen. Kürd Şiiri'nde Modern Tarzın Öncüsü
Abdulla Goran, a Kurdish poet who undoubtedly brought a revolution in Kurdish poetry. Goran is also called the father of modern Kurdish poetry. At this time Kurdish poetry was loaded with hundreds of years of a foreign heritage, especially Arabic. Goran cleared his poetry of this influence and gave it a form, rhythm, language and content which was based on the Kurdish reality, Kurdish culture, nature and folkloric traditions. The Arabic meter ('urûz), much used in all Muslim Oriental poetry, was exchanged for patterns from old Kurdish folk songs, and the vocabulary was purified of Arabic and other languages.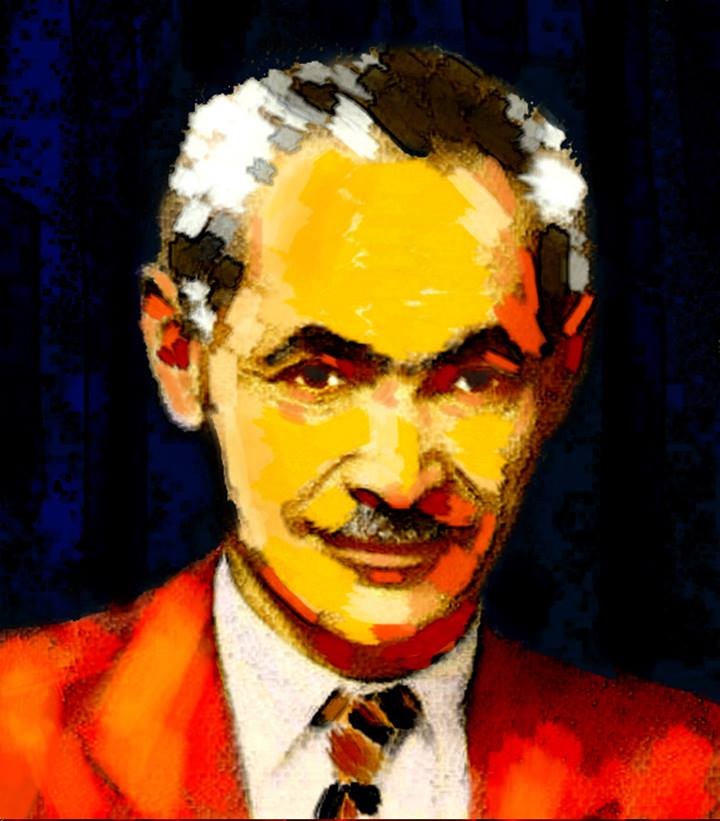 PAÎZ
Paîz! Paîz!
Bûk-î pirçzerd,
Min mat to zîz:
Her du hawderd!
Min firmêsk im, to baran ît;
Min henase m, to bay sard ît;
Min xem, to hewrî giryan ît..
Dwaîy naye: dadim, dadit,
Hergîz, hergîz,
Paîz! Paîz!
Paîz! Paîz!
Şan û mil rût,
Min mat, to zîz,
Herdûkman cût
Her çend gul sîs ebê bigrîn,
Altûnî dar erjê bigrîn,
Polî baldar efrê bigrîn,
Bigrîn.. bigrîn.. çaw man nesirrîn,
Hergîz, hergîz,
Paîz! Paîz!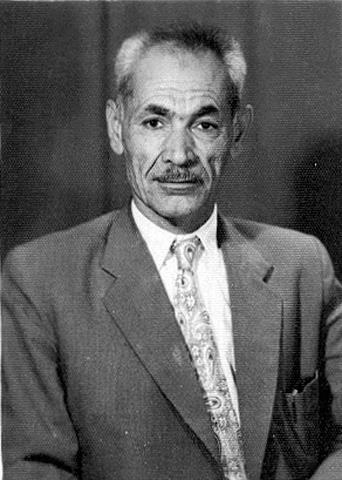 FAŞÎZM Zindanit qela qela ye
Dîwar-î konkrêt dergay pola ye!

(Zindan-î Ejdehak)
DERWÊŞ EBDULLA

Bo frîşte-y mûsîqa

Ber reng-î zerd û şêwe-y dest û şimşal-î kra derwêş
hez m krd besteyek bibyem seraser huzn û matem bê
le sîmata be dîm kird heykel-î umrekî hesretkêş
weha diyar e ke bexti t aşiyan-î bilbil-î xem bê!

Belê diyar e, le naw qewm-î besîta qedr-î sinetkar
Weku eks-î wa ye le naw hewzekî lêxin da
belam text-î rufah û tac-î hurmet millet-î huşyar
be ustadê eda wek to le naw şimşal-î kunkun da
Seher bênête giryan û qise, sihr-î perî-y nexme!
Bira-y Derwêş! Ezanim bo meîşet wêl û aware yî
be zehr-î naîlacî t e le nakes wîstin-î luqme
be mirdini t ke gö-y naş-î exinkêne xiroş-î ney!
Belam çî bikeyn le naw çaw-î reş-î beîzê zeka-y gewre
weku tow-î gul-î demba be ser berdêkî req erwên
eger xilqet nesîb-î umr-î to-y mehkûm-î em dewr e
nekirdayê, xuwa alim, le kam erşit esû dawên?!

Ne herf-î mektebêki t xwênd, ne ustadê pel-î girtî
Sirf berzî-y zeka em sinete-y fêrkird bi şimşali t
hemû weznêkî goranî, le tûlanî heta kurtî
be serpence-y huner kirdi t be dil-î koşiş-î zali t!

Ewende m bîst le mûsîqa xiroş-î roh-î bêgane
mizac-î kurdewarî m têkçûwe, Derwêş Ebdulla
dexîli t bim desa be-w lawik û ay-ay û heyran e
şopol-î zewq-î millî pir derûnî mat û çlim ke!
Le Bethoven gelê ziyatir be roh m aşînay, wella
de, ey Derwêş, sikaleyek le gel roh-î ki,loli m ke!
Firmêsk û Huner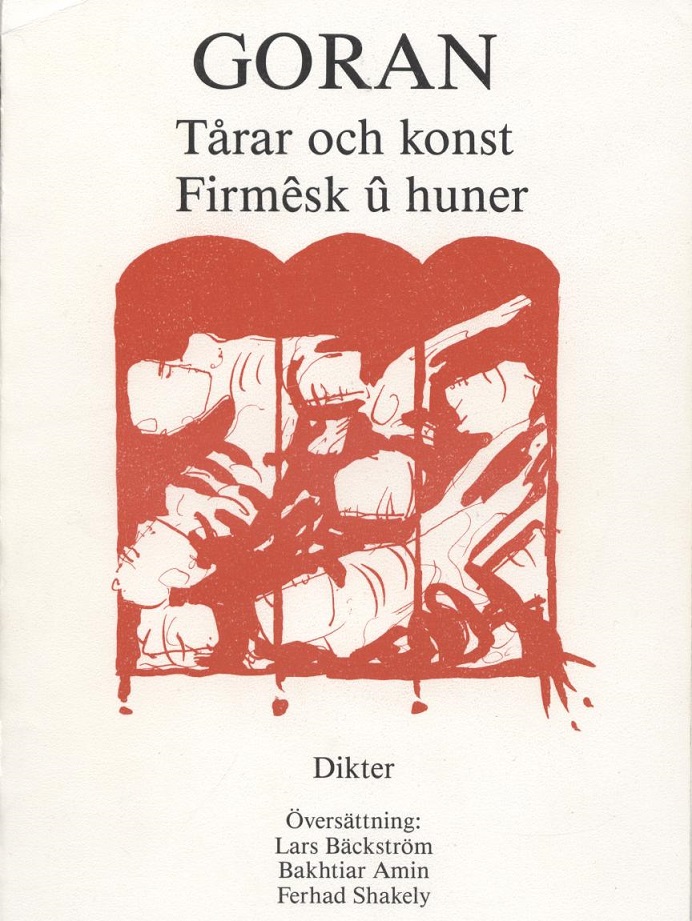 Tårrar och Konst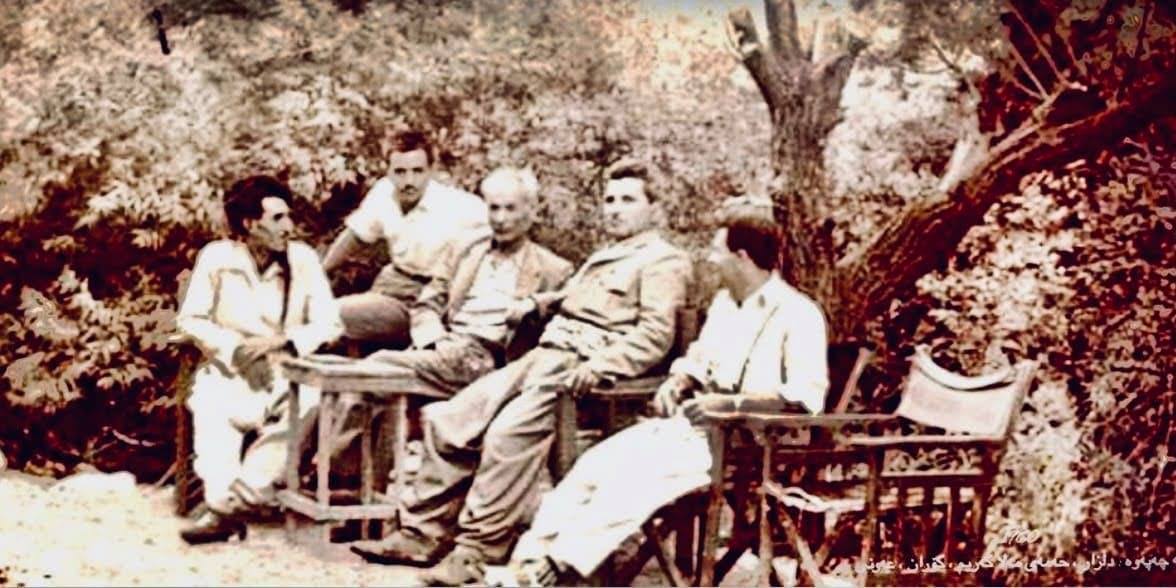 Ji destê çepê yekem: Ehmed Dilzar Hewêzî, sêyem: Goran 1949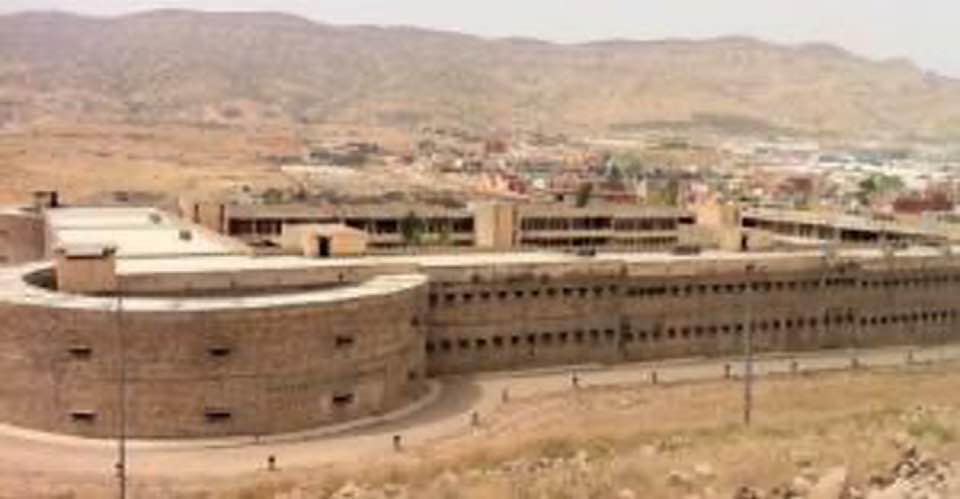 Zindana BIRAYÊN KURDAN - ZINDANA EREBAN li Kurdistanê
FAŞÎZM Zindanit qela qela ye
Dîwar-î konkrêt dergay pola ye!

(Zindan-î Ejdehak)