Environment Ministry of Turkey has changed the Latin names of some animal species, because of their Latin names has names like: Kurdistan and Armenia.
A certain deer is known as Ovis Armeniana and was renamed to Ovis Orientalis Anatolicus. A species of red fox (A fox in Kurdistan) was renamed to Vulpes Vulpes instead of the existing Latin name Vulpes Vulpes Kurdistanica.
__________________________
Ji ber dewlemendiya bêsînor a welatê Kurdistanê, ji serdema Qanûnî û Sultan Selîm'î ve, xwastine vî welatî çi car ji destê xwe ne derxin. Loma jî, ji wan serdeman dest bi guherîneke nijadperest a nirx û hêjayiyên Kurd û Kurdistanê kirine.
Lêbelê wek di gotinên pêsiyên kurdan de têt gotin, 'Rim di têran de na yêt vesartin!', her wisan jî çi dikin na kin, ni karin hêjayiyên vî millet û welatî tam bikin malê xwe.
Wek têt zanîn, ji sedsalên kevin de, ji ber dewlemendî û taybetiya welatê Kurdistanê, jîrik û zaneyên rojavayî, bi hûrgulî û kûrahî li ser cografya Kurdistanê lêkolînan kirine.
Charles Darwin di sedsala 18'emîn de, bi taybetî li ser pêsketina jiyana faûna û flora Kurdistanê xebatên taybetî kiriye. Loma navên giya, dar, çîçek, gul û kulîlkên hemû Kurdistanê, bi zimanê zaniyariya wê demê, bi zimanê latînî hatine navandin û nivîsînê. Wek giyayên hema li her dewr û berên herêma Botan sîn têt, wek Kurdiciforme Kurdicum (Adilcewaz, Wan), Sedum Kurdistanicum (Wan) û hwd.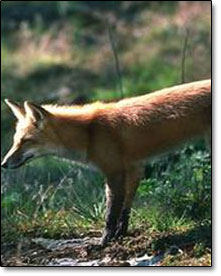 Vulpes Vulpes Kurdistanica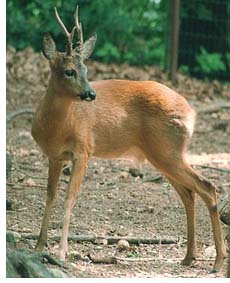 Capreolus Capreolus Armenus
Bo wan kesên ku dibêjin; "problema Tirkiyê bi kurdan re nîn e!"

Dewletên dagirker, gava rêvîyên ku Xwedê xuliqandiye ji ber ku navê Kurdistanê li ser wan e, qebûl nakin, ma wê çawa mafên neteweyî û siyasiyên kurdan qebûl bikin? Tirk neyarê herî mezin ê qewmê kurd e.

Wezareta kar û barên derveyî ya Tirkiyê, beriya nuha bi çend salan, bi fermî ji Nationel Geographic xwest, ku navê "Vulpes Vulpes Kurdistanica li ser rêvîyên sor rakin, ji ber ku ev nav, ewletiya niþtimanî ya dewleta tirk dirûxîne''.

Rêvîyên Sor ên Kurdistanê li hemû cîhanê bi nav û deng e. Di hemû ansiklopedîyên navneteweyî de bi navê Vulpes Vulpes Kurdistanica tê bi navkirin. Mixabin kurd lê xwedî dernakevin. Ger mirov ji welatê xwe hezkir, divê mirov li hemû rengên welatê xwe xwedî derkeve. Dar, ajel, çûk, çiya, qelat, dêr, mizgeft, hawra, çem, zozan, rûbar, kulîk û wd. hemû bi hev re niþtiman e û niþtiman dayik e. Dayika me hemûyan.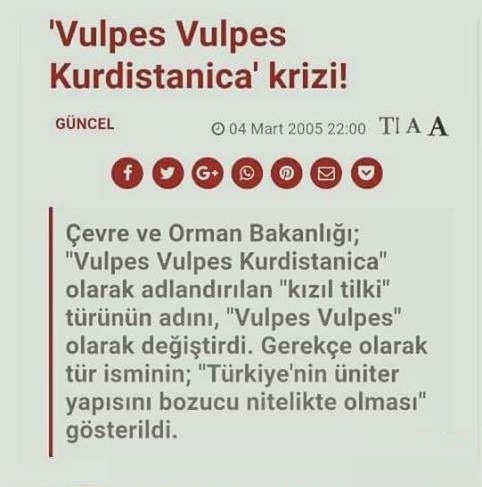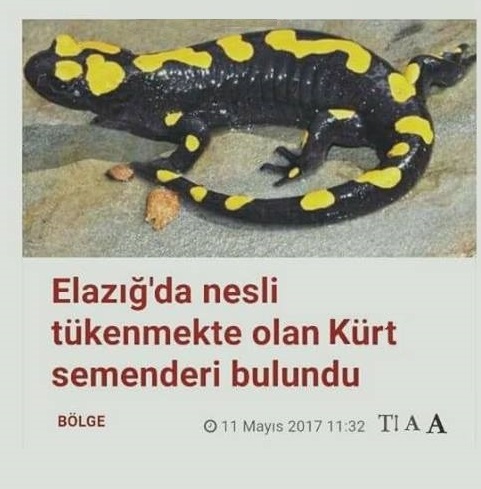 Þýrnak'ta rastlanan Kürd Semenderi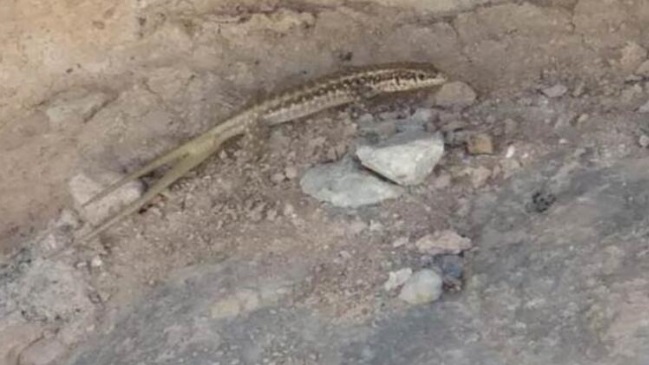 Dicle Nehri Kýyýsýnda çift kuyruklu kertenkele, Batman 2019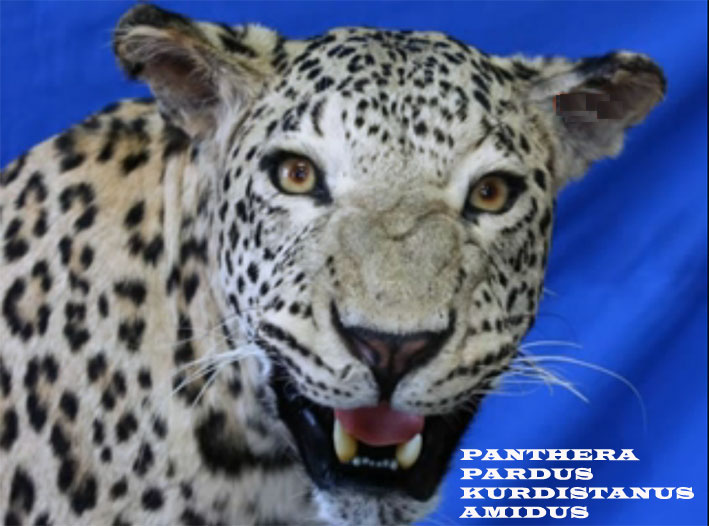 Panthera Pardus - Kurdistan, killed in Chinar in Diyarbekir in the end of year 2013. Since 1974 was the last one the population has seen it. Maybe the last one!

KURDISTAN'S FAUNA

THE NATURE OF KURDISTAN