Mamoste Madhat huner çi ye bi bîr û baweriya te?
Jiyan çi ye? Huner pêwîstiyeke giyanî (rûhî) ye di jiyana civatê de, çawa ku civat, komelayetî pêwîstiyeke jiyanê be. Her wek av û hewa, xwarin û vexwarin. Paşê jî axiftin. Bi kurtî huner parçeyeka jiyanê ye.
Li civata kevin, kaxez nîn bû, firçe nîn bû, kevir hebû. Civat û huner li nav hev jiyane. Dema mirov bi keviran sêrek kustine, nexsa vê bûyerê çêkirine. Ev azmûnek, pêzanîn û mesqeq (tecrubeyek) bûye ji mirovan re.
Huner humanîzm e, tê de xêr heye, xweşî heye. Huner şahî û marîfetekê fêr dike. Bo nimûnê, huner mirov fêrî perwerde û tahmeke (terbiye û lezzetekê) dike.
Heger gava mirov guh nede muzîkeke biyanî, ne wê muzîkê û ne jî guhdarkirina wê muzîkê çi car fêr nabe. Lê gava her çend ew muzîk biyanî be jî, gava te guh lê da û te hêdî hêdî guhê xwe fêrî guhdarkirina wê kir, hingê tu dikarî tahm û çêjekê jê werbigirî. Cazz, blues, salsa, sînfonî û hwd jî muzîk in bêguman. Gava, te ji ser sifreyê ji van teaman ji xwe re hilda, hingê muzîka kurdî di guhê te de şîrîntir têt, ji ber ku muzîka gelêrî xwerû, pêtî û orjînal e.
Pile û radeya hunerê ev çend kûr û bilind e.

Huner çawa dikare biserkeve?
Divêt ku hunermend xwedî agahdariya li ser mêjûyê hunerê be û bizanibe, ku ew (hunermend) li kijan serdemê dijî. Divêt ku hunermend ji serdema xwe agahdar be.
Heger em nimûneyekê bidin, hingê nimûneya tîr û kevanê di vê bareyê de nimûneyeke pir rind û ciwan e: Gava mirov tîrê xwe çend ji kevanê ber bi paş ve bikşîne, tîr ew çend bêhtir ber bi pêş ve hildibe, dihere.
Anku hunermend gerek e hem ji mêjû, hem ji serdema xwe û hem jî ji pêşerojê haydar be. Ev her sê sekûyên (platformên) bingehîn in di warê zanebûniya hunermendî de.

Huner bazinê zêr ê li destê hunermend e, yan jî belayeke reş ê li pêş hunermend ?
Pir dem û zeman hunermend ji birçîbûnê mirine. Bûyera rewşa jiyaneke bi dilxweşî û dilşadiya hunermendî, girêdayî ye bi rewşa radeya (pileya) hişyarbûn û dilxweşiya civaka hunermendî. Bi kurtî ev girêdayê paşketî yan pêşketîbûna civakê ye. Gava civat ji hunerê fêm ne ke, hingê hunermend brîndar e. Anku civat biryarê dide.
Paşê jî heger hunermend hunera xwe li hevberê nemafiyekê (neheqiyekê) bi kar bihêne, wê gavê jî hêrişên dijwar li ser hunermendî peyda dibin.

Li dûrî û bêganeyî, pirsgirêkên li pêş hunermendî çi ne?
Ev girêdayê welat e. Gelek welat serbilind in ji bo huner û hunermendên xwe. Wê gavê huner û hunermend li wî welatî serbest û aza ye.
Heger na, wê gavê jî dijwar e bêguman. Divêt mirov ji sifrê (0) dest pê bike.
Gava tu têyî nav welatekî, divêt ku tu wek hunermendek ruhê wî welatî bimijî: huuuuuuffttt! Divêt ku wî welatî nas bikî. Ev jî dem digre.

Tetmînbûn (satisfaction) çawa û kengê çêdibe?
Bi riya du tiştan:
Yek: Li nik te ye. Heger tu tetmîn bibî..

Du: Heger xelk dilxweş û bextewer bibe bi hunera te, hingê hunermend dikare razî bibe.
Hevpeyvîn: Goran Candan

1 Gulan 2005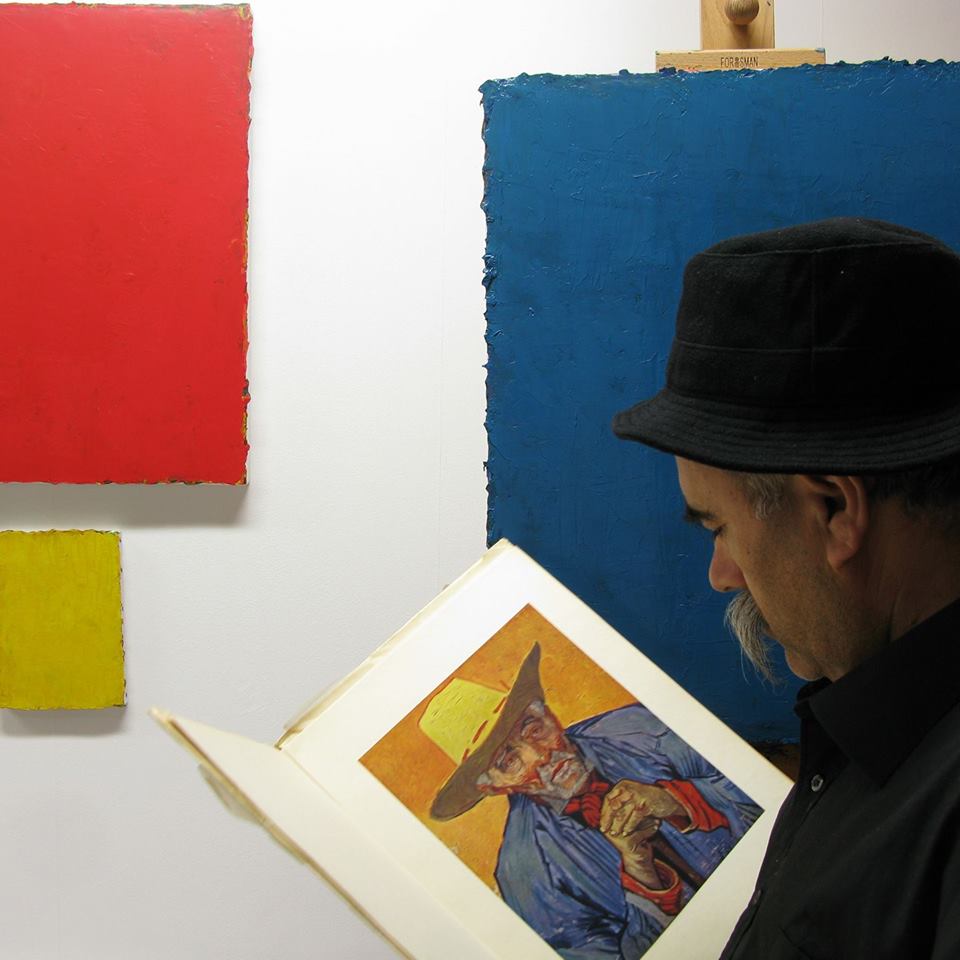 Madhat Kakeî li wêneya hunermendê navdar Vîncent Van Gogh temaşe dike..