Year at Erzeroom, and on Frontiers of Russia, Armenia, Turkey and Persia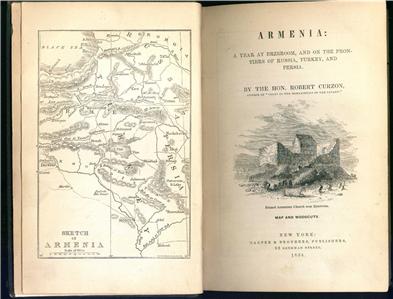 Robert Jun. Curzon
1849
Collectible Set of 2. 1854 "ARMENIA: Year at Erzeroom, and on Frontiers of Russia, Turkey and Persia." by Robert Jun. Curzon. + 1849. "VISITS TO MONASTERIES OF THE LEVANT" by the same author. Printed John Murray, London, 390 pages, 1st or maybe 2nd edition, Hardcover. Book Condition: Good with new Leather spine and new endpapers. Some fading to pages. 16 plates, one of which is a foldout. Very scarce and usually sell for over 1,000

1st title. Printed by Harper & Bros., 1854, New York: First American Edition. Published the same year as the first edition in London. In original cloth with pure gold plating. Illustrated with a map and 8 woodcuts. New Endpapers, fully reconditioned. 151 years old book is in collectable/fine condition. xiv + 226 pages with frontispiece and title vignette, 4 plates, 2 text illustrations and 1 sketch map.
Very Rare and much-sought-after 155 years old books on Armenia and Asia Minor. The author was the joint British Commissioner at the talks in Erzeroom which began in 1842 between Britain, Russia, Turkey and Persia to help define the border between Persia and Turkey and help curb the incursions of the Kurds. Robert Curzon was sent to Asiatic Turkey in 1842. In Erzeroom, he observed everyday life in the Ottoman Empire from close quarters.

He describes his journey from Trebizond and the town and environs of Erzeroom and the work of the commission. The book also includes chapters on the history and politics of the area and, of course, a chapter on Armenian manuscripts. A sometimes humorous and moving first-hand account of Armenian life in the Ottoman Empire before the Genocide. His book is an absorbing account of Ottoman provincial life, before the Armenian Genocide. The author reflects on the harsh uplands of Ottoman Armenia. Humorous throughout, Curzon writes about the virtues of tezek, the pitfalls of winter travel, trout fishing at Tortoum, and relations between local Armenians, Kurds, and Turks.
2nd title. "Visit to Monasteries in the Levant." A fabulous tour of mideast well written and well illustrated. A fascinating and highly detailed travelogue to ancient monasteries in the Middle East, Greece, Turkey and Albania. Egypt in 1833, Ali Pasha, Natron Lakes, Thebes, Mt. Athos, Jerusalem, St. Sabba, Meteora, Constantinople. Very rare first edition of Curzon's classic work on travels through Egypt and other parts of the Levant. The book is filled with fascinating observations on the countries he visits and is rightly viewed as a classic. This first edition has been neatly rebacked and is tight. The pages, however, have some browning.
Item Specifics - Antiquarian/Collectible Books
Binding: Hardcover Special Attributes: 1st Edition
Category: Armenia Printing Year: 1849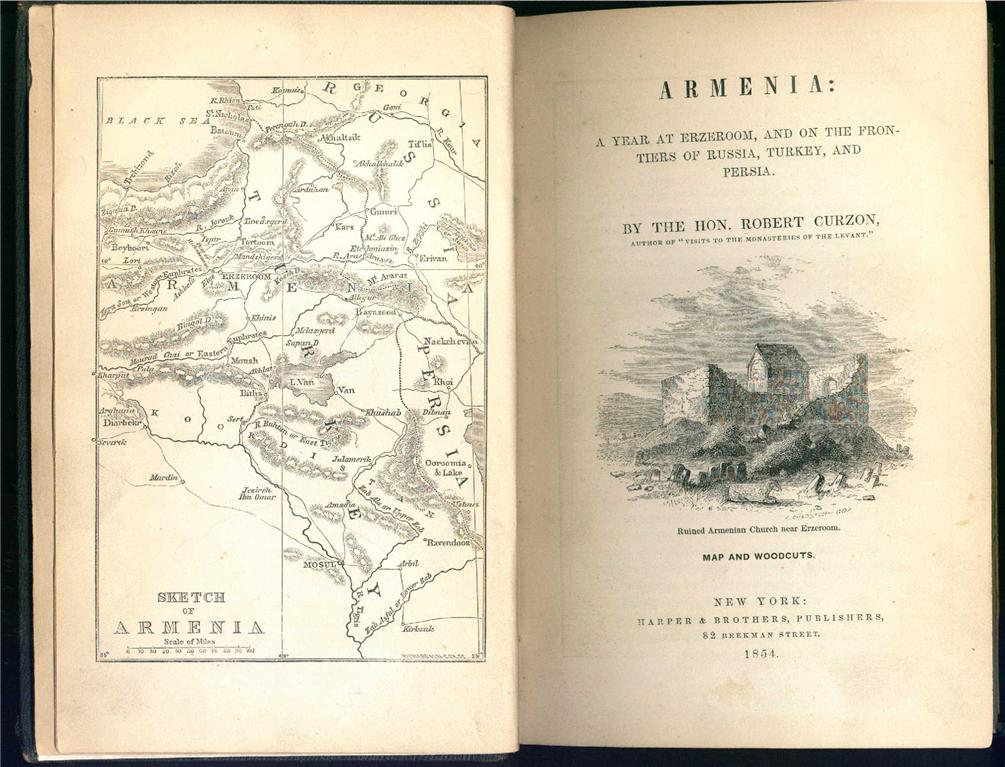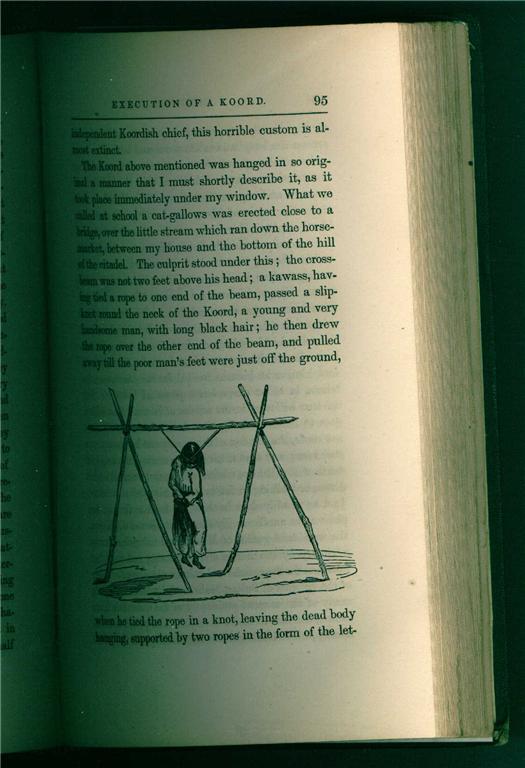 Execution of Kurds