1887 BRITISH REPORT ON TRADE IN VAN & HAKKIARI
Diplomatic and Consular Report
REPORT
FOR
THE YEARS 1885-86
ON
THE TRADE
OF
THE VILAYETS OF VAN AND HEKKIARI
Her Majesty's Stationery Office, London, 1887
Author Vice-Consul Barnham
Mr. Barnham was the British Vice- Consul in Van, Turkey in the 1880s.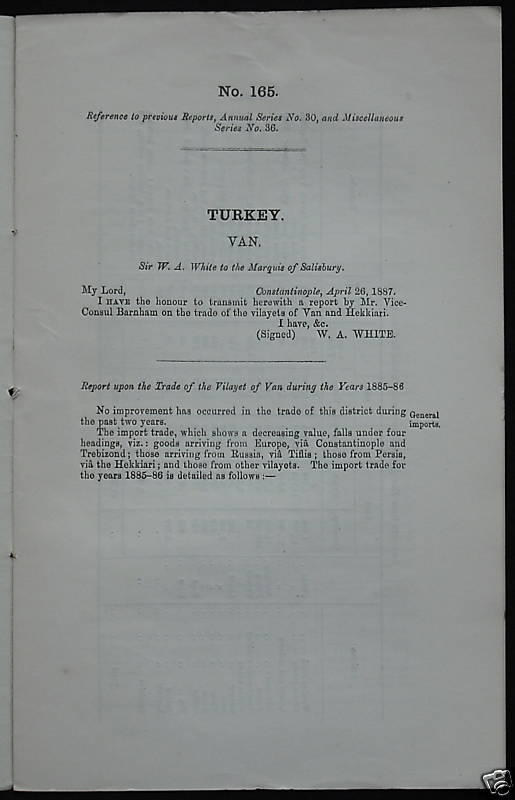 This is No. 165 of the Annual Series of the British Foreign Office Diplomatic and Consular Reports on Trade and Finance.
These reports were very thorough and based on the eyewitness observations of the Consul and his staff.
This report covers British and foreign trade with the Vilayets of Van and Hekkiari. Detailing imports
Tables provide statistics on the quantities and values of imports from Europe via Constantinople and Trebizond, imports from Russia imports from other Vilayets and exports from the Vilayets of Van and Hekkiari.
The text gives information on local industries, agriculture, the trade in mohair and public works.
This report gives a detailed picture of the economic activity in the Vilayets of Van and Hekkiari at the end of the 1880s.
Van is close to the border with Persia/Iran and Hekkiari (also spelt Hakkari) is in the South-East where, today, Kurds are the majority of the population.