SARA kurdiyê li cîhanê belav dike

Evîn Ronî

Weþanxaneya Sara'yê anku 'SARA DISTRIBUTION' ku ev 15 sal in xizmeta edebiyata kurdî dike, li Ewrûpayê wekî þîrketa belavkirinê ya herî mezin a kurdî têt zanîn.

Xwediyê Kitêbxaneya Sara'yê ku ji bo debara xwe komputer û programên kurdî jî difiroþe, dibêje, "Madem ku êdî kurdî ne qedexe ye, hûn jî pirtûkekê biþînin ji nasekî/ê xwe yê li welêt re." Li SARA'yê (ku tenê berhemên li ser kurdan belav dike), ji 20 hezarî zêdetir pirtûk û kovarên kurdî hene. Em li ser xebatên pirtûkxaneyê û belavkirina edebiyata kurdî bi Goran Candan"î re axivîn.

Di serî de hûn dikarin pirtûkxaneya xwe bidin nasîn; kengî, çawa, bi çi armancê hate avakirin, xebatên wê çi ne, heta neha we çi kir?

Sara di sala 1987'an de hat damezirandin û ev 15 sal in ku bi karê weþandin û belavkirina wêjeya kurdî ve mijûl e. Pirtûkxaneya Kurdî SARA, li Ewrûpayê kevintirîn pirtûkxaneya kurdî ye.

Pirtûkxaneya Sara'yê, ta îro di ser 10 hezarî re pirtûkên kurdî li pirtûkxaneya herî mezin a cîhanê, li Library of Congress'ê ya li Amerîkayê dane arþîvkirin. Pirtûkxaneya Sara'yê, nûnera fermî (resmî) ya vê pirtûkxaneya herî mezin a cîhanê ye û her wisa jî nûnera çend pirtûkxaneyên mezin ên din ên li Amerîka, Ewrûpa û Australyayê ye. Pirtûkxaneya Sara'yê, îro li wargeha xwe jî, xwediyê 20 hezar pirtûk û kovarên kurdî ye. Taybetiya ku Sarayê ji pirtûkxaneyên kurdî yên nûhatî vediqetîne ew e, ku li pirtûkxaneya Sara'yê bi piranî û giranî tenê wesanên bi kurdî hene, ne tirkî, erebî yan jî farisî.

Cihê SARA'yê li navenda Stockholm'ê ye, lê belê têkiliyên wê global û navneteweyî ne. Têkiliya SARA'yê hem Nav-Kurdistanî (înter-Kurdistan) û hem jî navneteweyî ne. Ji her çar parçeyên Kurdistanê mirov û dezgehên rewsenbîr û welatparêz hay ji hebûn û xebata SARA'yê hene û bi gelek rengên cûr bi cûr bi SARA'yê re di têkiliyê de ne.

Pirtûkxaneya Sara'yê ji dema ku hatiye damezirandin ta neha 50 berhemên kurdî weþandine. Di nav van 50 berheman de, hinek berhemên bi zimanê swêdî û înglîzî jî hene. SARA hewlê dide xwe ku li ser kurd û Kurdistanê ji her deverên cîhanê berheman biweþîne.

Wekî nimûne, ji nav Weþanên SARAyê: bi zimanê swêdî Destana Neteweyî Mem û Zîn û Dokumentên Tevgera Neteweyî ya Destpêka Sedsala 19'em, bi zimanê îngilîzî; The Case of Kurdistan Against Turkey, anku, Doza Kurdistanê li dijî Tirkiyê, ku ji hêla nemir Mîr Sureya Bedirxan ve, di sala 1923'yan de li Philadelphiya'yê (USA) cara yekemîn hatibû weþandin, hene.

Hun rewþa ku neha wêjeya kurdî tê de ye, li her deverên ku kurd lê hene, hûn çawa dinirxînin?

Di wêjeya kurdî de potansiyelek mezin heye. Li Baþûrê Kurdistanê, li Sovyeta Kevn û di salên 1980 û 90'î de jî li Swêdê wêjeya kurdî keys û derfeteke baþ bi dest ve xist. Neha jî bi destkeftinên ramyarî yên li baþûrê Kurdistanê, ev merc û doxên azad berdewam dikin û îro Baþûr bûye navenda wêjeya kurdî.

Hebûna wêjeyeke piralî û baþ a li ser kurdan bi zimanên rojavayî pir kêm e. Weþanxaneya Sara'yê xwedî gelek projeyên ji bo weþandina van berheman e û ta neha hinek ji van projeyan pêk anîne. Lê dîsan jî têr nake, ji lew re diviya gelek berhemên rêzimanî, ferheng û hin ji wêjeya sefernameyên bêmirin, li her þûnekê peyda bibûna. Heger hinek bi dest bikevin jî, kirîna wan pir giran e. Pêwîst e ku gelek ji wan ji nû ve bêne çapkirin.

Hûn dikarin berhemên xwe bigihînin heya ku derê? Ji bo nimûne gelo diçin her aliyên Kurdistanê? Her weha, ji vir û wê de wê projeyên we çi bin?

Me bingeha dezgeheke girîng a wêjeyî daniye û ev 15 sal in jî me ew daye jiyandin. Bi gotineke din potansiyeleke mezin a wêjeyî ya vî karî heye, ku divê li ser bêhtir bêt avakirin.

Piþtî çend salên dijwar û dirêj, me ji bo wêjeya kurdî xwe gihandiye bazara navneteweyî. Pirtûkxaneya SARA'yê ji gelek pirtûkxaneyên cîhanî re nûneriya fermî (resmî) dike: University of California Berkeley, British Library, NY Public Library, Stockholms Internationella Bibliotek, û hwd. Her wisa jî me pêwendî bi çend zanîngehên almanî, frensî û australî jî hene. Ev hevbendî û têkilî ev 15 sal in ku berdewam dikin. Me ji hemû weþanên weþanxaneyên me kurdan gihandine van cihên navborî. Her wisan jî ji weþanên weþsanxaneyên milletên din, ku li ser kurd û Kurdistanê pirtûk derxistine..

Bi serdana me ya meha tîrmehê ya sala 2001'ê, li Amerîkayê, li pirtûkxaneya herî mezin a cîhanê derket holê ku SARA tenê bi serê xwe di nava 15 salan de di ser 10 hezar pirtûk û kovarên kurdî (kurmancî, soranî, dimilî û lorî) ji bo arþîvkirinê þandine û ev materyalên wêjeya kurdî neha li van pirtûkxaneyan li ber destê þagirt û zanyarên vî gelî ne.

Weþanxaneyên kurdan û hin avahî û weþanxaneyên swêdî, ku em bi riya we jî gelek sipasiya wan dikin ev in: Weþanên Welat, Statens Kulturrad, Solforlaget, Pencînar, çend weþanxaneyên kurdî li Silêmanî, Hewlêr û Ûrmiye'yê yên bi navê; Pirtûkxaneya Sûlav, Pirtûkxaneya Goran, Bingeha Belavkirina Weþan û Ferhenga Kurdî ya Selaheddînê Eyûbî, Weþanxaneya Aras, Orfeus, Svensk Kurdiska Kulturforeningen, Kurdiska Kultuforlaget, Jîna Nû, Roja Nû, Skolverket, Nûdem, Institute Kurde De Paris, Agri Verlag, Weþanên Serxwebûnê, CC's Bokimport, Wesanên Rewþenê, Apec-Tryck och Forlag, Almqwist & Wiksell, Skolverket, Kitab-î Erzan, HayKurd, Rabûn û hwd.

Gelek kesên nivîskar ên kurd û swêdî yên serbixwe wekî rehmetî Kak Kerîmî Husamî, Ehmedî Dilzar Hewêzî, Aram Kake-y Fellah, Kurmanc Zengene, Malmisanij, Peþêw Merîwanî, Kak Ebas, Husên Xelîqî, Cemal Kurdo, M. Emîn Bozaslan, Hasim Koçanî, M. Ezîzî, Per Linde, Anneli Jordahl, Hans Dubber, Mahabad Kurdî, Mehmed Uzun, Mahabad Qeredaxî, Rohat Alakom, Nasir Rezazî, Mehdî Zana, Dr. Izedîn Mistefa Resûl, Sêrko Bêkes, Sahînê Bekirê Sorekî, Yaþr Kemal, Ahmed-î Kakemamî, Hesen-î Gazî, M. Emîn Narozî, Kakeweys, Asî Rebatî, Mahfûz Mayî, Abdulla Gafour, Fehmî Kakeî, Mujde Xelîl Reþîd, Sîrwan Karwanî.. her dem bi alîkariya maddî û manewî bi me re bûne.

Rojnamevan, hunermend û xebatkarên çandî ku destê alîkariyê ji me re dirêj kirine; Hacî Kardoxî, Lokman Polat, Nebîl Hacî, Sêrko Bedlîs, Evdurrehîm Ayaz, Mihemed Dehsiwar, Anwar Nacmadîn, Ehmed Husêynî, Kemal Marûf, Fexredîn Gerdî, Ekremê Zêrîn, Emîr-î Gazî, Besîr Botanî, Silêman Hêriþ, Martin R, Georg Kristiansen, Aso Germiyanî, Dana Marûf, Gabar Çiyan, Xaled Reþîd, Xebat Arif, Fazil Caf, Xalid Koçî, Dr Zahid Suran, Mistefa Duzgun, Koyo Berz, Farûk Îremet, Birûsk, Mesûd Serhedî, Serdar Emîn, Sebrî Sermixî, Maruf Ylmaz, Eshed Zengene, Dawê Xanê, Sefîn, Zagros Zerdestî, Arif Zêrevan, Rehmetî Sidîq Aslan, Ehmed Husên, Novîn Hersan, Asos Sefîq, Sidîq Bozaslan, Xesro Goran, Arî, Zana Suran, Arþîvkarê Kurd: Lutfî Baksî, Hunermendê Navneteweyî: Madhat Kakei, Zahid Brîfkanî..

Piraniya van weþanxane û kesan alîkarî bi me re kirine da ku em vê mîsyona xwe bi cih werînin.
Bi vê 'kampanyaya belavkirina edebiyata kurdî' hedef û armanca we çi ye û çima neha kampanyak wisa? Ji chakiya xwe hinekî behsa vê kampanyaya xwe bikin...

Me di sala 1999'an de lokalên Sara'yê ji serî heta binî, ji nû ve ava kirin û me bi sefera Amerîkayê, ya havîna sala 2001'ê jî, ji bo geþkirin û belavkirina wêjeya gelê me, projeyek nû û mezin li dar xist: "Increasing of Awarness for The Forbidden Literature" Anku Bêhtirkirina hisyariyê li ser wêjeya qedexekirî. Her wisa jî projeyek, bi navê projeya "Rêkxistina Pirtûkxaneya Kurdî li nav Pirtûkxaneya United Nation's Dag Hammarskjold Library" heye.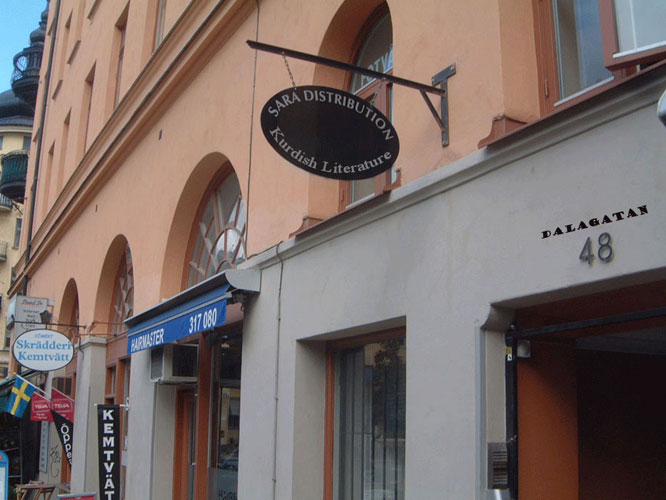 United Nation's Dag Hammarskjold Library, tenê bi pênc zimanan pirtûkan kom dike: Îngilîzî, almanî, frensî, îtalî û spanî. Lê belê ji bo pirtûkên kurdî niha SARA li wir beþek kurdî amade dike. Ev yek ji hêla dewleta tirk ve hatiye kifþkirin û lewma dewletê çend hefte berî neha birayê min ê biçûk li Amîda'yê girtiye û piþtî hefteyekê hîna berdaye! Li ser teqîbat û terora dewleta Tirkiyeyê neha du parêzer, yek li Swêdê û yek jî li Fransayê ketine dewrê. Parêzerên SARA'yê giliyek bi zimanê îngilîzî amade kirine û em ê di nêzîk de vê bidin Komîsyona Mafên Mirovan a Parlamentoya Ewrûpayê!

Karê vê projeyê berdewam e û em li vir bi vê keysê dixwazin ku li hemû dost û neteweperwerên me kurdan banga alîkariyê ji bo vê projeyê bikin û em li hêviya wan in da ku çi materyalên kurdî dibe bila bibe, bigihînin ber destê me, da ku em vê PÊSANGEHÊ bi serbilindiya çanda kurdî bibine serî!

Bi pirtûkxaneyên kurd ên li Kurdistan û Tirkiyê re têkiliyên we di çi astê de ne?

Me pêwendî û têkiliyên xurt bi basûrê Kurdistanê re hene û her wisan jî bi belavkar û derhênerên wêjeya kurdî li bakurê Kurdistan û Stenbolê re.. Ji van deveran her roj berhemin digehêjin Navenda Belavkirina Weþan û Wêjeya Kurdî SARA'yê.

Weþanxane û Pirtûkxaneya SARA'yê dezgeh û avahiyeke çandî ye ku divêt her kurdek destê alîkariyê jê re dirêj bike! Divêt ev alîkarî herî pêþî (di serî de) ji rewsenbîr û ji dezgeh û avahiyên fermî yên kurdan bêt. Ji lew re avahiyek wisan xwedî pêzanîn û tecrûbeyên 15 salan bi hêsanî nayête holê.

Pistî vê kampanya ku we daye destpêkirin ji bo belavkirina edebiyata kurdî, wekî din ci plan û projeyên we hene?

Belê Kampanyaya Kitêbxaneya Kurdî! "Join in Campaign for Kurdish Literature!" Anku Beþdarî Kampanya ji bo Wêjeya Kurdî bibe! bêrawestan berdewam e. Lê hezar mixabin ku hîna kes ji Kurdistanê beþdarî vê kampanyê ne bûye! Lê belê ji Almanyayê gelek dost û hezkiriyên wêjeya kurdî ji bo dost û hevalên xwe yên nêzîk, pirtûk diyarî kirine! Em li vir zor supasiya wan dikin û di kar û barên wan de ji wan re serkeftinê dixwazin! Lê belê hin bazirganên çanda kurdî ku li ser navê gelê kurd pereyên mezin ji dewletên ewrûpî wergirtine, li dijî vê kampanya Kitêbxaneya Kurdî e-mailek ji xelkê re birêkirine! Ez li vir ji van bazirganan re dibêjim ku ev serm e ku li ser nav û xwîna þehîdên vî gelî, alîkarî û pereyan ji dewletan werdigirin û pê zikê xwe dadigirin! Gelê me wê rojekê hesabê ji wan bixwaze, hingê wê ni karibin çi cihî ji xwe re peyda kin! Divêt ev kes li ser navê xelkê çi saman ketibe destê wan, bixin riya xebata çanda vî gelê hejar û berbendkirî û ne êxin di zikên xwe de!

Projeya "Kirîna pirtûkekê ji bo birêkirina dost û hevalekî/ê li Tirkiyeyê" berdewam e! Kampanya dibêje: Madem dibêjin ku li Tirkiyeyê zimanê kurdî ne qedexe ye, hingê her kurdek welatperwer li derveyî welêt, bila pirtûkekê bikire û ji dost û hevalên xwe yên li welêt re biþîne!

Ez hêvîdar im, bi alîkariya gelê me yê welatparêz armanca me ya bi vê kampanyê here serî!

Êdî bi silavên me yên germ û gurr ve û her bijîn ji bo vejandin û parastina, ziman, çand û hunera kurdî ya berbendkirî..


Bi temamî serbixwe ye

SARA, ku li Ewrûpayê wekî sîrketa kurdan a belavkirinê ya herî mezin tê zanîn, di gel karê belavkirina edebiyata kurdî bi riya pirtûk, cd, kaset û hwd. ji bo fînansekirina xwe kompûter û programên kurdî jî çêdike û belav dike. Xwediyê SARA'yê Goranê Cano di vî warî de weha dibêje: " Pevxistin û firotina kompûteran (bilgisayar) tenê ji bo jiyandina SARA'yê ye. Heger ev kar ne bûya, dibe ku îro SARA tunebûya. Ji ber ku SARA ji hêla aborî ve tam serbixwe ye û pêwîstiya wê bi alîkariya dirav û aboriyê nîn e. Di demeke nêzîk de, SARA wekî dema destpêkê, dîsa dibe xwediyê lokala xwe û karê van kompûter û karên wekî din ji binî na hêle!

Jiyana Goran Candan - Jiyaneke têrtije:

Goranê Candan (Bavê Barzan) di sala 1959'an de li bajarê xwedî zebesên hûtasa Amîda'yê (Diyar-î Bekr) hatiye dunyayê. Wî dibistana seretayî û navînî li Amîda'yê xwend û pasê jî 4 salan di xwendegeha bi navê "Îmam Hatîb" de xwendina xwe berdewam kir. Lê ji ber teqîbata dewleta tirk ya li ser karê wî yê milletperweriyê di nav rêkxistina kurdî ya nepenî, de, wî ne karî xwendinê bibe serî û di sala 1981'ê de bêgav ma ku bireve Binxetê (Sûriye). Pistî salekê ji wê derê hate Swêdê. Ji 20 salî vir de ye ku li Swêdê dijî û du zarokên wî hene: Barzan û Evîn.

Goranê Candan di sala 1986'an de yek ji damezrenerê rojnameya bi nav û deng û ajansa kurdî: Kurdistan Press a li Stockholmê bû. Di sala 1989'an de bi çend hevalên xwe yên welatperwer bi karê îdarekirin û derxistina rojnameya "Halk Gerçegî" re rabû, ku li Stanbolê derdiket. Di redaksiyona beþa kurdî ya rojnameya BERXWEDAN'ê de kar kir. Her wisan jî, di sala 1988'an de bi hevalên xwe ku niha çend ji wan di riya têkosîna serxwebûna welêt de þehîd ketine, kovara Yekitiya Rewþenbîrên Welatparêzên Kurdistanê ya bi navê REWSENê derxist û ew, yek ji van sê kesên ji desteya redaksiyonê ya pêþîn bû. Li Swêdê di Unîversîteya Uppsalayê de du salan kurdî (soranî) û farisî xwend. Li Universiteya Stockholmê li Xwendegeha Mamosteyan beþa kurdî temam kir û li dibistanên Swêdî heft salan karê mamostetiya zimanê kurdî kir. Her weha di dema êrîþên dewleta Swêdê ên li ser xebata têkosîna rizgariya Kurdistanê de, wî bi Komeleya Kurdernas Vanner (Dostên Kurdan) kovarek her bi vî navî bi Swêdî derxist.

Niha jî karê wergeriyê ji her 4 kanalên televîzyona Swêdê re dike û ji bo Rêkxistina Kitêbxaneyên Swêdî ya bi navê BTJ jî wekî pisporê wêjeya kurdî kar dike. Goranê Cano di karên xwe yên rojnamegeriyê de gelek nivîs û pirtûkên zarokan wergerandine ser zimanê kurdî. Didu ji van pirtûkan, "Tolehildana Mûriyan" ji farisî wergerandiye kurdî û "Aladîn û Lampaya bi Efsûn" ji swêdî wergerandiye ser kurdî. Her wisa jî çîroka folkloriya kurdî ya bi navê Sahmeran berhev û çap kiriye. Pasê jî Sahmeran hem bi kurdî soranî û hem jî bi swêdî çap bûye.

Ji dehan zêdetir berhem û pirtûkên wergerê li ber çapê ne.